ROTARY CLUB OF CLITHEROE 2016 – 2017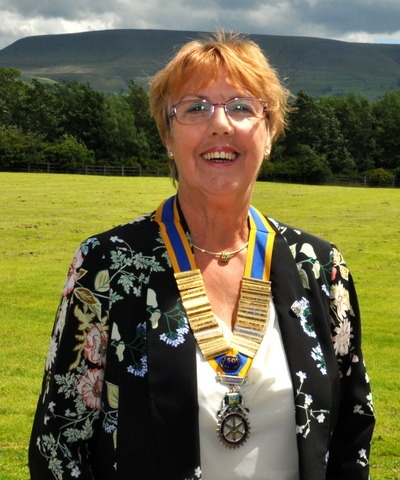 President, Mary Robinson 2016-17.
It is a great honour to have been invited to be your President for the next year, also to be the first Lady President of the Rotary Club of Clitheroe.
A second first for me, as I was also the first Lady Mayor of Clitheroe.
For those non Rotarians and members of other Rotary Clubs visiting our website, welcome, I hope you find something of interest and feel free to join us at one of our lively meetings.
It is always a hard act to follow someone who has worked as hard as Howard, but for me it is also a very hard act to follow all the past presidents that I have had the privilege to have known.
I am a great believer in if it ain't broke don't try to fix it, we're not broke.
I look forward to working with all our club committees; I also hope to support our DG Malcolm's charity, Blood Bikes.
For the Golf day I have nominated Alzheimer's charity. In our ageing community far more people are suffering, along with their families.
I am also looking at having one open lunch every 6 or 8 weeks, to enable committees to have short meetings, also for people to talk to other members. In particular I would hope as we talk to our more mature members we could all glean something from them.
With the support of President Elect Frank and Second Vice Sandy, I look forward to some interesting Fifth Thursdays.
Finally I hope we will continue to support MacMillan and Rosemere, along with other Rotary Charities like Water Aid, and possibly Mosquito Nets.
I am sure we will all do our bit especially when it comes to volunteering for local events and international collections when it is necessary. Youth activities have always been a big part of our year and we look forward to re-energising some of the competitions. We will also be active in the local Ribble Valley community, supporting a variety of events such as Stroke Awareness Day.
As members, I know I can rely on your support to give Service Above Self.
Yours in Rotary
Mary
Meeting Details
Interested in joining Rotary?
In the next 30 days...
Social Media...
Rotary Club of Clitheroe
Promote your Page too
Meeting Information...
We meet on Thursdays at 1230 (FIFTH THURSDAY MEETINGS: evenings with partners - contact Secretary 01200 442418 for changed venue on these occasions.) The Rose and Crown Hotel, Castle Street, , Clitheroe, BB7 2BT

01200 442848 BB7 2BT