Crowd Funding for Halstead Day Centre
Halstead Rotary Club are running a GlobalGiving Crowd Funding campaign to raise funds for the Halstead Day Centre. We have so far raised over £6,700 to support this much needed community resource for elderly and isolated people living in our area.


Please visit our GlobalGiving page to find out more and to make a donation http://goto.gg/50078




Club Meetings
Please note that during the current Covid19 pandemic and the associated restrictions the club is not meeting in person as shown in 'Meeting & Venue' below.
All meetings are currently being held via Zoom anyone is very welcome to join us and should contact our club secretary Mike Prince (via the contact page) for the details and Zoom link.


Welcome - From President Alison Farrugia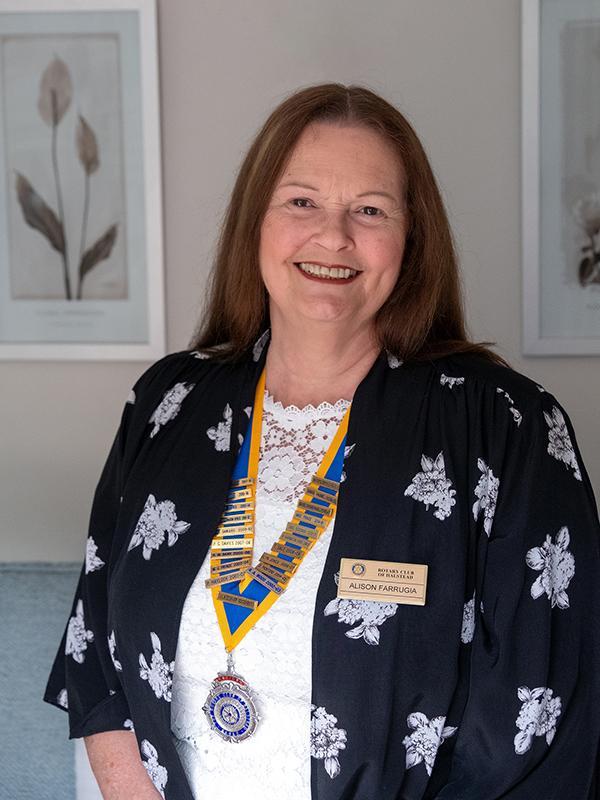 I feel very excited about being appointed as the club President and very much look forward to the year ahead. Having previously served nearly four years as Club Secretary it's an honour not only to become the president but also to be only the second woman president since the club was formed in 1948.
Of course, the Corona Virus pandemic will offer its own challenges and will greatly affect the way I and the club operate, with a much greater reliance on technology including online meetings and social interactions.
The coronavirus pandemic has also given an opportunity for everyone to affect change within our community and enhance community spirit through volunteering and helping the isolated and vulnerable. Tackling these issues and pulling together is at the heart of what Rotary stands for.
During lockdown, the Club has maintained its weekly meetings via online chats and our fundraising for local charities has continued; with Halstead Foodbank and Halstead Day Centre given priority during these difficult times.
Halstead Rotary Club is very keen to invite new members and we welcome anyone to apply or to find out more information. If you are one of those volunteering during this current pandemic giving support and hope to the community then you are just the type of people we are looking for, 'People of Action'. Come and join us, we are very sociable and like to have fun raising funds or offering direct support within our local community and to those in need around the world.
If you would like to find out more then please do get in touch, contact me Alison Faruggia via email at AlisonatRotary@hotmail.com or via the contact form on this web site

What is Rotary
If you are new to the idea of Rotary and don't really know what we are about then please take a couple of minutes to watch the video below. Whilst watching think about how you might contribute to and benefit from being a member of such a fantastic world-wide organisation.
It won't give you all the answers but it will be a start then - contact us to find out more.
.