Welcome to Rotary Guernesiais!
We would be delighted to welcome to you to our brilliant club, dedicated to making a positive difference in Guernsey and the rest of the world. As part of the global Rotary International network, Rotary Guernesiais brings together passionate individuals from diverse backgrounds who share a common goal: to serve and uplift our local community.
Rotary Guernesiais is built on the principles of fellowship, integrity, diversity, and service. We believe that through collaboration and collective action, we can address pressing social challenges, promote goodwill, and foster a sense of unity among people from all walks of life. Together, we strive to create lasting and meaningful change that improves lives and creates a brighter future for everyone.
Our club offers a vibrant platform for members to engage in various service projects, community initiatives, and professional development opportunities. From supporting local schools and healthcare institutions to championing environmental sustainability and empowering disadvantaged individuals, our projects cover a wide range of areas that make a tangible impact in our community.
Beyond service, Rotary Guernesiais fosters a welcoming and inclusive environment where members can forge lifelong friendships, exchange ideas, and collaborate on meaningful endeavours. If you are a passionate individual eager to make a difference, Rotary Guernesiais provides a supportive space for personal growth, networking, and making lifelong connections.
We encourage you to get involved, share your expertise, and contribute your unique skills and talents to our collective efforts. Together, we can achieve extraordinary things and create a ripple effect of positive change that extends far beyond our immediate community.
Once again, a warm welcome to Rotary Guernesiais. We look forward to getting to know you, working alongside you, and making a lasting impact together. Let us embrace the spirit of service, friendship, and fellowship as we embark on this incredible journey of making a difference in Guernsey and beyond.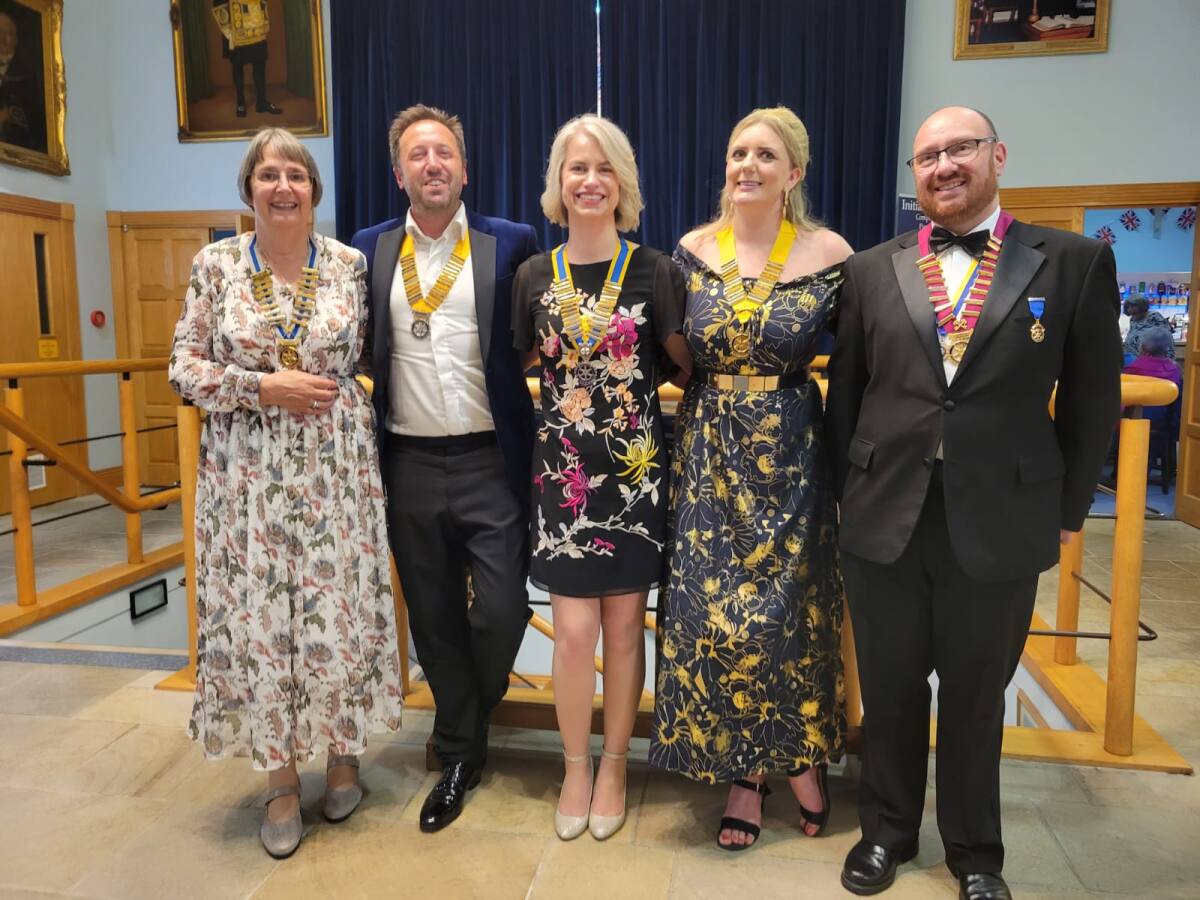 Left to right: Diane Ward, Secretary, Michael Morris, Senior Vice-President (President-Elect), Helen Salisbury, President, Aimee Curzon, Junior Vice-President (President Nominee), Robin Goonard, Treasurer.
Following COVID, many charities are experiencing a pinch in fundraising whilst also facing more needs. Please get in touch if we can help you or if you would like to come and speak to the club about your work for local and international charities. We have a guest speaker about once a month and would love to hear from you.
Or, if you would like to get involved (we put the FUN in fundraising) please get in touch.
Every year we sent over 6,000 shoeboxes to disadvantaged or poor children in Eastern Europe. This year the need is likely to be greater than ever (and the clubs UK will be facing challenges to collect their own shoeboxes). So please consider donating a shoebox this year (if you are not already).
Please contact us if you want to come along for a no-obligation chinwag, find out more about the club or come to a social.
Yours in Rotary,
The friendly people of Rotary Guernesiais.