Welcome to the Kilrymont St Andrews Rotary Club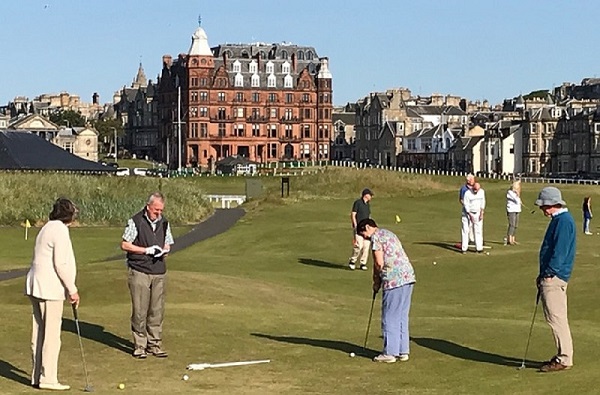 Members and friends enjoying the annual fundraising competition on St Andrews famous Himalayas
Welcome to Kilrymont St Andrews Rotary Club ----- Supporting Communities
As one of two Rotary Clubs in St Andrews, we're actively involved in supporting a wide range of local, regional and international projects. Founded in 1996, our Club has 37 members, all committed to supporting many worthy causes, charities and organisations, principally in our own community, by means of fundraising as well as practical help, whichever is most needed…and that may be both, if we can.
If helping others, while also enjoying numerous social events throughout the year, appeals to you, then please get in touch. New members and visitors are always welcome. Although currently our regular weekly meetings are online due to Covid restrictions, we will meet again in person, when permissible, at The St Andrews Golf Club, The Links (overlooking the 18th green on the Old Course), each Tuesday evening at 6.45pm for 7.00pm, when we enjoy a meal and a speaker on a topic of interest.
Thank you for looking at our website where you'll find further details not just of what we, as a Club, plan to do this year, but also what Rotary, in general, can offer. I hope you find it of interest. Please feel free, of course, to contact us at any time. We'd love to hear from you.
Mike Dow
President, 2021-22

The Club meets on line currently but when permitted will meet at the St Andrews Golf Club in St Andrews on Tuesdays at 6.45 for 7pm
We're For Communities! Click here to see a video
All Rotarians visiting St Andrews are very welcome to attend. To help with catering, prior contact with Club Secretary or President is appreciated.
Meetings and events for the next 30 days are shown on other pages

If you are interested in the club plan for 2021/2022 please click here Club Plan

If you would like to find out more about our Club, please Contact us