Welcome to
Misbourne Matins
Rotary Club
( Due to the Pandemic we are holding weekly Zoom meetings until further notice)
JUDY GOLDIE
, President 2020/2021
Picture below (President Judy Goldie with President-Elect Susie Weisz)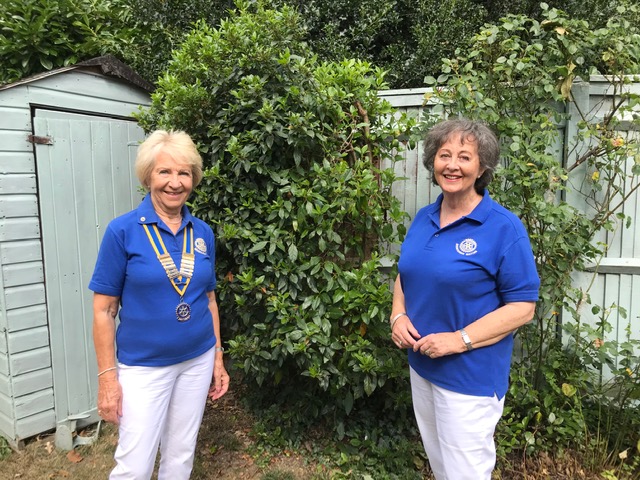 Welcome to the Rotary Club of Misbourne Matins. Around 40 of us, with an almost equal male/female balance, seek to support our local community through raising funds for local charities (eg last year Iain Rennie, Thames Valley Air Ambulance, Scannappeal, Arctic One and others), for local youth organisations (eg last year Chalfont St Giles Youth Club), for local schools and for those in our community who need special help and support. Examples last year included raising money to help teaching life skills and first aid in our local schools, our support for disabled people to enjoy a half day on the River Thames in a specially adapted boat and the provision in case of a medical emergency in Chalfont St Peter of a defibrillator outside Co-Op. We organise a Children in Need collection in and around Heathrow that last year raised nearly £50,000.
We also carry out international projects through Rotary and have supported an orphanage in India, have built a medical centre in a village in Nepal, and rain water tanks for homes in Bali where they do not have a ground water supply.
Together with an active social programme we do all this with an emphasis on fun and fellowship. Join us and come along to meet us at our weekly breakfast meeting at the Bull Hotel, Gerrards Cross on Wednesdays at 7.15am for 7.30am. Due to the pandemic we now have weekly Zoom meetings until further notice. Please contact us if you would like to join us at one of our meetings.
Judy Goldie
Registered with the Charity Commission Registered Charity No.1094635
HELPING ROTARY TO HELP OTHERS
In these difficult times of CORONAVIRUS restrictions, Misbourne Matins Rotary Club is still helping charities such as Thames Valley Air Ambulance, Rennie Grove Hospice and Scannappeal, in addition to many other good causes.
Because of COVID-19 restrictions, we will not be able to knock on your front door this Christmas and make a cash collection. We still intend to come with our Christmas Cottage to your street to bring some Christmas cheer.
To help us raise funds for local charities to support the needy in our area, you can make a donation to our charity fund by clicking on the following link: