Welcome to the home page of the Rotary Club of Whiteley. As well as reading about us why not come along to one of our regular meetings and enjoy a social evening with the team. The club is open to all genders and ages and we welcome people who are looking to give their time in supporting the community as well as meeting like minded people.
We are very pleased to be once again having face to face meetings every two weeks at the Holiday Inn hotel Titchfield . Meetings are on a Tuesday evening at 7:15 pm. We meet in the foyer bar then adjourn to a private room for a light meal where the group look at new ways to raise funds to support local as well as international charities.
With the ending of Covid restrictions if you feel that now is the time to leave the house and find new ways to socialise then why not give Whiteley Rotary a try?
The Rotary Club of Whiteley meets fortnightly on Tuesday evenings, 7:15pm for 7:30pm, at the Holiday Inn, Cartwright Drive, Titchfield, Fareham, Hants PO15 5RJ
See the links to the right of this page for maps and directions.If you have any ideas as to how we may be able to help you, or you may be able to help us to help others, then please contact us.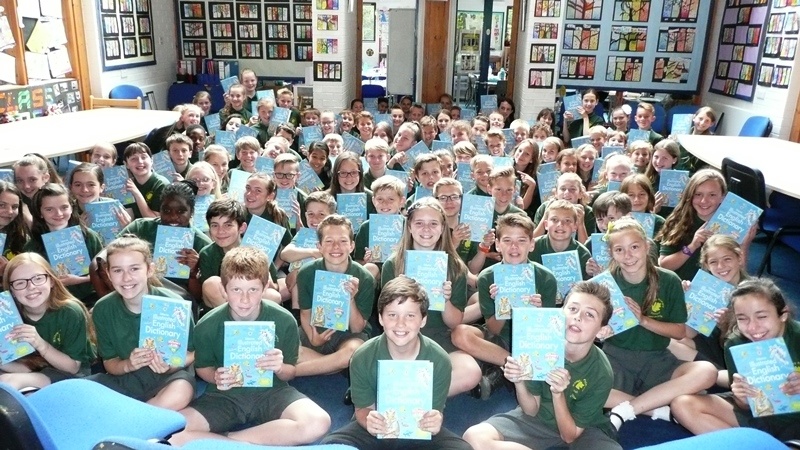 Each year Whiteley Rotary Club makes a presentation of Illustrated Dictionaries to leavers at a local school in or near Whiteley.
If you live in or between Fareham and Southampton and you're interested in joining Rotary International, or the Rotary Club of Whiteley in particular, then you will find relevant information and some links in our site. Please use the links below or on the left of the page to explore our site and learn more about the Rotary Club of Whiteley.
Don't think you know what we'll be like - find out for yourself!
The Rotary Club of Whiteley : Registered Charity Number 1104437
Rotary in Fareham, Hampshire,UK
Rotary in Southampton. Rotary in Winchester. Rotary in Whiteley.
Some Rotary Graphics courtesy of Tord Elfwendahl, PHF
Past President, The Rotary Club of Stockholm Strand, RI Dist 2360