Haddenham Rotary Members may LOGIN HERE
Haddenham and District Rotary Sponsored Horse Ride 2023
Our fabulous annual rider only event on the exclusive Waddesdon Estate
Sunday 14 May 2023
Numbers are limited, so early booking is advisable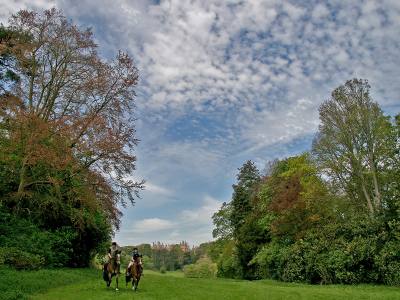 Photo: Rotarian Chris Behan
It's easy to Book On-line HERE
Event Information, Directions and Rules and Conditions of Entry are HERE
Sponsorship Form is HERE
Please stay green and book on-line, but if you do need a Printed Entry Form, go HERE
Would your family or friends volunteer to help us set up the event or with marshalling on the day?
Click on the image below and select 'Sponsored Ride' from the drop down list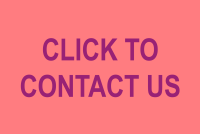 Rotary Responds with Incredible Targeted Support for Ukraine
24th February will be Ukraine Independence Day marking one year since the invasion of Ukraine
Rotary Great Britain and Ireland (RGBI) are participating in Rotary International's global appeal and so far RGBI have donated over £6m in cash and given 100,000 volunteer hours of supporting activities:
- £500,000 lifesaving equipment and medical supplies through Rotary Fellowship of Healthcare Professionals
- power generators for hospitals
- installing 100 modular homes in Moshchun to replace homes destroyed by bombing
- saving the lives of newborn babies
- hosting and clothing displaced families to keep them warm during the winter and providing water
- providing children with Ukrainian books and English language courses
- sharing messages of support and collaborating with Rotary members in Ukraine and across the world
More details of Rotary global achievement including informative videos, HERE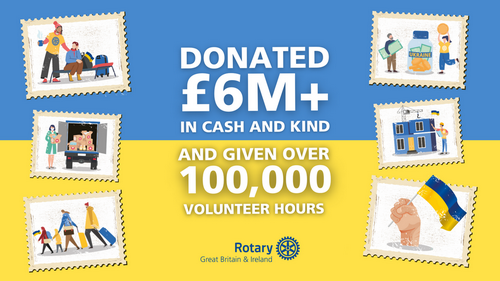 HJS Celebrate National Tree Planting Week
Friday 25th November Haddenham Junior School Eco Warriors planted a Great White Cherry a Tia (Great)-Haku (White) to celebrate National Tree Planting Week
12 children supervised by Headteacher Mr Leach and Haddenham Rotarian and tree expert David Rankin, planted the tree at the school entrance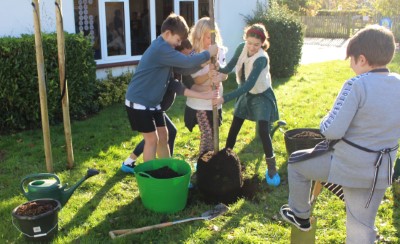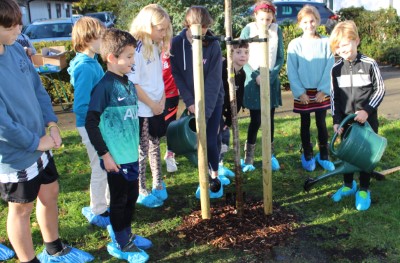 The children dug the hole, positioned the tree and filled in around the tree with suitable soil
Two post were hammered in and the sapling fixed by ties to reduce movement while the root systems develop, and completed the installation with a wood chip mulch to retain moisture and discourage weeds
To commemorate the occasion a plaque was place at the base of the tree:
Great White Cherry
Planted by Children
In Memory of Queen Elizabeth II
2022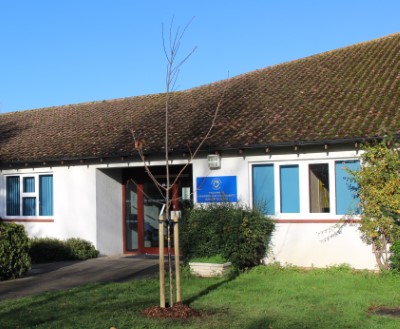 The purchase and installation was proudly supported by Haddenham and District Rotary
The HJS tree should grow to become another fine example of a Tia-Haku Cherry, such as this one at Batsford Arboretum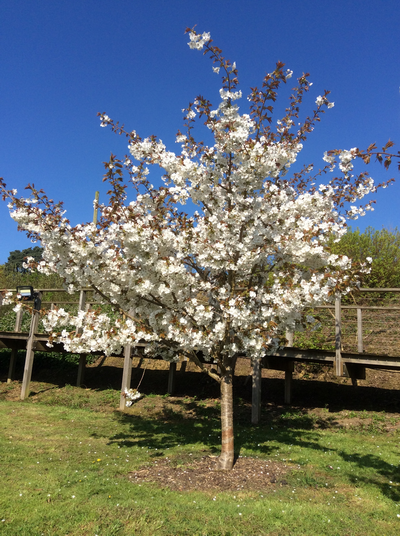 Photos Rotarian David Rankin
Rotary in Thames Valley Send Electricity Generators to Ukraine Hospitals
December 2022 Rotary in the Thames Valley launched an appeal to buy large generators to be installed in Ukrainian Hospitals
Mid-January 2023 £45,000 had been raised including a generous £25,000 donation by the Quakers
Two large generators were sent and with the help of Ukrainian Rotarians, installed in 2 Kharkiv hospitals before the end of January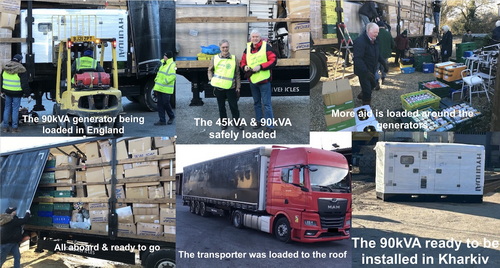 Thames Valley Rotary have launched a further appeal, with details and Donation Form available here
January Charity Quiz
Thank you to all our enthusiastic quiz goers
Over 100 participants enjoyed a splendid evening being both challenged and entertained by our Quiz Masters
The evening raised about £1500 for our International Humanitarian Aid Projects
Haddenham Rotarian Recognised in New Year Honours 2023
In the New Year Honours 2023, Martin Andrew has been awarded the British Empire Medal for meritorious civil service worthy of recognition by the Crown. The citation says:
"Martin Robert Gervas Andrew. For services to the community in Aylesbury, Buckinghamshire, particularly during Covid-19"
"In the midst of the COVID-19 pandemic in March 2021 it was requested that someone take the lead in establishing the pharmacy lead vaccination programme for the community in which Haddenham and District Rotary was located, and of Martin stepped up to the plate"
"Martin recruited and trained over 100 volunteers including other Haddenham and District Rotarians. Under Martin's leadership the team of volunteers delivered up to 400 vaccinations per day. Martin successfully served his community at a crucial time and with his team of Haddenham volunteers gave over 2000 hours of their time towards vaccination efforts"
Earlier in 2022, Martin received the "Proud of Bucks Award for Best Adult Contribution", recognising Martin's significant achievement in his lead role as organiser of the Haddenham COVID Vaccination Programmer. He also received the "Rotary Champion of Change Award", which recognises Champions of Change and Community Champions
"Ordinary people doing extra ordinary things"
Our congratulations to Haddenham Rotarian Martin Andrew BEM, PHF
The Last Jab ?
Wednesday 30 November 2022 afternoon session
Potentially the final shift of a 21 month marathon to deliver COVID vaccinations at Haddenham Pharmacy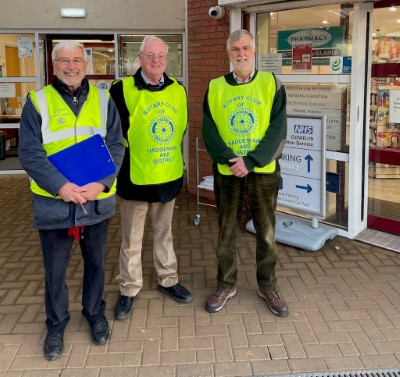 Photo: Emma Saw

"It has been a great privilege for me working with such a splendid team of volunteers and it is amazing to me that so many of the first wave are still willing volunteers"
"A heartfelt thank you to you all"
Martin Andrew
Haddenham COVID Vaccinations Organiser
Haddenham Rotary at Remembrance
Haddenham Rotary President Jason Hewitt lays a wreath at the memorial service on Sunday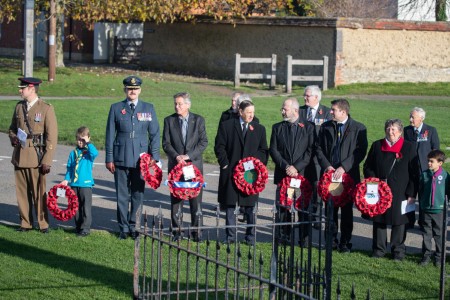 Photo: Haddenham.net
Young Photographer Competition 2022
The winning photographs are on display in Haddenham Library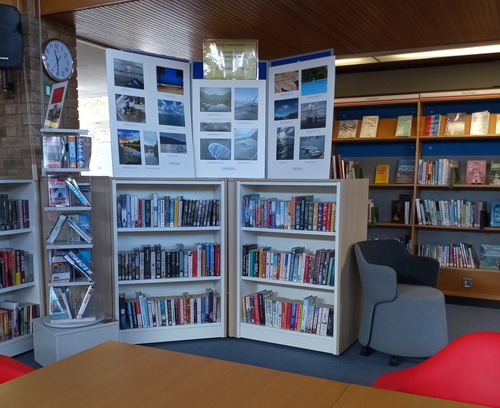 Haddenham Rotary Support for Ukraine
Haddenham Rotary are supporting Ukraine with medical aid and support for displaced persons
Click the image below to see how Rotary International are responding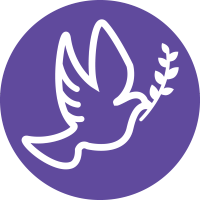 Haddenham Rotary are also on Facebook, here: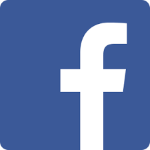 Rotary volunteers make the world a better place
Click this image to 'give something back' by volunteering with Rotary: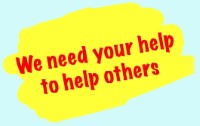 New President and President Elect for Haddenham Rotary
Haddenham Rotary members welcome President Jason Hewitt (left)
and President Elect Raj Nagraj for the 2022-23 Rotary year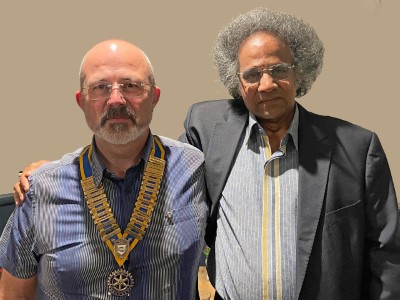 Photo Rotarian Chris Behan
Members, Honorary Members and our Volunteers look forward to an exciting year helping our local community and Jason says he has 'lots of new ideas'
Haddenham Rotary Volunteer Helpers
We welcome volunteers
You don't need to be a member to come and help us
Click the image below to find out more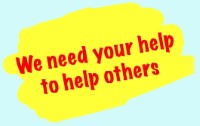 The Scope and Scale of Rotary Volunteering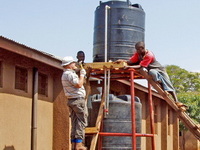 A recent study found that Rotary volunteers contribute an estimated 47 million hours each year
That's almost 27,000 full-time paid workers, equivalent to about £650 million in avoided costs, every year!
The full report is here
Rotary Magazine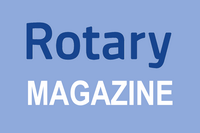 A wide range of fascinating features exclusive interviews and inspiring human interest stories from across the world of Rotary
To view and download digital editions of Rotary Magazine, click here
Rotary Saves Lives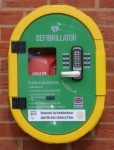 Haddenham Rotary saves lives by funding defibrillators at St Mary's Centre and the Coop store in Haddenham
Click here for more information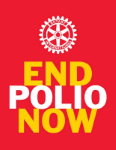 Haddenham Rotary saves lives by supporting 'End Polio Now', which has vaccinated 2.5 billion children
Just 1% of all children mostly in hard to reach areas, remain un-vaccinated
Click here for more information
Click here to see 'Why Zero Matters' in our global campaign to eradicate Polio