WE'RE BACK - We are now back to meeting together in the Maypole in Long Preston on alternate Thursday evenings, and if anyone would like to join a meeting, please do get in touch with us via the contact page. The meetings begin at 6.30pm. on 2nd and 4th Thursdays each month.
We're a friendly bunch of around 20 people who volunteer in the Settle community, working on projects and raising money, as well as enjoying informal social activities throughout the year. If that sounds like something you'd enjoy, we'd like to meet you.
We're also part of a much bigger organisation, with a warm welcome in every city and the capacity to make change on a global scale - such as eliminating Polio.
If you think you might be interested, please browse our website to get a better feel for what we are about, view the video at the bottom of this page and maybe use some of these links.
For more general information about Rotary membership, click "Join Rotary".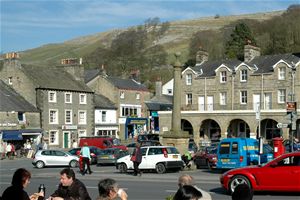 SETTLE ROTARY CLUB is based in and around the picturesque market town of Settle, in the Craven area of the Yorkshire Dales, an area noted for its glorious scenery. More about Settle.

Father Christmas - 2023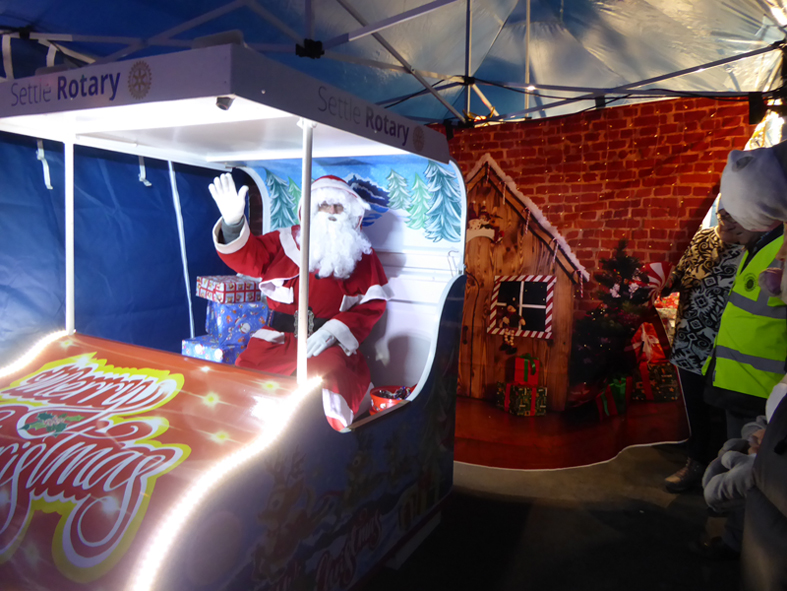 Santa's first year after the Settle elves built a new Sleigh was a great success. Thanks to good weather, lots of help from Friends of Settle Rotary and others, and most of all the generosity of all the local population, the total for our local charity fund from last year's Santa activities broke all our previous records with an amazing £6800! We will using that money for grants and donations to worthy causes in our local area. Do get in touch if you like to bid for help with your project. We especially like to support the work of young people in the community.
If you missed the opportunity to donate when we come round, just use the link below at any time to add to Santa's pot.

Settle Saunter 2023

The 2022 Settle Saunter enjoyed excellent weather on Sunday 12th June, nearly 2500 runners and walkers had staggered starts with Covid safe check in and departure. It raised over £6000 and, we have given £1500 to Kids at School in Nepal, £750 to the Cave Rescue Organisation and £300 to Settle's Victoria Hall. The remainder is kept for national and international causes. The Saunter is an annual event for runners, walkers and strollers which offers 3 routes through the stunning local countryside with lengths of 10km, Half Marathon and 23 miles.
2023 Settle Saunter is on Sunday 11th June 2023 -