Featured pages
Welcome to our website. We have been meeting together and providing service locally and overseas since 1922, but as a result of the Corona virus all meetings will be on-line until further notice.
---
About us
Northampton is a large market town in the East Midlands, approx. 67 miles Northwest of London on the River Nene, and is the county town of Northamptonshire.
The Rot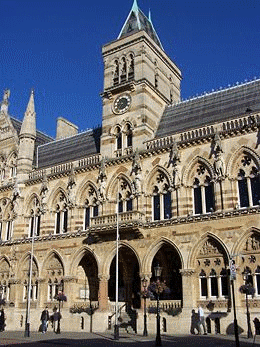 ary Club of Northampton was founded in 1921 and now meets for lunch on Mondays, when we have business and committee meetings, as well frequent speakers, usually related to our objective of providing service to others, but sometimes of general interest.
Our Satellite Group members meet on Tuesday evenings when they have a similar programme of service projects and occasional speakers.
The two groups meet regularly for fellowship and joint fund-raising events. We raise funds for, and plan and implement service projects, both locally and internationally.
We welcome anyone who may be interested in joining us to see what we are all about at lunch on Mondays, or on Tuesday evenings with our Satellite Group.
This website is also full of stories about what we do, and if you have the time why not take a look at the drop down options in the "beefburger" menu above left, to see what we have done in the past and what we have planned for the the future?
Coronavirus Status
For the foreseeable future all normal, contact meetings are cancelled. When possible meetings will take place online via Zoom, including those with speakers.
*****************************
Helping to Keep the Waterside Clear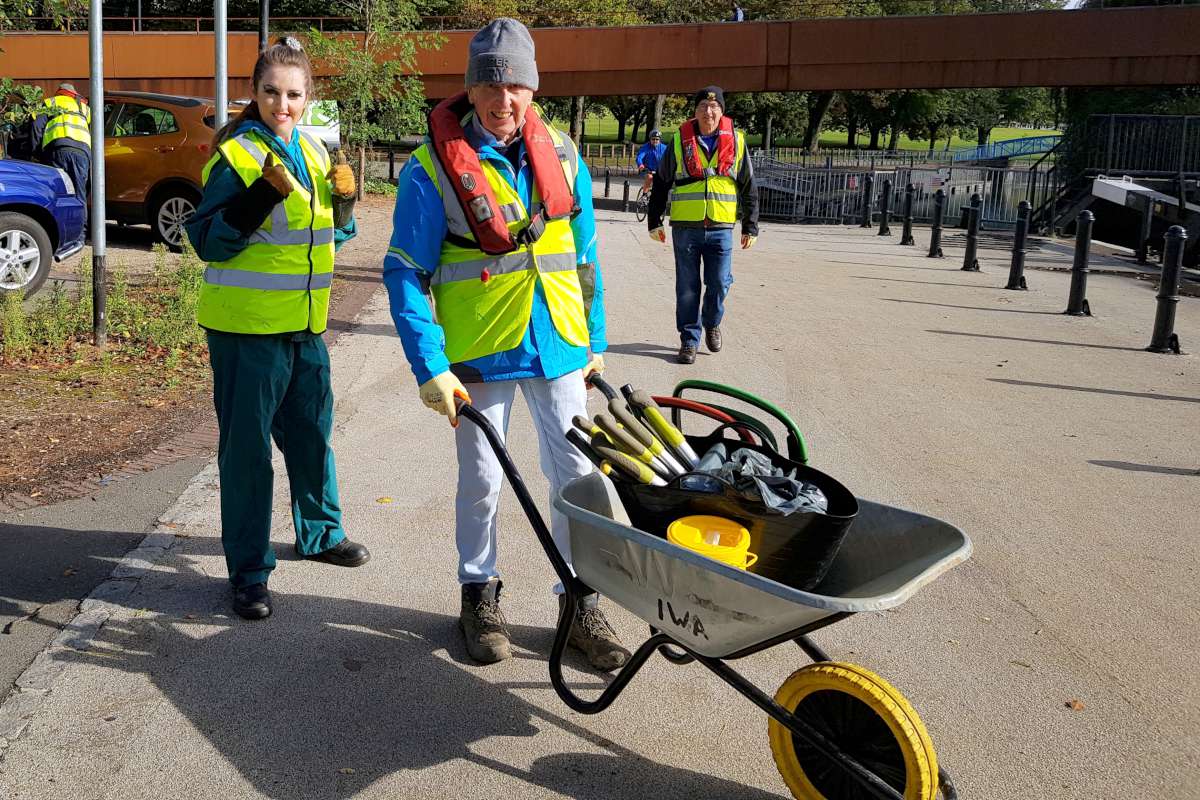 On Friday 25th September a few volunteers from the Club helped Nenescape, in conjunction with the Inland Waterways Association, with their September clean up and litter pick along Becket's Park Embankment, near the marina.
Rotarians Philip, Steve T, Alan, Brian and Aileen were part of a band of around 14 volunteers clearing o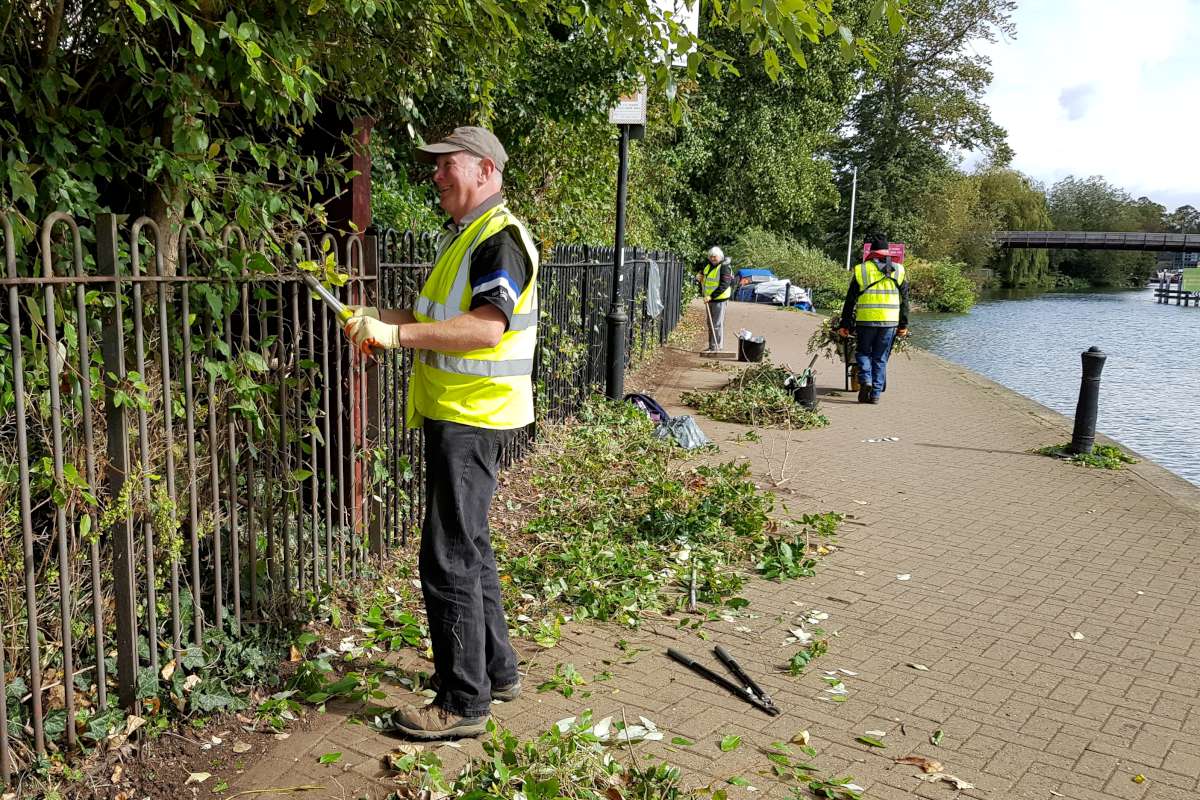 ve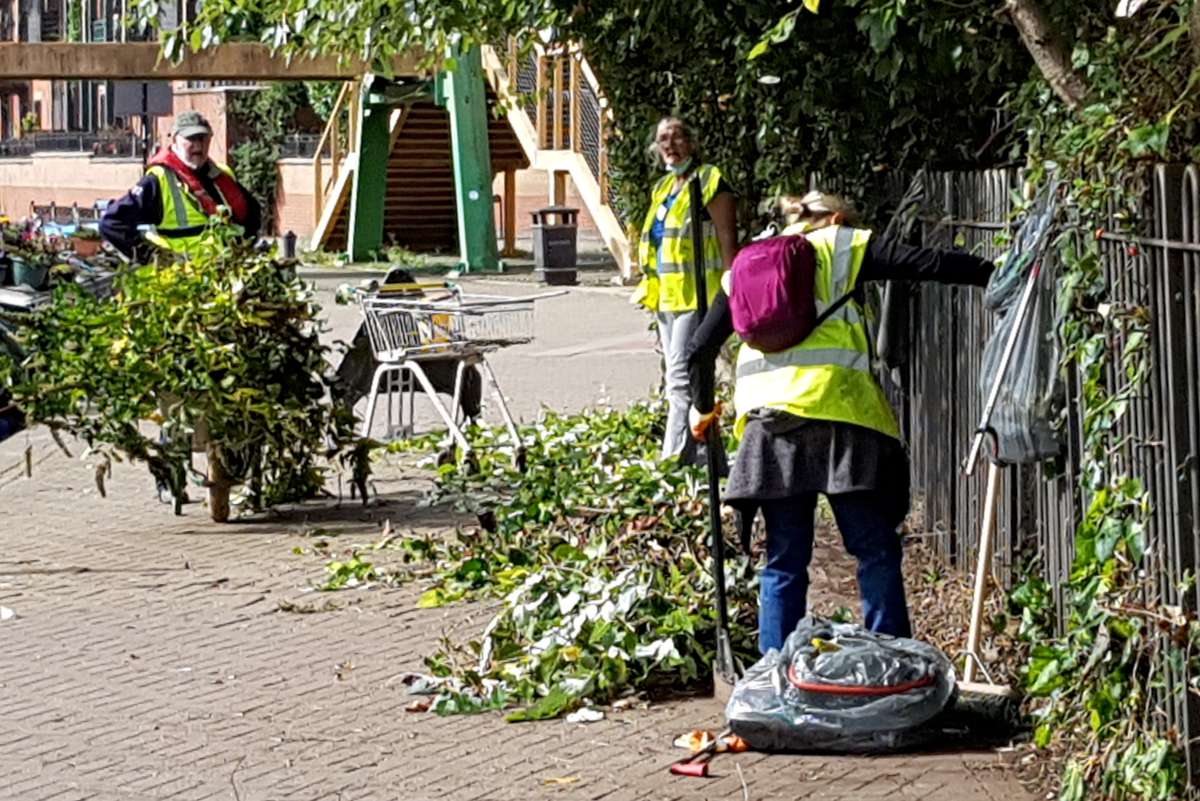 rgrown foliage and rubbish from the edge of the river, the walkway and the verges. Quite a mammoth task but rather satisfying - we hope someone will notice their efforts!
PRESIDENTIAL HANDOVER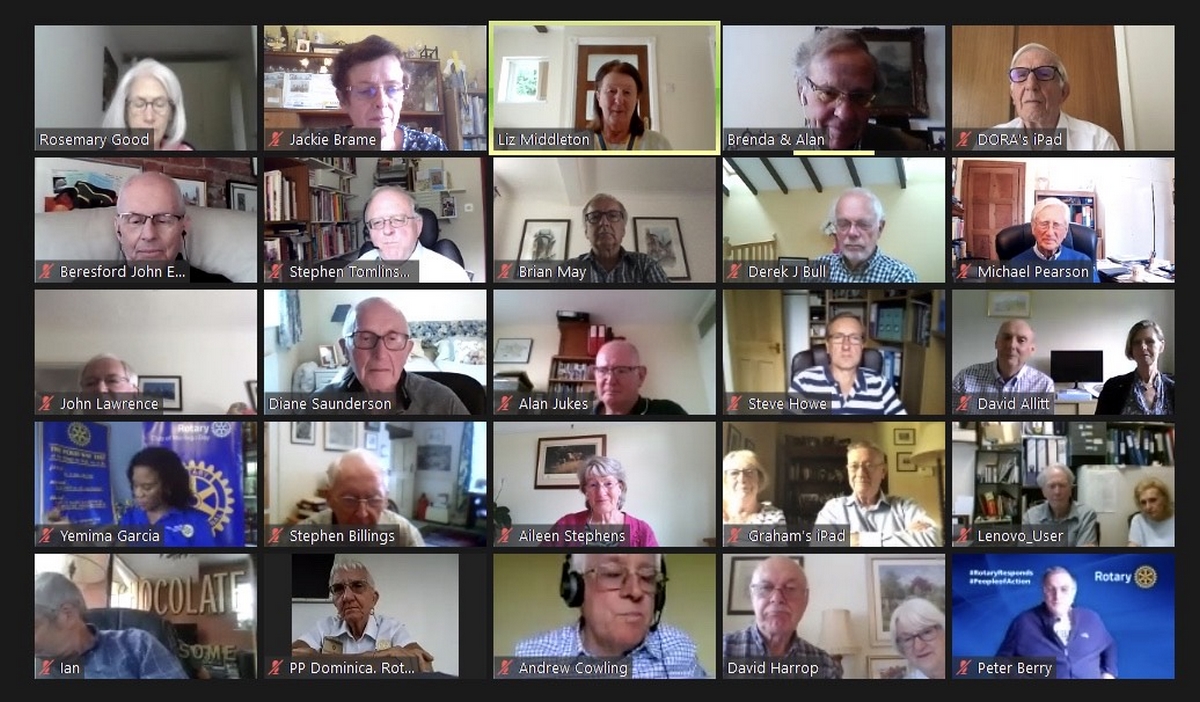 We had a brilliant 2020 handover meeting on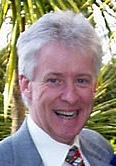 Monday 29th, as Andrew Cowling (right) became our 99th President, taking over from Liz Middleton. Members were joined by International friends Yeminia Garcia, Dominica Pradere and Kay from Montego Bay Rotary Club. Jamaica. and Ralph Roseman from the Water Front Rotary Club. Capetown, South Africa. District 1070 Governor Peter Berry joined us, as well as Past President Rosemary Good, with Angela Woods & ADG Steve Howe from the Rotary E-Club of District 1070.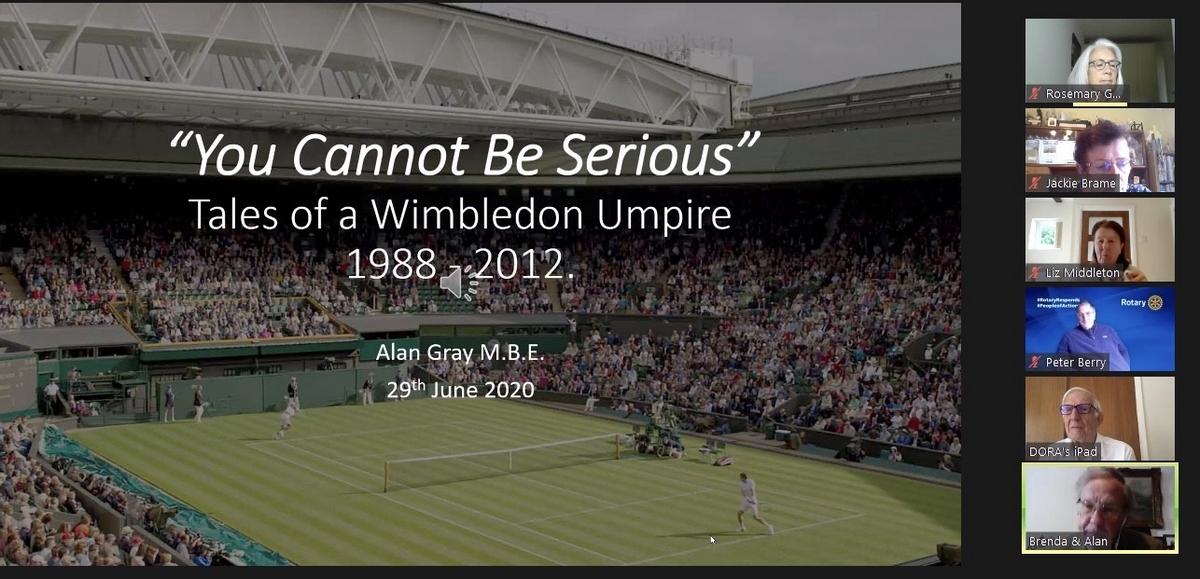 Our guest speaker, Alan Gray, gave his first Zoom, Wimbledon presentation, ably supported by his son David Gray. His 'You can't be serious' talk was very enjoyable, and we are so pleased that Zoom enables us to enjoy our Rotary together.
*****************************

To read our latest Newsletter CLICK HERE
You will find Earlier Newsletters by clicking on "What we do" above, and then "Newsletter Library"
*****************************
Wine Tasting Raises Cash for Toilet Twinning
The Club's wine tasting evening with Conrad Heede from the Rotary Club of Grapevine, Texas, has born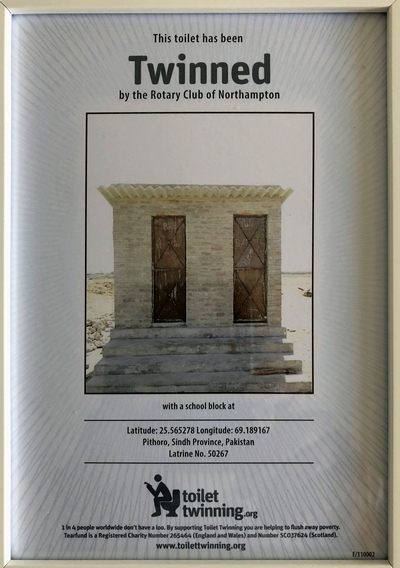 fruit. Conrad talked to us about wine as an aperitif, food accompaniment and Rotary Fellowship. He then commented through the power of Zoom on some of the wines we were tasting in the safety of our own homes.
Donations were made to support Toilet Twinning to help us to 'twin' our toilets with a latrine overseas – so together we could help sponsor a household toilet for a family in a poorer community abroad, or a toilet block at a school or refugee camp.
Good news! The money raised at the evening, with additional funds from the International Team, has twinned us with a school toilet block in Pithoro, Sindh Province, Pakistan.
****************
After decades of work across 47 countries on the continent, the World Health Organization has certified the Africa region polio free.
By Laura Willcox
Published Date: August 25, 2020
Today, the World Health Organization's (WHO) Africa region, has officially been certified free from wild poliovirus, signifying a major milestone in the battle to eradicate the disease worldwide.
This certification has come four years after Nigeria, the last polio-endemic country in Africa, recorded its final case of wild polio and is an incredible public health achievement for Rotary members, the African region, and Rotary's partners in the Global Polio Eradica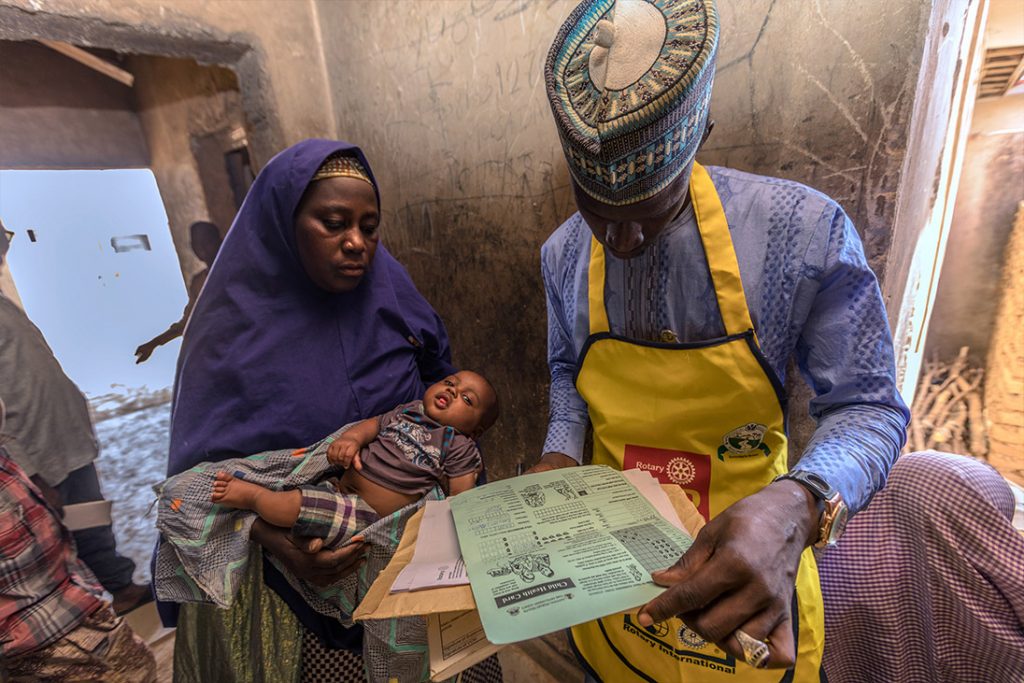 tion Initiative (GPEI).
This progress is the result of a decades-long effort across the 47 countries which make up the WHO's African region and now means that five of the six WHO regions, which represent 90% of the world's population, will be free of polio.
Today, the World Health Organization's (WHO) Africa region, has officially certified free from wild poliovirus, signifying a major milestone in the battle to eradicate the disease worldwide.

Efforts to get to this momentous stage have involved millions of health workers traveling by foot, boat, bike and bus to reach children, innovative strategies to vaccinate those living among conflict and insecurity, and a huge disease surveillance network to test cases of paralysis and check sewage for the virus.

In 1996, Rotary and our partners joined with Nelson Mandela to jumpstart Africa's commitment to polio eradication. Since then, 9 billion doses of oral polio vaccine have been provided, averting an estimated 1.8 million cases of wild poliovirus on the continent.

Since 1996, 9 billion doses of oral polio vaccine have been provided, averting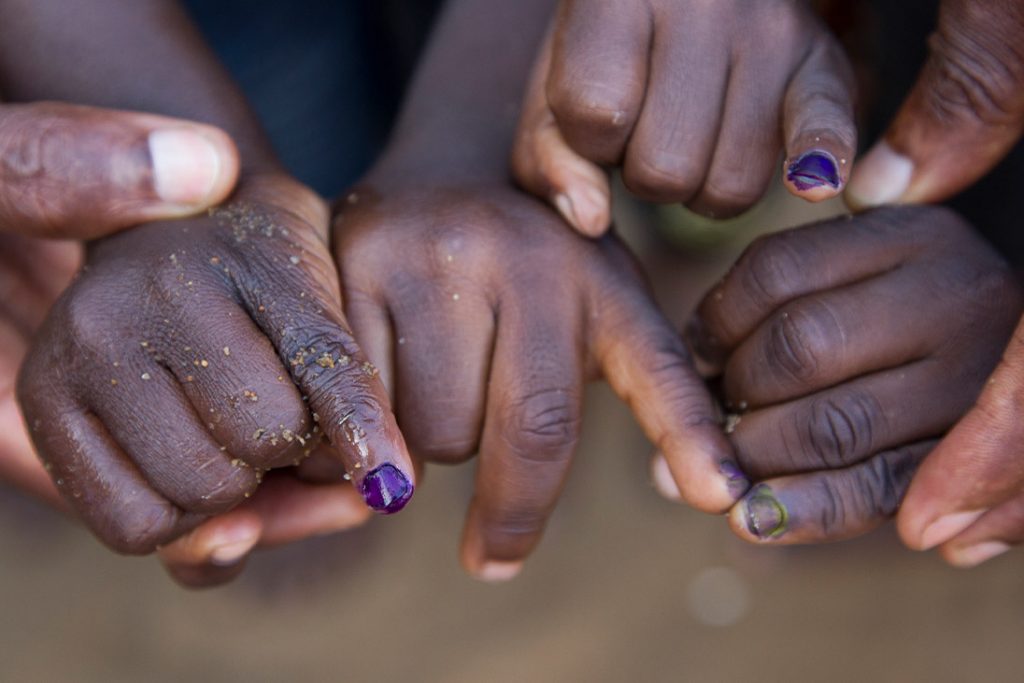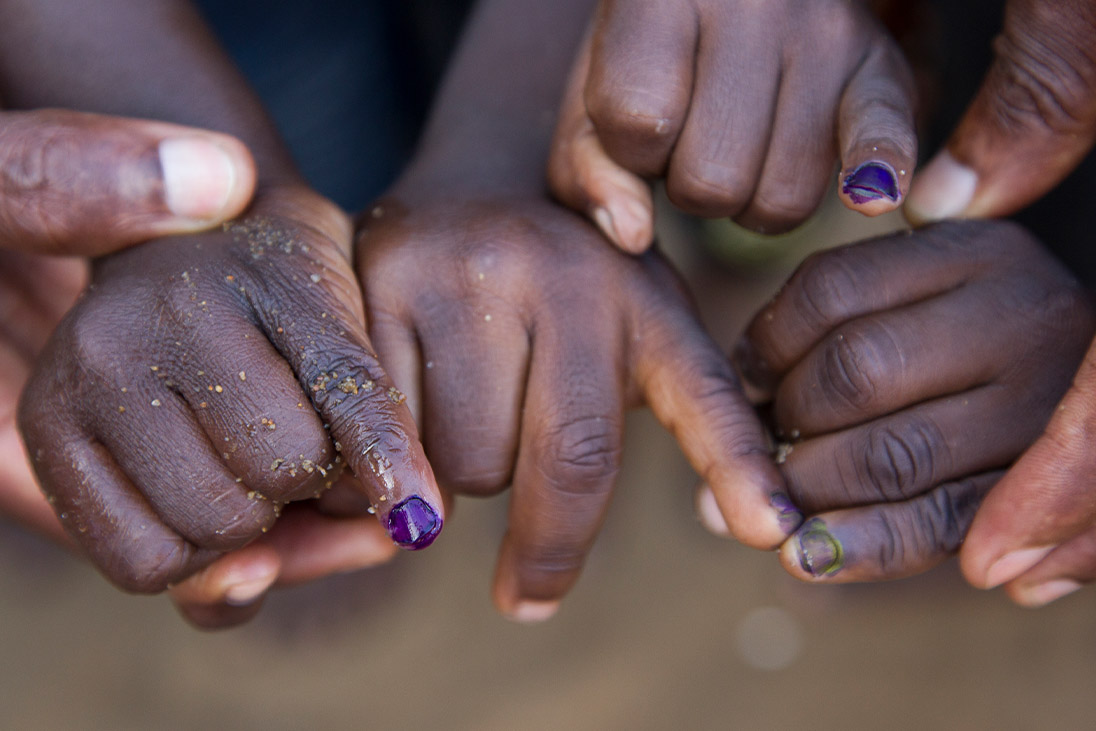 an estimated 1.8 million cases of wild poliovirus on the continent.

Rotary members have played an invaluable role in the effort to rid the African region of wild polio.
By raising funds for polio eradication, advocating with world governments and national and local leaders, and raising awareness, Rotarians have contributed nearly US $890 million to conquer polio in the region.

Despite this incredible public health milestone, the job to fully rid the world of polio goes on, as the virus continues to circulate in parts of Pakistan and Afghanistan. Vaccination programmes must continue to reach every last child and strengthen routine immunisation to keep immunity levels high, so the virus does not return to Africa.

Rotary members across Great Britain and Ireland remain committed to making the final, challenging steps towards a polio free world a reality.

Events will be taking place across the world on 24th October, to mark annual World Polio Day.
*****************************
WELCOME! - COME & JOIN US
Rotary - Make a World of Difference
Join Rotary and make a world of difference to your own community, to the lives of those less fortunate around the world, to your fellow club members - like-minded men and women of all ages - and, just as important, to yourself! The projects Rotarians get involved in are incredibly fulfilling, worthwhile and rewarding - and there's plenty of fun involved.
If you think that becoming a Rotarian may be something that would interest you, and would like to learn more, please click on the logo on the right, which is this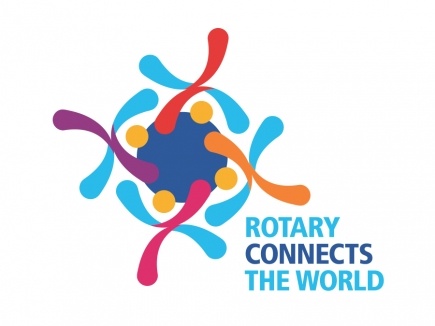 year's Rotary Theme, or if you would like to talk to someone about joining Rotary in Northampton click on this link

*********************************
To see more of what we do, just browse this website and see what you can find
************************************************
Raise Funds for Rotary Charities While You Shop
Just click here to access over 250 retailers selling anything from CD's to Holidays. Anything you buy through our web-shop will help towards our fund-raising targets - and you won't be charged a penny extra!
For a video to help you make donations click here
************************************************
Happening soon...
Meetings and events happening soon
Mon, Sep 28th 2020 12:00 pm
Speaker
---
TBA
Mon, Oct 5th 2020 12:00 pm
Club Meeting
---
Tue, Oct 6th 2020 6:15 pm
Satellite Group Business Meeting
---
Satellite Group business meeting on Zoom until further notice
Mon, Oct 12th 2020 12:00 pm
Speaker: Rtn Keith Fossey - Education in Swaziland
---
Promoting Education in Swaziland eSwatini
details
Thu, Oct 15th 2020 10:30 am
Walking with Friends at Delapre Abbey
---
A chance to walk together again with fellow Rotarians and friends - virus rules permitting
details
Mon, Oct 19th 2020 12:00 pm
Club Meeting
---
Fri, Oct 23rd 2020 7:00 pm
Quiz Night in World Polio Week
---
With Quiz Maestros Brian May & Stephen Tomlinson
details
Mon, Oct 26th 2020 12:00 pm
Club Meeting
---
future events Past Events calendar district events local events
---
---
---
Rotary News
Be part of a global network of volunteers, trying to make the world a better place. Please also see the 'links & news' page for information from the local district and live feeds from Rotary International and Rotary International in GB&I.
Rotary supporting rehabilitation for stroke survivors
---
Putting the wheels in motion to end polio
---
---
Meetings & Venue
Where and when:
We meet on Mondays at 12.30
Sunley Conference Centre
The University of Northampton
Park Campus
Boughton Green Road, Northampton
01604 494241