Northampton is a large market town in the East Midlands, approx. 67 miles Northwest of London on the River Nene, and is the county town of Northamptonshire.
The Rot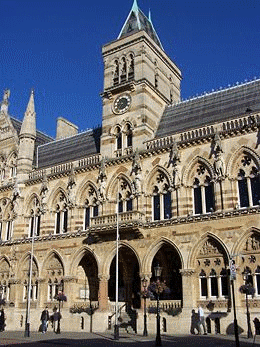 ary Club of Northampton was founded in 1921 and now meets for lunch on Mondays, when we have business and committee meetings, as well frequent speakers, usually related to our objective of providing service to others, but sometimes of general interest.
Our Satellite Group members meet on Tuesday evenings when they have a similar programme of service projects and occasional speakers.
The two groups meet regularly for fellowship and joint fund-raising events. We raise funds for, and plan and implement service projects, both locally and internationally.
We welcome anyone who may be interested in joining us to see what we are all about at lunch on Mondays, or on Tuesday evenings with our Satellite Group.
This website is also full of stories about what we do, and if you have the time why not take a look at the drop down options in the "beefburger" menu above left, to see what we have done in the past and what we have planned for the the future?
From 17th October 2022 we meet at Northamptonshire County Golf Club,

Golf Lane, Church Brampton NN6 8AZ
We have regular Monday lunch meetings12 for12.30pm and our Satallite group business meeting is usually on the 1st Tuesday of the month 6pm for 6.15pm start. If you would like to join us and hear what we are doing please email to : secretary.northampton@rotary1070.org
WORLD POLIO DAY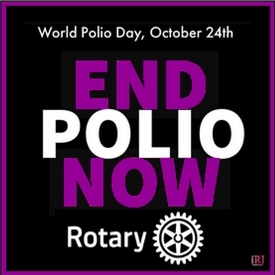 We celebrated World Polio Day in October, which recognises Rotary International's work since 1998, dedicated to the eradication of the terrible disease of polio around the world. Partnered with WHO national governments and the Gates Foundation
Rotary is an international community that brings together leaders, who step up to take on the world's toughest challenges, locally and globally. The eradication of polio is one of our longest standing and most significant efforts. Along with our partners, we have helped immunise nearly 3 billion children against polio in 122 countries. We have reduced polio cases by 99.9 percent worldwide, and we won't stop until we end the disease for good.
Rotary members have contributed more than £2.5 billion and countless volunteer hours to protect children from this paralysing disease. Rotary's advocacy efforts have played a role in decisions by governments to contribute nearly £12 billion to the effort, and the Gates Foundation has been adding £2 for every £1 raised by Rotary International towarsd the sum needed to toally eliminate the illness.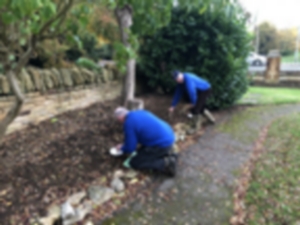 Like many Rotary Clubs around the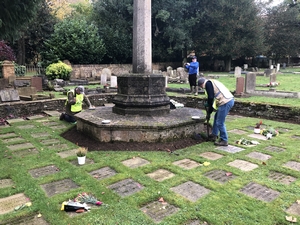 World we have been planting "Purple for Polio" crocuses as a symbol of Rotary's worldwide campaign to eradicate polio, with its colour representing the purple dye used to mark the finger of a child who has been immunised. They remind us in Spring, when the splash of purple erupts from public parks and gardens, of all the work that has been done and what is left to do.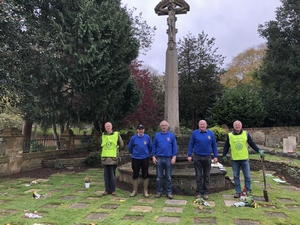 This year members of the Club have been planting the Crocus tommasinianus – Ruby Giant Purple corms in Abington Park, so please don't forget next year, when you see them bloomimg what they are there for, and if you wish make a donation in the meantime towards the funds required to complete the job go to Virgin Money Giving website

The University of Northampton helped to raise awareness with messages on its
tower
,.and here is a link to the latest information
In 2020 we have been celebrating the fantastice news that Africa has been declared free of the Poilio Virus
*****************************

Helping to Keep the Waterside Clear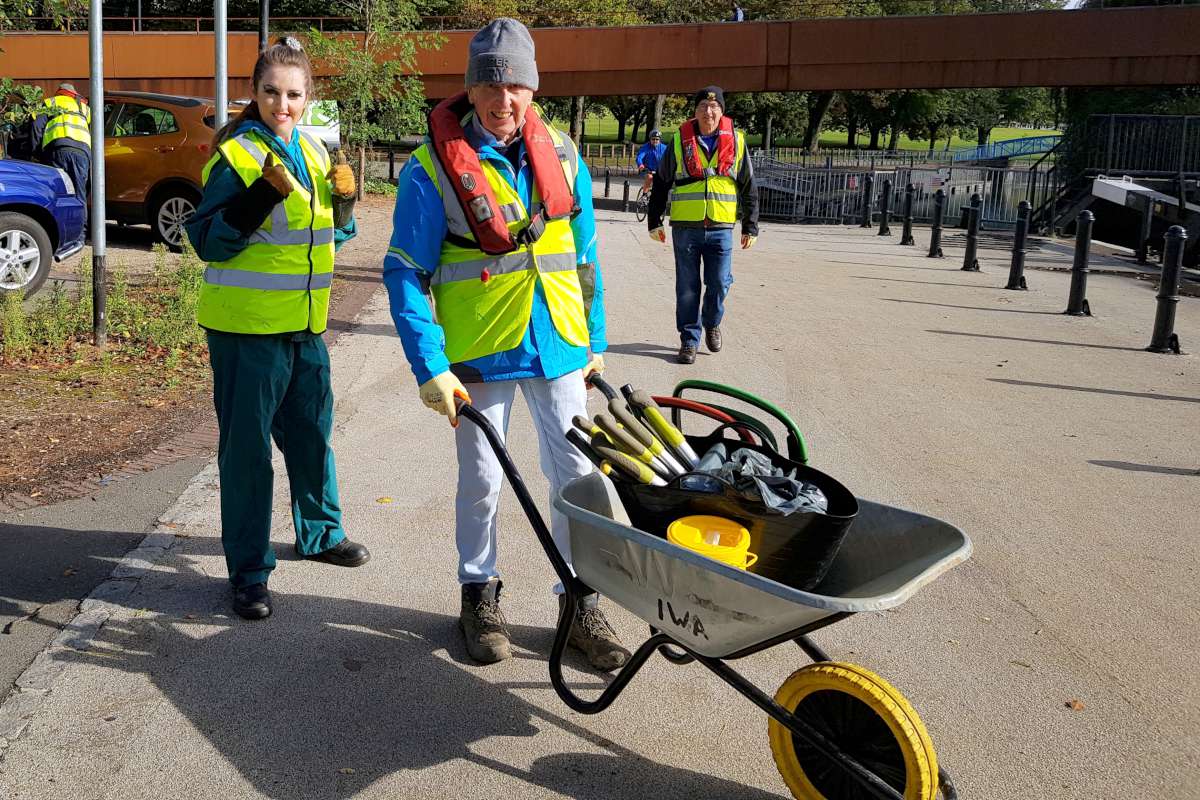 On Friday 25th September a few volunteers from the Club helped Nenescape, in conjunction with the Inland Waterways Association, with their September clean up and litter pick along Becket's Park Embankment, near the marina.
Rotarians Philip, Steve T, Alan, Brian and Aileen were part of a band of around 14 volunteers clearing o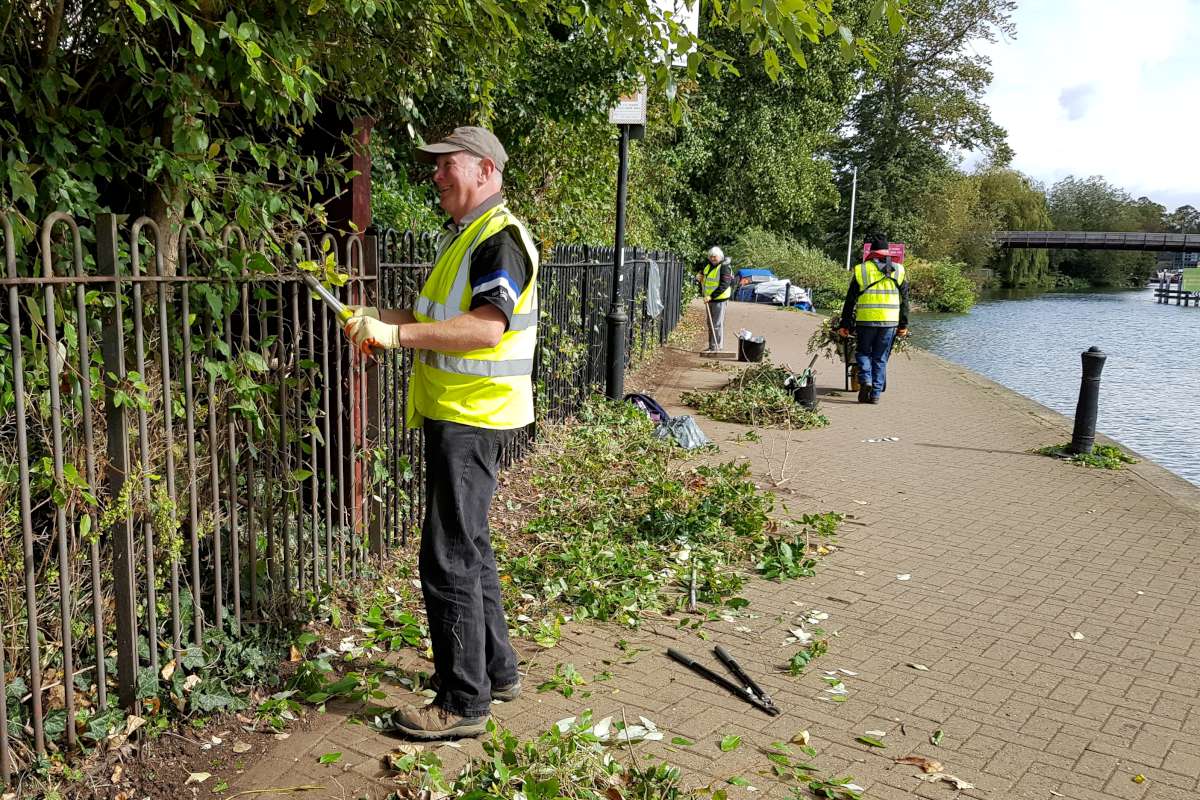 ve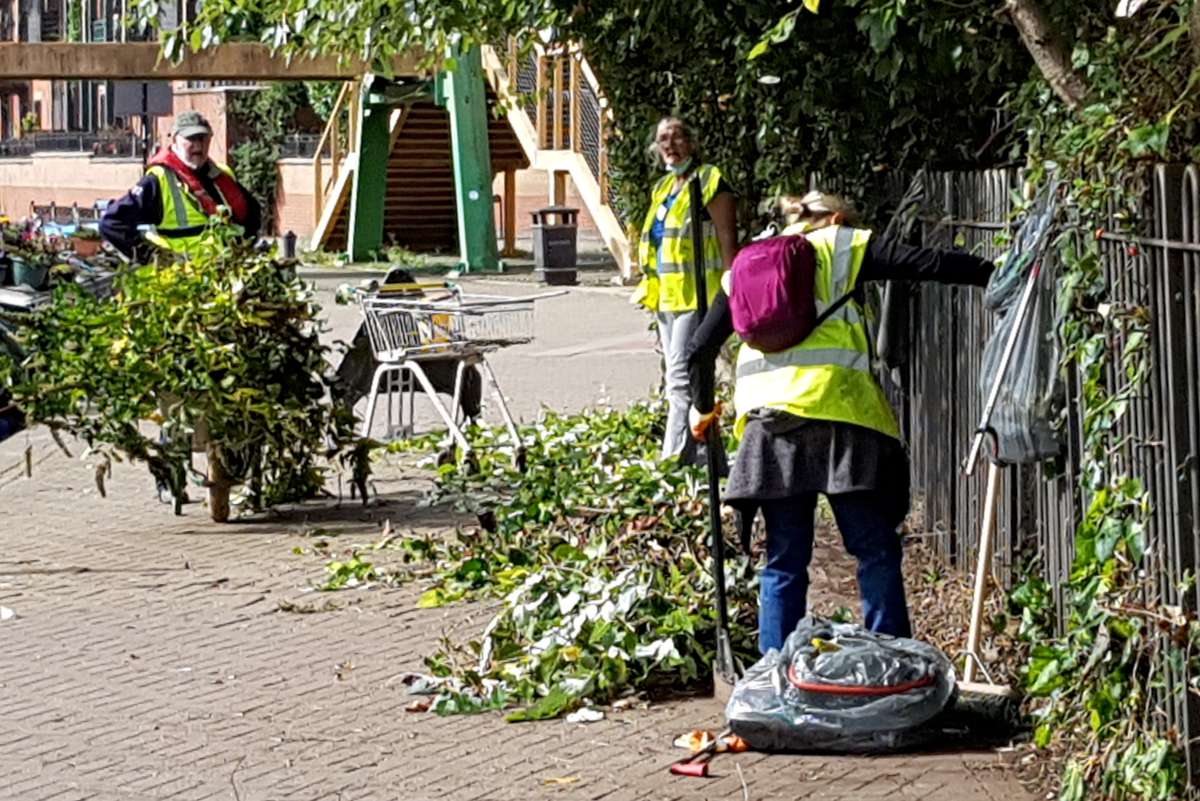 rgrown foliage and rubbish from the edge of the river, the walkway and the verges. Quite a mammoth task but rather satisfying - we hope someone will notice their efforts!
*****************************

To read our latest Newsletter CLICK HERE
*****************************
The Club's wine tasting evening with Conrad Heede from the Rotary Club of Grapevine, Texas, has born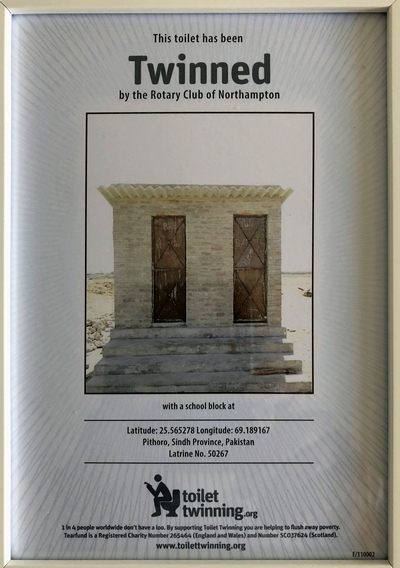 fruit. Conrad talked to us about wine as an aperitif, food accompaniment and Rotary Fellowship. He then commented through the power of Zoom on some of the wines we were tasting in the safety of our own homes.
Donations were made to support Toilet Twinning to help us to 'twin' our toilets with a latrine overseas – so together we could help sponsor a household toilet for a family in a poorer community abroad, or a toilet block at a school or refugee camp.
Good news! The money raised at the evening, with additional funds from the International Team, has twinned us with a school toilet block in Pithoro, Sindh Province, Pakistan.
*****************************
WELCOME! - COME & JOIN US
Rotary - Make a World of Difference
Join Rotary and make a world of difference to your own community, to the lives of those less fortunate around the world, to your fellow club members - like-minded men and women of all ages - and, just as important, to yourself! The projects Rotarians get involved in are incredibly fulfilling, worthwhile and rewarding - and there's plenty of fun involved.
If you think that becoming a Rotarian may be something that would interest you, and would like to learn more, please click on the logo below, which is this year's Rotary Theme,

or if you would like to talk to someone about joining Rotary in Northampton click on this link

*********************************
To see more of what we do, just browse this website and see what you can find
************************************************
Raise Funds for Rotary Charities While You Shop
Just click here to access over 250 retailers selling anything from CD's to Holidays. Anything you buy through our web-shop will help towards our fund-raising targets - and you won't be charged a penny extra!
For a video to help you make donations click here
************************************************