Summary
The Rotary Club of Highcliffe meets each Thursday evening (6:15pm for 6:30pm) at The Globe Inn, 266 Lymington Road, Highcliffe, Christchurch, BH23 5ET.

We welcome everyone to our weekly meetings, particularly visiting Rotarians.
To book a visit and meal, please e-mail the Club Secretary Dave Foot at daveg.foot@btinternet.com before 9pm on the Tuesday before the visit.
We are always looking for extra help on our many projects, while at the same time enjoying ourselves at our many social events during the year.
The Rotary Club of Highcliffe-on-Sea is twinned with Club de Villiers sur Marne - Le Plessis Trévise: District 1770, France.
Get the full story on Membership click here.
For more details of the team, past and present click here.
Business Partnerships
Highcliffe-on-Sea Rotary club is supported by a range of business partners.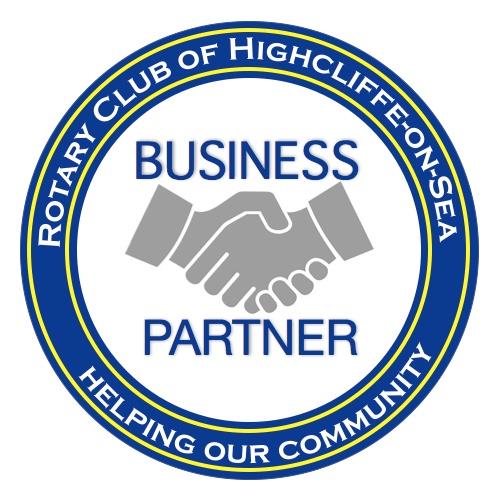 Click here to see more details.
History
The Rotary Club of Highcliffe-on-Sea was inaugurated July 1977.
Founder Members:
Rowland Adams (Ch. International Services), Peter Allen, Howard Baker, Roger Bettle, Harold Birch, James Bochan, Alan Blake(Ch.Voctional Services), Peter Bottom, Ray Bradbury, David Cundy, Jim Elms (Ch. Foundation), Robin Harrison, Kenneth Huish, Frederic Jesty (Vice President), Raymond Jones (Hon. Treasurer), David Macrostie, Ronald Miles, Dick Minns, Martin Newland, Anthony Parkinson, Brian Pettengell (President), Mike Reynolds, John Ricketts (Hon. Secretary), John Ridout, Brian Saunders, Don Snelling, Victor Wren (Ch. Community Service)
The Inaugural Dinner was held on 14th July 1977 at the Kings Arms, Christchurch.