Rotary Wareham helping the community whilst having fun and meeting people.!
We meet twice a month at the Springfield Country Hotel on Tuesdays from 7-15pm.
The Rotary Club of Wareham was chartered in 1972 and is very much a fun loving club made up of male and female members, with the common theme of friendship and providing service to the local community and wider support to Rotary International initiatives worldwide, such as Shelter Boxes and the eradication of polio.
We meet at the Springfield Country Hotel in Wareham, where we can catch up with friends, and meet visitors and guests who are always made most welcome by the membership.
Together we can make a difference.
Further information on the club can be found on various pages on this website, but if you wish to contact the club click on "Contact" at the bottom of this page and someone will get back to you as soon as they can.
For further information on Rotary see What is Rotary and 12 Reasons to join Rotary.
- - - - - - - - - - - - - - - - - - - - - - - - - - - - - - - - - - - - -
Collection for Morocco Earthquake and Libya Flooding
A big THANK YOU to the people of Wareham who generously donated to the recent collections for the Morocco earthquake and Libya flooding. A total of £511 was collected and will be added to from Gift Aid. The donations will be forwarded to Wessex Rotary Disasters Appeal who are currently liasing with Rotary clubs in Morocco to ensure that the money raised is used in the most appropriate way to help the people most effected by the disaster.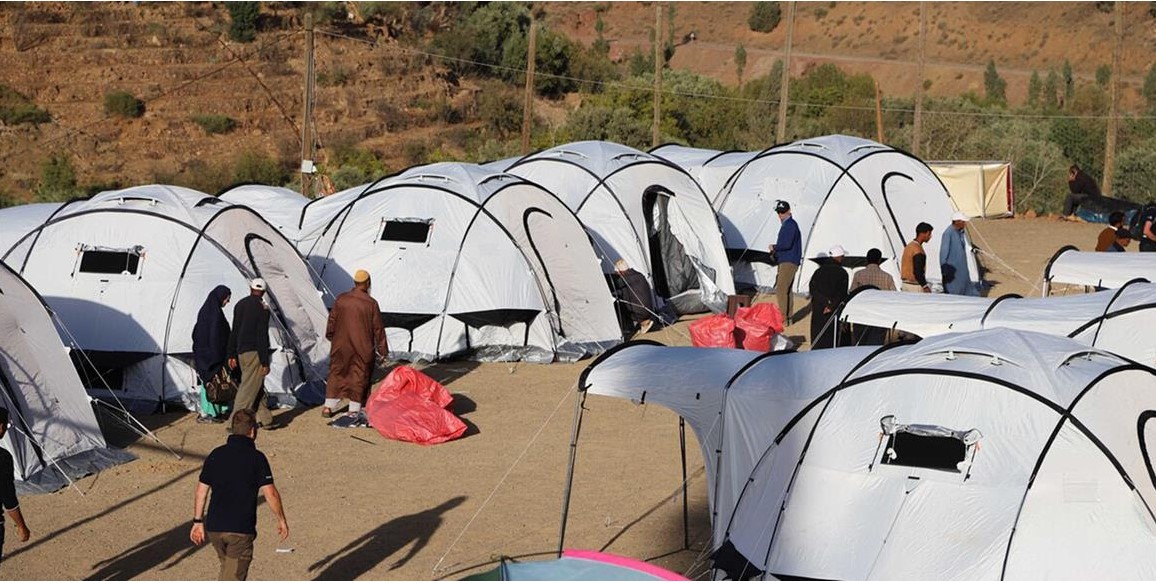 Distributing has begun of ShelterBox aid in mountain villages most affected by the devastating September earthquake.
There's still a lot of work to do, and distributions will continue over the coming days and weeks in partnership with Association Le Grand Atlas, Rotary in Morocco and local people. Volunteers from Rotary and local universities helped prepare the aid items, which were then transported to a storage warehouse and transferred on trucks to remote mountain villages.
- - - - - - - - - - - - - - -- - - - - - - - - - - - - - - - - - - - -
ShelterBox is a Rotary charity which provides shelter for families in crisis situations.
Each box costs £590 and is tailored for the weather conditions the people are likely to encounter, so each delivery of boxes is unique and meets the needs of up to 10 people, offering a tent for shelter, blankets/ground mats, cooking pots, a water purifier, a solar lamp, tools and even items to keep children occupied.
The tents are sturdy and have been used for years in some parts of the world after previous disasters. Earlier this year shelterboxes were sent to the Rotary Clubs in Turkey and Syria to house those in need in light of the emergency following the series of earthquakes.
Please consider donating to this very worthy cause, thank you.
To contact the Rotary Club of Wareham (Contact: Ann on 07870 775119)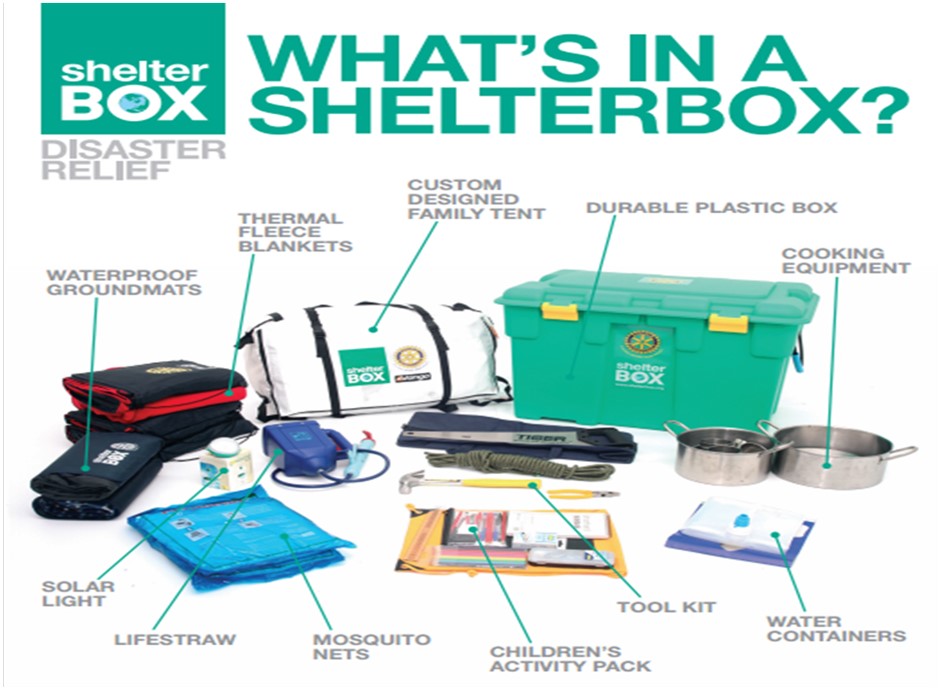 On 7th February 2023 Wareham Rainbows presented Wareham Rotary with a cheque to be used for a shelterbox. One of our members had previously taken an example Shelterbox along to a Rainbows meeting. The girls were so impressed that they raised £235 from a swimmarathon and donated £50 from their "penny pots". This was added to by Angela Salter, the Rainbows leader and by Ian Church, the President of Wareham Rotary.
-----------------------------------------------------------------
Wareham Rotary Open Gardens 2023
On Saturday 24th June 2023, 11 gardens across Wareham opened their gates to the public to help raise money for Wareham Rotary.
136 people attended the event and with donations a staggering £1,840.87 was raised. This money will be used to support local charities in and around Wareham.
Ann Popperwell, President of Wareham Rotary, said: "This was the first time we have run this event. We are incredibly grateful to the people who kindly opened up their gardens to help us raise money for local charities. Thank you to everyone who came and made this event such a success."
Some of the charities Wareham Rotary have recently donated to, include Wareham Food Bank, Wareham Community Fridge, Dementia Friendly Purbeck and Wareham Citizens Advice.
The Rotary Open Gardens event will run again next year on Saturday 15th June 2024. Tickets will be available to buy nearer the time. If you live in the centre of Wareham and would like to open your garden to the public please contact Wareham Rotary www.warehamrotary.co.uk
- - - - - - - - - - - - - - - - - - - - - - - - - - - - - - - - - - - - - - - - - - -
Race Night was held on 28th October 2023 at Furzebrook Village Hall
The very successful Race Night raised over £2,000. This will be split between Careline Appeal, which provides Careline facilities for those who struggle to afford it, and The Rex Cinema, which is manned by volunteers and provides an excellent facility for the people of Wareham.
-------------------------------------------------------------------------------------
Calendar of Events
November
7th - Business meeting and Special General Meeting
!4th - Film at The Rex "The MIracle Club"
21st - Speaker Eric Westroppe - (The Negotiator)
28th - Christmas Events Planning evening
December
5th - TBC
9th - Wareham Christmas Market
11th to 15th - Christmas Carol Collections (see )
Saturday 16th - Children's Christmas Party for disadvantaged children
19th - Club Christmas Party
26th - Boxing Day, no meeting
- - - - - - - - - - - - - - - - - - - - - - - - - - - - - - -