Rotary Wareham is meeting regularly again!
We meet twice a month at the Springfield Country Hotel on Tuesdays from 7-15pm.
The Rotary Club of Wareham was chartered in 1972 and is very much a fun loving club made up of male and female members, with the common theme of fellowship and providing service to the local community and abroad and wider support to Rotary International initiatives worldwide, such as Shelter Boxes and the eradication of polio.
We have recently resumed our usual meetings at the Springfield Hotel in Wareham, where we can again catch up with friends, and meet visitors and guests who are always made most welcome by the membership.
Together we can make a difference.
Further information on the club can be found on various pages on this website, but if you wish to contact the club click on "Contact" at the bottom of this page and someone will get back to you as soon as they can.
Happening Soon

CANCELLED 
With regret we have had to cancel the Christmas Carol 
Collections this year due to unsafe and freezing conditions.
The Christmas float with Carols will still be in Sainsbury's 
car park Thursday morning and Friday morning.
------------------
 
The Race Night 2022 was held in November '22 and was a great success. There were a lot of pirates and pirate's Molls and everyone had a great evening and raised over £1,000 for local charities. The money will be divided between Citizen's Advice Bureau and Dementia Friendly Purbeck.
A BIG, BIG THANK YOU to the people of Wareham who generously donated over £2,000 (and rising) to help Ukranian refugees. The street collection took place on the mornings of 3rd and 4th March outside Sainsburys entrance.
During school half-term members of Wareham Rotary assisted with the building of the new Rustic Nature Hut in the grounds of Sandford St. Martin's Primary School. We hope the pupils enjoy it and put it to good use.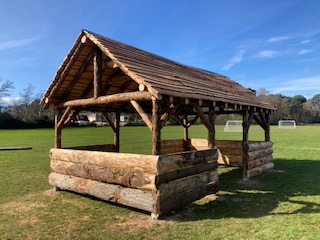 Wareham Rotary recently provided a donation to Sandford St.Martin's Primary School to help with the costs of planting young trees in the school grounds. Wareham Rotary members also assisted with the planting.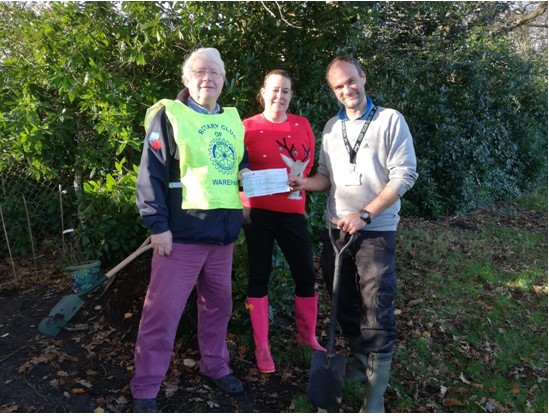 President, John Fox, handing over cheque to Sandford St Martin's Primary School.