About us


CAR BOOT SALE
The Cowbridge Rotary Club Car Boot Sales raise around £3000 each year for Rotary Charities and we would like to thank all who participate. It is held in the car park behind Cowbridge Town Hall. Additional parking is available in Arthur John's car park for buyers.

Provisional dates for 2020 are April 19, May 10, June 14,
July 12, August 19 and September 13
Good Citizen Award
On 31 October President Peter Davies presented Olive Rawson with a Cowbridge Rotary "Good Citizens" Award. This was in recognition of the tremendous work that Olive has done for over 20 years in supporting the Cowbridge Friendship Club and also her involvement with the Monday Club for nearly 40 years. Olive is shortly to move from Cowbridge to be closer to family and she will be sadly missed by all of her many friends in Cowbridge.
World Polio Day - October 24th

An early start was made by lighting up Ashby House, Maendy, at 00:01hrs.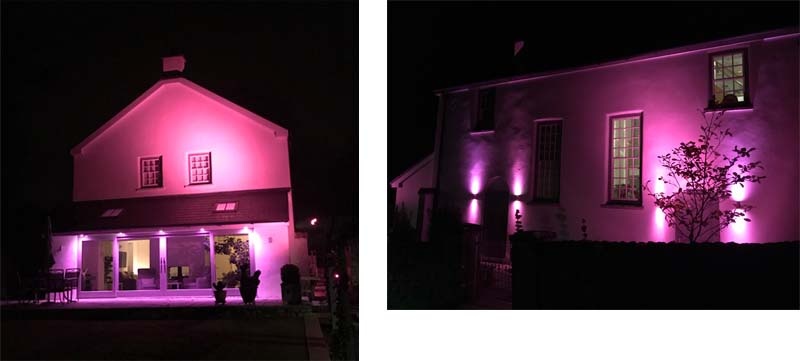 Later in the day a team from Interact planted hundreds of crocus corms in Jack's Garden at the Comprehensive School ably assisted by Len Baldwin.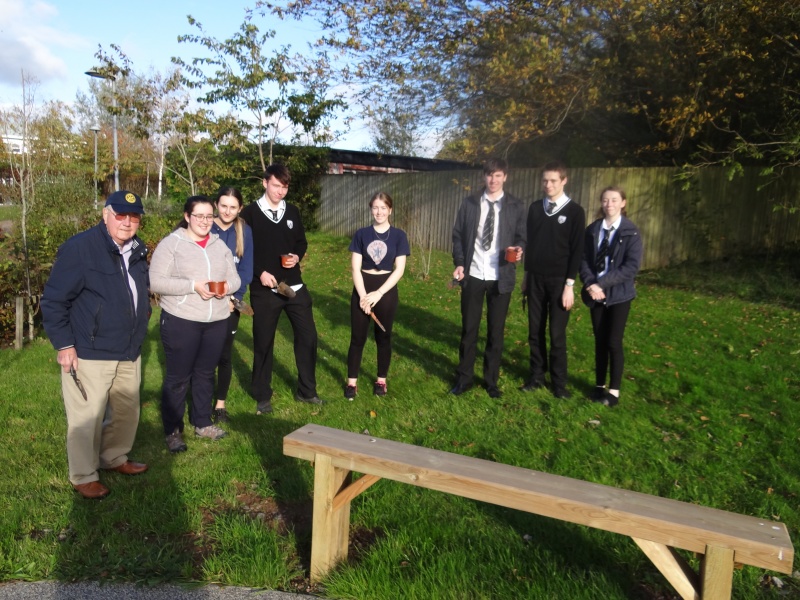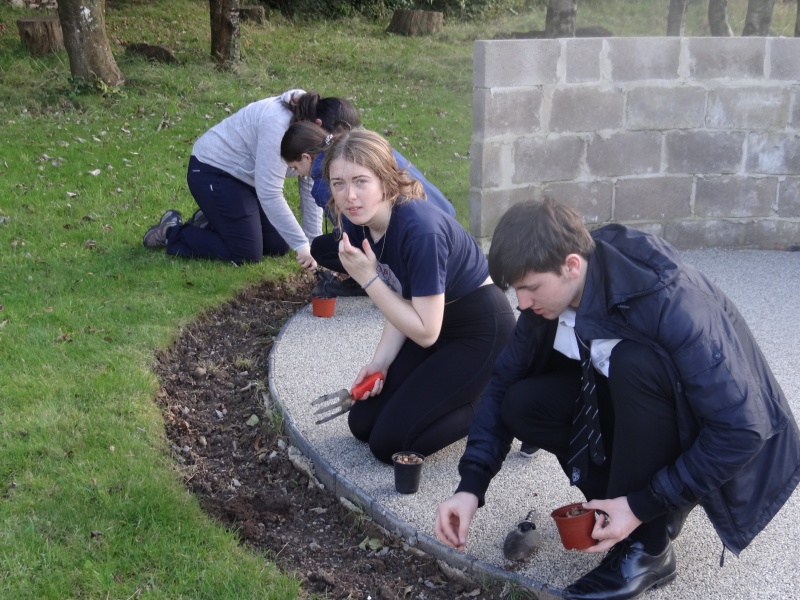 Llanblethian Church goes Purple for Polio

WE even got the sails on the Cardiff Barrage lit in purple: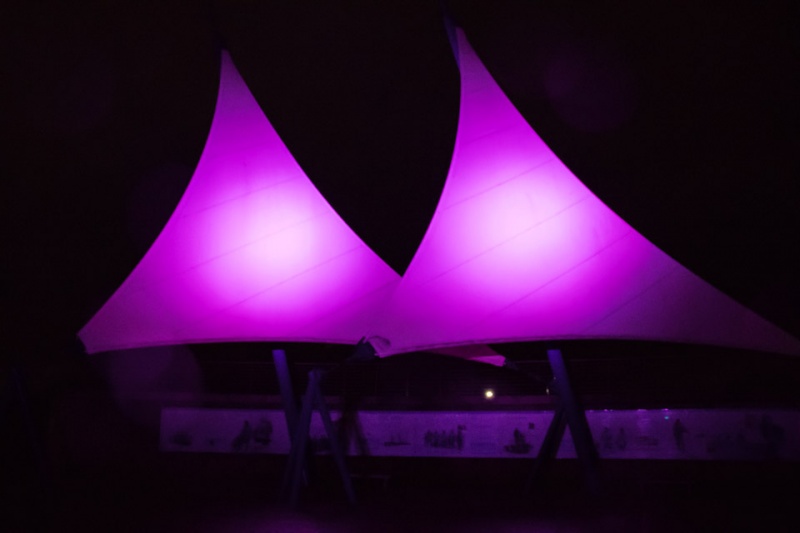 Rotary Citation with Silver Distinction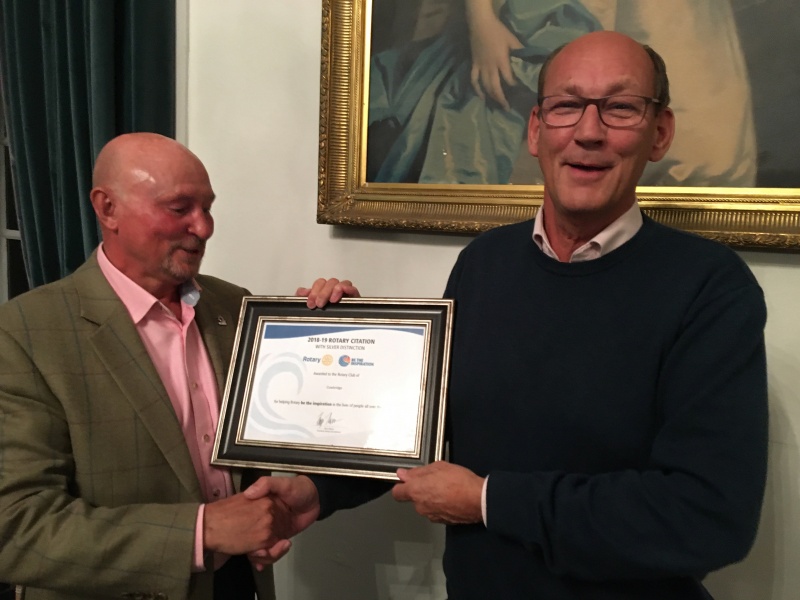 2018-19 President, Michael Long, was recently presented with the Rotary Citation with Silver Distinction that was achieved by the club in his presidential year. Assistant Governor Wayne Morgan congratulated the Cowbridge club on this acheivement. President Michael's comment: "It made filling in Rotary Central worthwhile".
Donation to Bridgend Samaritans

Samaritans was one of Past President Michael Long's charities and Rotarians visited the Bridgend branch on Saturday 3rd August to make a donation.

More details can be found by following this link: details
Primary Schools 7 a-side Football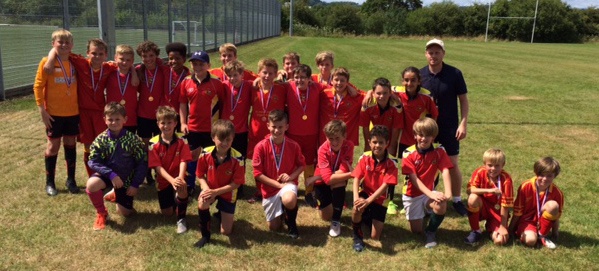 The Pendoylan A team beat St Brides Major in the primary Schools Seven a side football competition at the All Weather pitch at Cowbridge Comprehensive School on Friday 12th July. The event was organised by The Rotary Club of Cowbridge.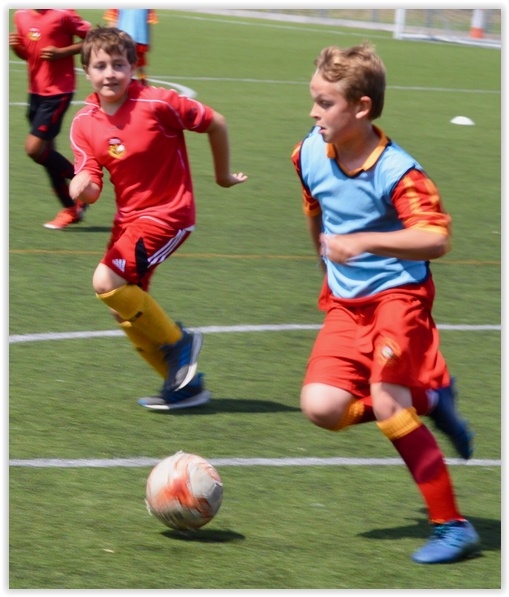 Five schools took part, Llangan, Pendoylan A and Pendoylan B, Peterson super Ely, and St Brides Major. The preliminary stages involved all teams playing each other. In the semi finals, Pendoylan A beat Peterson super Ely, and St Brides beat Pendoylan B. The final was keenly fought, and it was a draw at full time. It went to penalties, and it was again a draw after the first three. It went to sudden death, and after three further penalties, the Pendoylan A team came up as winners. Both winners and runners up were awarded medals by the President of Cowbridge Rotary, Mr Peter Davies.

Cowbridge Rotary Club are grateful for the support of the Cowbridge Comprehensive School for the use of the pitch, Ysgol Y Bontfaen for the loan of the gazebos, and Waitrose Cowbridge and Tesco Cowbridge for the provision of bottle water.

In the spirit of the game, both teams were photographed at the end, wearing their medals.
Changing of the Presidents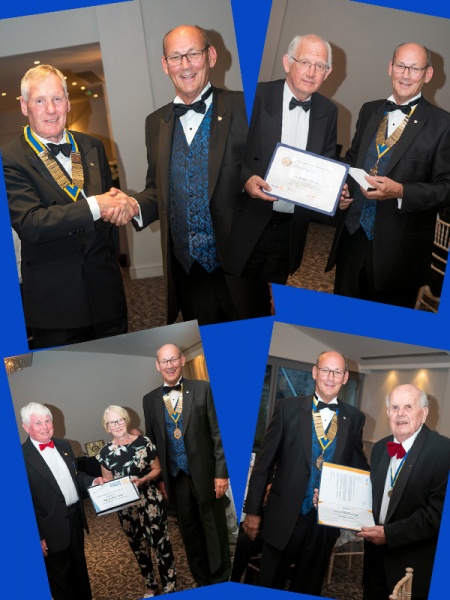 On Monday, 24th June, 2018-19 President Michael Long handed over the chain of office to the incoming President, Peter Davies. During his review of the activities undertaken by the club in the past twelve months, which was supported by a slide show of photographs shown throughout the evening, President Michael presented three well deserved awards.
Past President David Harris received a Paul Harris Fellowship, Don Bell and his wife Pat were awarded a Citizenship citation, and Phil Irish was presented with a RI Presidential Recognition of his remarkable 60 years of Rotary service.
Incoming President Peter thanked Michael for his enthusiastic leadership of the club and also thanked Michael's wife, Carol, for her support and for keeping Michael under control. The plans for next year that were revealed in the Club Assembly were summarized by President Peter before he installed the new club officers. See more photos here.

Support for Dementia Friendly Cowbridge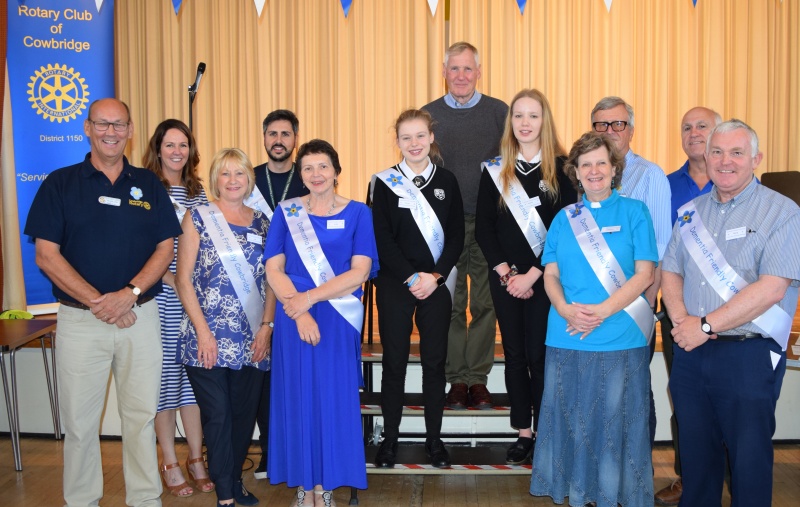 On Friday 21st June, Dementia Friendly Cowbridge held an Open Day in the Town Hall to give information about the help available to dementia sufferers. Apart from the supporting stalls, there were opportunities for one-to-one discussions and entertainment was provided. Rotary assistyed with many aspects of the day. Click on the image on the left to see more photos.

Bikes in the Bear - electrifying!
David Mobberly of Thunder Road in Bridgend gave a talk to club about the development of electrict bikes both in the UK and Europe. He also brought along examples of the various types available and the St Quentin's Suite became a temporary velodrome. Click on the image for a few more photos.

Rotary Open Gardens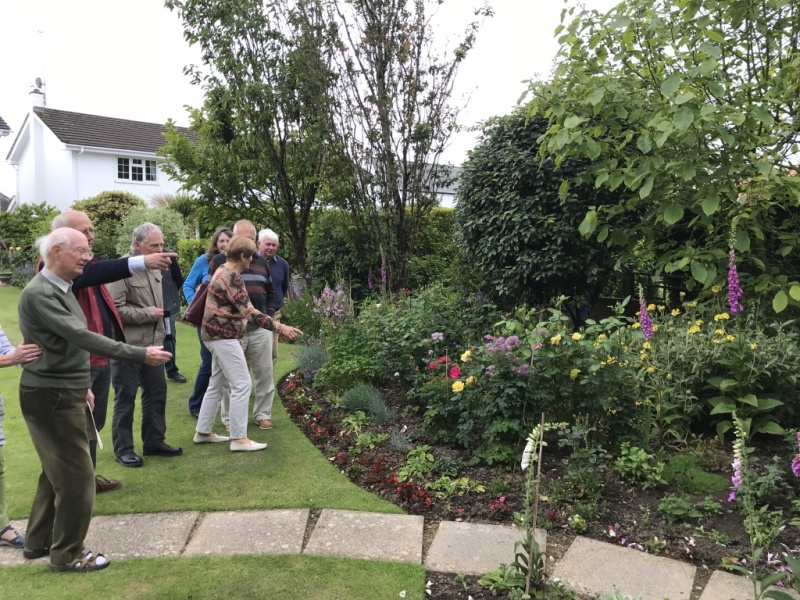 The Rotary Open Gardens took place on Sunday, 2nd June. Despite the weather, it was a great success.

Click the image to see more photos.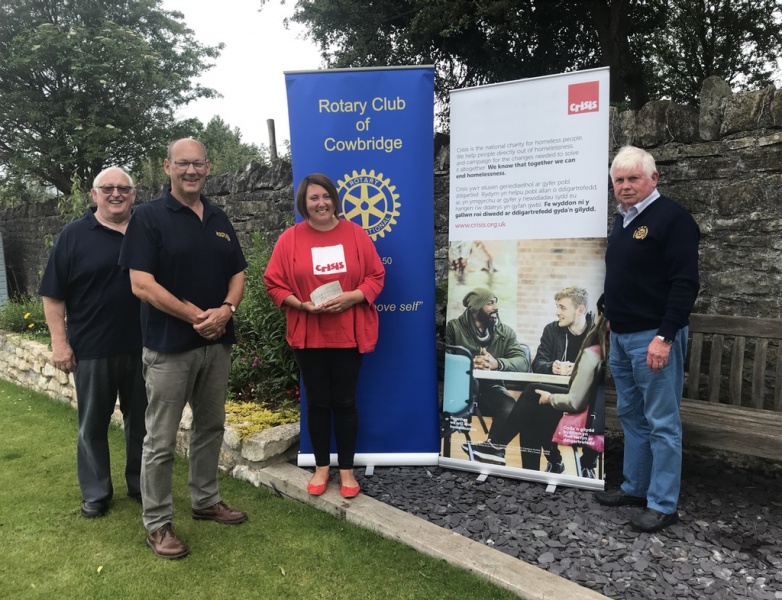 Presentation of a £2000 cheque to Jo Leonard of Crisis 'Together we will end Homelessness'.
The Mad Hatters tea party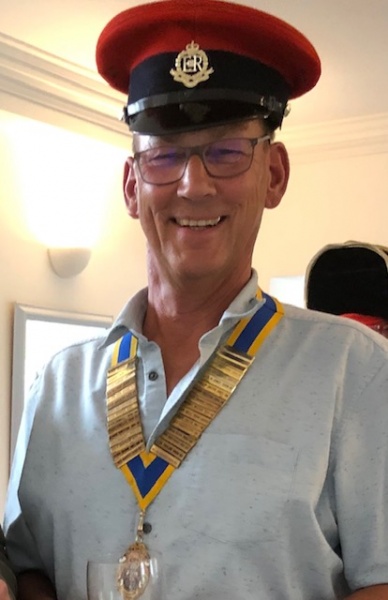 President Michael insisted that all guests to his drinks party wore hats so that he had an excuse to wear his Military Police hat again. (Do you think his head has grown?). Click on the photo below to see more hats.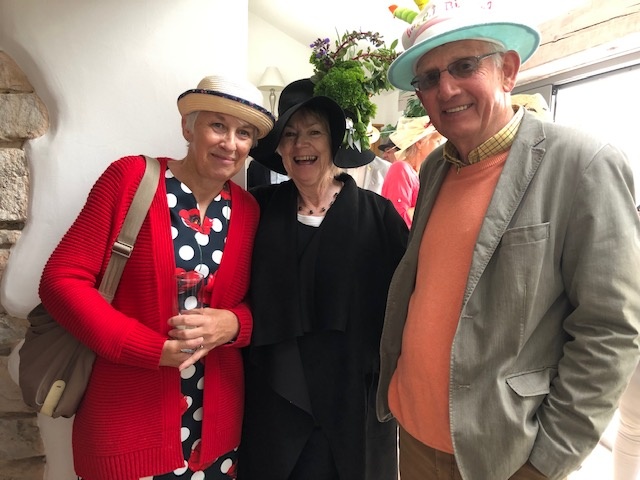 A touch of childhood magic for residents at Longmeadow Court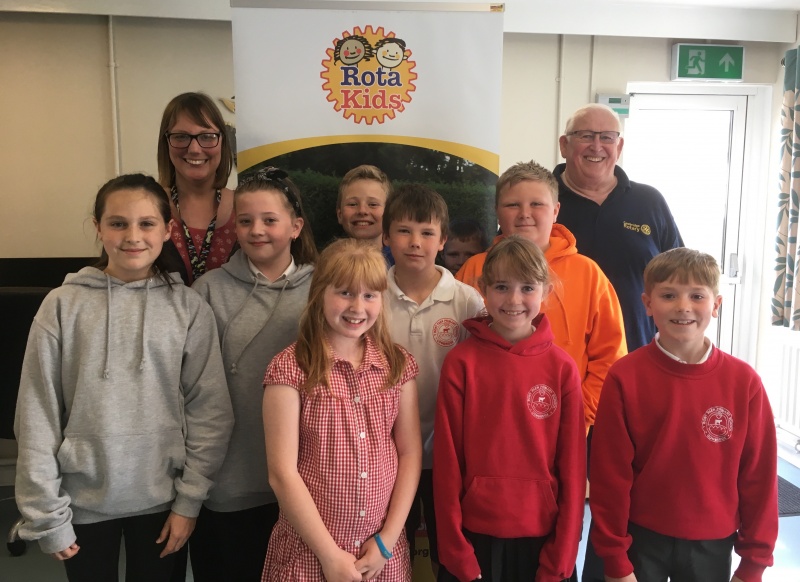 Y Bont Faen Primary School Children brought their own style of smiles and sunshine to the Longmeadow Court Retirement housing complex in Cowbridge, when they visited as part of the Cowbridge Rotary 'RotaKids Club' initiative.
Singing songs and chatting with the residents, the children from Years Four, Five and Six, proudly discussed their schoolwork, while showing them their schoolbooks and explaining the topics they were studying.
Children involved in the Y Bont Faen RotaKids are now planning further visits to Longmeadow Court, including helping a number of rather older Cowbridge Rotary members to plant up the raised flowerbeds at the flats.
Cowbridge Rotary President Michael Long said:
"The RotaKids Club initiative is a fun and exciting way for children aged seven to 12 to make friends and get involved with important activities in the community, while boosting their confidence and developing an understanding of how their actions can impact on others.
"It also brings an exciting and practical approach to supporting 'citizenship', an important element of the national curriculum.
"I would like, on behalf of Cowbridge Rotary, to send our sincere thanks to the School Head, Mrs Julia Adams, and Year 6 Teacher, Rebecca Millard, for providing such enthusiastic support for the RotaKids Club activities at Y Bont Faen.

St David's Day Concert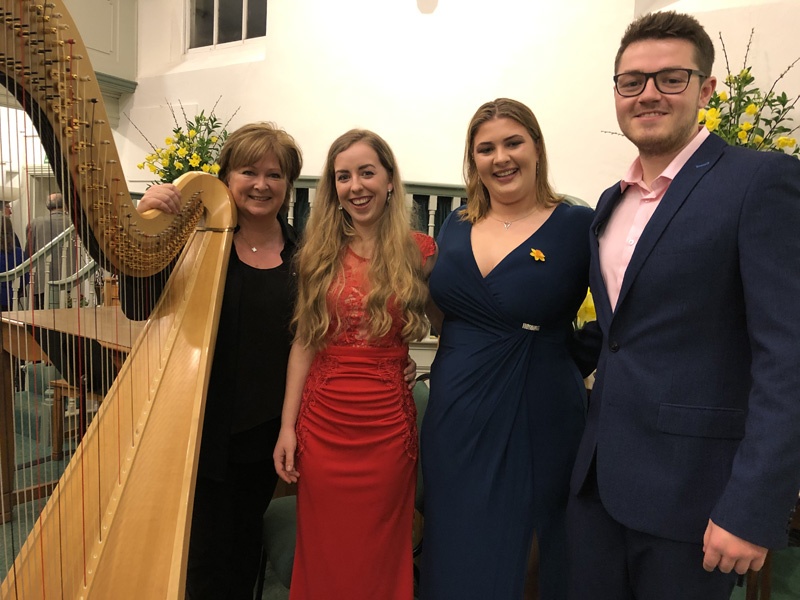 Although held on the 2nd March, our St David's Day celebrations were a great tribute to our patron saint and all things Welsh. After a delicous meal of cawl and Welshcakes, club members and guests were entertained by three extremely talented musicians from The Royal Welsh College of Music & Drama and Rtn. Caryl Thomas with a selection of beautiful Welsh music and poems. Many thanks to tenor, Osian Wyn Bowen, soprano, Esyllt Thomas and harpist Elin Kelly. Thanks also to Heather Weddell and members of the Cowbridge United Free Church for the use of the Ramoth and to the three Cowbridge Interactors for supporting the event. A total of £1034 was raised to be shared between Samaritans, Y Bont and Homelessness.
Rotary Youth Leadership Awards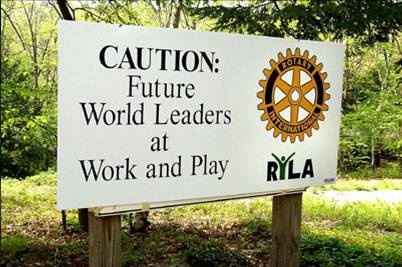 RYLA scheme
THE Rotary Youth Leadership Award scheme (RYLA) is one of the youth activities supported by Rotary Clubs and offers young people the opportunity to take part in a challenging week in the Brecon Beacons. The week-long residential course based at the Storey Arms Outdoor Education Centre, concentrates on a range of outdoor activities designed to help students develop their team-working skills, leadership and improve their self-confidence. Three separate six-day courses, with 30-40 young people aged between 16-17, are run in the first half of the summer holidays with the costs met by the sponsoring Rotary Club. For more information on the course, contact Cowbridge Rotary by clicking on Contact at the top of the page and select "Youth LeadershipAward RYLA"

Scatter Week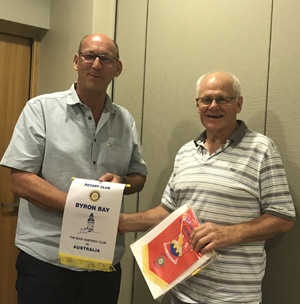 Cowbridge Rotarians visited many clubs during scatter week but President Michael Long obviously wants to win the prize for the furthest scatter as he visits Byron Bay Rotary on the Australian Gold Coast (10455 miles from Cardiff) where he exchanged banners with their President Colin McJannett.

As he is donating the prize, we don't really mind if he wins !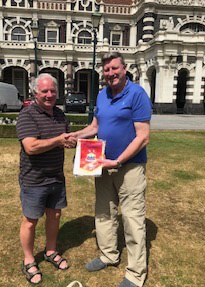 But now there is a challenge. Secretary Michael Macphail exchanged banners with President Dave MacLeod (another Scot?) of the Dunedin Central Rotary Club outside the famous Dunedin Railway Station. (11953 miles from Cardiff)

Young Chef Competition

8 aspiring Young Chefs took part in the club heat of the competition. The winner, Lily Marshall, and the runner-up, Cai Hopkins go forward to the Area 7 final.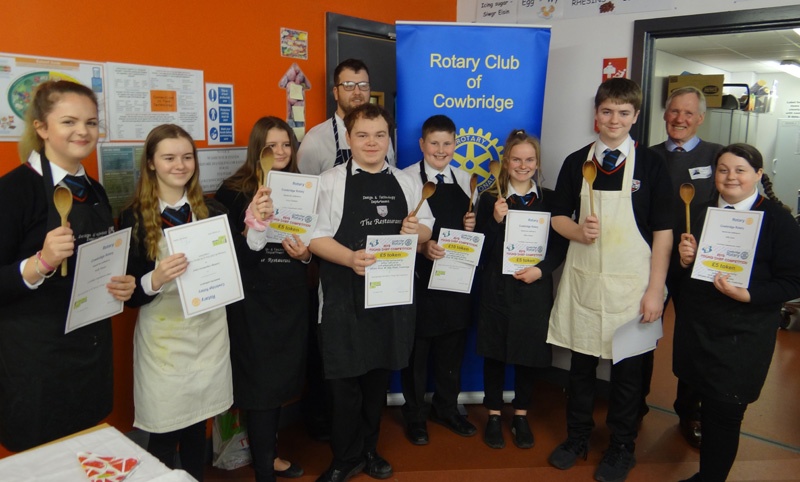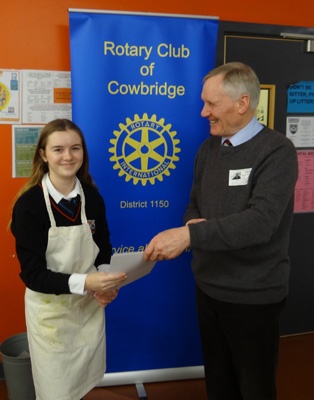 The winner, Lily Marshall, receives her certificate......

......and President Elect Peter does the washing up!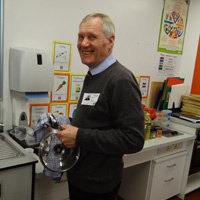 Visit to St Athan Search & Rescue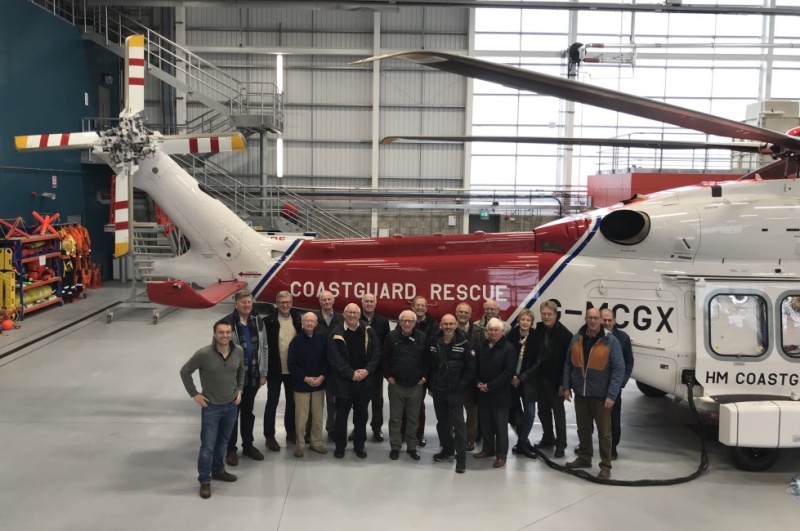 Club members enjoyed a visit to the local base of the Helicopter Search & Rescue (SAR) service operated by Bristow. It is housed in a purpose built, seven million pound facility on the St Athan airfield. An explanation of administration and organisation of a service that covers much of Wales and parts of South West England was followed by a tour of the hanger and the AgustaWestland AW189 helicopters used for search & rescue.

Microfinance at Y Bont Faen Primary School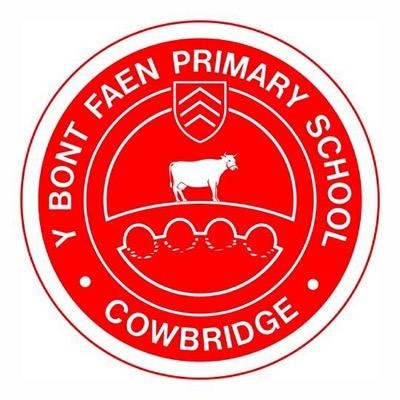 With the support of Rotarians and using part of a generous donation by a benefactor, Year 6 at Y Bont Faen Primary School have started a micro-finance project. Using a non-profit international platform called Kiva they have chosen from over 7,000 listed projects to loan money to 14 deserving cases. The micro-loans of $25 each range from purchasing goats in Kyrgyzstan to children's primary education in Lebanon. This project integrates well into the school curriculum, incorporating elements of geography, maths, IT, etc. The project will soon be extended to Year 5 pupils.

Purple for Polio
To celebrate World Polio Day, the club held a meeting in the Shampan Indian Restaurant. As the theme was piurple Rotarians and their partners had to wear something (visible!) in purple. The four miscreants who failed to do this had to dip their "pinkies" in purple ink to reflect the action taken when children are imunised to show that they have received the vacine.

--------------------------------------------------------------------------------------------------------------------------------------------------------------------------------------------------------
Rotary welcomes new members interested in having fun while 'giving something back' to the community. Fresh ideas and enthusiasm are the life blood of any organisation! It is easy to contact us using the "Click Here" button at the top right of the page.

---
Rotary provides opportunities to connect with people of like ideas, providing unique opportunities to serve the community using one's own professional skills alongside leaders of other businesses and professions. Rotarians help one another, and together help others.
Rotary is fun every club holds social activities that offer diversions from today's demanding professional and personal schedules. Conferences, conventions, assemblies, and other events provide entertainment as well as Rotary information, education, and the opportunity for service.
Rotary helps personal growth and development by continuing one's growth and education in human relations and by developing and extending leadership skills. Serving in Rotary helps one learn how to motivate, influence and lead leaders.
Rotarians are people who believe that whilst it is nice to be important, it is more important to be nice.
Cowbridge - A Market Town in the heart of the Vale of Glamorgan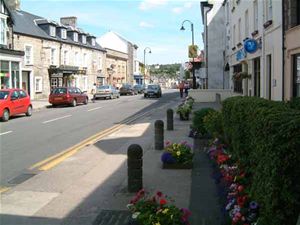 Cowbridge is a township that has developed on the site of a Roman fort built in the 1st century AD. Sir Richard de Clare, Lord of Glamorgan, granted Cowbridge a Charter in 1254 and developed the town. By 1266 Cowbridge had town walls with four gates, although the North Gate was used mainly for cattle. It was an important centre for trade and was the last recipient of a Royal Charter by Queen Victoria in 1886 and was able to appoint its own Councillors and Mayor. This tradition has continued in spite of the local Government reorganisation of 1974.
Cowbridge was renowned for its fairs but also became well known for its traffic jams on the main route from Cardiff to West Wales. A bypass to the north of the town solved that problem and the town continued to develop as a business and commercial centre as well as a popular dormitory town for Cardiff.
Today Cowbridge is known as the Bond Street of Wales and there are many shops that make the atmosphere of the High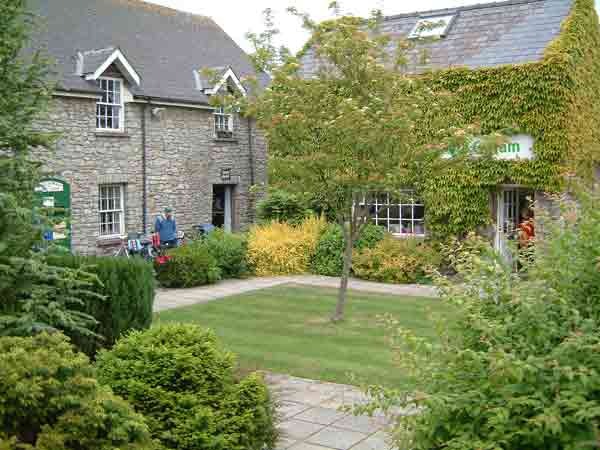 Street an enjoyable place to wander and to spend money! A farmers market twice a month also adds to the variety of goods available.
The Rotary Club of Cowbridge was chartered in February 1961, currently has 44 members and meets in the Bear Hotel, a historic coaching inn. We are always pleased to welcome visiting Rotarians or others interested in the work of Rotary to our meetings.
Rotary was founded over 100 years ago on the principle of "meeting regularly to enjoy and expand one's circle of business and professional acquaintances." That principle remains true today, and in an increasingly complex world, Rotary continues to provide one of the most basic human needs: the need for friends and fellowship.
(Photos by Mike Baker. www.bakerlite.co.uk)
Happening soon...
Meetings and events happening soon
Sunday 24th November 11.00
Cowbridge Reindeer Parade
---
Rotary will be assisting the Lions with marshaling and collection.
More details soon.
Monday 25th November 19.15
Club Committees
---
Monday 2nd December 19.15
Christmas review
---
This will be at the Bear Hotel not at the Market Theatre.
Tuesday 3rd December 17.30 - 19.00 Friday 13th December
Santa's tour of Cowbridge and environs.
---
Touring the town and villages from Tuesday 3rd December until Friday 13th Dec. Details to be confirmed.
Wednesday 4th December 19.00
Interact Charity Quiz
---
The quiz will be held in the Duke of Wellington.
Monday 9th December 17.30
Club Council
---
Monday 9th December 19.15
SGM / Business Meeting
---
Saturday 14th December 09.00
Santa at Café Nèro
---
Santa will be in his grotto with his elves to delight the children (Young and Old!)
Monday 16th December 19.15
Christmas Dinner.with parners.
---
future events Past Events calendar district events local events
---
---
---
Rotary News
Be part of a global network of volunteers, trying to make the world a better place. Please also see the 'links & news' page for information from the local district and live feeds from Rotary International and Rotary International in GB&I.
Flexibility creating new opportunities for new members
---
RotaKids supporting their local community
---
---
Meetings & Venue
Where and when:

We meet on Mondays at 1915
(
No meeting on Bank Holidays
)
Bear Hotel, High Street, Cowbridge, CF71 7AF
01446 774814