Our 6 Nations competition is now live.

Entries can be made directly via this website with monies transferred via BACs or you can download a form and drop it into our post box together with your entry fee. The box is in the Bear Hotel reception area.
---
The ideal New Year present has arrived -



the Cowbridge Rotary Calendar 2022
with winning photos of Cowbridge and the Vale.
Purchase price £6 from any Rotarian or
email cowbridge.rotary@yahoo.co.uk



---
Presidential Citation for Rotary Year 2020-21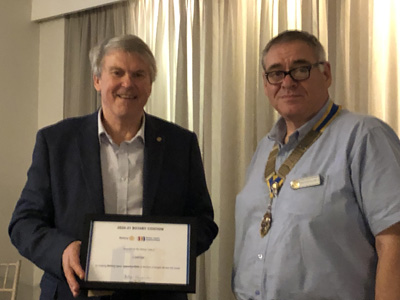 President Malcolm Hallewell presented a Rotary International Presidential Citation to last year's President, Steve Pearce. Steve was congratulated for leading the club through the difficulties of Covid and making sure that all members and the widows of former members stayed informed and connected even though face-to-face meetings were not possible.

Litter Pick

Club members, partners and friends carried out a litter pick at Ogmore on Wednesday, 29th September. Lots more photos here.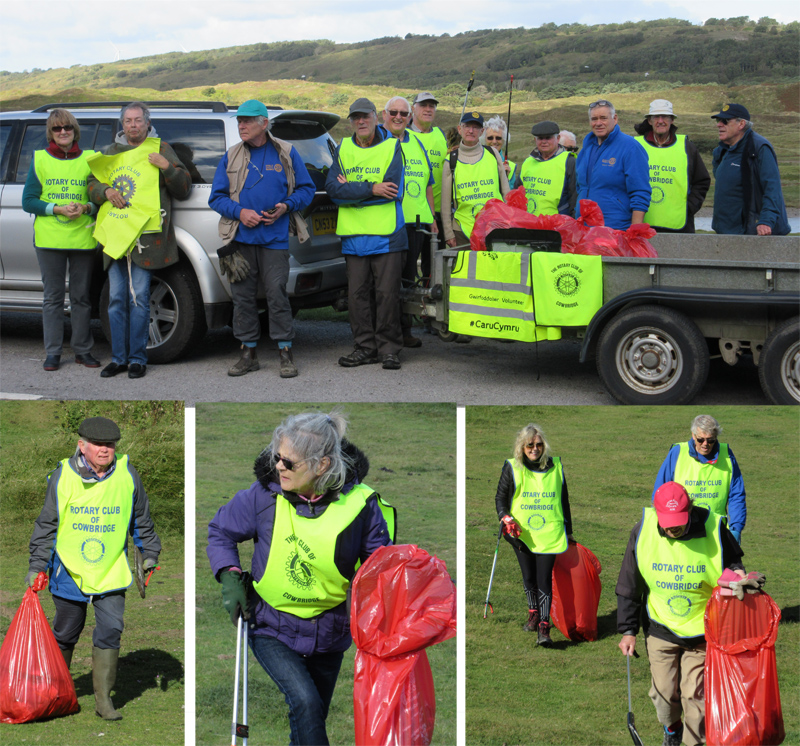 A "Step Forward for Rotary"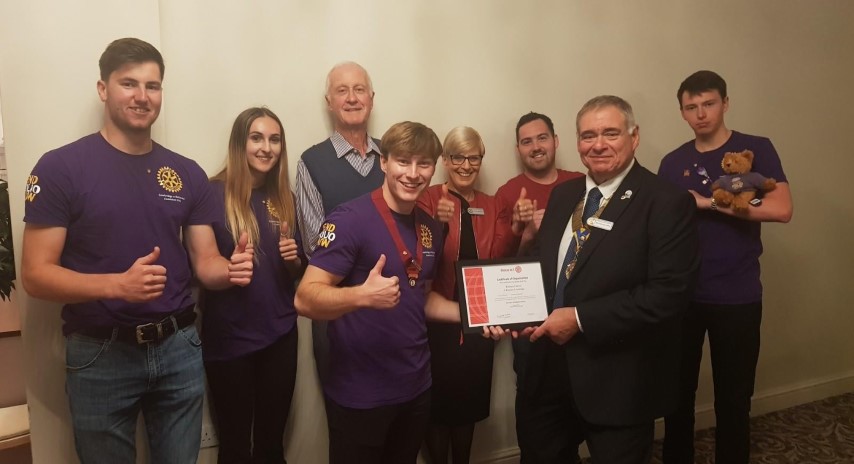 Cowbridge Rotary, formed 60 years ago, have taken great strides into providing for the future benefits of the community.At its hybrid meeting at the Bear Hotel on the 13th September 2021, the club celebrated the formation and "Chartering" of the E-Rotaract Club of Cowbridge.
The group comprising of young people under the age of 30, links to the Family of Rotary set up by the club, consisting of 2 Rotakids Clubs, an Interact Club, Youth Interact, Cowbridge Rotary and now E-Rotaract.
The E-Rotaract Club comprises of many members from the Cowbridge Comprehensive School Interactors 2019 cohort, who continue to join in the benefits of the main club.
It has taken time to get the club formed, due to the problems of Covid, however when it was finally agreed. The Charter President Luke Hinkin-Evan's, alongside Rotary Members Andrew Lane, Colin Jones and Carol Whiteley set about the task and brought it to fruition.
The Charter of the club was approved by Rotary International on the 2nd July 2021. This was presented by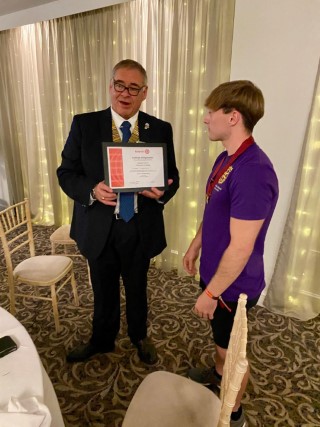 Rotary Cowbridge President Malcolm Hallewell.
Malcolm stated "a new era for Rotary in the town has been born tonight and am very proud to be leading the Rotary Club at this time. Luke too should be proud of the honour in being it's Charter President and for all the hard work, that he had been put in to get this formed".
The club has started with 14 members, who will be mainly based in Universities around the UK, hence why the "E" reference, however it allows all its members to retain links throughout their studies and develop projects for the benefit of the community.
Cowbridge Rotary and Rotaract are members of Rotary International, who have 1.2million members and 219,000 Rotaractors around the globe in over 200 countries/regions.
Our aims are to provide support for communities locally, nationally and internationally by "doing good in the world" with an emphasis on increasing our membership at all times.
Should you feel that the organisation is one that is of interest, please contact us where we will be more than happy to invite you to come and hear what we do.
Our work continues in these difficult times
In one of his final moments as President of Cowbridge Rotary, Steve Pearce, made two particularly important presentations at the club's Annual Handover Dinner.
Firstly, as his final chosen charity of the year, he was pleased to announce that a donation of £1500 had been made to "Mind in the Vale."
Unfortunately, due to Covid limitations the presentation has not been filmed, but monies transferred into their bank account.
Steve had chosen Mind as a close related charity for the assistance they give in respect of people suffering mental health issues.
Mind, who are affiliated to Mind National, work with and for people who experience mental health problems.
They provide information so people are aware of their rights and can make informed choices.
They are also aware that one size does not fit all and offer a bespoke, person centered service working in partnership with all agencies for the benefit of the individual.
He then proceeded to give a breakdown of all the work that the club had done during his year as President, thanking all members for their efforts and dedication during these Pandemic restricting times.
A final presentation on the night before handing over the Presidency was to present a "Paul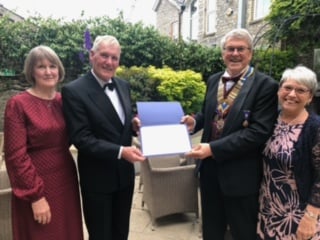 Harris Fellowship", an award given by Rotary and its Foundation to deserving people who give tangible and significant service.
This was presented to Past President (2019/2020) Peter Davies. Peter not only works tirelessly for Rotary in Cowbridge, but is heavily involved with Cowbridge Royal British Legion, Cowbridge in Bloom, Dementia Friends and Llanblethian Church, amongst many other groups and organisations.
Rotary in Cowbridge President Steve Pearce, shown presenting The Paul Harris Fellowship Award to Past President Peter Davies accompanied by Mrs Pat Davies far left and Mrs Wendy Pearce far right.
Golden Oldies Summer Party

A summer p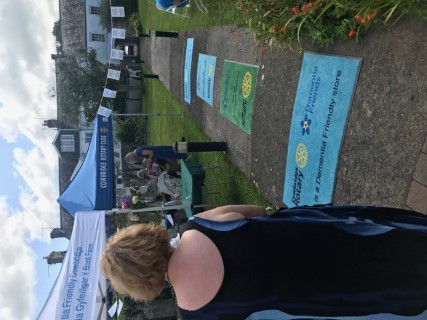 arty was held in the grounds of the Ramouth church for the Golden Oldies. More photos can be seen here.

President Steve supports Bridgend Rotary
Bridgend Rotary organised a sponsored bike ride from Mumbles to Bridgend to raise funds for their schools project in Tanzania.
(
https://www.rotary-ribi.org/clubs/page.php?PgID=841815&ClubID=913
)
Ten riders including President Steve and Aberthin resident Mike Baker took part in the 50km ride. The glorious weather and cycle tracks beside the beach made the ride from the start at Mumbles a pleasure. A feed stop on the promenade at Aberavon Beach, well organised by Bridgend Rotarians, was followed by the 'hilly' section to Laleston.
A tired but happy bunch of riders arrived at the Mackworth Arms in Laleston to be greeted by Carwyn Jones, Former First Minister (Honorary Bridgend Rotarian) and Bridgend Rotary President Dr William Williams.
Steve thanks all family and Rotarians for their support and contributions
Sustainable Eyecare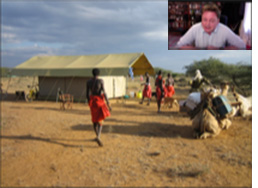 We had a superb speaker last Night. Daniel Morris is a Consultant Ophthalmic and Oculoplastic surgeon who has operated on at least seven Rotarians who were on Zoom to hear his talk.
He took us on a journey to Kenya where he set up a tracoma project and where he supports a charity called the Samburu Trust which trains health care staff to operate on tracoma sufferers. Tracoma was rife in the community of nomadic pastoralists and causing great discomfort and disability. Initially he visited once or twice a year to operate but then moved towards a teaching role.
From Africa we travelled to the high mountains of the Himalayas where he developed his expertise in altitude medicine.
Sport is clearly important to him and he supports the Welsh RFU as the match ophthalmologist as well as the Welsh FA and Boxing authorities.
He has seen the impact of global heating first-hand in the glaciers in the high mountains and on the African plains so dependent on the rainy seasons that are now so variable. He has worked and continue to work to reduce the carbon footprint of his clinical activities – deploying innovative solutions addressing people, environment and economic issues.
The club was very impressed by Daniels commitment and enthusiasm. Arrangements are in hand for the club to make a donation to the Samburu Trust

Purple for Polio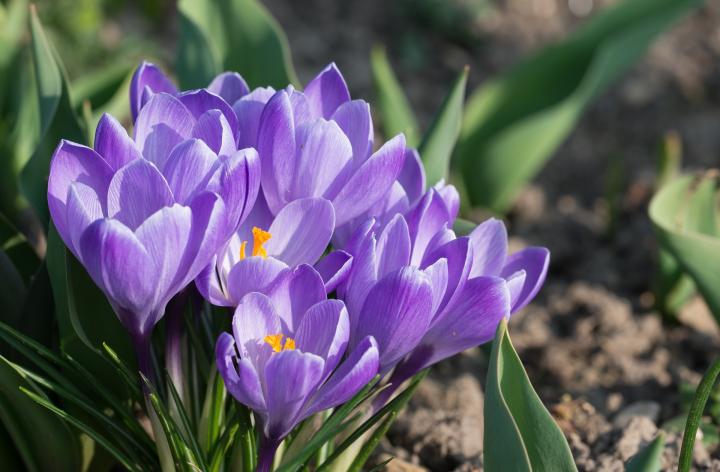 You may see purple crocus flowers starting to show in Twt Park and at the Comprehensive School. These have been planted to raise awareness of the Rotary End Polio Now project which started in 1979. The wild polio virus has nearly been eliminated from the world and we must finish the job.

Learn more at www.endpolio.org.
--------------------------------------------------------------------------------------------------------------------------------------------------------------------------------------------------------
Cowbridge Rotary is based in the lovely market town of Cowbridge in the Vale of Glamorgan. Members, who are from Cowbridge and the surrounding area, and from all walks of life, support the local community by volunteering their time in a range of different activities to help others.
The club usually meets most Monday evenings at the Bear Hotel with a meal and sometimes with a speaker, to enjoy good company and to plan our activities of service and charitable work.
We donate about £15,000 each year to our charitable causes, money we raise each year through car boot sales, concerts and other fund raising events. We work closely with local schools, organising competitions to help young people develop their skills. We also provide support and entertainment for the elderly.
Rotary is evolving, making it easier than ever to be part of this amazing organisation of ordinary people who simply want to give something back to their community and make a real difference. Click on the link below to our video gallery and you may be surprised.
It is easy to contact us using the "Contact" link at the top of the page.

If you think that you would enjoy being a member of Rotary, please go to 'What we do' in the Menu and click on 'Membership' to find out more.
---