A raffle run by Cowbridge Rotary Club over the weekend has raised hundreds of pounds for a voluntary courier charity that supports the NHS.
Stallholders at the Cowbridge Food and Drink Festival donated products ranging from chocolate brownies to gins, pickles, cheeses, and pasta, which allowed the club to create three hampers to win in the raffle.
Tickets cost £1.00 per strip and there were three winners in the raffle.
A total of £649.07 was raised which will be donated to Blood Bikes Wales, a courier service that supports the NHS with transferring blood supplies, documents, and other items between hospitals.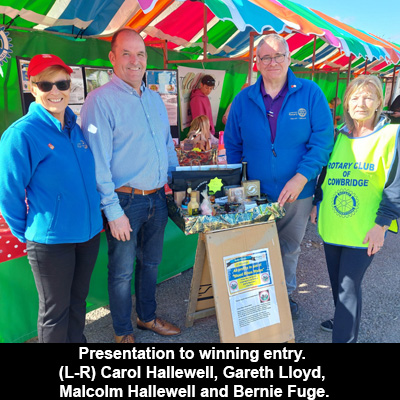 The charity was chosen by Malcolm Hallewell, president of the Cowbridge Rotary Club, who expressed his thanks to all who took part and the stallholders and traders for donating prizes. "What more could we have wished for? Great weather, great support, and a result that everyone who participated in our raffle at the Cowbridge Food and Drink Festival can be proud of," he said.
"Additionally, we must also thank the festival organisers for allowing us to carry out the raffle and trust we may be afforded the same opportunity next year."
Mr Hallewell continued: "Blood Bikes are so close to my heart for the work they do, and it's been a pleasure to support them this year as I personally know of the valuable work they voluntarily carry out."
Cowbridge Rotary Club is also looking to recruit new members and would be pleased to hear from anyone who could be interested to ensure their community work continues to move forward.
If you are interested in joining, email rotaryhome1150@gmail.com or call Malcolm Hallewell on 07917 206789.
Click here to find out more about Blood Bikes Wales.