About us
There are no Car Boot Sales until further notice. For details click
here
Santa is coming!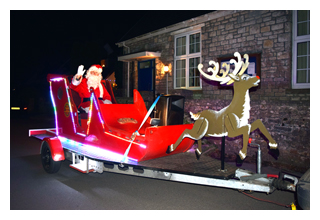 CHRISTMAS plans and festivities may well be looking a little different this year, but Santa and his Elves are doing everything they can to keep the spirit of Christmas alive. And that includes making their much-anticipated rounds to visit children (of all ages) in and around Cowbridge and local villages.
For many years, Cowbridge Rotary has helped Santa Claus on these Christmas visits to the Vale and, this year, the Rotary team will be out and about once again, making sure Santa can make his sleigh rounds safely as he, his Elves and his Reindeer set out to see as many children as possible.
The challenges facing everyone in 2020, with social restrictions and so many people working hard to keep everyone safe, inevitably means this year's event will be very different. But Cowbridge Rotary is setting out to ensure that local children will still get a chance to see him, as they escort Santa's sleigh on various routes around the Cowbridge area over a 11-day event, starting on Tuesday, December 8th
Although Santa may not be able to invite people onto his sleigh for photographs and a chat, children will be able to see Santa and his Elves, give them a wave and shout a 'distant' hello as he and his sleigh makes their way around the area.
The imminent arrival of Santa's Sleigh will be heralded along the route by an advance Cowbridge Rotary car, playing Christmas music and announcing that he's on his way, so there'll be plenty of time for everyone to get the best view, wave and shout to Santa and his Elves as they slowly pass by.
Traditionally an opportunity for Cowbridge Rotary to raise much-needed funds in support of local and national charities, this year's Santa Sleigh event is primarily focused on bringing a touch of festive cheer and 'feel good factor' to local communities in and around Cowbridge.
In an effort to ensure the safety of everyone, there will be no 'Licensed Street Collection' (knocking on doors and shaking buckets), nor for people to give money to Santa's helpers along the route.
But those wanting to support Cowbridge Rotary's hard work to support local and national charities and communities, can still make donations via this page: Donations
The route, dates and approximate times Santa will be in your area can be found by clicking here.
Picture That! …. Charity Photo Calendar 2021 on sale now!


Illustrated with the delightful winning photographs from our first ever Charity Calendar competition, the 2021 Cowbridge Rotary Calendar is now available to order.
To see the calendar photos click here
There was a great response to our competition, titled 'Out of the Ordinary' and the winning photographs, each selected by the Judging Panel to mark the months of 2021, provide a unique picture of the past months living in lockdown.
The limited edition calendar costs £6.00 per copy and is available via email cowbridge.rotary@yahoo.co.uk. The Calendar will also be available to buy at The Bear Hotel, and Watts & Morgan Estate Agents, both in High Street, Cowbridge, from Monday, 9th November after our local lockdown restrictions have been lifted.
All proceeds from the 2021 Calendar sales will be donated to local and national charities supported by Cowbridge Rotary. Copies are limited, so you'll need to get your orders in quickly if you want to ensure your copy!
With special thanks to all those who entered this year's competition, and to our Independent Judging Panel. Congratulations to this year's competition Winners, Runners-up and Highly Commended entries, and we look forward to announcing details of next year's Photo competition in the Spring.
Thew winning and runner up photos can be seen on this page: Calendar photos:
Cowbridge Rotary honours local dance champion, Moya Vahey
Moya trained at the Legat School of ballet in Kent. Following a career as a professional ballet dance she opened a ballet school in Cowbridge in 1969 and has supervised the school herself for the past sixty years. During this time she has enabled hundreds of local children to prepare for ballet examinations and more than twenty of her pupils – both girls and boys- have become professional dancers. One of her pupils has gone on to set up a ballet school of her own. Many of her pupils have been able to take part in international events, broadening their experience. Moya herself has an international reputation, acting as an examiner, and she was awarded a Galina Ulanova Gold Medal in 1995. An annual concert given by the ballet school has been an important part of the Cowbridge scene since shortly after the school was set up. As well as showcasing the pupils' abilities these presentations have raised money for a number of charities.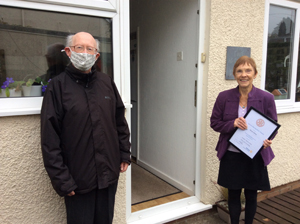 Cowbridge Rotary decided that Moya's work in the community of Cowbridge over such a long period of time needed to be recognised. Rotarian David Pierce said that two generations of his family had attended the school and benefited from Moya's teaching. He said. 'Moya is well known in the community and has helped countless young people through dance teaching. This award is for special service to the local community is well deserved.

Steve Pearce, Cowbridge Rotary President, presented the award at Moya's home. He apologised that the club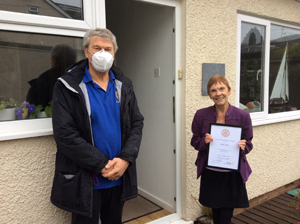 was not able to do this in a usual way but current restrictions made this not possible. This did not diminish the scale of the contribution from Moya over such a long period of time. Her very long and unique contribution to the development of the young people in the town deserves recognition Her teaching has touched myriad families in the local Community.
Moya was overjoyed to receive the award. She said ' This is most unexpected but a delightful surprise. Thank you, Cowbridge Rotary'

You can find out more about Moya's Ballet School through her Facebook page
Cowbridge Rotary wins the District September 'Best project' award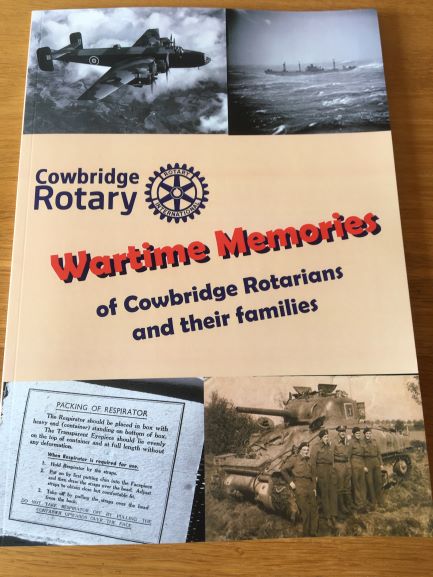 DG Alison has selected the "Wartime Memories of Cowbridge Rotarians and their Families" book as the best project in District 1150 for September and our Charity Account is richer by £50.

Well done to President Steve whose idea it was and who edited the book.
Clicking on the cover photo on the left will take you to a page on the District website where the preface to the book is available.
---
Presentation to Heather Weddell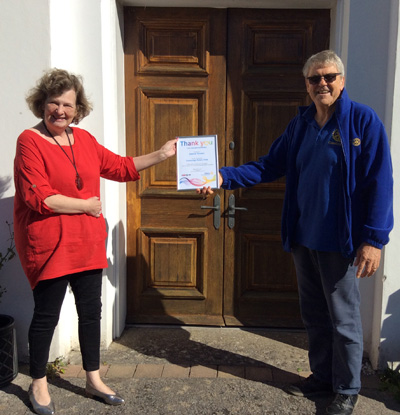 Cowbridge Rotary took the opportunity to celebrate the contribution that Reverend Heather Weddell of the Cowbridge United Free Church, made, and continues to make, to the local community during this pandemic crisis. There are many families in the area who have warmly welcomed her tireless activity and support. This activity includes organising food distribution to those families shielding and food supplies for those hit hard financially by the impact of the pandmemic

The 'Thank You' certificate was presented by President Steve Pearce, and his wife Wendy, at the United Free Church. Great job Heather


Water to Schools Project in Tororo District, Eastern Uganda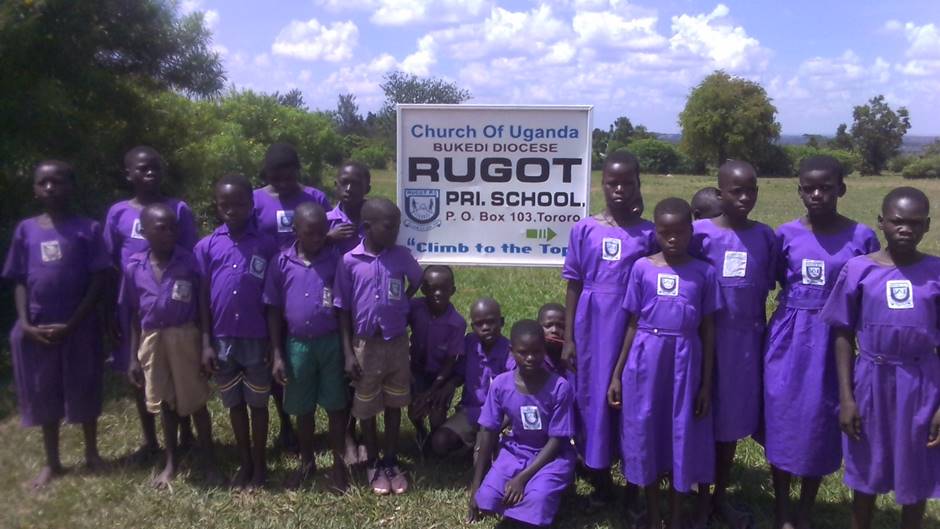 Since 2014 the Rotary Club of Cowbridge, recently partnered with its twin Rotary Club of Meissen, Germany, has been working with The Vale for Africa ( a registered charity which co-ordinates aid in the eastern area of Uganda) to sponsor the provision of clean water to a number of schools in the Tororo District of Eastern Uganda. This year Rotary has provided £2,600 in sponsorship funding. Find out more about this project by following this link. More.....

Music in Mind Launch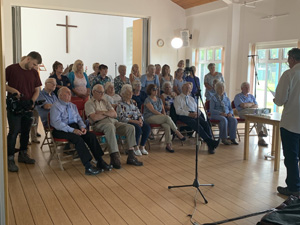 "Remember to Remember" is an emotional song that was written by Cowbridge Rotarian David Parsons and was recently launched on a CD. The song is dedicated to the memory of his mother who lived with dementia.

Sung by the Music in Mind group supported by the pupils of Cowbridge Comprehensive School, the song can be downloaded from Amazon Music or from Apple Music.
A documentary video of the recording of the song can be seen here: Documentary

Polio immunisation in Pakistan
Monday 13 July 2020 Cowbridge Rotary had its first virtual speaker meeting of the year. It was a great success with fellow Rotarians attending from other Clubs and from then District.
Lynne Carpenter, from the Zebulon Club in Raleigh, North Carolina, gave a passionate account of her trip to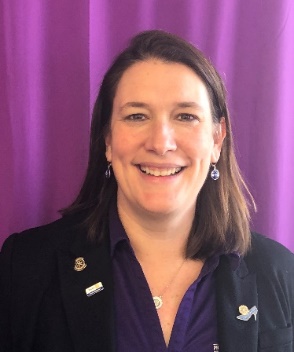 Pakistan with a group of Rotarians from the USA and including two Youth Exchange students from Chile.
Pakistan is one of two countries where the wild polio virus still exists. These countries are the focus of Rotary's 'Stop Polio' campaign funded by the Rotary Foundation
The situation she described in the country was stark. The local people are very poor and with 30 million children, the risk from Polio is clear and pressing.
With only 8 cases in 2018 there seemed to be some progress made but there have been nearly 60 so far this year. More details of Lynne's trip can be seen by clicking here.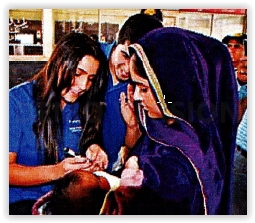 Couple this with the difficulties experienced particularly in the North West of the Country (which borders Afghanistan) including the killing of two Polio workers, whilst Lynne was in the Country, the task is monumental.
But it was clear the people of the Pakistan made a substantial impression on her with their welcome and friendliness. This impression was most felt by her through the children. They are the recipients of the two doses of vaccine in the first five years of life.
We collect money for the Rotary Foundation. With additional funding from the Bill and Malinda Gates Foundation helping to increase the sum collected. But you don't really have a feel for the challenges. Lynne gave us a real feeling for that challenge and the reason why we collect for Foundation.
Community Service at Y Bont Faen School
During the lock-down period the grass in the grounds of Y Bont Faen Primary School has continued to grow and become unruly, much like the hair of many Rotarians.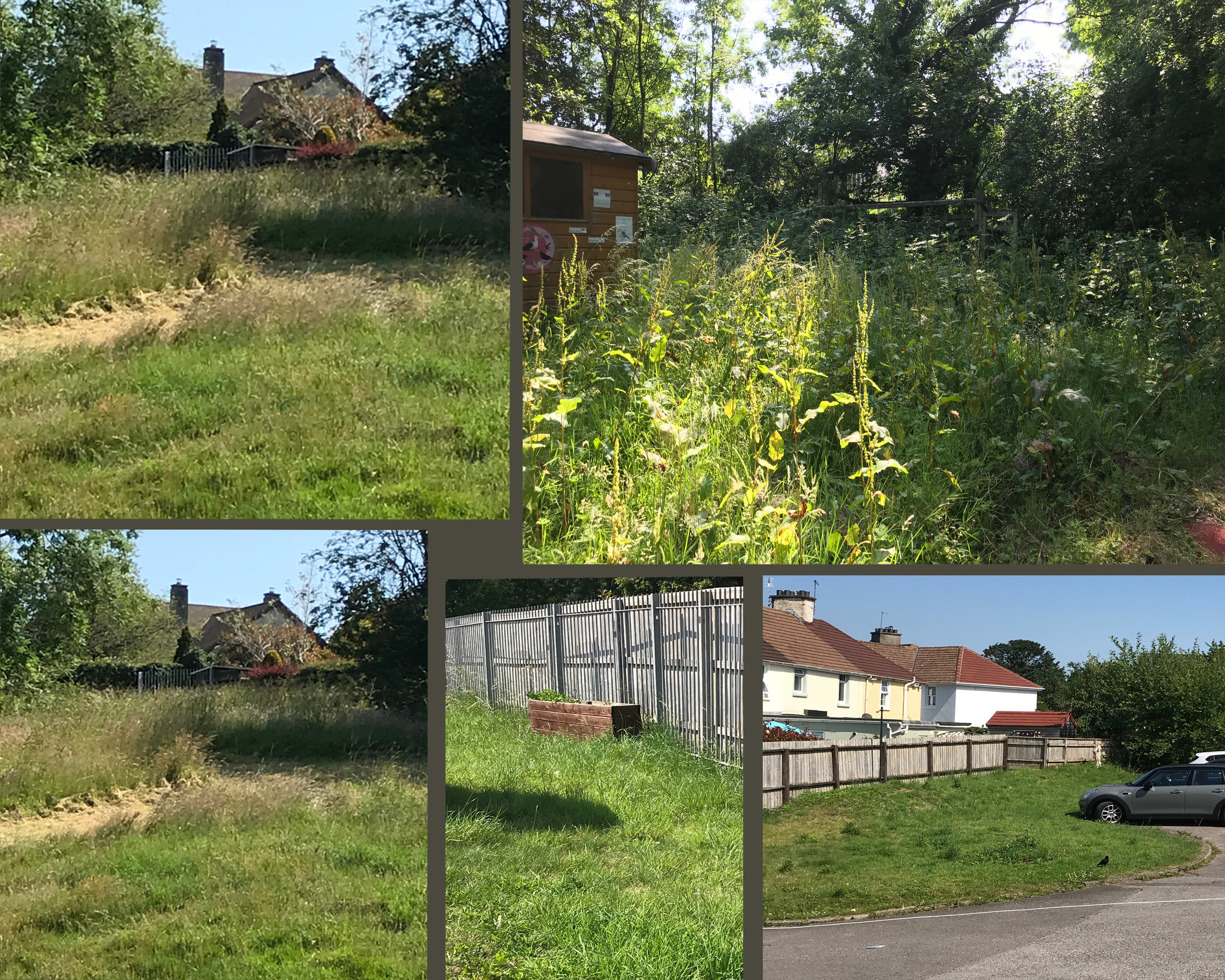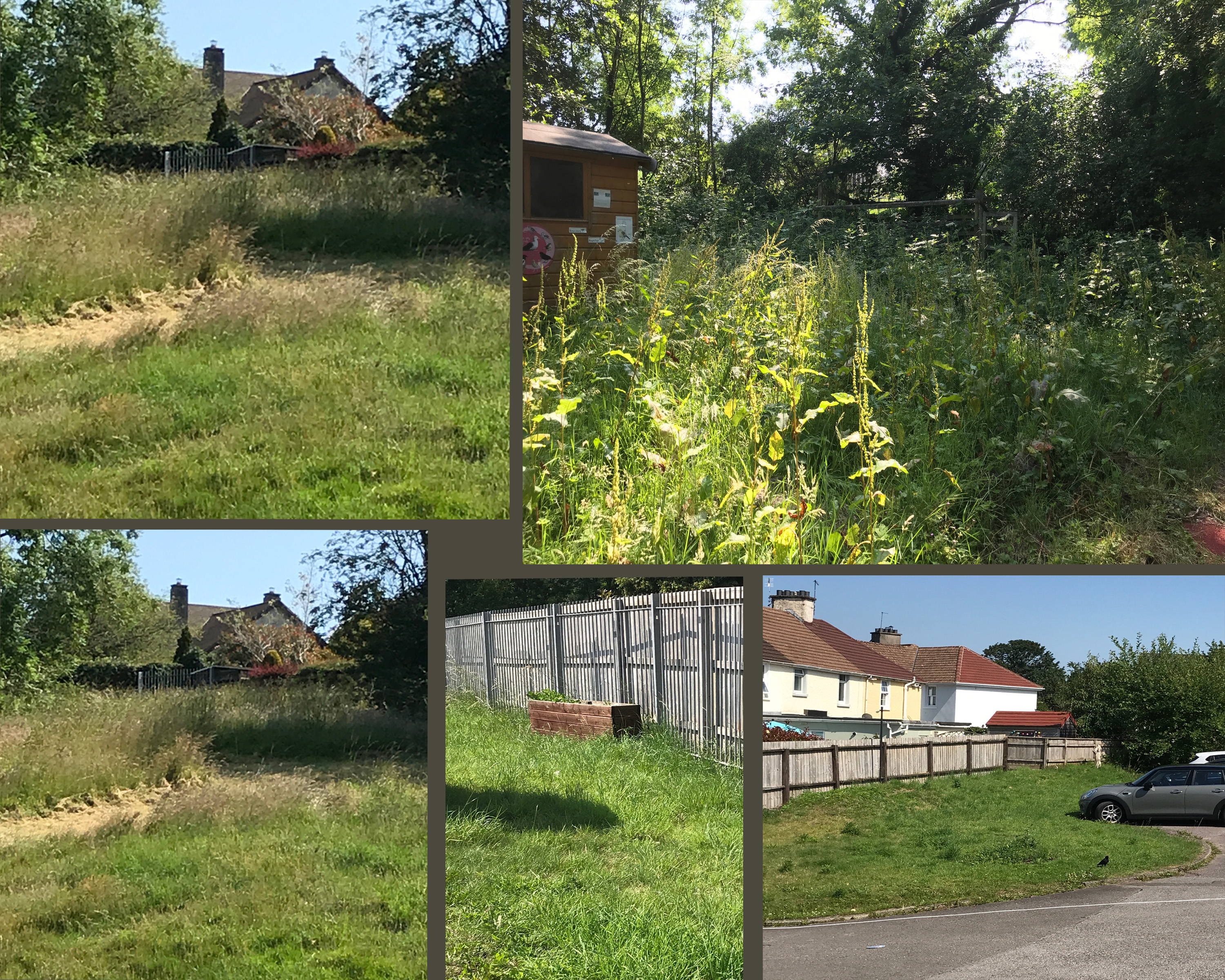 Despite the best efforts of the school caretaker a blitz was needed and Rotary rose to the challenge with two working parties equiped with mowers, blowers and rakes to get the school looking at its best and safe for the return of children on Monday, 29th June. Working at social distances, it did not take long to tame the grass and weeds. It was good to be able to have a return to Rotary fellowship and banter even though it resulted in some sore backs!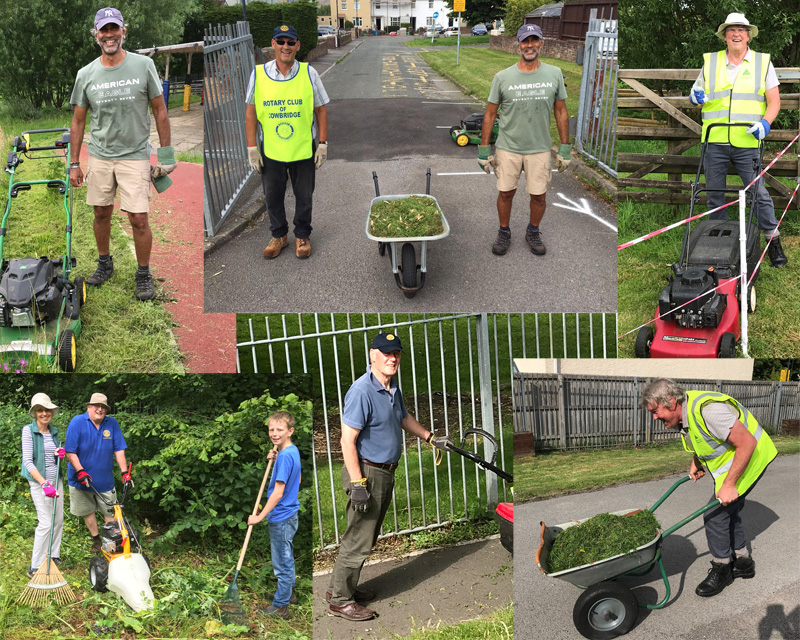 The Friday team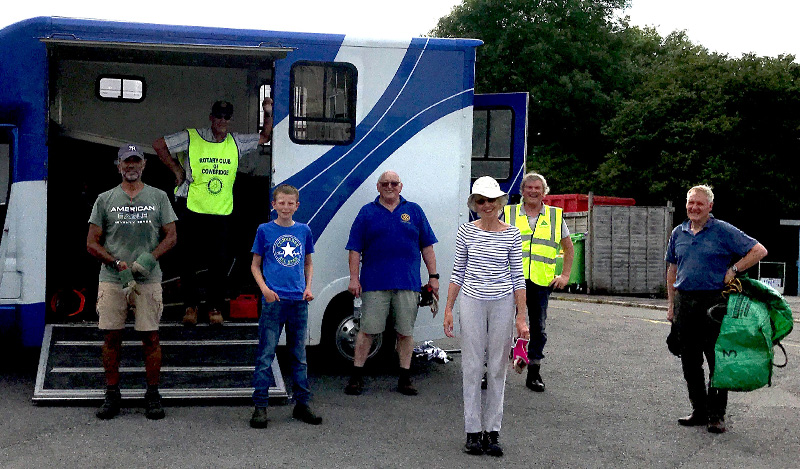 The Saturday team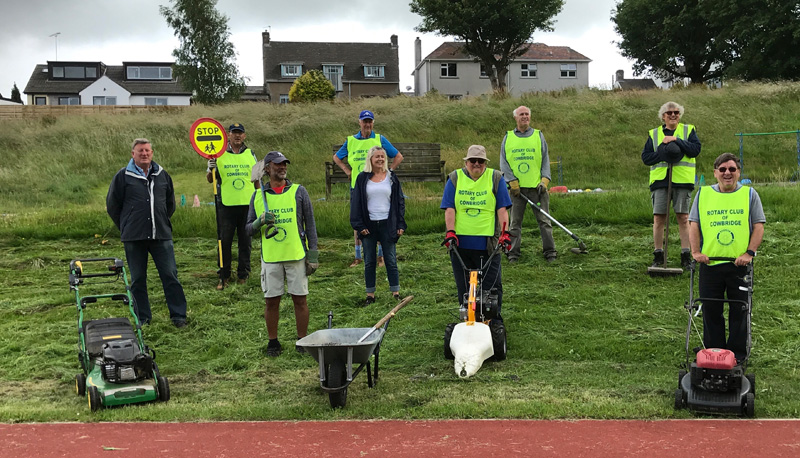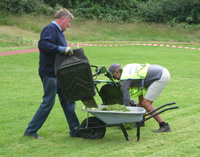 Click the image below for a quick video:

Cowbridge students continue to shine on the Rotary International stage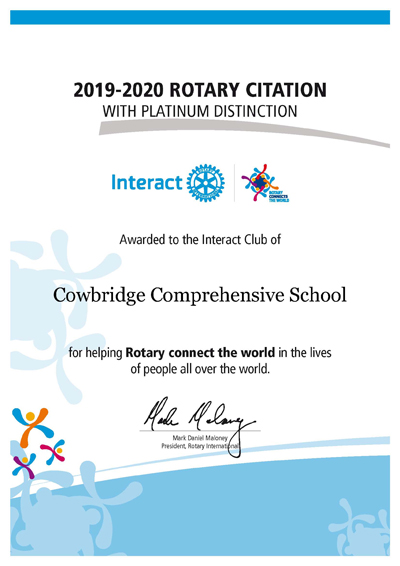 Cowbridge Comprehensive School students have been recognised as a shining example of 'Service Above Self' with the award of a Platinum Distinction Citation by Rotary International.
A youth arm of Cowbridge Rotary, the Cowbridge Interact Club brings together young people, aged between 12-18, to develop leadership skills and contribute to local, national and international Rotary initiatives.
The Platinum Distinction has been awarded to Cowbridge Comprehensive School's Senior Interact Club in recognition of the its extensive community activities over the past year.
The 2019-20 programme has included a range of events and initiatives, from crocus planting to mark World Polio Day on October 24th, to promotion of the Rotary Youth Leadership Awards (RYLA), Youth Exchange programmes, and the Interact Christmas Quiz, which raised over £600 in support of the Young Minds and the Welsh Hearts charities.
Interact Club members also provided invaluable support to their parent club, Cowbridge Rotary, on a variety of initiatives during the year, including the popular Cowbridge Charity Quiz at the Town Hall, Santa's Sleigh much-loved annual pre-Christmas tour of Cowbridge and surrounding villages, and the acclaimed St David's Concert at Ramoth Hall.
Such has been the success of Interact at Cowbridge Comprehensive School, that a second Youth Interact Club has now been set up for Key Stage 3 students. Launched during the 2019-20 academic year, with tremendous help and support from the existing senior Interact members, the new youth group is already showing signs of following in their senior's flourishing footsteps.
Awarded to Cowbridge Comprehensive School Interact Club by Rotary International President Mark Maloney, the Platinum Distinction Citation marks another significant milestone in the successful partnership between Cowbridge Rotary and its young student ambassadors.
Congratulating the Interact Club on its success, Cowbridge Rotary President Peter Davies said: "The commitment of Cowbridge Comprehensive School's pupils and teachers has been immense, and this award of distinction is well deserved. We are constantly amazed and grateful for the energy and enthusiasm with which they throw themselves into these activities, not just for their own ideas and initiatives, but in stepping up to support us with our events. It is so rewarding for us to see how much they benefit from our partnership and no Rotary Club could be prouder of their Interact members than we are. I have no doubt the launching of the second Interact Club at Cowbridge School will only see their achievements reaching even greater heights in years to come."
Purple for Polio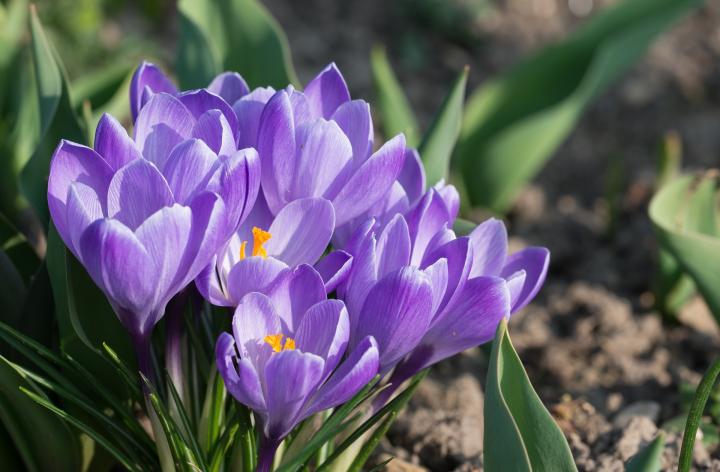 You may see purple crocus flowers starting to show in Twt Park and at the Comprehensive School. These have been planted to raise awareness of the Rotary End Polio Now project which started in 1979. The wild polio virus has nearly been eliminated from the world and we must finish the job.

Learn more at www.endpolio.org.
--------------------------------------------------------------------------------------------------------------------------------------------------------------------------------------------------------
Rotary welcomes new members interested in having fun while 'giving something back' to the community. Fresh ideas and enthusiasm are the life blood of any organisation! It is easy to contact us using the "Click Here" button at the top right of the page.

---
Rotary provides opportunities to connect with people of like ideas, providing unique opportunities to serve the community using one's own professional skills alongside leaders of other businesses and professions. Rotarians help one another, and together help others.
Rotary is fun every club holds social activities that offer diversions from today's demanding professional and personal schedules. Conferences, conventions, assemblies, and other events provide entertainment as well as Rotary information, education, and the opportunity for service.
Rotary helps personal growth and development by continuing one's growth and education in human relations and by developing and extending leadership skills. Serving in Rotary helps one learn how to motivate, influence and lead leaders.
Rotarians are people who believe that whilst it is nice to be important, it is more important to be nice.
Rotary was founded over 100 years ago on the principle of "meeting regularly to enjoy and expand one's circle of business and professional acquaintances." That principle remains true today, and in an increasingly complex world, Rotary continues to provide one of the most basic human needs: the need for friends and fellowship.
Happening soon...
Meetings and events happening soon
Mon, Dec 7th 2020 5:00 pm
Club Council Meeting
---
Mon, Dec 7th 2020 7:00 pm
Club Committees
---
Mon, Dec 14th 2020 7:00 pm
Business +SGM + Presentation of calendar photos
---
Mon, Dec 21st 2020 7:00 pm
Christmas Dinner + Review
---
Zoom meeting
Mon, Dec 28th 2020 7:00 pm
*****NO MEETING*****
---
future events Past Events calendar district events local events
---
---
---
Rotary News
Be part of a global network of volunteers, trying to make the world a better place. Please also see the 'links & news' page for information from the local district and live feeds from Rotary International and Rotary International in GB&I.
Rotary serving communities through supporting foodbanks
---
Diversity is part of Rotary's core values
---
---
Meetings & Venue
Where and when:

We meet on Mondays at 1915
(
COVID-19 We are not currently physically meeting but are having Zoom meetings. If you would like to join us call Bob Wilson on 01446 773574
)
Bear Hotel, High Street, Cowbridge
CF71 7AF
01446 774814