History Book Pages/ Rotary Young Musician 2011 - West of Scotland District Final
Thu 10th March 2011 at 12.00 am - 2.00 am
2011 Young Musician Competition District Final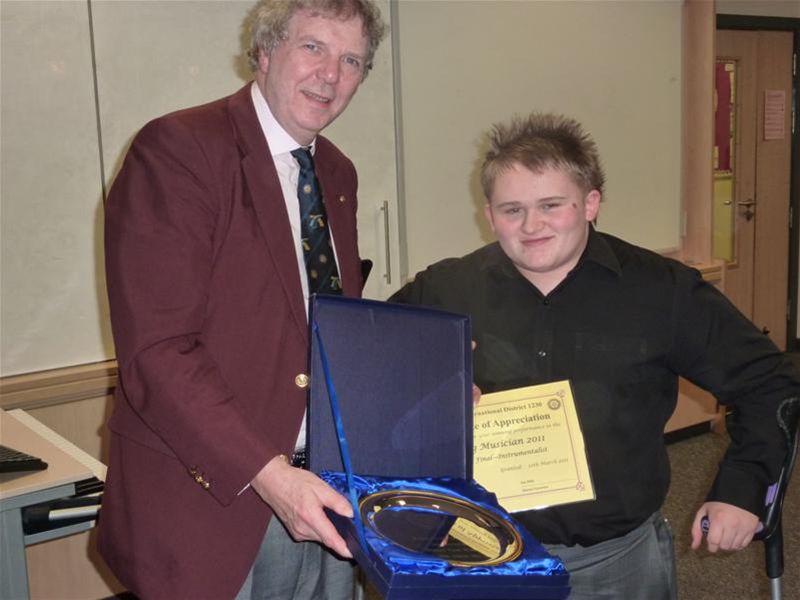 Show related pages
The West of Scotland District Final of Rotary's Young Musician Competition was held at the new Williamwood High School, Clarkston, Glasgow on Thursday evening 10th March 2011. In front of a full audience of parents, teachers, Rotarians and friends students from across the West of Scotland gave some magical and truly memorable performances.
Many congratulations go to Kilmarnock Academy's Gregor Keachie on winning the instrumental section. Another outstanding performance by this very talented young man just blew the competition away. Destined for great things to come.
Congratulations also to the winning vocalist, Fiona Joice, sponsored by Eastwood Rotary Club and a pupil at Williamwood High School. A truly remarkable, talented and assured vocalist. They both move on to the Regional Final (Scotland and North East England), likely to be held in Edinburgh towards the end of this month and we wish them well. For the resulting winners there is the Great Britain & Ireland final on 14th May in Bedford.
Jenna Campbell from St. Josephs' Academy also gave a great performance to be proud of, building on her performance at the New Laigh Kirk in January, but in the end was up against a really strong mature voice in Fiona. Well done Jenna and thanks for representing Kilmarnock. Perhaps next year?
This was Rotary's first venture into a District-wide musical competition in the West of Scotland and seems certain to go from strength to strength.
17th April 2011 update
Unfortunately Gregor was unsuccessful in his bid to reach the National Final of Rotary's Young Musician Competition but we thank him for representing Kilmarnock Rotary Club, himself and the town so well in the Regional Final (Scotland and North East England). We also wish him all the best in his future career.
However, Fiona Joice, representing Eastwood Rotary Club and Williamwood High School was successful in the Vocal Section and goes forward to the National Final to be held in Bedford in mid May.
May update
Many congratulations to Fiona who was placed second in our National Final, vocal section.