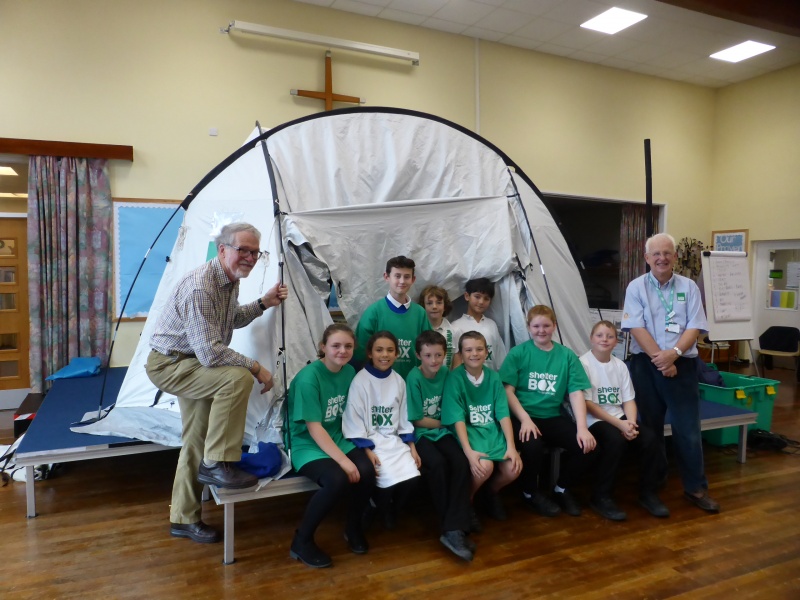 Pictured above: Past President Morris Poole and Shelterbox co-ordinator Rotarian Mike Smith displaying the Shelterbox tent and box contents at St Margaret's School assembly with a few chosen helpers from Year 6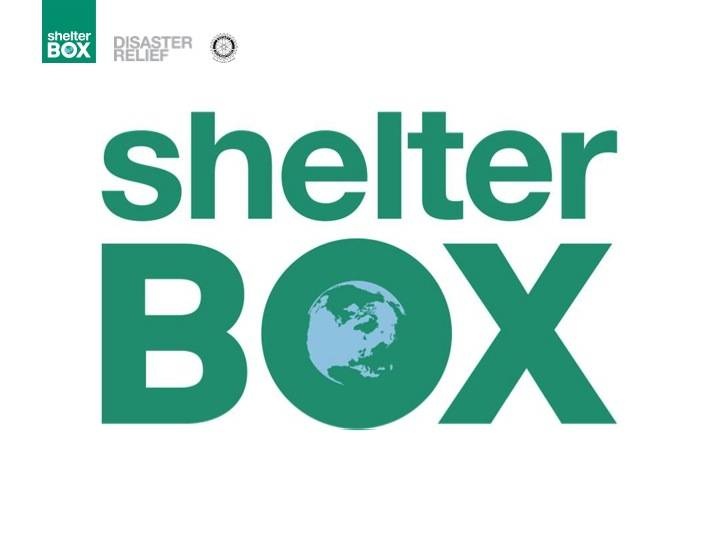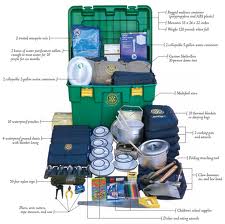 Shelterbox is the club's largest charity. We started collecting following the 2004 Boxing Day tsunami as we believe it is an International charity which can really move quickly and get assistance to desperate communities around the world where and when it is needed. Originally established by a Rotary Club in Cornwall it has lower operating costs than many international disaster relief charities and its headquaters are still in Truro.
The club has trained speakers: James Corkery, Chris Blanchard, Morris Poole and Mike Smith who give presentations about the charity and can display the equipment to local organisations.
The people of Bideford have shown great generosity with their donations and support over the years both during our regular Christmas collections and particularly following a specific disaster when Shelterbox aid can really make a difference.
---
OCTOBER 2018 UPDATE:
The club has sent £3000 to Shelterbox after a weekend collections (October 5th & 6th) at Morrisons Bideford, following the disaster in Indonesia. £2480 was collected which the club rounded up to £3000 from club funds..
---
BIG SHEEP FARMERS MARKET COLLECTION 2018:
Our annual collections at the Big Sheep Christmas Market in Abbotsham is every Saturday in December. £1200 was collected this year bringing our club's total contribution to Shelterbox in under 15 years to over £112,650
---
MARCH 2019 UPDATE:
Thank you to Morrisons once again and the generous people of Bideford who donated £1163 last week (Thurs/Fir 28th/29th March) after tropical Cyclone Idia tore through Malawi, Madagascar and Mozambique.
Nearly one million people have been affected by the floods and further damages have been caused by strong winds and heavy rains.
---
FEBRUARY 2021 UPDATE:
During the Covid Pandemic we have been unable to do any bucket collections but the need for shelter in countries where people have lost their homes is even more important to help people protect themselves in dangerously crowded camps and disaster zones.
Instead we have promoted a social media campaign challenging people to give up something for lent and give the gift of shelter! See: www.facebook.com/BidefordRotary or PLEASE DONATE HERE

DECEMBER 2021 UPDATE:
We are delighted that The Big Sheep invited our club to return to our familiar collection point at their Christmas Markets to do a bucket collection for ShelterBox again this year. £1045 was collected!