HISTORY OF THE ROTARY CLUB OF KILRYMONT ST ANDREWS
The Rotary Club of Kilrymont St Andrews was formed in 1996 to provide an evening group alternative to the St Andrews Club, which is luncheon club. The Rotary Club of St Andrews Kilrymont (as it was then) received its charter on 25th August 1996. The Club currently has 37 members - 8 women and 29 men.
Along with our mother St Andrews Club, we serve the St Andrews area of Fife.
Based in the "home of golf", the town also has strong academic links (St Andrews University is the oldest in Scotland and one of the oldest in the UK), and a fascinating history, based on its link with the patron saint of Scotland.
The club name was changed to Kilrymont St Andrews to make it more readily distinguishable. The name Kilrymont owes its name to the ancient history of the burgh:
According to the Gospels, Andrew was a fisherman from Galilee and the first disciple of Christ. He is believed to have been martyred by crucifixion on 30 November in the year AD 60. His remains were apparently removed to Constantinople about AD 357, but after Constantinople was sacked during the Fourth Crusade in 1204, the relics at Constantinople were taken to the cathedral of Amalfi in Italy.
Legend tells of the bringing of the relics of the Apostle St Andrew to what we now call St Andrews. The relics were brought to the local site then known as Cennrigmonaid ( gaelic for: "the church of the King's Mount" or Kilrymont. )
Another explanation for the relics became current by the 12th century. In this version the bishop of Patras (Saint Regulus) removed the relics about AD345, sailed beyond the Mediterranean and was shipwrecked at Kilrymont, where he founded a church.
This building became the monastery of Kilrymont or Kilrymond and later the cathedral church of St Andrew. The city that grew up in this place took its name St Andrews from the church. The monastery of Kilrymont claimed to have three fingers of the saint's right hand, a part of one of his arms, one kneecap, and one of his teeth
Whatever the accuracy of the legends, there is no doubt however, that relics claimed to be of St Andrew were present at Kilrymont.
This subsequently was the reason for the establishment of the place now called St Andrews, as a major religious centre and a prominent centre for pilgrimage throughout the Middle Ages.
An important part of the endowment of the monastery that developed at Kilrymont was the Cursus Apri Regalis - "the run of the royal wild boar". The wild boar was to become, with St Andrew himself, an emblem of St Andrews and survives today in the Coat of Arms of the Community Council.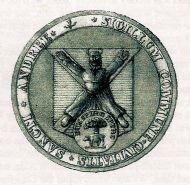 Of course, world-wide, St Andrews is probably better known as the home of golf. The game has been played here since at least 1457 when it was popular enough for King James II to ban it on the grounds that it interfered with archery practice. Since that time golf has become hugely popular, but St Andrews still remains the birthplace and the centre of modern golf., partly because the Royal and Ancient Golf Club, founded in 1754, exercises legislative authority over the game, and partly because of its beautiful links (acquired by the town in 1894)