International Service
International. Shelterboxes are an important example of rotary help to world crisis. Birstall Luddites sponsor two students in India with their schooling.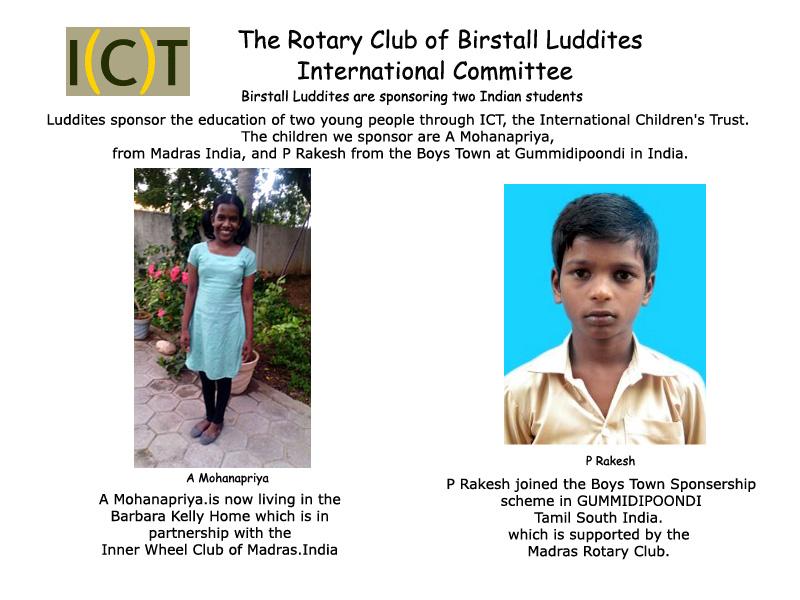 Birstall Luddites RC
INTERNATIONAL SERVICE
---------------------
Birstall Luddites are sponsoring two Indian students.

International Past Chairman Rotarian John Logan has an update from the International Children's Trust which place the students.
(Big thanks to John Logan for his long standing work with ICT in India)


A Mohanapriya.is now living in the
Barbara Kelly Home which is in
partnership with the
Inner Wheel Club of Madras.India.

P Rakesh joined the Boys Town Sponsorship scheme in GUMMIDIPOONDI
Tamil South India.
which is supported by the
Madras Rotary Club.





A Mohanapriya.

P Rakesh

Mohanapriya's family are supported by her fathers income working as a carpenter but this can be irregular and is not sufficient to maintain the family and support the
education of the children.

Mohanapirya is now living at the Barbara Kelley Home and is studying in the 8th standard.
She enjoys Tamil, English and gardening
and enjoys playing shuttle and skipping with the girls at the home.

By sponsoring Mohanapirya we contribute to the necessary funding which enables the Barbara Kelly Home to continue providing a safe, structured and supportive environment to encourage her as she
continues with her studies. In addition to attending school she will be given access to develop talents in sport, arts and crafts, singing and dancing - all helping to build confidence and help to enjoy school and gain qualifications to develop a better future. The girls are encouraged to help maintain the kitchen gardens at the home and prepare the produce ready for eating. The girls celebrate many festivals and special holidays at the Home.

Rakesh comes from a very poor family, who live in a small hut in Amarampedu, near to the Boys Town. His parents work as agricultural labourers but their daily wages are very low and their work is seasonal (around four months of the year continuously) so they must find alternative work for the rest of the year.

Rakesh joined the Boys Town sponsorship scheme in 2013 and has settled in well, has made new friends and is helping to welcome new students in the home this year. He has made good progress in his education so far this year The Boys Town will continue to provide all the support necessary to help and encourage his achievements at school.
By sponsoring Rakesh we will be helping our Partner, The Rotary Club of Madras, at the Boys Town to continue providing clothing, a school uniform, nutritious meals and additional activities to enhance his academic work and social development. The boys have responsibilities within the home helping with gardening and cleaning and participate in daily exercise and yoga sessions in addition to being encouraged to read English and watch current affair programmes.


Update John Logan AGM june 2016
One of the boys we sponsored at Gummidipoondi left for university, and
it was decided in future to sponsor a girl at the Inner Wheel of Madras
Barbara Kelly Home as well as the boy still at the Rotary Club of Madras
Boys Town at Gummidipoondi. There have been some changes in the
personnel we liaise with at ICT through which our sponsorship is
administered, but things seem to have settled down and we have resumed
receipt of cards and letters of thanks from the children and progress updates.
The Club sent a donation with Robert for use at his discretion when he
visited Sri Lanka and appraised the situation at the school provided by
Clubs of the District following the tsunami.
A further fundraising band concert was held at St Thomas' Church, this
time by Gawthorpe Brass, to give the Club a start-up fund on which to base
donation of a shelter box in response to or anticipation of an international disaster.

LINK www.ictinfo.org.uk
LINK Read more about ICT Rotary Club of Wrexham

LINK Barbara Kelly Home

LINK Boystown video

---
International Peace
Scholar Lydia Kroger.
Mon 6th Nov 2017 Birstall Luddites were
honoured to host Lydia who is studying at the
Bradford Rotary Peace Centre at Bradford University
for 6 weeks as an International Peace Scholar.
Lydia is 26 and she was born in Leipzig in what was then East Germany.She now lives and works in Berlin after graduating from University in Bavaria where she studied
Global Business Management.
After finishing her studies, she has worked for NGOs in Brazil, Southeastern Europe and Germany in the areas of education, inclusion of minorities and youth activism as well as volunteered in several refugee camps in Berlin. Her experience has swayed her towards working with smaller hands on groups rather than the "brand" names we are all with.
Lydia talked about how Germany had changed after the fall of the Berlin Wall in 1989. She talked about the old East Germany and her life with her parents in GDR. She told the,now humouress , tale the about the STASI and how it affected not only her father but the entire family was tainted by unsubstantiated "black marks" as recorded in secret police documents discovered after the fall of communism.
Lydia gave three examples of how these tales plus the systems inflexibilty influenced her entire family.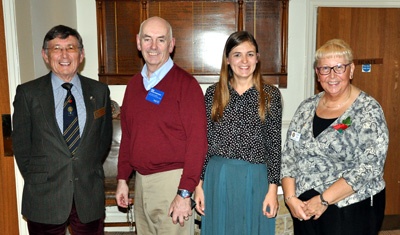 One; because her father was a butcher ,she explained,almost inevitably required him to employ assistants,which made him potentially a threat as an aspiring middle class employer - and Lydia was barred from school trips. Her Mother was blocked from attending University and none of them were encouraged to travel.


Back to the present, she remembers the sheer euphoria of reunification, the physical rush of excitement at the possibilities opening up. However the reality is that there are still fewer opportunities in the East than in the West, even after 30 years of reunification.





This could partially explain the worrying rise of the far right ESB party who are mostly from the east regions in Germany. She shared with us maps showing attacks against refugees as they are blamed for everything from low wages to lack of jobs.





Lydia said she had enjoyed her 6 weeks studying in Bradford especially working with students from a wide variety of nations -in her class were fro The Yemen, USA, Burundi Rwanda, Congo and Zambia ,most of which are conflict countries in need of reconciliation.




Lydia hopes to start her own organisation for promoting peace and conflict resolution .




Ken also gave a short speech supporting Lydia. He spoke of the 6 centres run by the Rotary International Charity ,2 in USA and one each in Australia ,Japan ,Sweden and Bradford. The cost of half a million pounds per year per class (average 15 students per class) is then magnified by the messages that go out from each student all over the world.All the students are encouraged to keep in touch with their University long after the've qualified, hence our statement of where they all are and what they are doing.


Robert Jackson gave Lydia a vote of thanks


for her talk and wished her all success in her future career.




Pictured left to right above Robert Jackson, mentor Ken Robertshaw, Lydia Kroger peace scholar and President Helen.


Bill Fox thanked Lydia for her talk and wished her all success in her future career.

LINKS Lydia Kroger at Bradford University
LINKS Rotary Peace Centre
---
ShelterBox is an international disaster relife charity that delivers emergency shelter, warmth and dignaty to people affected by disaster worldwide
Aquaboxes

These boxes are life saving boxes which are capable of providing gallons of fresh clean water where there is no other supply.


INTERNATIONAL
COMMITTEE 2018/19


Steve Gooder
Chairman






Peter Wait-Wright
Committee
Member
John Logan
Committee
Member
Tony Smith
Committee
Member
---