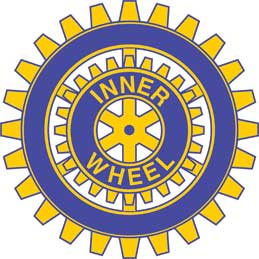 Inner Wheel is the largest women's organisation in the world, with over 23,000 members in these islands, with the aim of friendship, personal service and international understanding. Membership maybe taken by the following, provided that they are over 18 years of age: 1. Women related to Rotarians and former Rotarians. 2. Women related to Inner Wheel members or former Inner Wheel members. 3. Women who have been invited to join, provided that a majority of the Club members agree.
Inner Wheel Club of Parkstone and Poole District
Encouraged by a Parkstone Rotarian, Ron Brixey, their ladies formed an Inner Wheel Club in 1973. In 2002 the name was changed to reflect the fact that they were recruiting from the three Rotary Clubs in the area, Parkstone, Poole and Poole Bay.
Parkstone and Poole District has over the years given service in many ways. For 22 years they ran a
play area in the Children's Outpatients Clinic in Poole Hospital.A local Carers Group was supported, organising outings and afternoon teas. Refreshments served at the local Stroke Club. Refurbishing chairs in denim at Tracy Ann House. There have been many knitting projects, - blankets, hats for fishermen, teddies for children in disaster areas, and currently helping, with other organisations, knitting baby hats for the Poole Hospital maternity unit. Overseas has not been forgotten, filling Aqua Boxes, providing sewing items for Tools for Self Reliance, and, of course, Shoe Boxes at Christmas, plus collecting all manner of items for overseas charities. Local charities supported include Lewis Manning, Forest Holme, Women's Refuge, Dolphin Boat, and Dorset Life Education.