The YOUTH SERVICES committee is involved with several projects each year, some of which are carried out on a year to year basis. Our work is aimed at providing opportunities for young people in our area. In addition to the four projects described below, as a club, we are also involved with `Young Writer`, `Young Artist`, and `Young Speaker.` - Promoting the development of young persons in our area.
Technology Tournament
Over 1,400 students from around 100 schools in Lancashire and Cumbria enter the Rotary Technology Tournament at ten regional venues which has been sponsored for the past few years BAE Systems. Our regional tournament is held at Hollins Lane College Accrington and our club is involved with the organisation.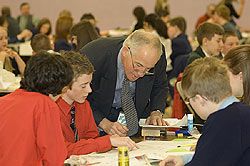 From Preston to Carlisle, over 350 teams of students, as well as many teacher teams, spend the best part of a day tackling the 'design and build' task for the year. Last year this was to produce a flashing beacon and this year to produce a crane to pick up and transport a chemical container. Each team is given an identical set of materials with which to work. Having considered a number of designs to satisfy the written criteria, the teams then set about building and demonstrating their model to a panel of judges.
There was a real buzz from the outset at each of the regional centres, with noise levels increasing as the deadline for completing the task approached. The judges then test the models and select the winners and runners up in each of three categories - foundation, intermediate and advanced - depending on the school year of the students concerned. Teacher teams are also entered.
In their selection, the judges consider the use of time and resources, team organisation and management, design analysis, design development, and then the skills, use of materials and final testing of the solution.
Interact
Interact is Rotary International's service club for young people ages 14-18. Interact clubs are sponsored by individual Rotary clubs, which provide support and guidance, but Interact clubs are self-governing and self-supporting.

Our Distrct aim in 2009/10 is to have at least 4 Interact Clubs operating by June 30th 2010. Currently we have chartered clubs in Fleetwood and Lytham St Annes and a third club operating in Church and Oswaldtwistle. Clubs are planned for Leyland, Carlisle, Keswick, Accrington, Lancaster and Ambleside.
Interact Club membership varies greatly. Clubs can be single-gender or mixed, as well as large and small. The membership base can be drawn from the student body of a single school or from two or more schools from the same community.
Each year, Interact clubs complete at least two service projects, one a 'home' project to benefit their school or local community, and one an 'away' project to benefit people abroad and to further international understanding and goodwill.
Examples of 'home' projects are bulb planting, litter picking and providing food parcels to the needy and elderly - especially at Christmas.
RYLA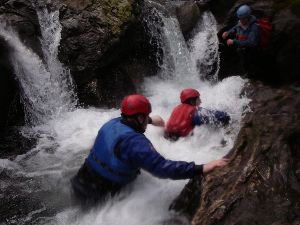 Rotary Youth Leadership Award is Rotary's training programme for young leaders. This is designed to promote leadership, citizenship, and personal growth. RYLA was officially adopted by Rotary International in 1971, and is still one of the fastest growing programmes of Rotary service. RYLA programmes sometimes lead to the formation or strengthening of Rotaract and Interact clubs. RYLA participants may go on to become youth exchange students or ambassadorial scholars.
RYLA aims to:
Demonstrate Rotary's respect and concern for youth.
Provide an effective training experience for selected youth.
Encourage leadership of youth by youth.
Enable young people to render service to their communities.
RYLA is available to students aged 16 or 17 whilst on the course.
RYPEN
Rotary Youth Programme of Enrichment
The course is designed specifically for those students who would benefit from "character building" activities and are perhaps of two types. Those who need a boost to their self confidence and self esteem in that they are perhaps under achieving. The course encourages them to believe in themselves and their self-worth; helps them understand what it is like to be an accepted member of a team that is challenged to work together on activities new to each team member. The other type is high achievers who perhaps are pursing the Duke of Edinburgh Award or are scouts or guides, although not necessarily, who are being rewarded by their school for achievement and effort and who wish to develop their leadership skills. The course is highly motivational, encouraging self reliance and initiative within a team context.
Activities include canoeing, abseiling, gill scrambling, hiking, sailing, camping out in tents overnight, etc and the students are closely supervised by specialist youth leaders at all times.
Schools nominate a few potential and suitable students who are willing and able to attend the course then the Rotary Club meets each of them to select the most suitable.