RYLA Candidates Give Presentation to Club 3/9/12
At the weekly meeting on Monday evening in the Queens Hotel, Lockerbie, President Clem Maggiori, welcomed two students from Lockerbie Academy, Ava Thomson and Jessica Peck who recently attended a Rotary Youth Leadership Award camp, having been sponsored by Lockerbie and District Rotary Club.
The camp is located at the Abernethy Outdoor Centre at Ardeonaig, near Killin, Perthshire. The programme has as its objectives, the development of pride in achievement, not only in self but in others. There is emphasis on the importance of sportsmanship and competition as inputs to quality living.
Members heard accounts, backed up by a power point presentation, delivered in an entertaining manner from the two students detailing the various outdoor activities arranged each day. These included abseiling, gorge climbing, rock climbing, hiking and canoeing. Additionally, demanding team games developed communication and co-operation with other participants from different areas of Scotland. Each evening a variety of speakers gave stimulating talks on subjects ranging from mountaineering to first aid.
Both students confirmed their appreciation of a once in a lifetime opportunity they had been given by the Club. The experience had been most rewarding, creating new insights through new challenges, which could only be beneficial to their futures.
Proposing a vote of thanks Harry Smith thanked Ava and Jessica for a very interesting talk on the activities and experiences at the Abernethy Outdoor Centre, greatly appreciated by the Club members.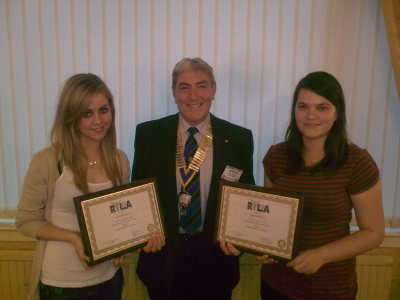 The picture shows left to right Ava Thomson and Jessica Peck receiving their Rotary Youth Leadership Award certificates form President Clem Maggiori.