Welcome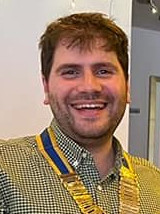 I'm Renos Georgio and I have the honour of being the President of the Brookmans Park Rotary Club for 2022-2023. Welcome to our website where I'd like to introduce you to our club and what we do to help in our community and around the world. We are a very friendly group of men and women who meet for dinner each week to plan charity fundraising activities, to socialise and to enjoy the stimulation of some fascinating guest speakers. We are a very sociable group and our meetings are fun!
What is Rotary?
I promise you, there are no initiation ceremonies or secret handshakes!! We are just ordinary people from all walks of life, faiths and cultures, with very differing areas of expertise, but with one thing in common - we volunteer to give time and energy for the benefit of others. We FUNdraise, with emphasis most definitely on the "fun", for both major global initiatives as well as local needs - we try hard to balance the two. Let me give you some examples:-
Globally, the Rotary organisation is one of the four major partners who work closely together under the banner Global Polio Eradication Initiative, to eradicate polio from the planet. Rotary in partnership with the Bill & Melinda Gates Foundation, have committed in excess of $550million!
The devastation of many worldwide disasters have been eased a little by the arrival of Shelter Boxes, which provide much needed shelter and all the essentials to give shelter, clean water and more, in a box - an international disaster relief organisation that started as the brainchild of one Cornish Rotarian back in 2000. The charity has grown into the internationally respected charity of today. They are amongst the first to scenes of devastation, using the funds and the local network of Rotary Clubs to get help to the needy as fast as possible.
These are just two examples of our global commitments, but most people might know us from our local activities. We look closely at our community and seek to pull community spirit together for the good of local business and amenities. Schools, hospices, children's homes all benefit from the encouragement given for communities to interact and work together.
This year, the main charities we are supporting are the Great Ormond Street Hospital, Noah's Ark Hospice and the Red Rubber Ball Foundation.
Here in Brookmans Park we are known for creating an annual calendar of community events.
May Day celebrations on Bradmore Green, which is a real community event with Morris Dancers, Maypole dancing, Punch & Judy and the ever popular Stocks, to name a few.
Annual sponsored swim at Furzefield in March, for all ages and abilities - can you put a team together? This event is really popular.
Christmas Tree Lighting Ceremony on Bradmore Green, heralds the festive season.
Santa and his sleigh visits as many of the streets of Brookmans Park, Welham Green and Cuffley as he can.
Quiz Nights, socials, or fun evenings all enable us to get together with the local community, raising funds for local charities.
AND look out for even more events that we hope to introduce during this coming year.
This year our main fundraising efforts will help support our two main charities Many other charities will receive our support throughout the year; we look to see where help is needed, such as a national or international disaster and try to fill that need.
Meanwhile, we continue with Kids Out Day for children from a Special Needs School nearby. Our Senior citizens from a local home will have their day out to places of local interest and more besides!
I hope I've given some insight into your local Rotary Club - our members are local, we want to see our local businesses prosper, our schools well equipped and our village community flourish. We are volunteers, so every penny of profit goes directly to charity, and we need you! Please support our events. They are promoted through the Brookmans Park newsletter and on line. If you'd like to join us, then contact one of us for more information.
I look forward to seeing you at one or all of our events.

Renos