Rugby (Twickenham 2012)
Sat 1st September 2012 at 14.00 - 16.00
Some of our members planned an outing to Twickenham to see the London Derby matches between Wasps, Harlequins, Saracens and London Irish. Two great games for the price of one.
Show related pages
London Double Header
A great Day was had by all with good company, good food and two great games of Rugby.
We started mid morning for the worst part of the day - the drive round the M25 (where do all those cars come from at the Dartford Crossing?) to get to Twickenham and our secret car park behind the High Street.
Then into a Chinese restaurant for a meal - great quality and very tasty - accompanied by just (?) a few beers and wine.
Suitably lubricated the party made its way to the Stadium and our seats just on the Halfway line, ready for the start of the first game.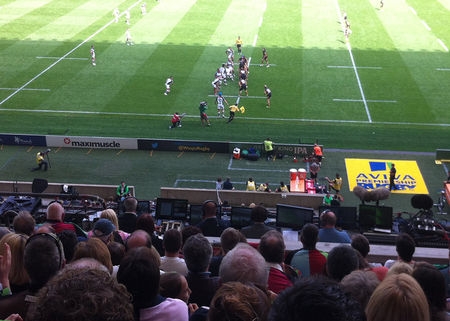 What a fantastic free flowing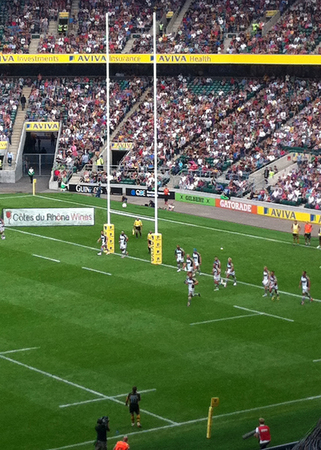 game followed, as Wasps met Harlequins for the first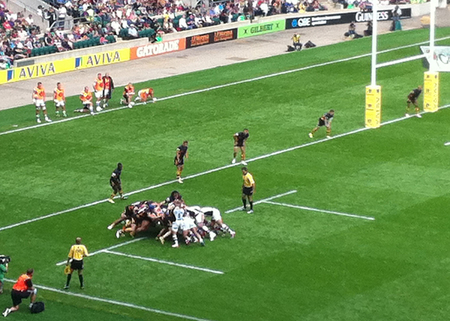 time this season.
First Wasps were all over the "Quins", scoring 4 tries and two penalties and leading 40 points to 13 early in the second half. The game seemed all over.
But Harlequins - last seasons champions - struck back with 4 tries to get within one point, and then .... landed their third penalty of the afternoon to give themselves the victory - in an epic encounter at Twickenham.
Its not often you see a game with over 80 points scored yet ending in such a close result.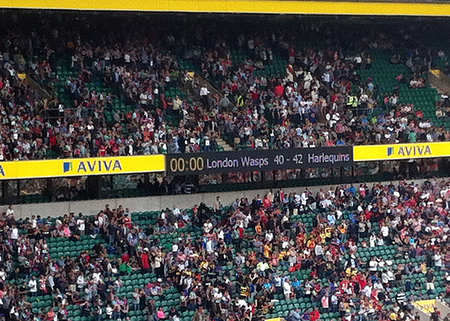 And the day wasn't over. It was time for Saracens vs. London Irish. This was a game of a completely different sort - much more physical but still of very high quality, with Saracens scoring 4 tries.
They came out clear winners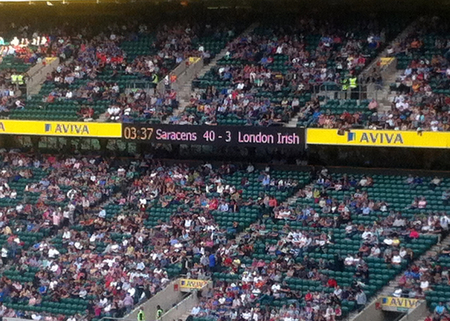 as they thrashed London Irish 40 points to 3.
A notable match for two other reasons too - Charlie Hodgson became the first player to pass 2,000 points in the Premiership and England winger Chris Ashton scored two tries on his debut.
All in all the party had a great day - it's not often that you can see two Premiership games on the same day and see over 120 points scored in two quality games, all in the fellowship of other Rotarians.