Pinner Village Show/ Previous years - 2012 Pinner Village Show
2012 Pinner Village Show
What a fabulous day!
| | | |
| --- | --- | --- |
| Visiting dignitaries | Welcome to the Show! | ...and people came from all around |
Was it because of all the rain during what the calendar calls 'summer' or the fantastic warm weather in September? Either way the change to good and sunny weather brought us a flood (if I can use that word) of new stalls and plenty of visitors!
Last year 40 stalls set up in the park - that was a record - this year there were 60 and the show was all the more fun for it! Many booked in the 10 days before the show. Rotarian and Past President, Tony Moore, did an amazing job of co-ordinating and organising the event with help both before and on the day from many of our 48 members.
| | | |
| --- | --- | --- |
| 60 Stalls this year! | Lots of Fun | 4 visiting Rotary Clubs |
The entertainment went down well as always, with the Harrow Concert Band, a Magic Show, the Glen Trew Pipe Band and a Tug of War (organised by the Tug of War Association). The children's rides proved popular in all their ups and downs and round and rounds - made me giddy for one!!
| | | |
| --- | --- | --- |
| Two of the Glen Trew Pipe Band | Vintage Cars on Show | Beatrice is presented with her prize |
Rotarians Kara Lines, Michelle Gasgoine and Clive Baxter organised the School Art Competition to find a winner for our Programme Cover Competition - this was won by Harshil Joshi (age 11 from West Lodge School) and the 2nd and 3rd prizes went to Beatrice Fyles (age 11 from Heathfield School) and Anandi Bhakra (age 5 from Pinner Wood School) respectively. Prizes were generously donated by Little Willows (1st Prize was an activity voucher and the 2nd Prize a Doodle Bread box) and New Leaf Book Shop (a book token and a book - the Amazing Mrs Pepper Pot - signed by the illustrator) was awarded to the 3rd Prize winner. The art work by Beatrice and Anandi plus seven further runners up were made into posters to advertise the Show and were displayed in many of the local shops in Pinner.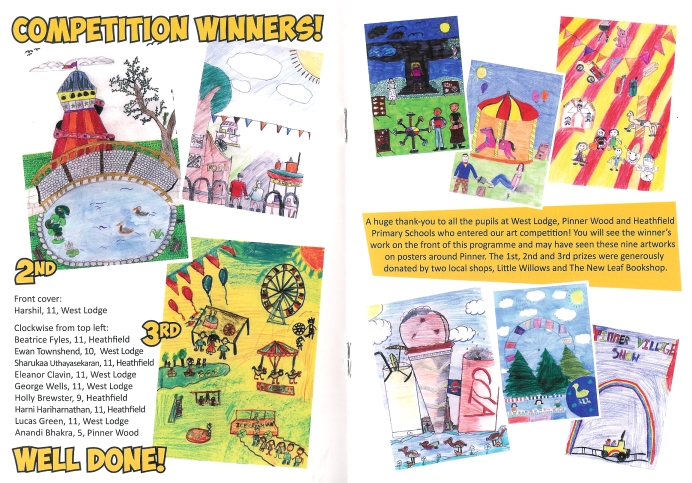 Front Cover and 2nd and 3rd prize winners and runners up in the Poster competition - all featured in this year's Pinner Village Show Programme.
Our local MP Nick Hurd, once again attended the Show and spent time visiting the stalls, showing particular interest in the charity stalls, including four visiting Rotary Clubs from Uxbridge, Golders Green, Harrow and Northwick Park.
Rotarian Brian Glozier achieved the near impossible in his newspaper and website coverage both before and after the event. Here are a few links to some of the website coverage: Harrow Observer, Harrow Times, Your Pinner News and PinnerLocal.
The Show, enjoyed by so many people also made some £3,000 for our charities - split 50% between R.A.F.T, Macmillan Cancer Support and Kids Can Achieve plus 50% to other local charities and good causes supported by our club. Thanks are due to Gibbs Gillespie, Estate Agents, for sponsoring the printing of the programmes and helping with the promoting of the Show, together with other local businesses which took adverts in the programme, and the providers of the raffle prizes which enabled us to sell the programme as a 'raffle ticket'.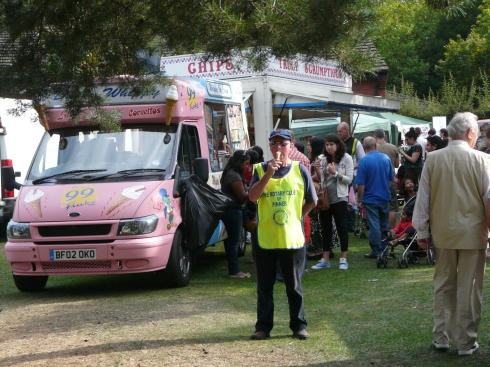 President David Cherry drew the Programme Draw - see details below - and our annual Meal for Two Draw with 26 prizes, all Meal for Two Vouchers donated by local restaurants, which raised a further £3,000 through club members efforts in selling the tickets during the summer months and at the Show.
A big, big thank you to all the event organisers and entertainers, advertisers and stall holders and all those who joined us on the day - thank you everyone for making it a great day and what a great way to enjoy the September sunshine!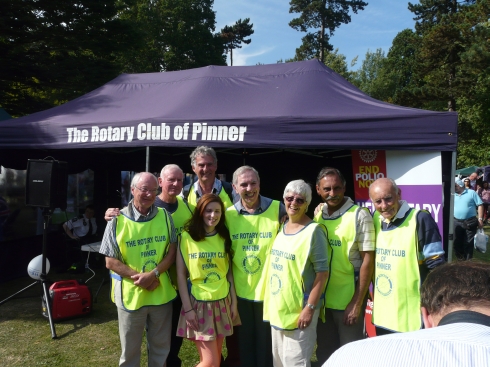 See you next year on Saturday 14th September 2013.
Fingers crossed for another sunny day.
Photos on this page from the camera of David Bays
More photos in our Photo Gallery section by Brian Glozier and a few from Huma Shah.
2012 Lucky Programme - Raffle winners.
Clarins Skin Care Programme - retails at £50
Kindly donated by Fridolins Beauty Clinic
27 High Street, Pinner Tel.: 020 8868 2443
Won by: Delia Cazzato of Pinner

25% off any pair of Glasses
Kindly donated by Grant & Glass Opticians
3 Red Lion Parade, Pinner Tel.: 020 8866 2620
Won by: Clare Ward of Eastcote

Framed Chinese Scene - retails over £50
Kindly donated by Saryan Picture Framing & Art
43 Bridge Street, Pinner Tel.: 020 8429 3020
Won by: Helen Pringle of Harrow

Selection of own label toiletries and candles

- retails at £30

Kindly donated by Yummy Home

1 High Street, Pinner Tel.: 020 8868 6644

Won by: Jim Bole of South Harrow
2 Bottles of Brut Cava Prestige Kindly donated by Marks & Spencer Simply Food

4 Bishops Walk, Pinner Tel.: 020 8868 3815

Won by: Vyan Gresty of North Harrow
All prize-winners have now received their prizes.