2012 Charter Lunch
Sun 4th November 2012 at 12.30 - 15.30
Rotary Club of Billericay's Charter Lunch to celebrate its 53rd. year was held at "the Chichester" Rawreth. Honorary member The Lord Petre and District 1240 Governor Ian McMeekan also attended along with members and friends.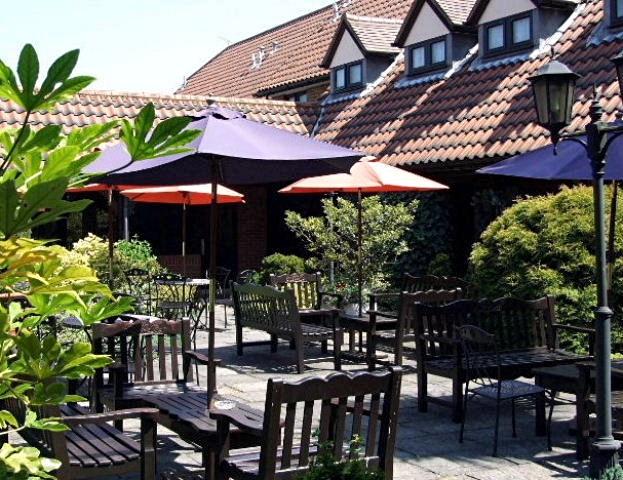 Show related pages
Charter Lunch 2012
The Chichester (Rawreth).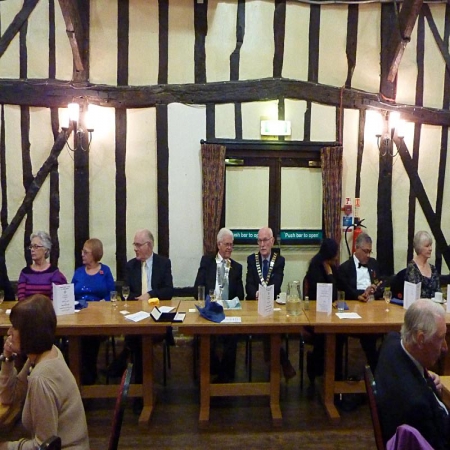 The anniversary of the signing our charter is indeed an event to be celebrated in a manner befits which the occasion. We, of course, take our pleasure in celebrating this event, so the venue needs to be imposing, its structure timber and stone, the ambience warm and genial with, perhaps, a little bit of pomp for good measure. In addition, the menu needs to present a wide choice of food to cater for various tastes, in particular vegetarians. With these requirements in mind it was decided that a suitable venue would be The Chichester hotel at Rawreth.
So, on Sunday 4 November we sallied forth one and all, in inclement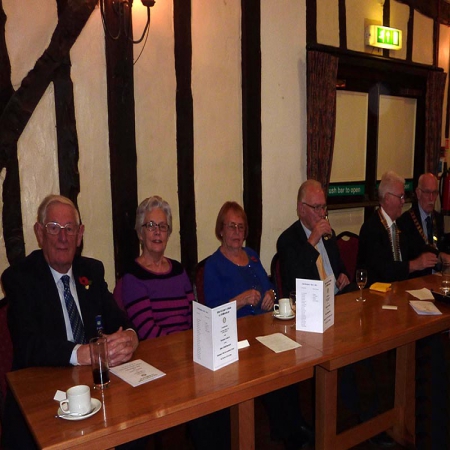 weather, to our chosen hostelry and upon our arrival were pleasantly surprised by the restaurant. It met the desired specification magnificently. In general it reminded one of a medieval banqueting hall with stone and timber walls, flagged flooring, wooden trestle tables, a warm and restful atmosphere, quite regal. (Of course we hasten to add we do not know from experience what a medieval banqueting hall looks like, since members are not that old!)
The food was good, with a very enjoyable three course meal, all of it edible and tasty. Impressive, also, were the serving wenches who moved around serving the food silently and efficiently, in fact the empty plate of the one course was removed and replaced with one bearing the next course almost seamlessly and almost unnoticed.
It was a regal occasion attended by the Lord Petrie, an honorary member of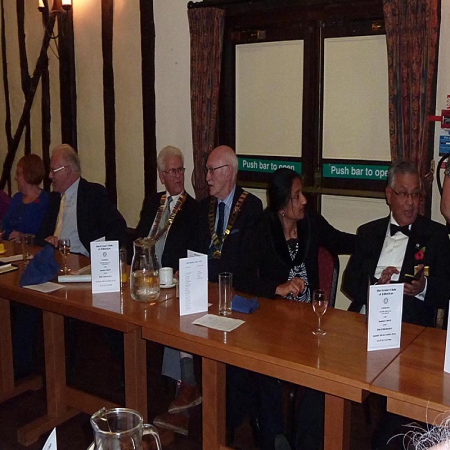 the club, the District Governor of Rotary, Ian T. McMeekan, the Presidents of many Rotary Clubs and of the Inner Wheel, guests and spouses. Speeches were mercifully short, and the atmosphere was convivial, but all too soon it was time to leave. It was a memorable lunch in magnificent surroundings and amongst good friends - - what better way to spend a Sunday afternoon.