Letter from South Africa Dec. 2012
First Christmas Presents Arrive in Redhill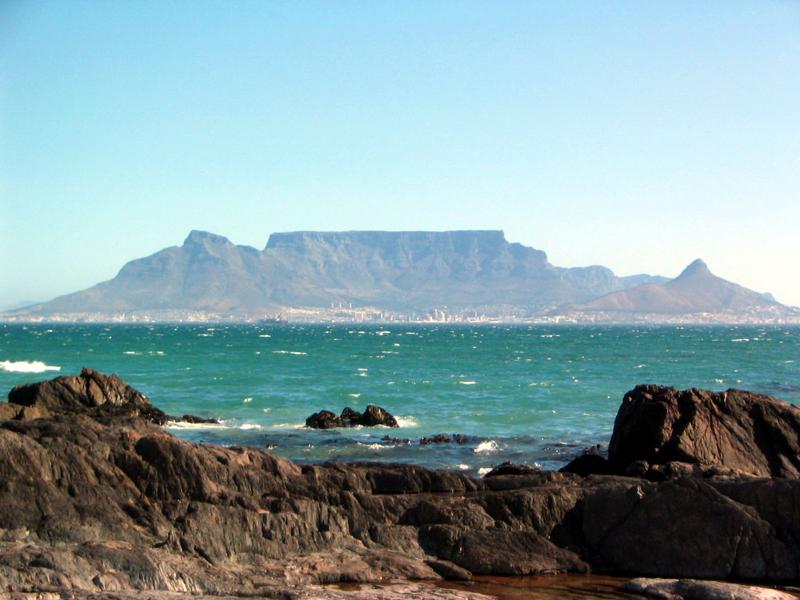 Letter from Ian Campbell

Despite the prospect of a frenzied Rotary Christmas timetable of late night mulling, bangers from Cannon's and a job talk from the 'big red man', HoHo, the thought of leaving a freezing Britain deluged in landscapes flooded and topped with ice on December 2nd wasn't difficult. My mind drifted towards the balmy warm thoughts of Cape Town with it's cotton wool topped table mountain and its simple cool refreshing summer breezes not to mention the thought of the hospitality that would await at Cape of Good Hope where resides Sue Swanepoel, ex Marlow Thames member and new President of the coastal club near Fishoek Bay - famous for whale births and hairstyle destroying winds ! Oh, and Sundowners [many do forget if too many are partaken!]

Sue and her Club were anxiously waiting for news of the matching grant for rehousing and re-equipping the Redhill pre-school and library. Over the Christmas school shut down, the work had to be organised and completed in order to have facilities ready by the end of January for the new school term BUT what of the Grant? Still no approval from Rotary International in America was forthcoming. This was starting to look like we had a problem looming and what would I say to the kids, teachers, parents and all the Rotarians to whom had promised to make this project happen when we started in January 2012 !!!

It was a difficult and sleepless flight worrying about Plan B, as we actually did not have a backup plan and with the dropping out of the Swedish District at the last minute we had called in all favours from our Districts and Clubs. We were hung out to dry like bilton on a stick left to wither in the wind !

Anyway the long haul came and went and the insomnia worked a treat as I arrived red, wide-eyed and tattered into a humid, drumbeating paradise coloured with birdlike cheeps and whistles that suggested an invisible chorus of unknown delights and dangers that kept the mind awhir with thoughts of dark, mystic creatures that were watching your every move .

The hire car was waiting with sleeping driver - feetup in the sun - and the drivers big smile transported me easily into the suburbs of downtown Cape Town alongside the famous cricket ground at Newlands to my waiting house at Water Street where my trusty alsatian guard dog for whom I 'house-sat' last year greeted me with large wet wipes of frantic friendliness as she jumped to my face to get a closeness that would bind us through the weeks ahead keeping me from danger that may lurk outside the grounds of the property where I was to stay. How well she can guard is a well kept secret as there have been no breakins or even threats in all the time she has been on guard and the only time she was needed was when a cochroach scuttled across the floor in sheer panic as the dog whimpered straight under the table ! One quick squash with my left shoe soon solved that problem. Grace the dog was pleased I had come to stay !

Next morning my thoughts were back to Redhill and I made the early call to Sue at her Cape Medical office in Fishoek who appeared to be overwhelmed with grief as she heard me mention my name. Was this a bad time I gestured ...No, No, Not at all we are all here in my office and just 30 mins ago we have received the email advising we have been granted the matching grant for Redhill...THIS IS THE BEST CHRISTMAS PRESENT EVER, the kids can have their school ! What a start to and what a Christmas this was now going to be .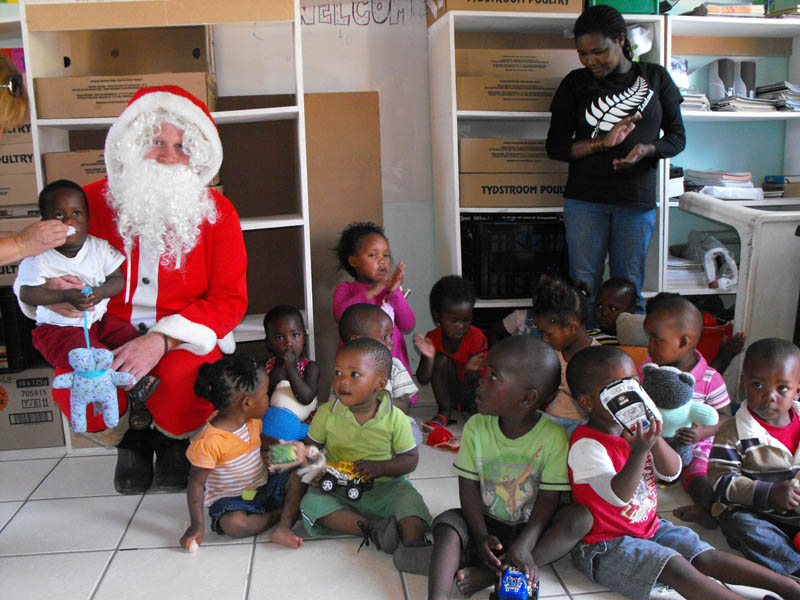 The next day I unpacked. It had been left to this late stage as the majority of the luggage was taken up with foolscap writing books sent via special Campbell's Couriers direct for Redhill after a clandestine transfer in Adams Park car park with the Bromwich gang who had been hoarding school books in their BMW boot for weeks in an effort to find a short cut to our kids in the informal settlement above Simonstown, called Redhill. Luckily I was not stopped at Jo'burg or Cape Town customs so all I had to do now was to fill the boot of a much smaller car and take them south to meet the bshakers and movers of the Western Cape. Today would be a visit with Santa Claus, the ginger-haired son of one of the Rotarians, fully clad in red and white outfit and hyperventilating in the sun under his beard and the weight of the toys in a very large sack. A soggy, sweaty 'Hooo, Hooo, Hooo' came out as he entered Redhill Pre-school container and several of the smaller kids screamed for their lives as they had absolutely no knowledge who this strange creature might be and why he might be collecting little children in a big sack !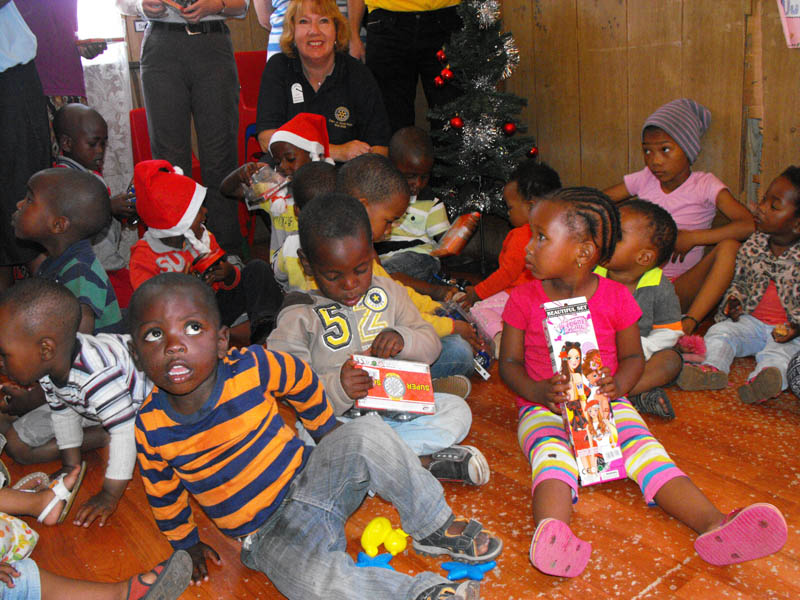 Anyway, after some calming down and extracting toys from the sack - one car each for the boys and one Barbie doll each for the girls the atmosphere went from panic to hysterical delight as they were so overwhelmed that anyone should want to give them a present - and not just any present but a real toy made in a shop in boxes, real boxes ....this was thrilling kids were wheeling everywhere across the floor . Fairy cakes and half polystrene cups of coke were also flying everywhere .....this really was a party .

Despite the excitment though there also was a sad feeling of knowing that this maybe the highlight of this little child's year; just one toy, a fairy cake and half a cup of coke. So in all the smiles there was also a welling up of sadness that this was in a life of having nothing - but still the smiles and the wide eyes shone through to those of us who were there to help them enjoy the moment ...........and amongst all the noise and bedlam of cars zipping across the floor, a small hand intertwined in my own as one of the smallest boys pulled me to play at pushing his car .... the touch of five small fingers that make you feel beneath the dirt and have nothingness and touches an innocent little soul that knew nothing than the fact that you had the power to change his life !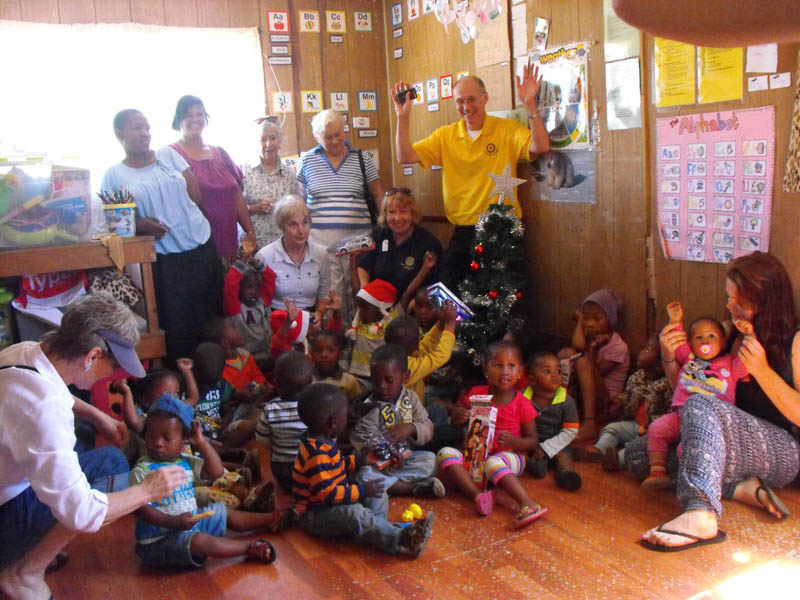 It's such a great responsibility but yet such a humbling experince there are very few words to explain the feeling of the mini Christmas with such power of belief in each other just there in that container of a room , packed up and ready to be removed ready for the new school in January - You are their Hope - but you wonder if Christmas is about God and the birth of Christ why was he not here to help the less fortunate in life - or perhaps he was through the very fact we had cared enough to be there. We had cared enough to make a difference. We had cared enough to have raised funds back in Marlow to not only give a small toy but also to show that through a new school and library there is a future and maybe a chance for our small Redhill kids to get an education and make a better life for themselves .

Thank you to everyone in Marlow Thames, families and friends, Kungsbaka Rotary Club, Cape of Good Hope and all members of the public that supported Rotary events who helped with donations, raisng funds and just giving . This has meant a chance for a few and given a smile already to the children and also a smile to the hearts of the volunteers who work so hard to give the Redhill kids just a cuddle, a word or just a hand when in need.