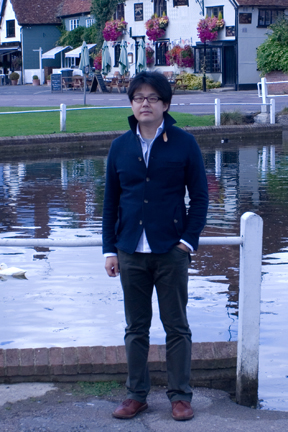 Hiroto Yamamura is a visiting Rotary Ambassadorial Scholar from Japan who is studying for an MA in English Language Teaching at the University of Essex, Colchester. Hiroto is already teaching English in his home country to 13 to 15 year olds and has been sponsored by the Rotary Club of Takaoka, Japan to further his education in England. The Host Councillor for the duration of Hiroto's visit is Mike Prince of the Rotary club of Halstead.
During His stay Hiroto is required, under the terms of his grant from Rotary International, to visit and make a presentation to Rotary Clubs within District 1240 any club that would like Hiroto to visit please contact Mike Prince on 01787 473924 or mike.prince@btinternet.com.
On the 22nd November Hiroto came along to our weekly meeting at Halstead where he gave a very interesting, very informative talk about his life in Japan and his studies at Essex University. He was grateful for our support and could not speak highly enough about the benifits of the Ambassadorial Scholorship.
See also the article on this web site 'What is an Ambassadorial Scholorship'