Show related pages
Photo: L to R Rotarians Tim Lunt, Bob Knight, Tim Jones, CSRT Member John Capp and President of Wadebridge Rotary Club, Ken Metcalfe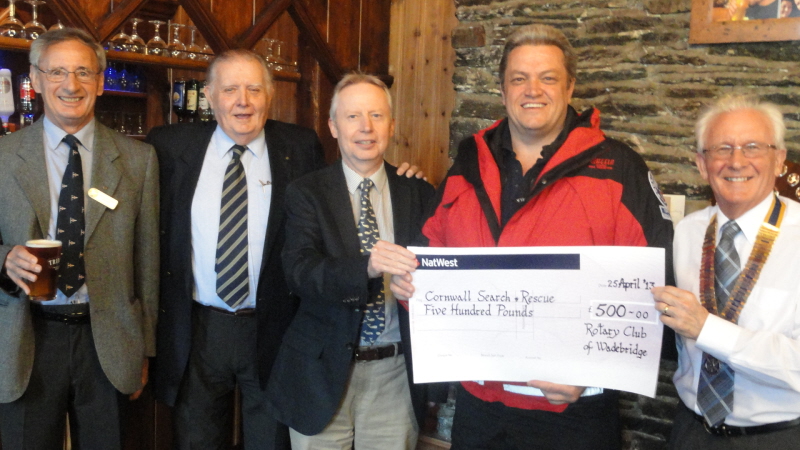 Cornwall Search & Rescue Team
Wadebridge Rotary Club has once again found a good cause to support. There is an extraordinary group of Volunteers who work tirelessly for an organisation called Cornwall Search and Rescue Team(CSRT) - it is a registered charity that provides a search and rescue service across inland Cornwall. They respond to around 40-60 incidents each year and have 45 team members who all give willingly of their time and who are based across the county, available 24/7 for call outs.
Most of their call outs are searches in rural countryside and the moors, working closely with the police and other local search and rescue teams to locate, stabilise and evacuate missing people. In addition to the traditional image of missing walkers, many of these searches are actually for confused elderly or young people, and persons who may cause harm to themselves. They also have a search and rescue dog team that regularly gets called to assist their neighbouring teams on Dartmoor and Exmoor.
By having all of this specialist training, equipment and vehicles they also get called to respond to those who need help from the more remote parts of the county, including moorland and mineshafts. In these circumstances, the ambulance service and fire and rescue service call to request assistance with these casualty evacuations.
John Capp, from Cornwall Search & Rescue told the Wadebridge Rotary Club in Wadebridge, when he came to collect a £500 donation cheque: To run the Team costs the charity around £20,000 a year, as we have to ensure our specialist equipment is in proper working order and our medical supplies are current and appropriate for the injuries we may come across. This wonderful donation from Wadebridge Rotary Club will be put towards the purchase of vital medical equipment. Over the past 10 years of our existence we have saved 121 lives and it is thanks to all our volunteers who give of their time and expertise so generously, and donations like this. Thank you from us all.
If you would like to know more about CSRT, or would like to consider volunteering your time and talents, then a visit to their web site is a must at: www.cornwallsar.org.uk
Wadebridge Rotary Club tells us they are immensely proud to be able to contribute towards this extraordinary work and wish John and his colleagues their very best wishes for the future.