Brief History of the Rotary Club of East Sutherland
The Beginnings
1986. Distillery Manager Alistair Munro and the then manager of the Royal Marine Hotel Brora Alistair Risk who were Rotarians in Tranent and Dundee before moving to Sutherland discussed how a club could be formed. However as Alistair Risk left to work in North Berwick further progress was delayed. In 1987 Alistair Munro enlisted the help of Geoff Smyth then the local Customs representative and together the work of forming the Rotary Club of East Sutherland began in earnest. A comprehensive list of potential members was compiled with Alistair and Geoff visiting all of them to sell Rotary and the idea of Service Above Self. These meetings proved that a viable club could be formed.
Conception and Birth
1989. On the 15th February the Inaugural Meeting was held at the Sutherland Hotel, Golspie attended by 20 Founder Members and many visiting Rotarians from other Clubs. On 12th May the presentation of the Club's Charter to founding President Alistair Munro took place at a dinner in the Burghfield Hotel, Dornoch. The presentation was made by District Governor Robert Clarkson and was attended by many members of our mother Club the Rotary Club of Dingwall.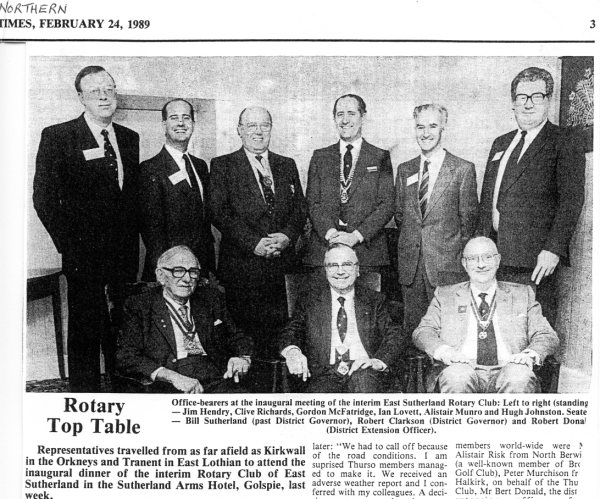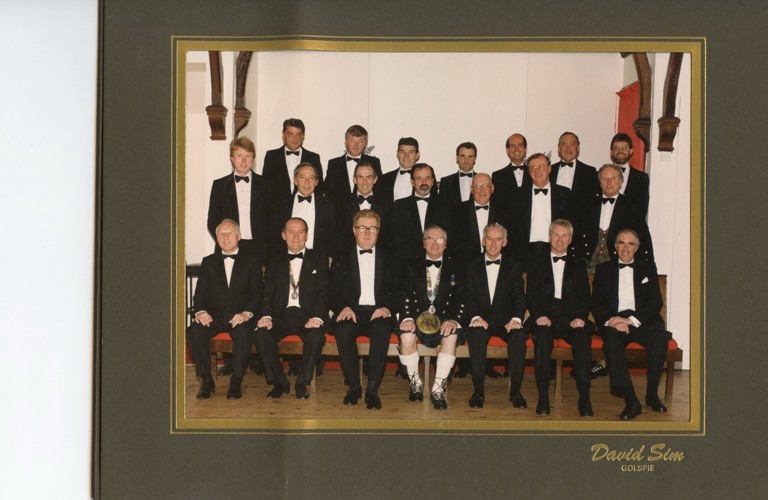 Inaugural Meeting Founder Members Charter Dinner 1989
Growing up
During the 10 years between 1989 to 1999 the club met in The Sutherland Arms, Golspie and consolidated both membership and activities quickly becoming recognised as an effective organisation willing to go the extra mile to assist those in need at local, national and international level. In 1991 the Sunflower Challenge raised 6000 which enabled President Hugh Johnston to present an ambulance to the John Pearce Memorial Eye Hospital in Cuttack, India. 1992 saw the club awarded the District 1010 International Service award having raised considerable sums to benefit people in other countries. This was achieved through hard work and innovative fundraising including a Theatre Night in Golspie High School. Our 10th Anniversary Dinner was held in 1999 in the in the Links Hotel, Brora and celebrated 10 years of service to the community both at home and abroad. President Colin Ritchie presided.
Teenage years
1999 to 2013. These were not the difficult years associated with the word teenage rather they have been years of expansion in membership, fundraising activities undertaken and organisations and causes supported. Innovative fundraising during this time included stringing 20,000 bras the 6 miles between Brora and Golspie raising 12,000 for cancer care at Raigmore Hospital, Inverness. Other events of note are:
2003. The club was delighted that Christine Henderson became our first lady President.
2008. This year saw the club move from our original home in the Sutherland Arms Golspie to the Sutherland Inn Brora. The year also saw 4 members (2 couples) of the club marry. Both couples declined presents in return for donations to Polio plus and other Rotary charities raising a total of £3,000.
2010. On 6th March the club celebrated their 21st birthday with a dinner in Brora Golf Club. This was attended by many past members and raised over £2,000 for charity. It also gave the members the opportunity to acknowledge the tremendous support given to the club by our founder members.
2011. The club undertook a major environmental project by creating a wildflower meadow on wasteland on the approach to Golspie. This involved coordinating funding from and the activities of several organisations and resulted in the completion of a £17,000 project. 2011 and 2012 also saw the formation of 2 Interact Clubs - 1 at Golspie High School and 1 at Dornoch Academy. These clubs have really embraced our Rotary ethos.
2013. In the evening of Wednesday 3rd May the sun shone and the midges stayed away as the club held a Charity Garden Party in the grounds of Dunrobin Castle. Attended by over 300 people the evening raised 4,000 and all enjoyed excellent entertainment, food and company.
2014. Our 25th birthday was celebrated on 19th March 2014 with a dinner in the Golspie Inn, our original meeting place, when the club reaffirmed its commitment to helping others and the motto of Service Above Self. In April we returned to the Golspie Inn for our regular meetings on the 1st and 3rd Wednesday of each month. The 2nd and 4th Wednesday we meet in the Royal Dornoch Golf Club. A first for the Club in 2014 was a Coast to Coast Classic Car Tour to raise money for RNLI and Rotary Charities. 49 cars participated and all enjoyed an excellent run from Dornoch to Ullapool and back culminating in an evening Ceilidh in the Carnegie Hall at Clashmore. A total of £11,000 pounds was raised.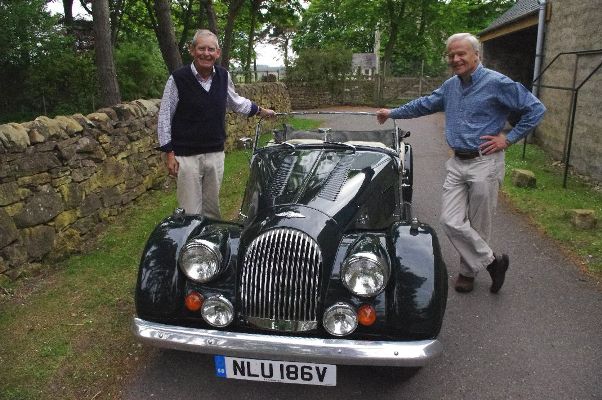 2015 to today: -
The Club celebrated its 30th Charter in Dornoch on 23rd March 2019 with almost 100 Rotarians from all over Scotland with their friends and partners present. The years leading up to this event has seen an ever-increasing involvement in Youth activities. This has involved almost every Primary School in Sutherland competing in the Primary School Quizzes and much more! Brora, Golspie, Dornoch, Helmsdale, Lairg, Rosehall and Rogart all formed and host Rotakids clubs - the youngest membership of the Rotary family. All of them are helping their community, the environment and national and overseas projects including Swimming for Polio and Bag Packing. Beach cleaning and doing away with plastic are a speciality!! as are tea parties and entertainment for the elderly and care home residents - they are an example to us all! Both Secondary Schools are involved with Mock Interviews, nominate candidates for the Youth Leadership Camps and host Interact Clubs.
The club membership has grown and the average age has fallen to 56 (a drop of 20 years!!) and that may be down to kids' parents and teachers discovering Rotary which may also account for the almost 50/50 gender split that the club now boasts as we attract folk from all walks of life.
Funding has hit new heights but even better the real effect of volunteering in the community has raised our profile. The Club supported the formation of the East Sutherland Live Arts and Entertainment project that steams ballet and Opera plus Royal Shakespeare Company plays direct into this remote community. Our club is a force for good in Sutherland.
The Future: -
As we enter the next 30 years of 'Service Above Self' we like all club's welcome the exciting and interesting challenges change will bring us. Meeting those challenges will ensure that the Rotary Club of East Sutherland will continue to evolve and grow not just in number of members but in its effectiveness in having fun whilst helping others!
Why not join us?