2013 Pinner Village Show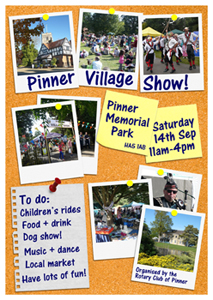 The 2013 show was a very similar format to previous years as there was a wide variety of entertainment including children's rides and a bouncy castle, Punch & Judy, train rides, a dog show, a tug of war and lots of other activities to keep youngsters of all ages happy! Musical entertainment included the Harrow Concert Band, The Merrydowners Morris Dancers and the Glen Trew Pipe Band. Refreshments included 'Truly Scrumptious', some Asian delicacies and an extensive bar staffed by Pinner Rotarians.
The Show was opened at 11:00am by the Mayor of Harrow, Councillor Nana Asante who commented what an excellent community event the village show is. The final event was the draw for the Meal for Two raffle, tickets for which the Rotary Club of Pinner have been selling since July. The raffle was to raise funds for this year's chosen charity, Kids Can Achieve, based in Harrow Weald. Twenty-eight local restaurants had donated Meal for Two vouchers, mostly worth £40 and with the top two worth up to £100 each.
This year the Show's Lucky Programme had 5 raffle prizes worth a total of over £350 plus 5 further vouchers for discounts off local purchases, available to all.
2013 Lucky Programme - Raffle winners.
Voucher for Nike Sunglasses or Specticles up to the value of £100

Kindly donated by Grant & Glass Opticians
3 Red Lion Parade, Pinner Tel.: 020 8866 2620
Won by: Phil Crosbie - works in Rayners Lane

Framed Drawing of Pinner High Street - Value £80

Kindly donated by Saryan Picture Framing & Art
43 Bridge Street, Pinner Tel.: 020 8429 3020
Won by: Craige Sayer of Pinner

2 tickets for a fun Bollywood Dinner Dance to be held on 15th November 2013 Value £70

Donated by the Rotary Club of Pinner for more information please Click here
Won by: Krystyna Knight of Pinner

Metal fish tray with Pyrex dish - ideal centre piece for entertaining Value £59

Kindly donated by Yummy Home 1 High Street, Pinner Tel.: 020 8868 6644 Won by: Mrs M Davey of South Ruislip

6 Bottles of Brut Cava Prestige (2 Brut, 2 Medium Dry, 2 Rosado) Value £57

Kindly donated by Marks & Spencer Simply Food 4 Bishops Walk, Pinner Tel.: 020 8868 3815 Won by: Lidy Toogard of Pinner
All prize-winners have now received their prizes.