Wadebridge Rotary Club holds street collection for Philippines Disaster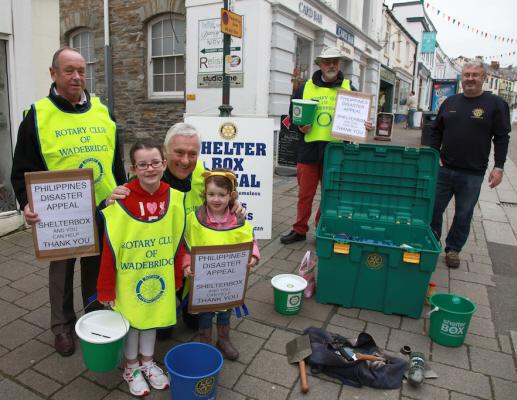 Show related pages
Rotary and the crisis in the Philippines
Rotary is an international organisation and is ideally placed to help towards sustainable outcomes in disasters worldwide. Many Rotarians have long well established relationships with Rotarians all over the world, developed, for example, through Group Study Exchanges, members personal visits, etc.
Following the devastation caused by Typhoon Haiyan in the Philippines, Rotarians in Wadebridge held street collections in Molesworth Street on 2 days in November and collected the amazing sum of £4731. Nick Pickles, the International Committee chairman of Wadebridge Rotary Club said, "There was tremendous and very generous response by local residents and visitors in Wadebridge in supporting the Shelterbox appeal in aid of the survivors of the Philippines disaster. A big thank you to all concerned. The money raised will buy at least eight Shelterboxes and the fund is still growing".

Over 5 million children are believed to be affected by Typhoon Haiyan. Shelterbox has become a major player in the field of international disaster relief and relies totally on public donations. At the heart of every Shelterbox is a disaster relief tent for a large family and the contents of the box can be varied depending on the nature and location of the disaster. The shelter becomes home where families can live with a degree of comfort, blankets, groundsheets, tool kits, a stove, pots and pans, bowls, mugs, etc are included. The aim is to reach families in the shortest possible time. [www.shelterbox.org].

The collection was supported by Rotarian partners, Patricia Brocklebank and Jane Pickles, 2 young children Hannah and Rachel Hutchison, daughters of Rotarian Stuart Hutchison, Norman Every, a visiting Rotarian from Surrey and locals Tina Robinson and Ann Williams
Photograph shows (L>R) Rotarians Richard Ellis, Graham Renwick, Nick Pickles and Stuart Hutchison assisted by Hannah and Rachel Hutchison
Photo by Jane Pickles