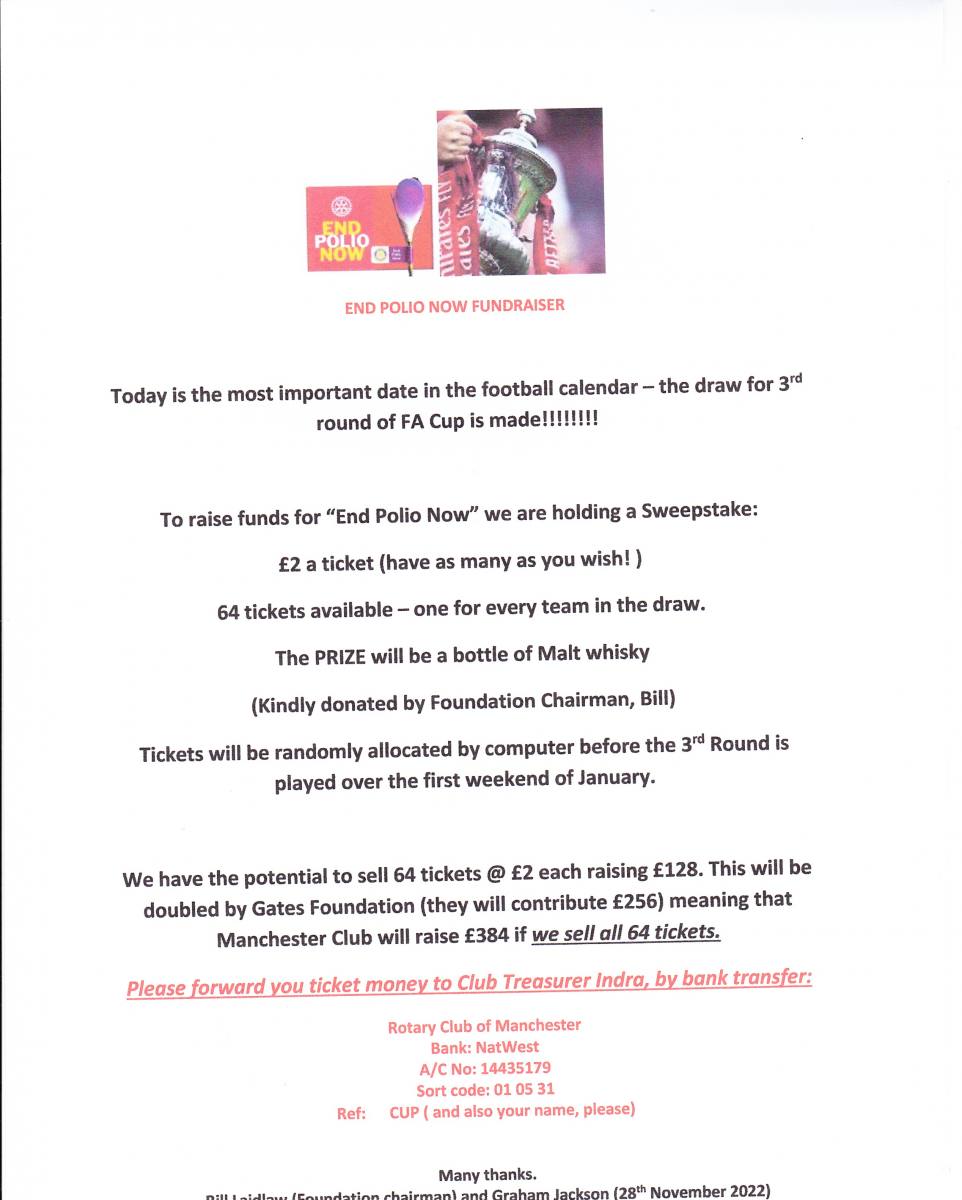 Career Day with students from the Manchester Communications Academy -14th July 2020
In collaboration with the Rotary Club of Manchester, WSP UK Ltd, a civil and rail engineering consultancy, organised a day placement / career day for students of Manchester Communications Academy at their offices in Castlefield, Manchester. The students had a chance to find out what engineering actually is( and what it is not) , try to be an engineer (through the bridge building workshop) and learn how to become one, if that's something that they would be interested in. While the emphasis of the event was on engineering, it was not only about engineering but life in general and how to make the best decision you can today, for today (as Robin Graham -President of Rotary Club of Manchester, said at the day during his very inspirational speech). The students left the event with smiles on their faces (especially those winning the bridge building competition) , which just means we need more of the same.
For more photographs from the day ,please see :-
https://www.rotary-ribi.org/clubs/page.php?PgID=883613&ClubID=299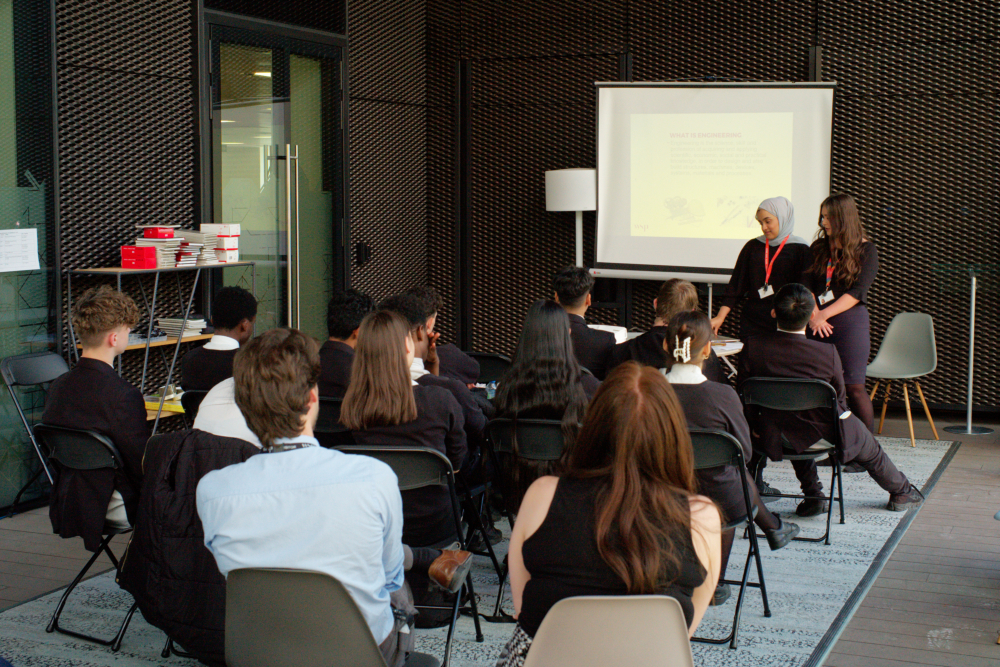 Goran Begonja
Member – Rotary Club of Manchester
Rotary International statement on Ukraine conflict
It is a tragic and sad time for the people of Ukraine and the world.
At Rotary, we are deeply concerned by the deteriorating situation in Ukraine and the escalating loss of life and humanitarian hardship there. Continued military action against Ukraine will not only devastate the region, but also risk spreading tragic consequences across Europe and the world.
As one of the world's largest humanitarian organisations, we have made peace the cornerstone of our global mission. We join the international community in calling for an immediate cease fire, withdrawal of Russian forces, and a restoration of diplomatic efforts to resolve this conflict through dialogue.
In the past decade, Rotary clubs in Ukraine, Russia and nearby countries have transcended national differences and have actively engaged in peace-building projects to promote goodwill and to marshal assistance for the victims of war and violence. Today, our thoughts are with our fellow Rotary members and others in Ukraine coping with these tragic events. Rotary International will do everything in its power to bring aid, support and peace to the region.
Rotary International
25-Feb-2022
Wood Street Mission Christmas Toy and Book Appeal 2021
A fantastic response from members to our appeal for children of families on the books of Wood Street Mission to receive Christmas presents that may otherwise have done without ! Photos of some of the toys and books we took to Wood Street for families to choose presents for their children !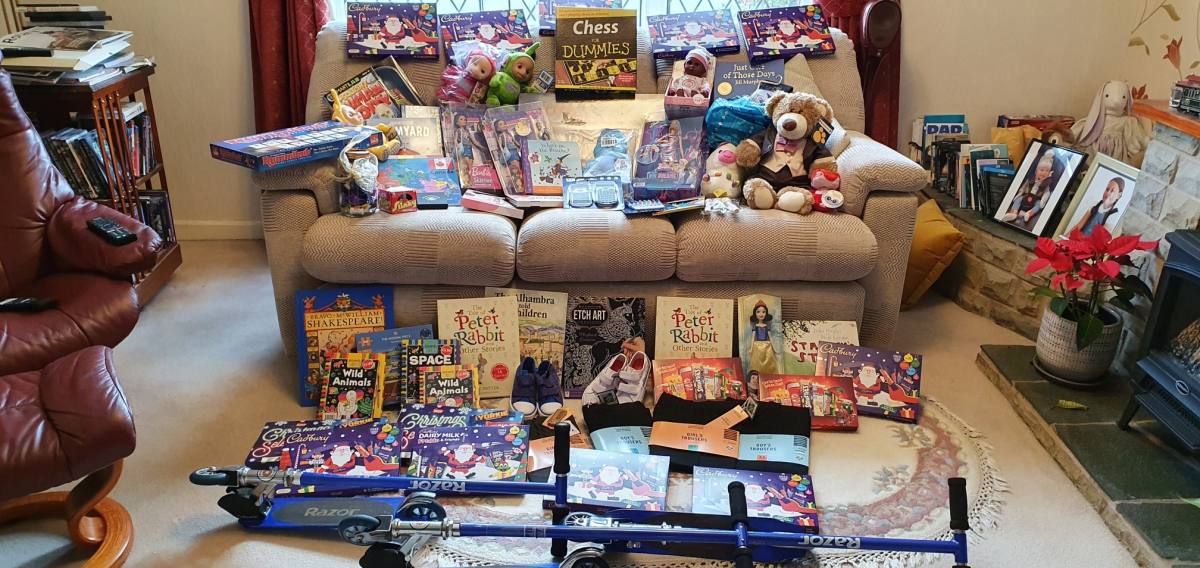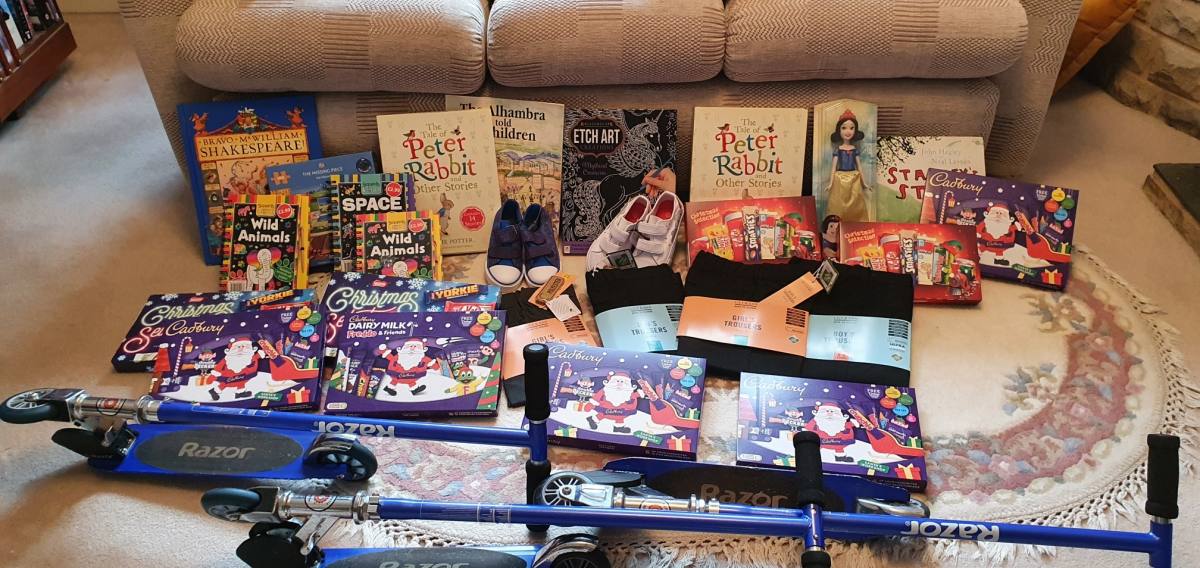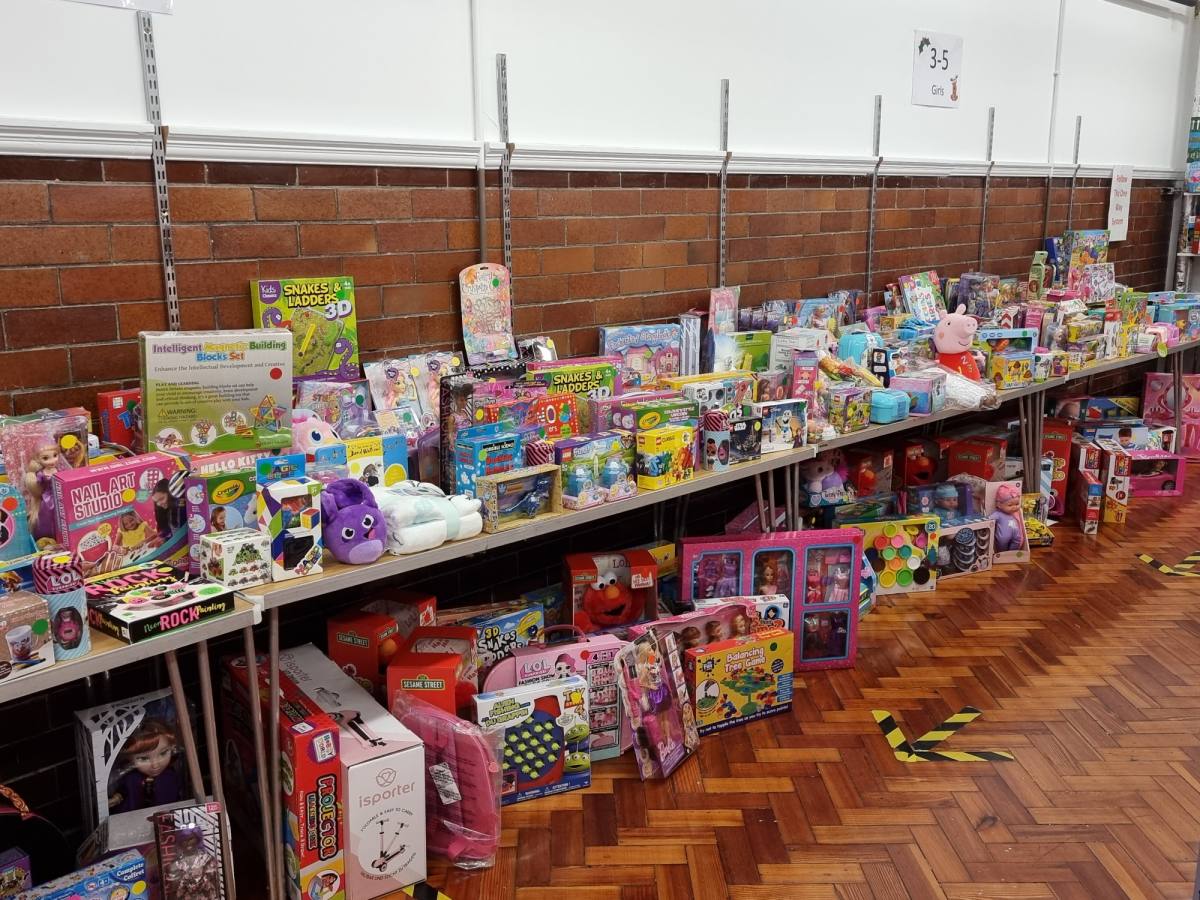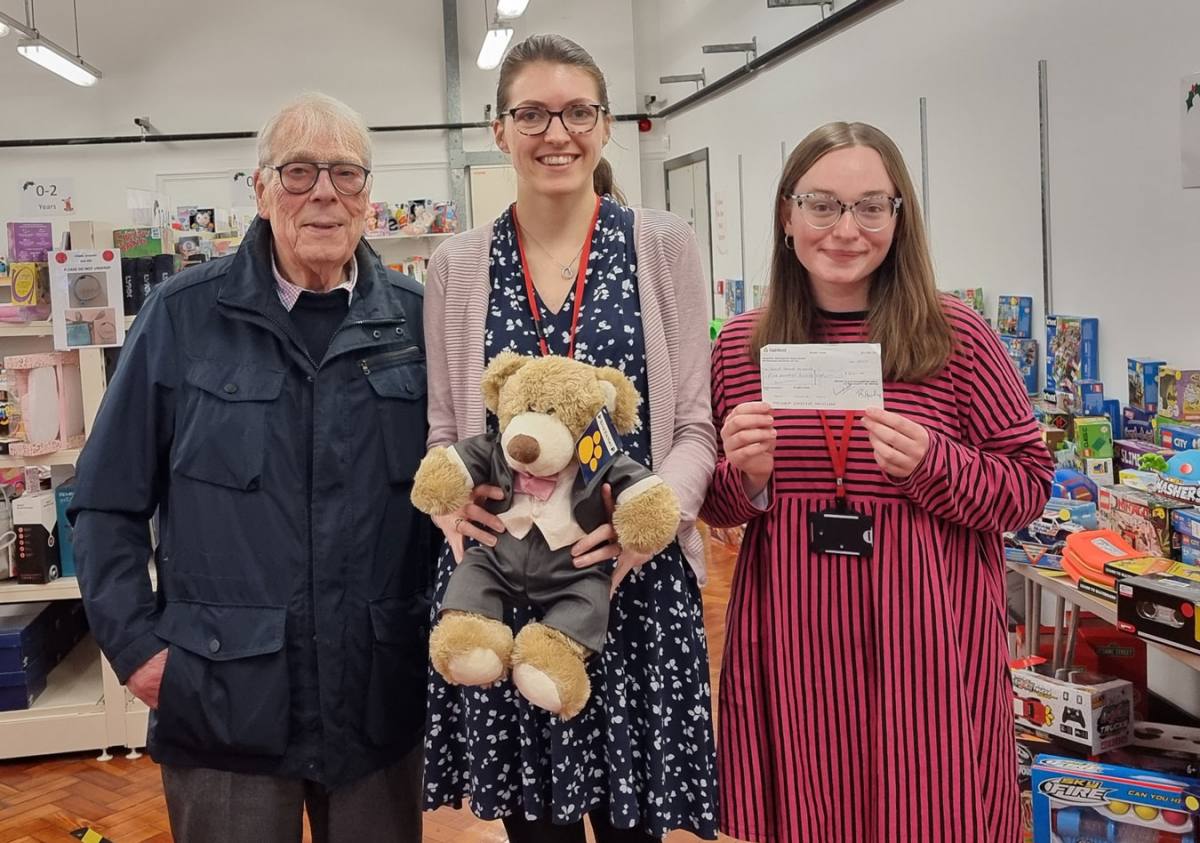 SponsoredCharity Bike Ride . Lands End to John O'Groats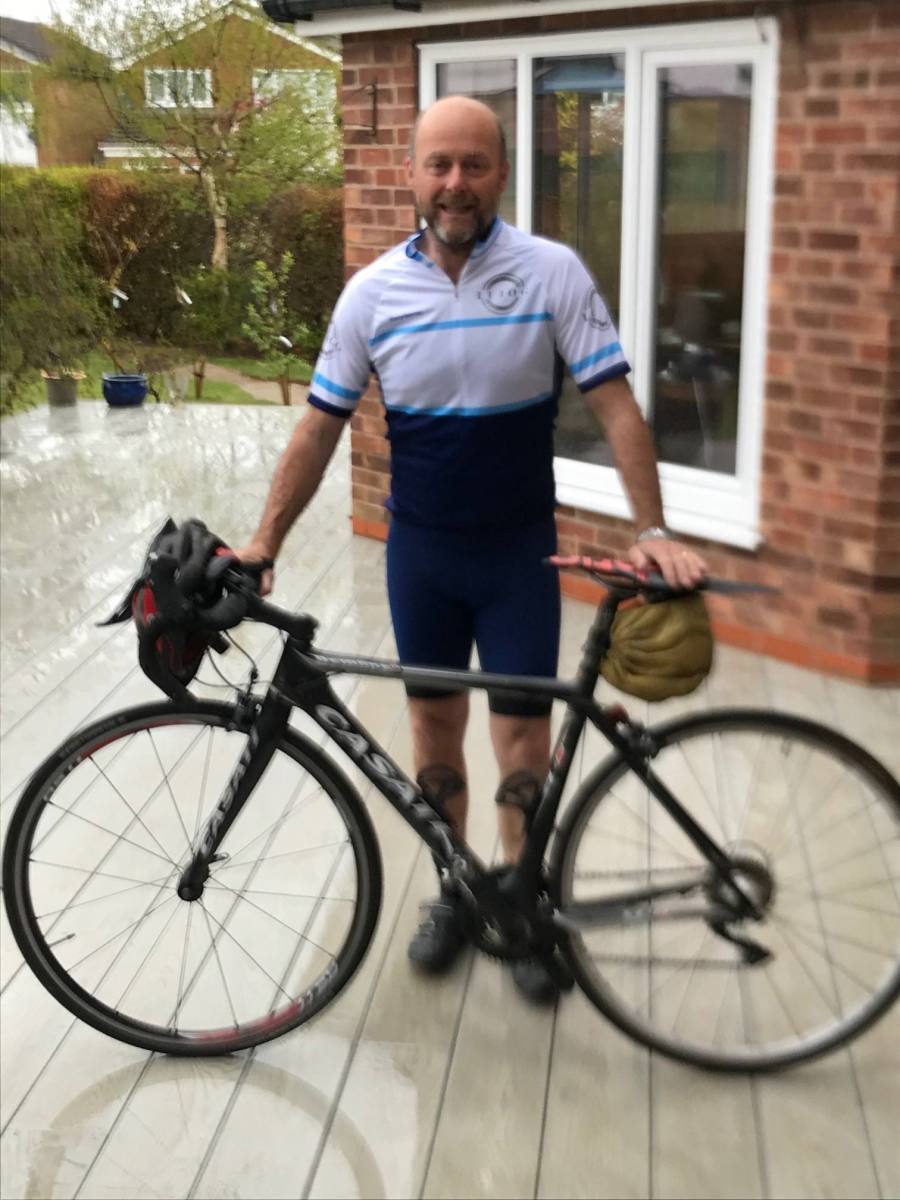 Dear All
Our son Michael is doing a sponsored bike ride from Lands End to John O' Groats
Sunday 30th May 2021 and hopefully finishing on 12th June 2021 . All charity donations are being made in memory of Marian and channelled through the Rotary Club of Manchester. 75 % will go to The Christie Hospital for cancer research and 25% to other Rotary charities.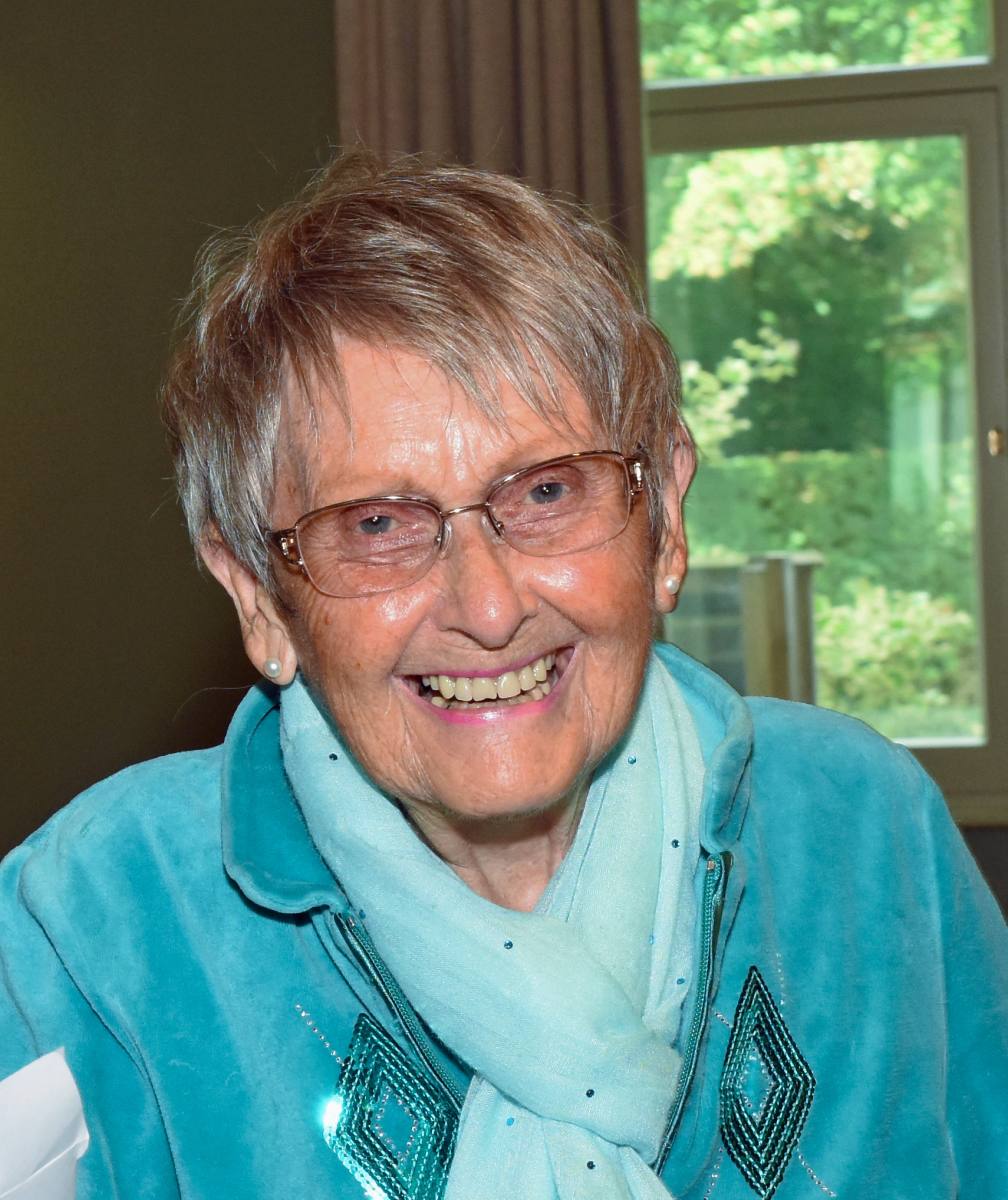 We have set up a just giving page with the link below, or you can send a cheque direct to myself. To use this link press control on your computer and then at the same time click on the link. You will then be taken to the page to donate to Michael's Bike Ride. Thank you very much in advance for any donation.
Best wishes, and keep safe
Ernie Metcalfe
August 2020 Rosemary and Sinclair McLeod move to Scotland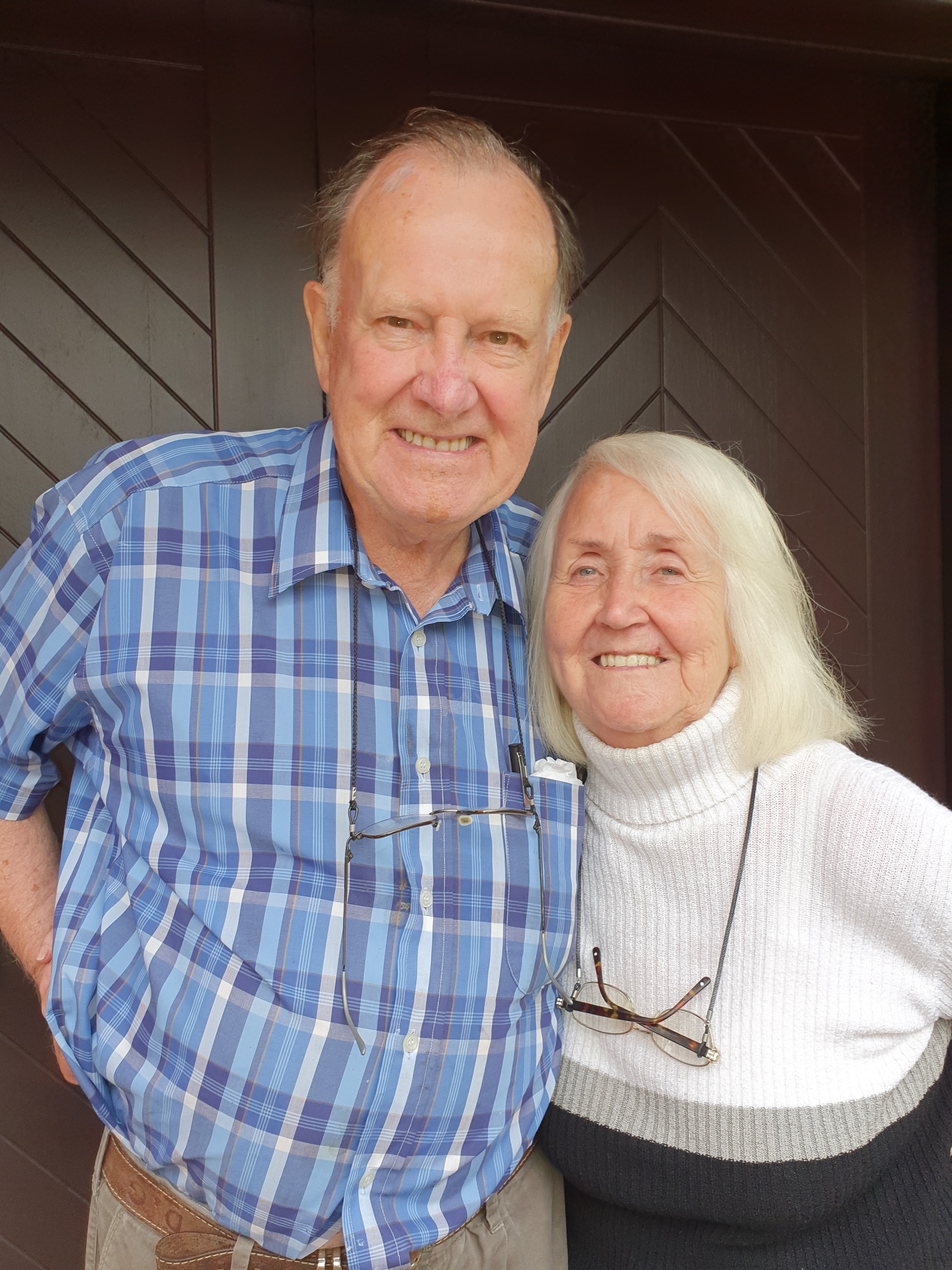 On the 19th August and after 34 years of living in Bowdon, Trafford , Rosemary and Sinclair McLeod moved north of the Border to live in Kirkaldy, Scotland. Rosemary had been an active member and Past President of the Inner Wheel club of Manchester (The first Inner Wheel Club in the world) .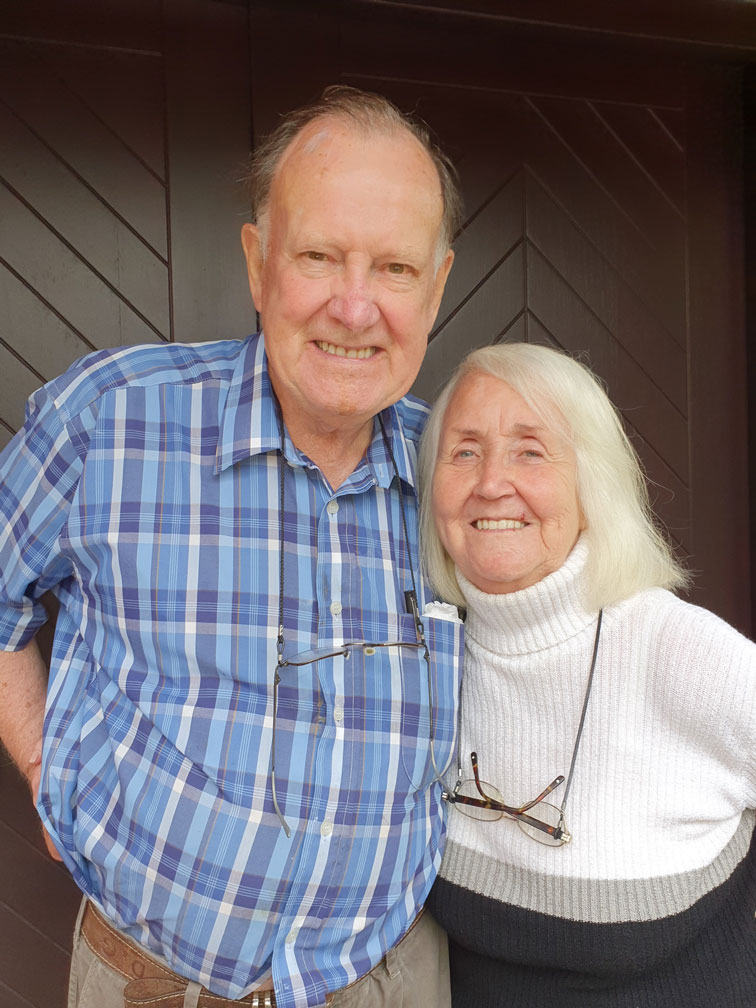 Sinclair has been a Rotarian at the Rotary Club of Manchester all those years and, in fact, continues to be a member of our Club and regularly joins us by zoom . He has served the Club well and was President in 1995/6 followed by a period as both secretary and later Trteasurer
A few members of the clubs helped them prepare for the big move and a few photographs were taken on that last day. We wish them well on this new chapter of their lives in Nicola-land........
They would welcome vistors to call on them if travelling to Fife - members have their new address
Peter Hartley 7th September 20
A NEW PRESIDENT FOR 2020 / 21
President Sarah handed over the President's Collar last week to new President Derek in his back garden in Poynton. President Derek presented IPP Sarah with her Past Presidents badge It is going to be a most unusual start to the Rotary Year as ,due to COVID-19 restrictions , our meetings will have to be via Zoom. It is a way for members to still keep in contact both visually and by spoken word. It's brilliant to be able to use this new technology .
IPP Sarah will give her Valedictory speech on Thursday 2nd July followed by the official handover to President Derek. We all wish Derek a good year following an excellent year from IPP Sarah ! The photographs record the event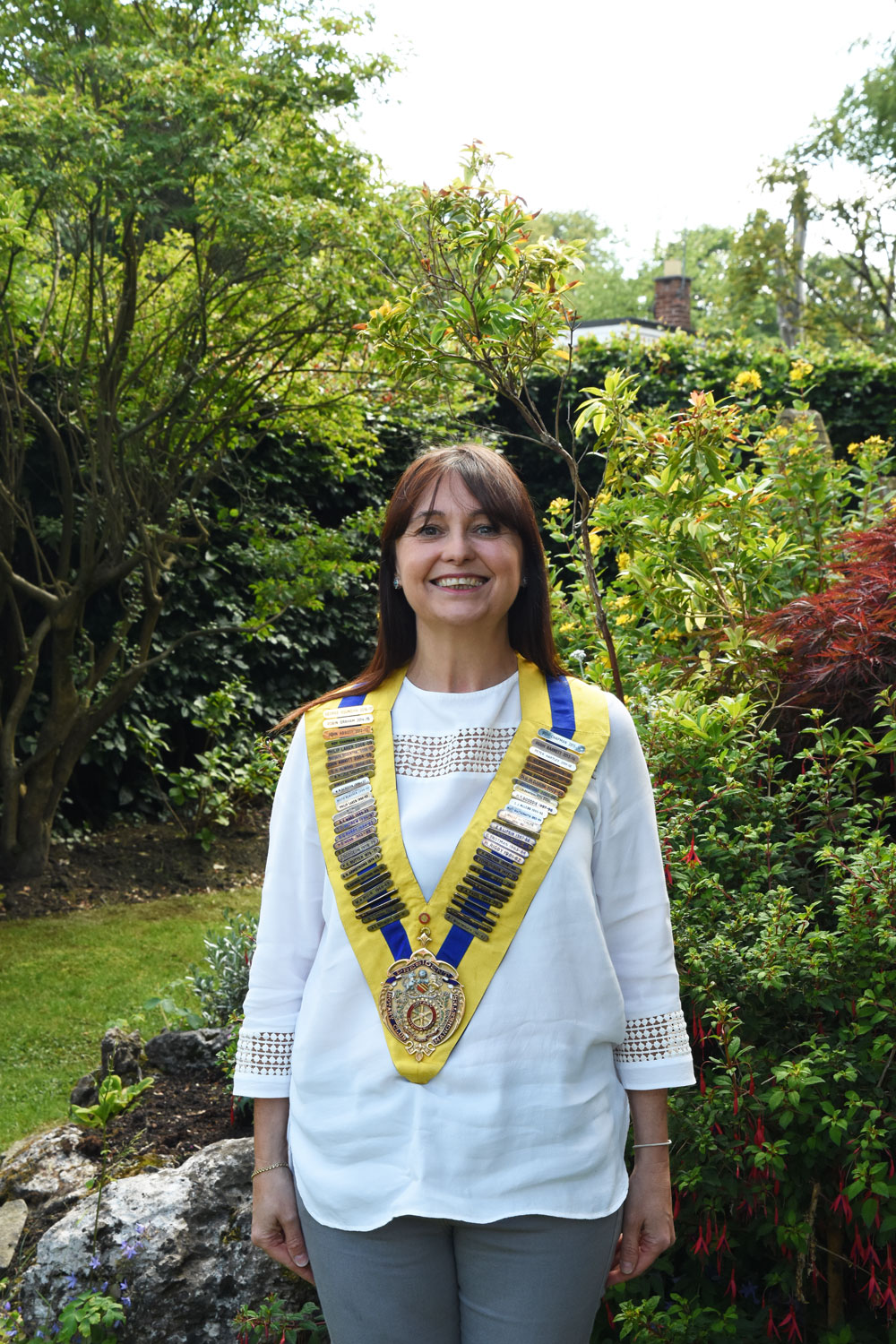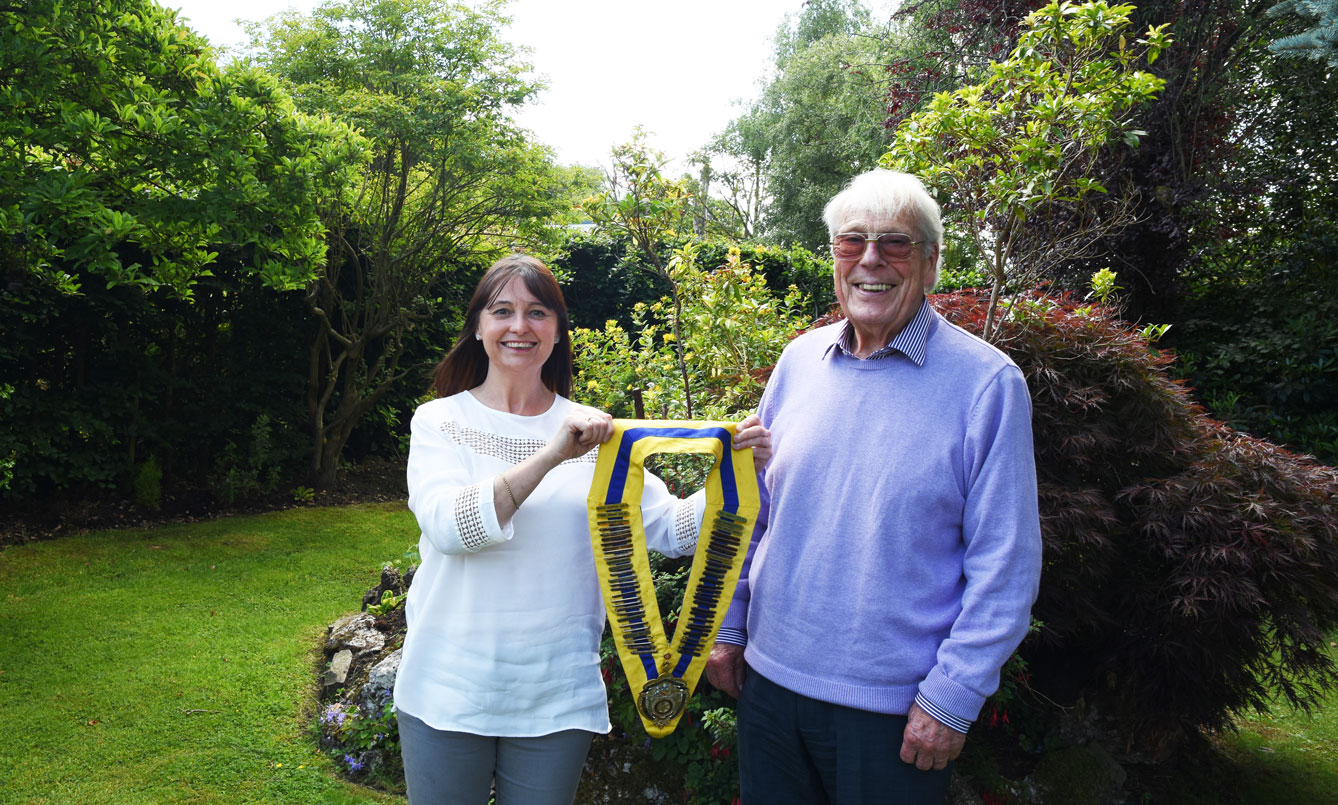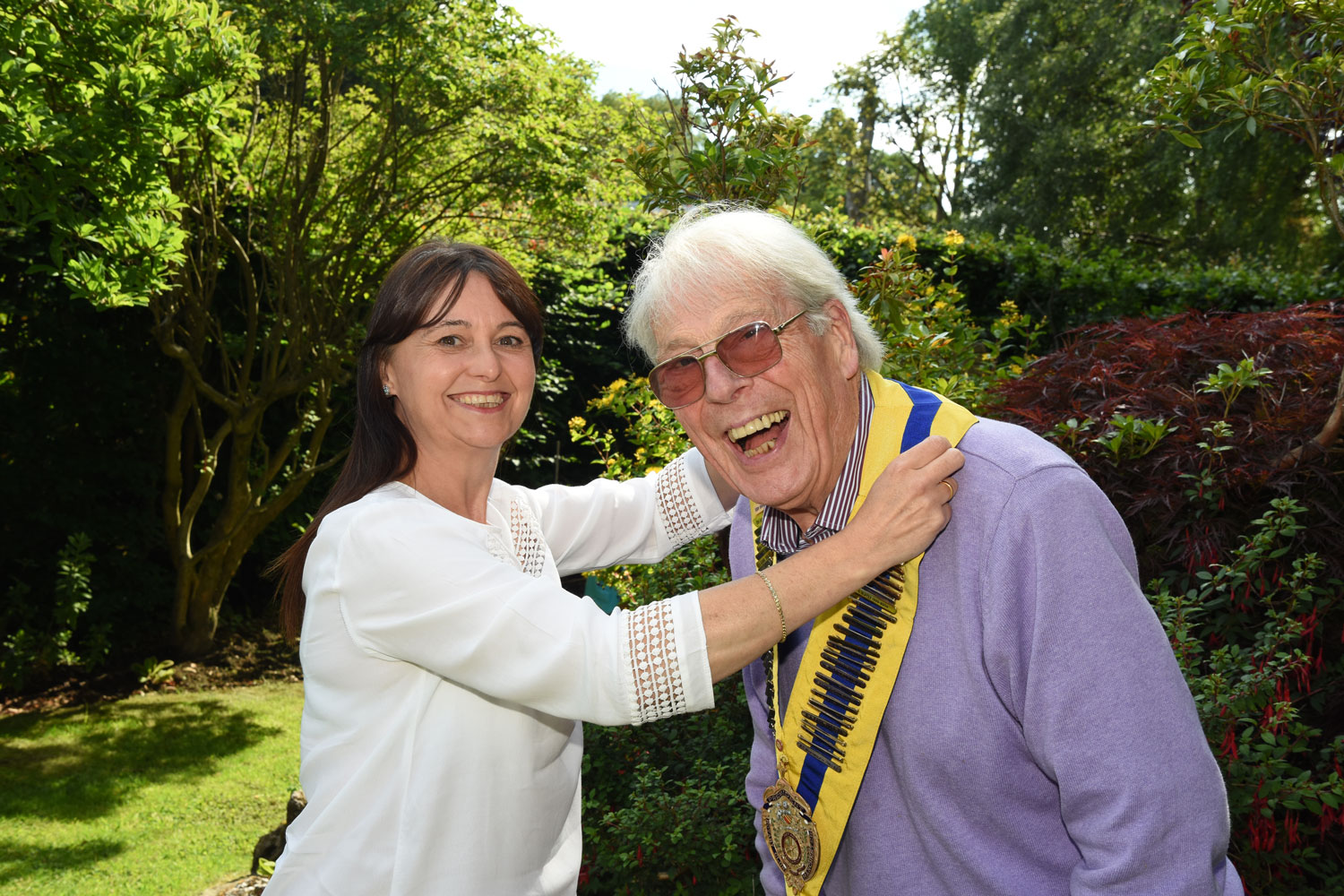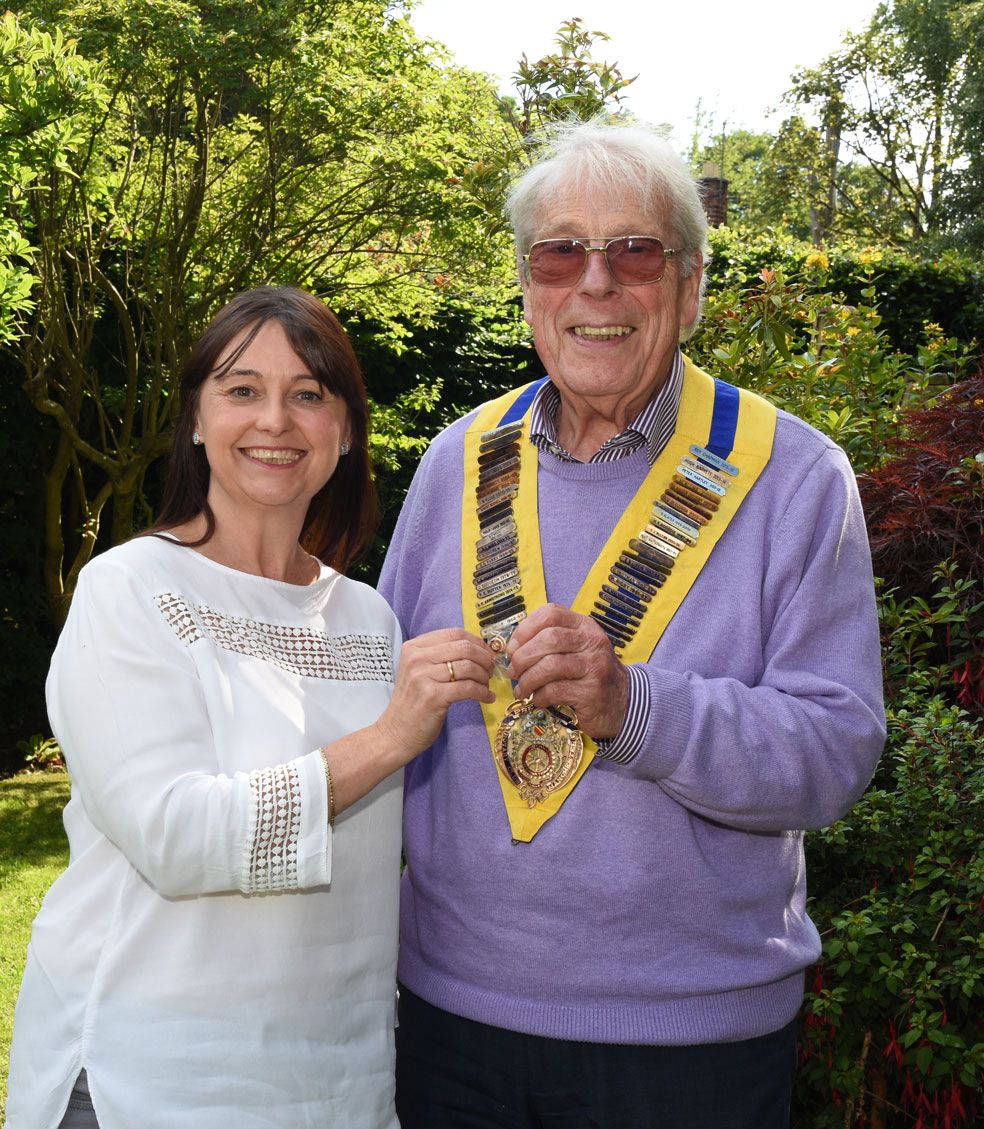 DUE TO THE CORONA VIRUS ALL ACTUAL MEETINGS CURRENTLY ARE CANCELLED
PAST PRESIDENT ERNEST JOHNSTONE FUNERAL ORDERof SERVICE
Ernie_Johnstone_order_of_service.pdf
WOW Water Project update 8th November 2018
Past President Robin Graham gave members an update on this important project that the club has been involved with for quite some time. Robin gave an most interesting presentation supported by some videos taken whilst visiting the village of Ho in Ghana . He had meetings not only with the villagers but with Members of the Rotary Club of Ho and Water Board officials in order to try and overcome all the many problems that this project has encountered. Vote of thanks was ably given by Club Chair of Foundation , Bill Laidlaw and the meeting chaired by 1st VP Sarah Withington , who is seen in the photo with Robin.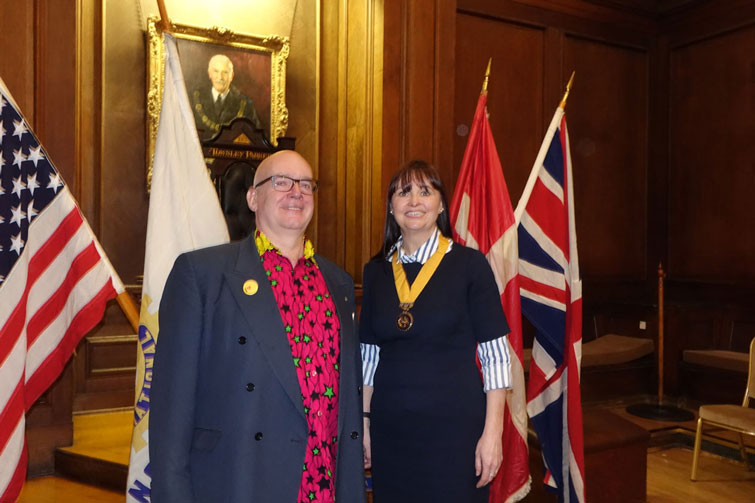 The Rocket Returns
This week the Iconic steam engine is back in Manchester for the first time in over 180 years ! It is at the Museum of Science and Industry in Liverpool Road, which is also the site of the world's second intercity railway station.
Rocket's triumph here on the world's first intercity railway laid the foundations of train travel as we know it. Built by Robert Stephenson , it ran on the Liverpool and Manchester Railway engineered by his father George Stephenson. Rocket's design formed the basis for all future steam locomotives.
27th September 2018