NEWS
NEWS and INFORMATION
9th August 2018
PP Robin Graham gave a talk entitled "Does Laughter pass the 4 way test? " Checking it out after the meeting is President Siddika Ahmed with PP Robin !!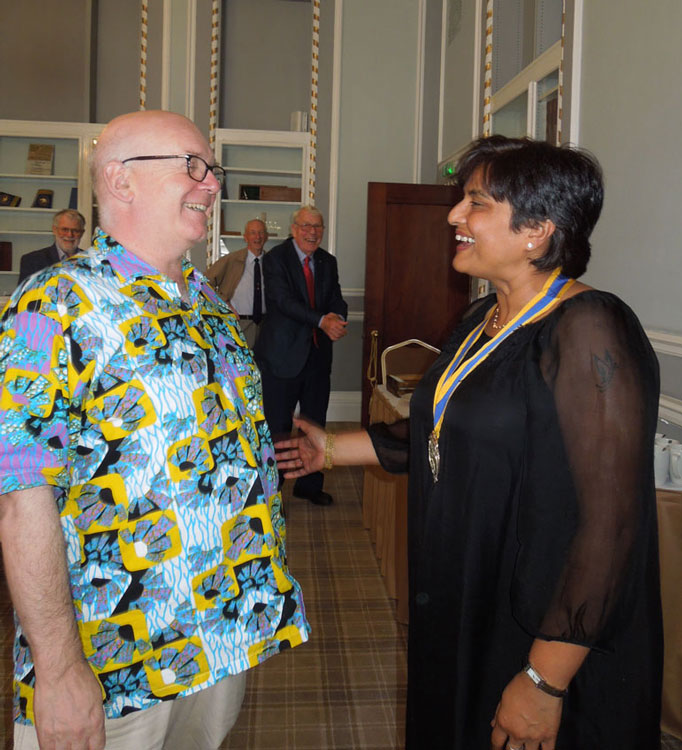 PEACE & UNITY 2018 : Our Manchester-Our Communites
On Sunday 29 July 2018, the third annual 'Peace and Unity event took place at Manchester Reform Synagogue. The event was a free multi-faith/ community event which aimed to bring people together to celebrate our cultural diversity. The programme included guest speakers, musical performances, comedy, song, dance, activities for children, yoga and meditation.PP Robin Graham arranged for the Rotary Club of Manchester to be represented at this event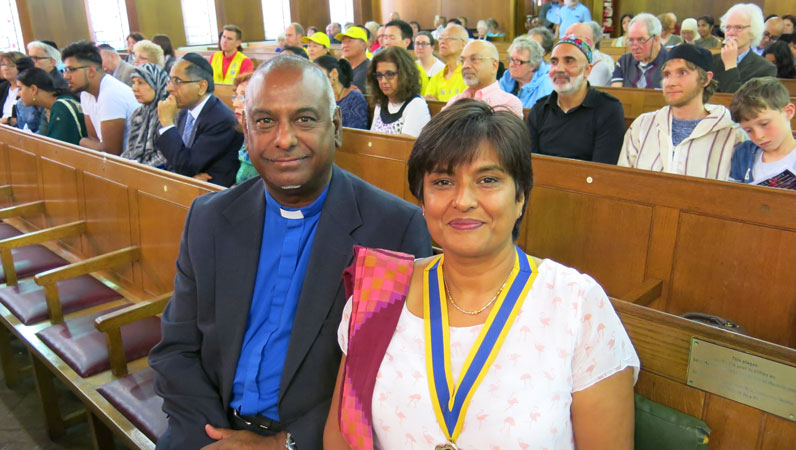 The Very Reverand Roger Govinder (Dean of Manchester Cathedral) with President Siddika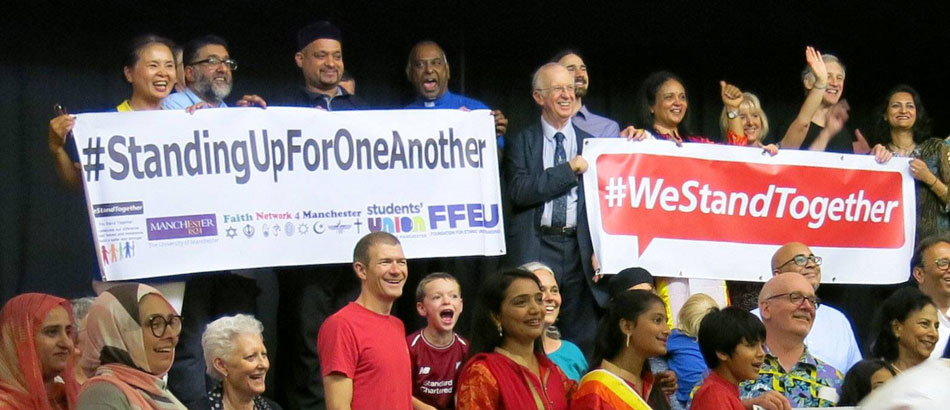 26th July 2018
International Students visit Manchester
On the 26th July, fourteen International students , hosted by Rotary at the Summer Camp at The Pettypool Trust , Sandiway , made a visit to Manchester .During the morning they enjoyed football training . Then 1st VP Sarah Withington arranged for them to meet the Lord Mayor of Manchester, Councillor June Hitchen at her temporary offices (whilst the Town Hall is closed for refurbishment) within Central Library . The students enjoyed their visit and the Lord Mayor made it extra special as she wore the ceremonial robes ! She even allowed one of the students from Mexico to try the robes on for size ! Minus the very expensive mayoral chain of office !!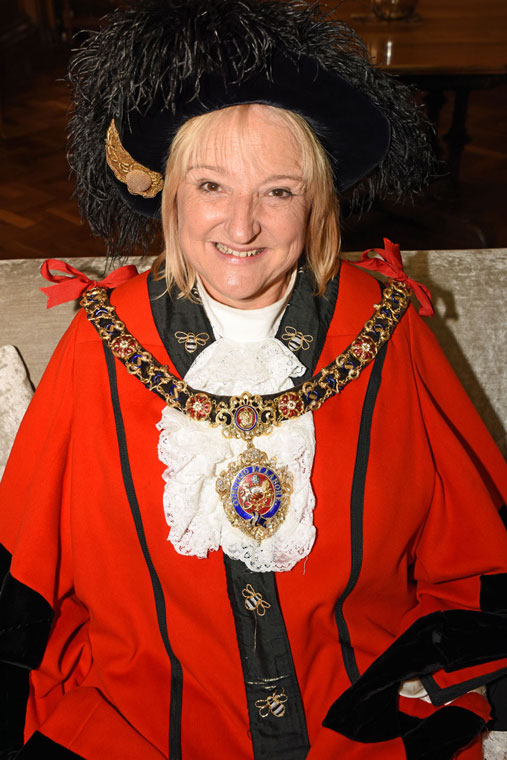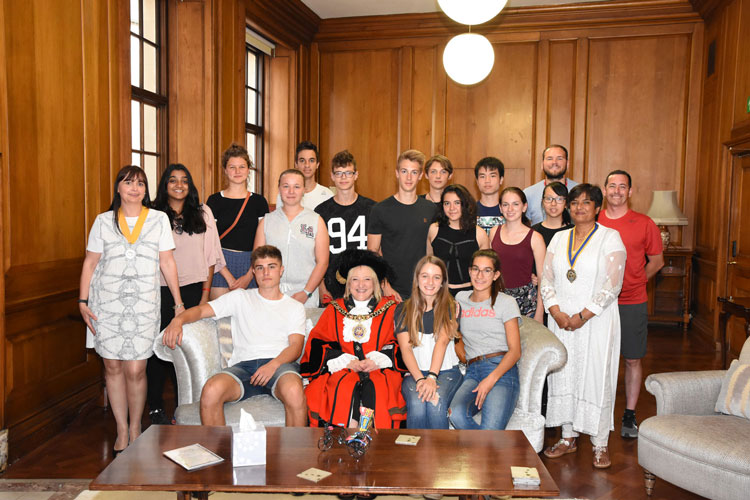 15th July 2018
Major John Abbott TD DL RIP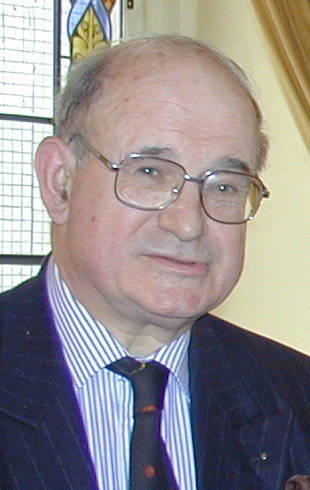 It is with sadness that I have to report that , unfortunately, last night at 23:30h John passed away in the nursing home in Knutsford that he has been resident for the last few months.
He had been a Rotarian for 41 years and was one of the longest serving members of the Rotary Club of Manchester .John had been President of the Rotary Club of Manchester on two occasions .He had also been the High Sheriff of Greater Manchester in 2000 . A true gentleman, who will be sorely missed . A family funeral has taken place -however a Service of Thanksgiving for his life will take place on the 31st August at St Mary's,Nether Alderley at 2pm.
12th July 2018
1st VP Sarah Withington gave members her "My Job" talk which was a most interesting look at the drugs and medicines that her company , Alliance Healthcare, sell to pharmacies up and down the country. A detailed explanation of original and generic drugs and how and why the pharmacies select which ones to purchase !
The photo shows (left to right) 1st VP Sarah , President Siddika and guest visitor Berfu Ulusoy from Turkey . Befu has family in Rotary and is currently living in Manchester doing her internship at the University of Manchester Child Study Centre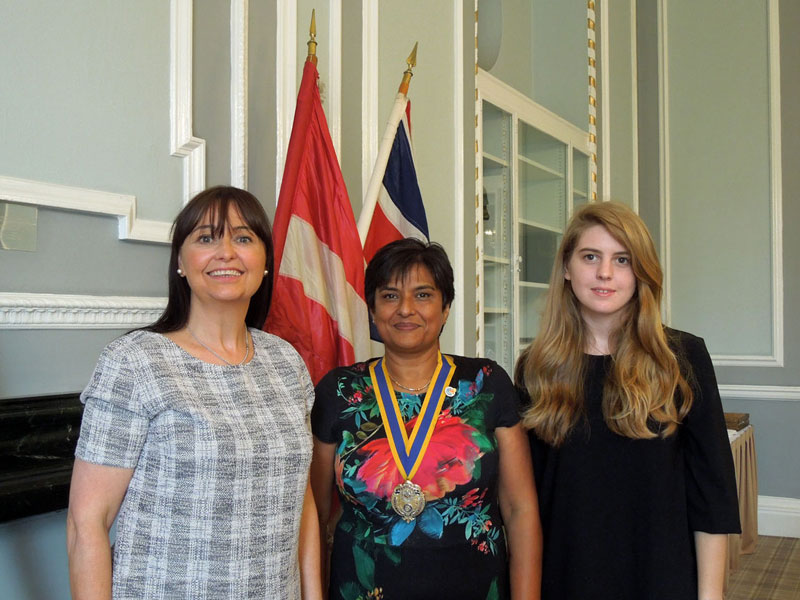 11th July 2018
First official engagement for President Siddika Ahmed was at Inner Wheel of Manchester welcoming their new President - Pat Reynolds by presenting flowers from the Rotary Club of Manchester. Special thanks to outgoing Secretary Joan Johnston for making the arrangements.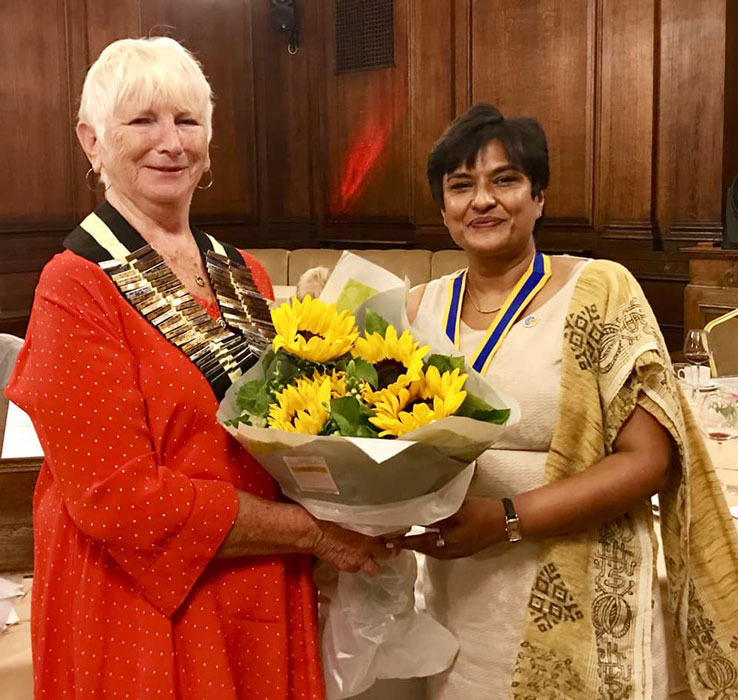 28th June 2018
THE LADIES ARE IN CHARGE !!!
At our recent President's Evening ,Retiring President Julie Chapman welcomed incoming President 2018-19 Siddika Ahmed. President Julie had inducted two new members into our Club - Dale McAulay and Andrea Codolini. The photograph shows the following ladies.
From left to right :- 1st VP Sarah Withington, Rotaract President Guillia Mazzei, President Siddika Ahmed, Past President Julie Chapman, President Jackie Berry (RC of Manchester Breakfast)
More photographs from the evening can be found in the Gallery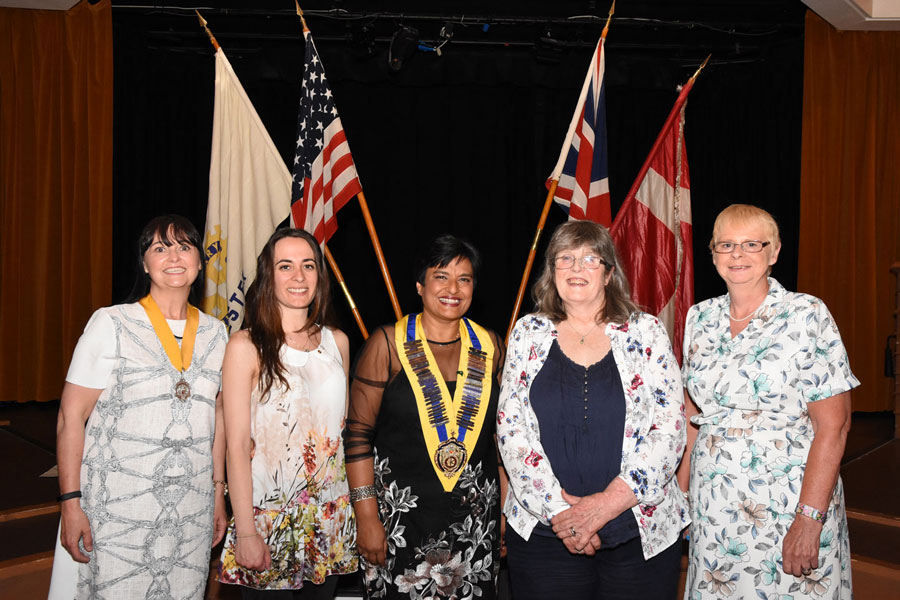 Photo below shows the two new members. From left to right:- President Siddika Ahmed, Rtn Andrea Codolini, Rtn Dale McAulay , Immediate Past President Julie Chapman
29th June 2018

Our Club have started to work with this school and on Friday 28th June 18 they had their school fair. 1st VP Sarah Withington arranged for members to visit . The weather could not have been better and it was brilliant to see all enjoying themselves. We watched the Irish dancing and choir perform and there were numerous stalls around the grounds . Thanks to Ruth (Head of PE) for showing us around this school that has 700 pupils ! Shame that more members could not join us
There are more photos in the photo gallery
The next visit will be to deliver the Crocus that have been ordered to educate the children about Polio Eradication and Rotary's involvement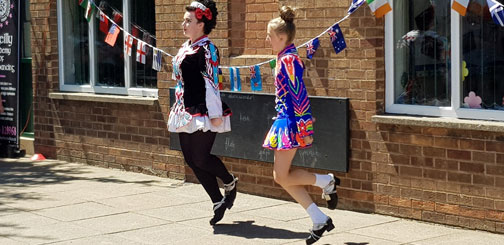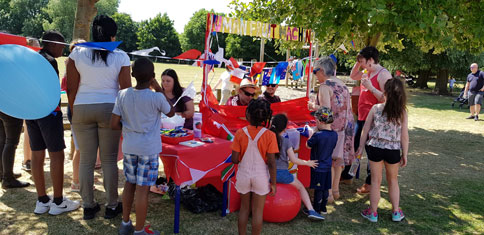 MASQUERADE BALL
Tuesday 17th October 2017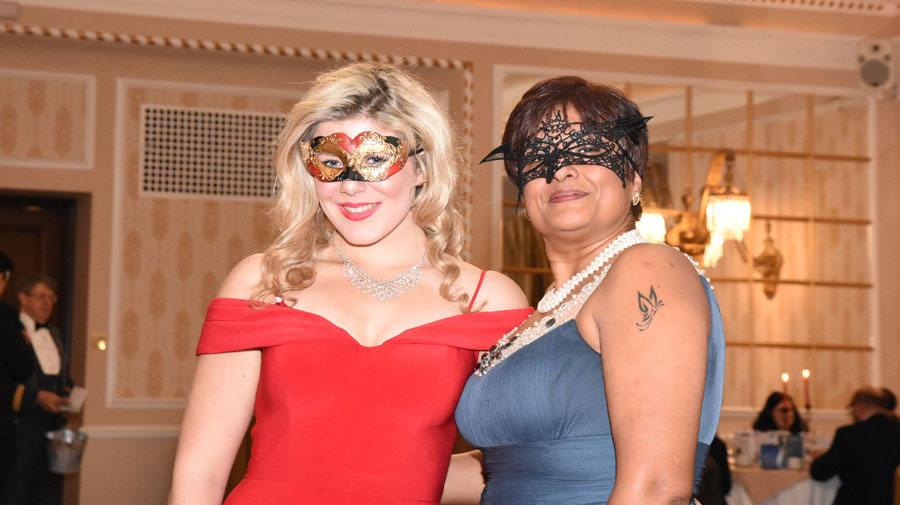 The Rotary Club of Manchester and Rotaract Manchester International enjoyed the magic of a Venetian Masquerade Ball on Tuesday 17th October 2017. The funds raised will contribute to the WOW water project.
We believe it is not right that children get their drinking water from a pond that cows use as a toilet. But this was the case in the community of Fievie in Ghana. The Chief in the community said," People are now just waiting for God to take them and move them on"
Fievie is one of many communities in South Tongu district where abouy 40% of people don't have access to a permanent source of clean drinking water. In the tainy season, people can collect drinking water from their roof. But for the rest of the time , the local authority hasn't enough money yo connect these communities to the water mains. Water from the nearby river is too polluted; and because the area is close to the sea, a borehole brings up salty water.
The situation in +Fievie has improved. People don't have water in their homes, but there is a connection to the mains supply that works for much of the time, and six stand pipes where people can get access.
The money raised from the project will go towards installing large polytanks to store water for when it is not flowing through the mains,and to start to connect outlying villages to the mains
The total raised so far is £10,000 , with a target of £15,000 .
If you would like to help us towards meeting this target please write to the Rotary Club of Manchester at The Manchester Hall
Know Your Blood Pressure / Stroke Awareness Promotion
Each year, in April, the Stroke Association, the Rotary Club of Manchester, St John Ambulance and the University of Manchester School of Nursing and Midwifery and the MLP, join together to hold a Know Your Blood Pressure and Stroke Awareness promotion in Manchesters Arndale Centre, we hope by offering free blood pressure checks and health advice to members of the passing public, to raise awareness of Stroke and its effects; Stroke can happen to anybody, at any time, although lifestyle and age may contribute to the likelihood of stroke, children and young people may also suffer.
Each year an estimated 150,000 people in the UK have a stroke
Stroke is the third most common cause of death in the UK, and the leading cause of disability.
The whole event is run by volunteers, and the MLP volunteers, both medical and non medical students, make a significant contribution to the success of the promotion, medical / nursing students to take blood pressures, and non medical students engaging with members of the passing public, encouraging them to have a free blood pressure check, followed by health information and how to recognise the signs of stroke. A full pre-event induction is given, and the whole event is supported by comprehensive Public Liability Insurance. On average we test around 525 people, of these some 15/20% will register abnormal readings, and will be signposted to an on-site doctor, and usually advised to see their own GP within one month, however, around 5% of the total tested, register severely abnormal readings, the advice then is to seek medical help within one week, in recent events however, two gentlemen (one under the age of 30) were found to be so much in danger of cardio-vascular attack, that immediate hospital admission was advised.
As you can see this promotion is a significant contribution to Public Health, and the MLP volunteers from previous events have always given positive feedback about their experience.
If you want to help in April 2019 , please send an email using the contact us on the home page and we will get back to you