Rotary International was founded in Chicago, USA in 1905 with just four members and initially was a business networking club for men. It quickly expanded and soon became a service organisation, raising funds for good causes, offering help and assistance and trying to make a difference in the community.
The organisation now has over 1.2 million members worldwide and there are few countries where there are no clubs. Having such a large global membership empowers Rotary to undertake major projects which governments and other NGOs are often unable to organise or fund. Examples of this are the eradication of smallpox and polio and the Shelterbox campaign. Projects such as WaterAid, Shoebox, Sightsavers, Mercy Ships and many other ambitious initiatives are supported financially as well as in more practical terms.
Rotary also endeavours to foster peace and understanding around the world, often bridging the gap between communities or reaching out between countries in conflict.
On a local level, our club was founded in 1971 and is still going strong with over 50 members. We have a busy programme of fund-raising, work within the community and also a very active social and sports programme. Sports include golf, hillwalking, cycling, fishing and curling. Trips to local businesses are organised twice a year in order to keep members informed on current economic and employment conditions.
There is also separate but associated club called the St Ternan Ladies Group who meet once a month. This was set up so that spouses and partners had a social forum in which to meet.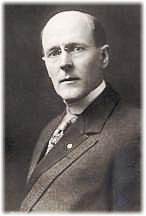 Paul Harris
Founder of Rotary International