What we did in President Bills Year 2013-14
Wed 25th June 2014
What happened in Bills Year 2013-14

Rotary Club of Birstall Luddites


Club President
Bill Hildred
2013/14


Bill Hildred

KeithDavison

NigelArthurs

Home of District 1040 Immediate Past DG Keith Davison and Inner9 Assistant Governor Nigel Arthurs
Mon 1st July Club Handover

Past Pres David shakes hands with new
Birstall Luddite President William (Bill) Hildred

Bill presents David with his

Past Presidents award

President Bill shakes hands with President Elect David Keeton
Mon 22 July, Club visit to the Rotary Club of Mirfield.
Members visited Dewsbury Golf Club and enjoyed a social evening and speaker with the
Rotary Club of Mirfield.
President Bill with assembled Luddite's on the golf course.
Mon 29th July - Club Speaker evening.
Guest speaker was Gillian Poole who gave a talk on her visits to Nepal

Gillian pictured with President Bill




(more info on the Club Speakers web page)

---
Rotary Club of Birstall Luddites
Speakers Evening


Mon 2nd Sept 13

Big thanks to Keith Womersley and Rob Greaves from Solar Opportunities

Ltd

who at short notice

stepped in to fill a speaker cancellation and gave a talk on solar panels.
Solar Opportunities Ltd are a renewable energy company that specializes in solar photovoltaic (PV) systems.

They talked about the 2010 Government initiative of feed in tarrifs paid to households who have installed solar panels to generate electricity and reduce carbon footprint

.


Solar radiation converts to dc using photo voltaic effect - more panels more watts inverted to ac

power and fed either to the household for free electricity to reduce bills or fed back into the power system.

Keith, Rob and President Bill after the talk

Link to Solar Opportunities Ltd


---



Mon 9th Sept

Club Speaker John MacKail
John gave a moving talk and video to coincide with the 12th anniversary of 9/11 disaster.
John showed a RI video featuring the Lady President in 2001 Helen Reisler. In the video members of the RC of New York recall how the club took action after the attacks on the World Trade Centre twelve years ago.
How "America's Host Club" Responded to 9-11 from Rotary International on Vimeo.
---
Luddite comings and goings

Club Visitors from USA

Luddites visiting Africa / Nepal
---
Keith at the District Conferance Scarborough 2013.


Luddite

Past District Governor Keith Davison played a big part in the organisation of this years
District 1040 Conference in Scarborough.
Keith directing the events, videos
and stage effects throughout the conference.

Keith gave a talk on the launch of "Cycle Yorkshire" and the coming Tour de France and the planning of Rotay's involvement in the event in July 2014.
---
Mon 28th Oct Good news for Birstall Luddites
four new members inducted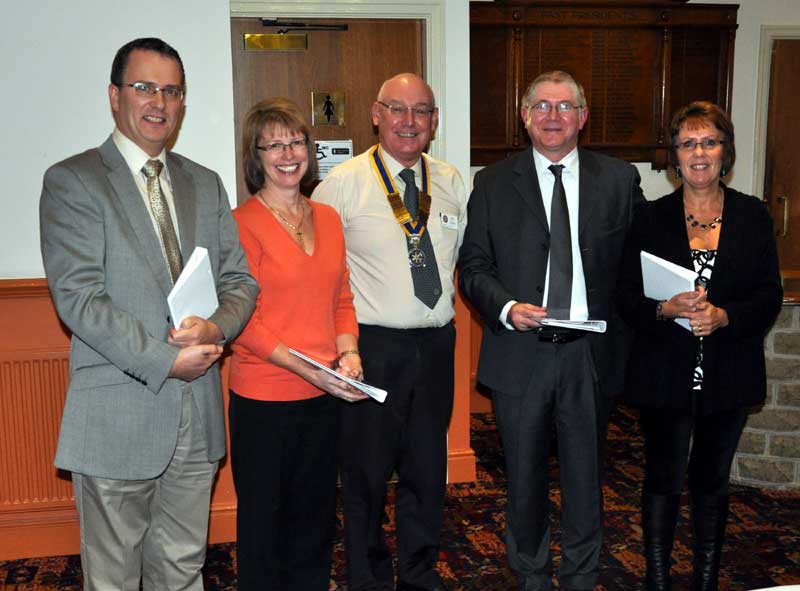 New members left to right Jeremy Parkinson and wife Carol next President Bill followed by Paul Barnes and wife Kathryn.
---
Birstall Luddites help Kirkwood Hospice Fund Raising.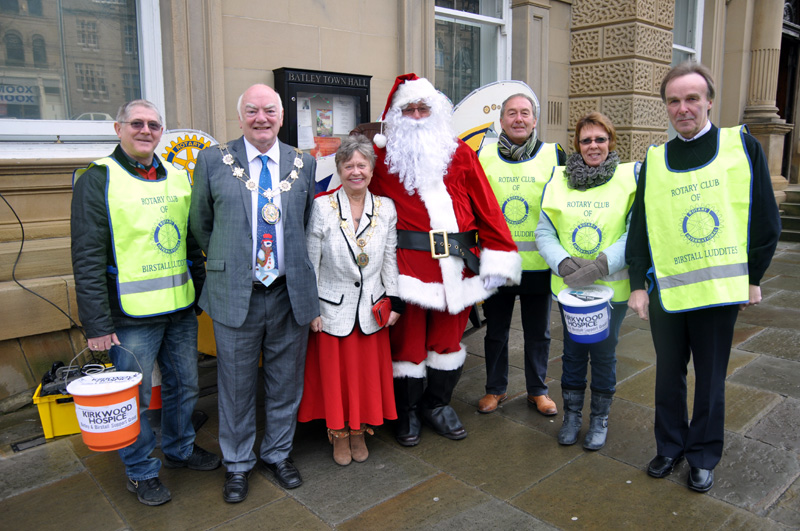 Sat 7th Dec. Santa (President Bill) and Luddites gave time to help at a Kirkwood Hospice Coffee morning at Batley Town Hall. Santa and Luddites seen here with the Mayor of Kirklees. Luddite Bill Fox on the right is also chairman of the Batley and Birstall branch of the Kirkwood Hospice support group.
Luddites at Christmas
Santa Sleigh
Christmas Walk
Santa with his luddite helpers have toured the local streets of Birstall to raise funds for local charities.
Santa has also helped to raise funds for Kirkwood Hospice at their Craft Fare.
A walk aroung Gomersal and Drub villages followed by a breakfast lunch was the order just before Christmas.
Led by Rotarian Robert Jackson.




---

Luddite winter events

Sunday 2 Feb the International Committee led by Margaret Arthurs held a lunch at Ossett Community Centre for a club Shelter Box Appeal.

Sat 8th Feb Luddites in Environment mode held a morning cutting and burning at Oakwell Hall country Park led by Jim Pilkington.

Speaker John MacKail- Rotary

Friday 7th Feb Race Night at Batley Grammar School.
Joint fund raiser with Batley Rotary and BGS .


The evening organised by Luddite Ian Blamires.

On Mon 3rd Feb the Club had two speakers-
Top John MacKail and above President Bill giving a talk on his visit to Tanzania on the Mwanza Project
LINK Mwanza Project



---

Rotary Club of Birstall Luddites
International Committee Brass Band Concert
SHELTER BOX APPEAL
On Sunday 16th Feb the International Committee organised a Brass Band Concert featuring the DRIGHLINGTON BRASS Band at St Thomas Church Batley.
Committee member Margaret Arthurs organised the event assisted on the evening by
International Committee Chairman John Logan.
An enjoyable evening resulted, the band started with a Testpiece St Magnus which was a practice piece for their coming competitions. Further pieces led to the interval with coffee tea and biscuits and the
drawing of the raffle.
The second half finished with a rousing "You'll never walk alone" and an encore of Toccata and Fugue.
Big thanks to Margaret for organising the event.,

John and ladies for running the refreshments and raffle etc

.

Drighlington Brass Band

---

Valentines Evening

Seat of Knowledge Quiz 2014

The club enjoyed a family evening at Healds Hall.
After the meal Rotarians listened to the speaker Rev John Trevenna who spoke about the
Batley Drop in Centre.
LINK Valentines Evening

President Bill awards the Seat of Knowledge to team Invisible Ladies




LINK Seat of KnowledgeQuiz

---

Mon 3rd March
DG Mark Stewart-Clarke Visits Birstall Luddites.
After the meal at Healds Hall Mark addressed the club. He talked about RIBI RI and Rotaract and the need to start new clubs to involve a younger generation of Rotarians using new technologies.
He answered questions talking about Associate Membership with Skipton Building Soc as an example.


President Bill with Mark

Three District 1040 DGs !
Luddites DGs Keith Davison left and Robert Jackson right share the photo with the current
DG District 1040 Mark Stewart-Clark



---

Inner 9 Technology Tournament 2014

Tuesday 4th March

Pupils from across the district used their ingenuity and imagination to battle it out in an annual technology tournament.

Groups of the same age competed against each other and were tasked to either make their car go forward, reverse or transport and drop off a load.
Woodkirk Academy impressed the judges and took the honours for the advanced category.
Heckmondwike Grammar School won the intermediate and basic sections. Ten other high schools in the district also took part last Tuesday.

The tournament was organised by nine Rotary clubs in the area known as the inner nine clubs, including Dewsbury, Mirfield, Batley, Birstall Luddites, Cleckheaton, Heckmondwike, Morley, Ossett and Horbury and Ossett Phoenix.
President Bill pictured with Luddite Terry Edwards at the Technology Tourament
(Photo courtesy Robert Jackson).

---
Mon 24th Mar Speaker Evening
Mon 31st Mar Outside Visit to
Robertos Resurant Batley
GRAND DRAW 2014


The Club took this outside visit opportunity to Robertos to draw our 2014
fund raising
GRAN DRAW.

Proceeds from the evening meal were donated to
"Batley Care and Drop In"

President Bill shakes hand with speaker Stuart Wright the brother of Luddite Rotarian Jerry Wright

.
Stuart spoke of his experiences as a TV extra
.His first work was in 1972 in Fairfax Boys.
Stuart worked for Yorkshire TV and Granada doing background work He explained the running of a film set and his parts in the Glory Boys,BBC threads, private solder amongst many
TV shows.


Rotary Club of Birstall Luddites
GRAND Draw 2014.
First Prize ticket 1988 S Godder.
Second Prize ticket 4203 D Laycock.
Third Prize ticket J Parkinson 3504.

---



Mystery Weekend 2014
The club held its annual Mystery Weekend on 5/6 April.
Organised by Nigel and Margaret Arthurs members met and set off from Woolley Edge Services following Treasure hunt clues down the M1.
The trail led through to south of Birmingham to Strattord up Avon and ended in Alcaster the HQ of Rotary and onto the Kings Court Hotel.
An enjoyable evening followed with Nigel announcing the winners of the Treasure Hunt - Stephen and Maggie Gooder.
On Sunday the club drove back along the M42 to the National Memorial Arboretum near Alrewas Staffordshire. Luddites toured the centre of Rememberance which is set in 150 acres of woodlands and gardens with over 300 memorials to see.

The weekend ended driving back up the M1 to Yorkshire.

LINK National Memorial Arboretum

---

Hows this for hands on governing.
District 1040 DG Mark Stewart -Clarke, volunteered at Batley Care and Drop in yesterday as promised when he called in there last month. As you can see from the attached pictures he donned his apron and got to it. Mark was waiting when the volunteers turned up at

9.00am

and helped set out the hall with tables and chairs before spending a couple of hours manning the counter.


(Pictures courtesy Jo Broadhead April 24th

)

---

International Committee
Ceilidh
A successful evening was held Fri 16th May.

The International Committee led by chairman Rotarian John Logan held a Ceilidh to raise funds for their overseas projects.

Meat and potato pie supper is served by Fairweathers award winning

butchers

Dancing in full swing at Batley Old peoples Centre.
The Ceilidth caller was Gillian who very kindly gave her services for free on her birthday.
Thanks to John for organising the event ,
Thanks to Rotarian Keith Davison for running the music and Christine and Helen for selling raffle tickets.
Thanks also to Bill Fox who
organised the venue





---

Kids Out 2014.


Sixteen pupils with eighteen staff set off from Fairfield School for the 2014 Kids Out excursion.
The day out was organised by New generations committee and funded by the club.


All had a highly enjoyable, memorable day out.




Accompanied by two Luddites President Bill Hildred with Tony Smith.

Lunch was provided by the club.
Teachers sent their thanks to the club and the pupils sent their thanks by writing cards.



Fairfield pupils ready for off.

Pupils and staff enjoying the ride.
Fairfield staff member Luddite Helen Wall can be seen in centre of the coach.




---

Birstall Luddites
End of Year BBQ.
Sat 21st June the Club held President Bills end of year BBQ.

Luddites gathering for their BBQ at Hosts David and Mandy's House.

---

President Bill's AWARDS
Mon 23rd June Club Meeting President Bill made one of his years charity awards.

Picture shows Meadow Hudson from Sensory Leeds receiving a cheque for 1000 from President Bill.




Sensory Leeds are based in Headingley Railway Station Leeds,




The sesory facilities give relaxation with a non talking therapy in a calm relaxing environment.




Sensory Leeds believes that people with disabilities deserve more than just the essentials. That is why we are committed to providing the highest quality sensory experiences for our service users, unlike anything they can engage with at home, embracing the principles of learning and development through unstructured fun. We are a vibrant, safe and welcoming space for people with disabilities and those on the autistic spectrum, older people with dementia and Alzheimers, their support staff, families and carers.


LINK Sensory Leeds
---

The Rotary Club of Birstall Luddites was Chartered in 1988
Dictionaries for Life
Rotary Club of Birstall Luddites are very pleased to have presented, for the 5th year, all Year 6 Pupils at Brownhill C of E, Fieldhead, St Peters, St Patricks, Birstall County and Carlinghow Junior Schools.


---
Luddites 200 year Aniversary
Luddites to be rememberd in Liversedge LINK
The Luddites History
LINK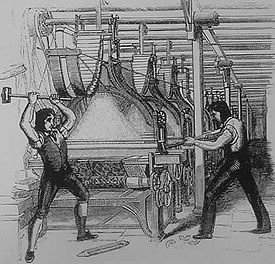 ------------------------------------------------------------------------------
---------------------------------------------------------------------------------------
. Birstall Luddite Rotarians