Annual Report 2016-17
Immediate Past President Mike Sinclair reviews his year of achievement in 2016-17.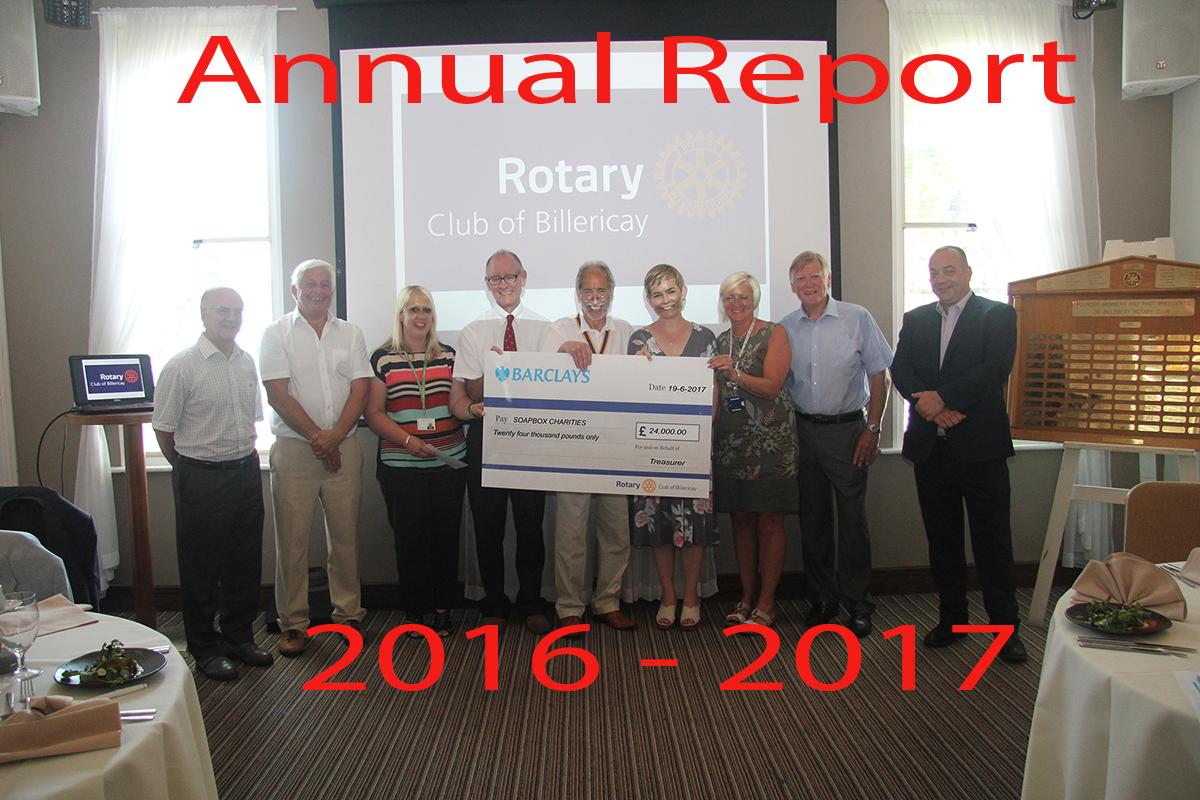 A Year of Achievement
President Mike Sinclair reflects on his year as President:

This is my final report as your president. It has been an honour to serve the club and its members for a second time and I thank you all for your support.

My glass is more often than not half full rather than half empty, but there have been some times when it has needed to be refilled once or twice to ensure that I remained on track. It has been a superb year for me, and I hope the Club too. I take no credit but have relished the good fortune of being at the helm when there have been some fantastic happenings.


Soapbox Derby
Our main thrust this year, as last, was the Soapbox Derby on Bank Holiday Monday. With 8,500 spectators there, our emphasis had been to improve the experience for the local community attending, all the feedback would indicate an unqualified success. More details are published elsewhere on our website but I wanted to record that the final amount raised for charities and good causes was approaching £37,000.

It was the highlight of my year and succeeded beyond our wildest dreams. I want to praise the efforts of your Soapbox Derby committee of Peter Greene, Malcolm Acors, Ed Harrison, Ken Smith, Patrick Rothon, Les Sheppard and myself, and of course, Trevor Bond and Roger Kettle in promoting the event. A great team.!


Public Image
The Rotary GB&I Public Image Committee confirmed what we had all known for a long time i.e. that our Club Bulletin was the best in the land. What an accolade - Best Club Bulletin in Rotary GB & I but also best club newsletter in our District 1240 for the second year running. This award winning Newsletter, edited by Trevor Bond was published each month, and our award winning website and online presence was managed to great effect by Peter Greene.


Cheques for Charities
Still on the Derby theme, I was delighted to present cheques of £6,000 to our major nominated charities, Little Havens Children's Hospice, Médecins Sans Frontières, Aquabox and the Hamelin Trust, at our club lunch on June 19, having already presented Quilters Junior School with over £2,000 for their Derby support and participation. And, of course, the £3,000 we gave to the End Polio campaign.


International Friendship

In September a small group of us with partners renewed our acquaintance with our associate clubs in the double triangular meeting in Alba to help celebrate their 60th anniversary. I found myself making an address in Italian to a room full of Rotarians, most of whom did not speak Italian. I think I just about got away
with that one.


Community Support & Service

We cemented our close associations with the other service clubs by providing our support and assistance in their major events. We manned a gate and sold wares for Round Table at their firework night, helped the Rotary Club of Billericay Mayflower at their Summerfest and Christmas Market events, and for the first
time contributed assistance to the Billericay Lions Santa Sleigh campaign.

We played our part in helping community health, supporting a major Know Your Blood Pressure stroke awareness day at Waitrose Billericay, despite manning our Soapbox Derby stand in the High Street at the same time. And, I repeated the Blind Walk in aid of Orbis. It wasn't easy - but it again made me appreciate what a very good cause this is.


Other Achievements

This year saw the creation of our second RotaKids Club, this one being at Buttsbury School. We look forward to working closely with them in the future.

More routine but nevertheless valuable activity saw the Club participate in KidsOut again with the children from Thriftwood School. The sponsored Fun Walk was undertaken by Patrick Rothon, and the Christmas Raffle with assistance from Quiltonian RotaKids, was another success.

All in all our small numbers have blended their complementary talents to produce a year full of achievement. I am fortunate and proud to have been team captain this year and am grateful for the wonderful support from my vice-president Peter Greene and secretary Ed Harrison, and the other Officers and Members.