We've donated more than £12,000 this year Internationally including these great destinations
Vocational Training - Reducing Infant & Maternal Mortality £7,300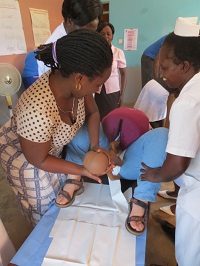 The four-strong team, led by senior midwife Gillian Pearce, spent two weeks at Kamuli Mission Hospital in Uganda, which delivers more than 2,000 babies a year, despite having no trained paediatrician. The team, whose trip was funded by RC Elthorne-Hillingdon helped by a grant from the Rotary Foundation of Rotary International, provided training for more than 250 staff, including managing birth emergencies and emergency life support for new-born babies. An important part of their work was a 'train the trainer' programme so that skills could be passed on to colleagues once the team had returned to the UK. Dr Jide Menakaya, a neonatal paediatrician at Hillingdon Hospital said the team felt privileged to make the visit and share their skills. He said: We were humbled when we saw the huge responsibilities taken on by young doctors, nurses and midwives and their ability to make the best of limited training and clinical resources.
The follow-up team, visiting in September 2014, will include midwife Laura Wallbank (Royal Berks).
Polio Eradication - £3,800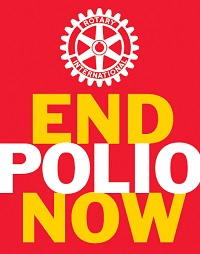 This crippling disease, mostly affecting children, at that time claimed almost 1,000 children EVERY DAY. Now thanks to the efforts of nearly 25 years, there are less than 500 cases per year and Polio remains endemic in only 3 countries in the world.
In 1955, Jonas Salk developed a vaccine for polio, using deactivated virus. Albert Sabin followed in 1963 with an easy to administer oral active vaccine, which is also highly effective. Routine vaccination for polio is standard in many countries as a result. The last case of natural Polio infection in the UK was found in 1982, and more than ten years ago the continent of Europe was declared polio-free. But the fight goes on: one of the problems is that diseases don't recognise land borders, so that even though many countries are no longer endemic, cases do occur as the disease (and carriers) cross boundaries to neighbouring countries, particularly those surrounding Nigeria; the ease of air travel also creates risks as well.
Thus the campaign goes on despite the investment of more than $9 billion over twenty years (over $1 billion from Rotarians) we must completely finish the task otherwise the work of more than twenty-five years will have been wasted. A key feature of Rotary's commitment to the cause has been the input of individual Rotarians, giving of their time to travel to countries in need of assistance to help administer polio vaccine. Rotary's own charity, The Rotary Foundation has been consistently committed to the provision of funds. The Bill & Melinda Gates Foundation have saw for themselves the importance of completing the task of eradicating polio. Over the last several years they've committed into our care more than $500 million of their money to help the cause,as well as direct donations of of more than $1.5 billion
Helping the Homeless from Disasters - £600
In most disasters it is clear that the most pressing need was for shelter and basic essentials millions were left homeless.Founded by a Rotarian, ShelterBox responds instantly to disasters all around the world delivering aid as quickly as possible to the people who need it most.At a cost of 600 each, each box contains:
Shelter

At the heart of every ShelterBox is a ten-person tent. It is custom made for ShelterBox by Vango, one of the world's leading tent manufacturers, and is designed to withstand extreme temperatures, high winds and heavy rainfall. Internally, each tent has privacy partitions that allow recipients to divide the space as they see fit.

A smile
Every box contains a children's pack containing drawing books, crayons and pens. For children who have lost most, if not all,their possessions, these small gifts are treasured.

Warmth and protection
In addition to the tent, the boxes contain a range of other survival equipment including thermal blankets and insulated ground sheets, essential in areas where temperatures plummet at nightfall. Where malaria is prevalent mosquito nets are supplied, as well a life saving means of water purification. Water supplies often become contaminated after a major disaster, as infrastructure and sanitation systems are destroyed, this presents a secondary but no less dangerous threat to survivors than the initial disaster itself.

Self sufficiency
A basic tool kit containing a hammer, axe, saw, trenching shovel, hoe head, pliers and wire cutters can be found in every box. These items enable people to improve their immediate environment, by chopping firewood or digging a latrine, for example. Then, when it is possible, to start repairing or rebuilding the home they were forced to leave.