January 28 2015 update.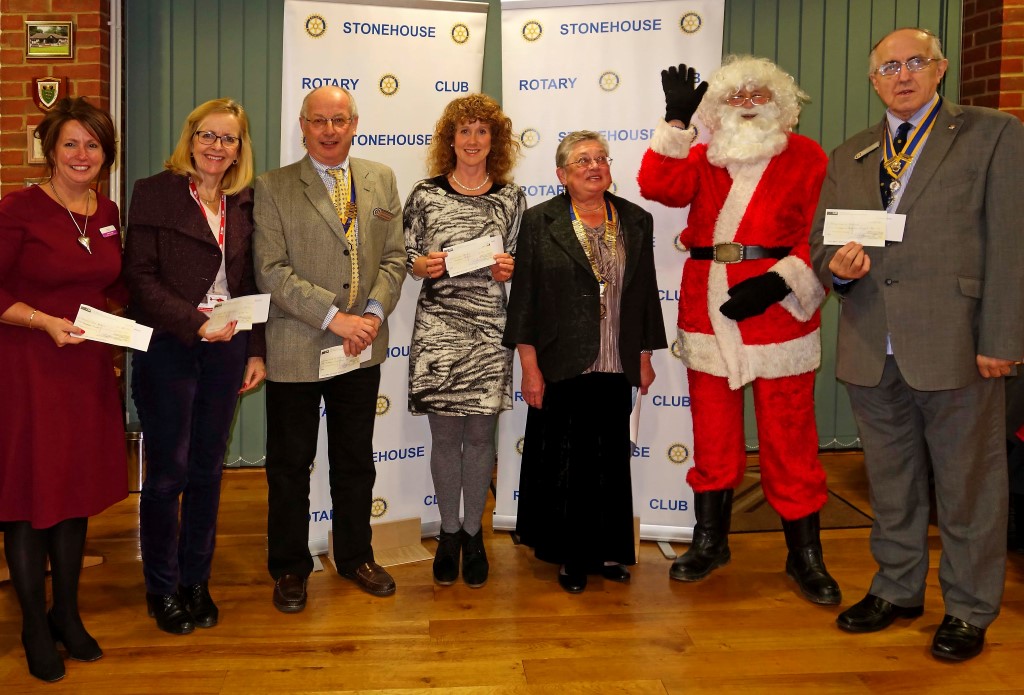 £6000 presented.
Thanks to our generous giving public over the Christmas period last year, Santa helped President Gill to present 4 cheques of 1,000 each to:
Alzheimers Society,

Midlands Air Ambulance,

Glos Young Carers and

Cotswold Care Hospice .
We were joined by the many Friends of Stonehouse Rotary who helped with our collections.
Our colleagues at Severn Vale and Dursley Rotary Clubs also came along and received their part of the proceeds as they helped us achieve an outstanding collection total of 9k plus.
We will be distributing more donations later on in the year to charitable good causes.
(See the photos slideshow for individual presentations.)
Santa, along with our Charity Carol Float, has been out and about during December and you may well have seen him on your travels to the supermarket or we may have knocked on your door one evening along with him!
A BIG THANK-YOU!
YOU HAVE HELPED ME TO COLLECT OVER 9,000 WHICH IS REALLY TERRIFIC.
My helpers from the Rotary Clubs of Stonehouse, Dursley and Severn Vale will ensure that these funds are used to support the following great causes:
Supported by Stonehouse Club:
Supported by Dursley Club:
Motor Neurone Disease

National Autistic Society

Stroud and District Foodbank
Supported by SevernVale Club:
Cotswold Canal Trust

Gambian Project

Nelson Trust

Local youth charities
and The Rotary Charity Fund