Wadebridge Rotary Club hosts Capt. Eric 'Winkle' Brown - a renowned test pilot.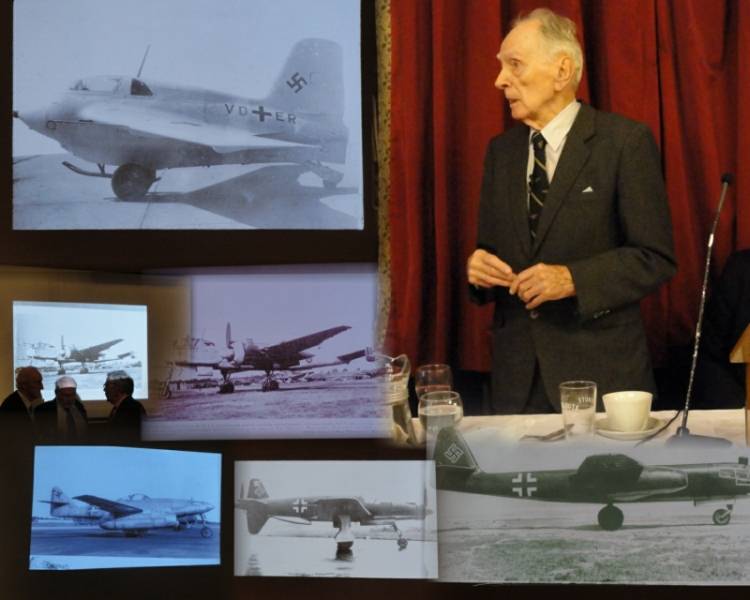 "HE WAS SIMPLY THE BEST"
Wadebridge Rotary Club members, their partners and friends were treated to a quite extraordinary and unique talk on Thursday 29 January 2015; their guest speaker was Captain Eric 'Winkle' Brown CBE DSC AFC RN, described by an admiring colleague (Bill Humble, Chief Test Pilot, Hawker Aircraft) as "In an era of outstanding test pilots, 'Winkle' was simply the best".
Eric Brown is in the Guinness Book of Records for having flown more aircraft types (487 - yes, 487) than any other pilot in the world. This extraordinary record is unlikely to be broken; he became a test pilot during the Second World War and commanded the RAE Aerodynamics Flight at Farnborough playing a key role in the design of an entire generation of aircraft - he would have been the first man to break the sound barrier, had the British Government not cancelled the programme and given the technology to the Americans. nsnsnn
No other man alive today can claim to have interviewed the top Nazis, flown their jet aircraft (sometimes putting himself in terrible personal danger, demonstrated by his tale of the 'suicidally dangerous Me 163 rocket plane') or tested so many experimental machines. As the Rotary Club's 'thanks to speaker' Bob Johns said "really you shouldn't be alive today, should you?".
Eric Brown was born in Leith, Edinburgh and in 1936 his father took him to the Olympic Games in Berlin and later Eric was to return to the city as a teacher - he spoke fluent German and it was this skill that brought him face-to-face with the likes of Heinrich Himmler, a leading member of the Nazi Party, and later Reichsmarschal Herman Goering. These would have been quite extraordinary encounters for anyone, let alone a young man of 26.
During the most chilling part of Eric Brown's talk, the proverbial pin could have been heard to drop as he told us in some detail about his journey to see the disgusting and degrading scenes at Belsen Concentration Camp. Here he was asked by Brigadier Glynn Hughes to 'interrogate the camp commandant Josef Kramer and his female assistant Irma Griese in his presence. Two more loathsome creatures it is hard to imagine, especially the woman who had arrived from Auschwitz armed with an already fierce reputation for cruelty (she was 24)'.
Captain Eric 'Winkle' Brown was born on 19 January 1919 and today he retains his eloquence and mastery of his subject and delivers his chosen story with power and clarity - you feel he could get into a cockpit today and fly off into the skies above Cornwall and return to tell another great story just as vividly as he did that night at the Rotary Club in Wadebridge.
Eric is the author of a number of books and dozens of articles on his subject; perhaps the one he treasures most is 'Wings On My Sleeve', first written in 1961 and significantly updated in 2006 (ISBN: 0-297-84565-9) - it contains many of the stories heard that night at the Swan and is a unique read.
Wadebridge Rotary Club feels privileged to have been able to hear such a speaker.
Report and collage by Graham Renwick The photos show examples of the German jet and rocket aircraft used in the later stages of World War II.
Capt. Eric 'Winkle' Brown died, aged 97, on 21st February 2016