A LARGE HELPING OF SUCCESS DURING "DINNER WITH OZYMANDIAS"!
Students from Guernsey Grammar School served up a winning recipe for the second year running in the District Heats of Rotary's National "Youth Speaks" pubic speaking completion. Their presentation, "Dinner with Ozymandias" proved to be to the taste of the audience and judges alike.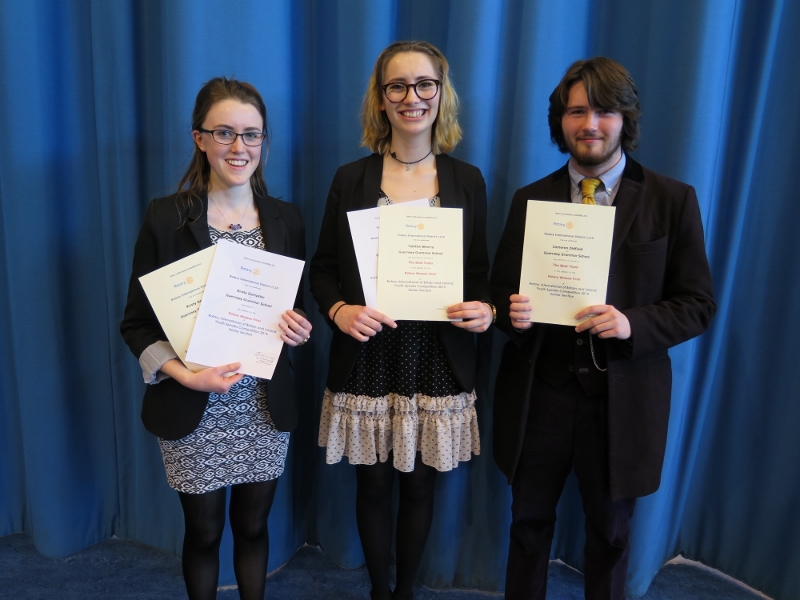 L-R: Kirsty Dempster, Tabitha Wherry & Cameron Oldfield
Team members, Tabitha Wherry, Cameron Oldfield and Kirsty Dempster, travelled to Andover in Hampshire to compete against seven other schools in the District. The team was accompanied by Rotarian, Simon Milsted. He complemented them for the skillful manner in which they used Shelley's Sonnet of the same name as a foil against which to argue their case that any lasting impact of an era is dependent upon the values and intellectual legacy that it leaves for future generations, rather than any physical tokens that will inevitably fall into disuse or decay over the years that follow.
Simon added, "Guernsey's presentation stood out from the strong field for the talent and cohesion exhibited across the team and the excellent manner in which their presentation was delivered. Their premise was well argued but without compromise to the entertainment and engagement of the audience".
The trip to the mainland was made possible by the generosity of our competition sponsors, Guernsey advocates, Mourant Ozannes.
Last year's Guernsey team went on through the competition to reach the National Final. For now however, this year's Grammar School Team are focusing on their next serving at the South of England Regional Heat, to be held in Shaftsbury, Dorset in two weeks time. We wish them Bon Appetite!