Mon 23rd March 2015 at 12.00 am - Fri 1st May 2015 - 12.00 am
Rotary Club of Thame has responded swiftly to Rotary International�s appeal by providing the funds towards a SheltterBox following the devastation of Vanuatu�s islands by the Super-typhoon Pam.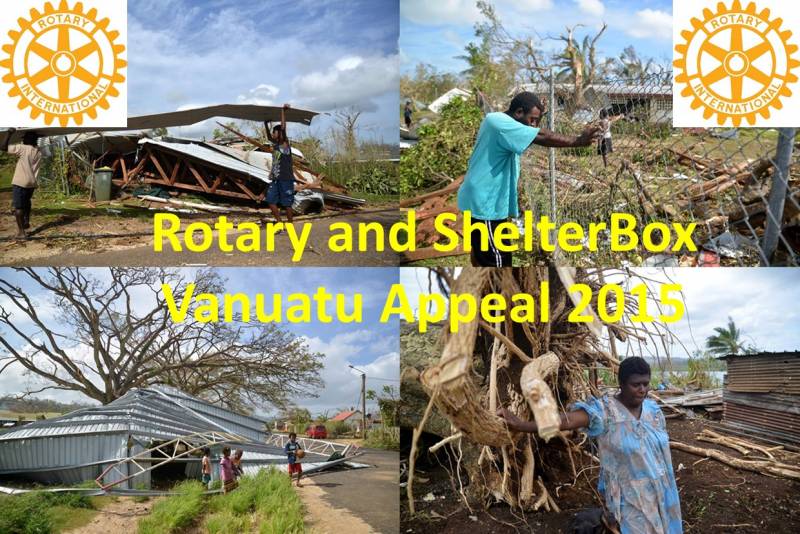 Show related pages
A ShelterBox tent can provide accommodation with provisions of water to up to 10 people.
The photographs from Vanuatu speak a million words about the scale of devastation.
Ross Dike, Thame Rotarys International Officer said: It is worth considering how we would feel and cope if we went through a terrifying experience and survived to find that our homes and all our possessions had been destroyed, we had no shelter or immediate food or clean water, that the infrastructure of our area had been destroyed, including many methods of communication, schools and medical centres no longer exist for the time being, and that the risk of disease has escalated. Many are unable to work to earn a living as their workplace or fishing boats have been destroyed. Their important source of income from their tourist industry has ceased and the employees without work for the present.
Anyone willing to support Rotarys Vanuatu appeal could make donations via Rotary Club of Thames fundraising page on until 1st May 2015 on:
https://mydonate.bt.com/events/thamerotary4vanuatu/