District Website Winner 2015

Win one, lose one! It was the District Citation and Awards ceremony at the District Assembly on May 9, 2015.
We were hoping that we had a chance in the Newsletter award section, replacing our 2014 website award one for our newsletter, published for the first time last year. But, instead, we won the Stan Keller Trophy, the award for the best website in the District for the second year running and this time, organiser and co-editor of the club's newsletter, Peter Greene was there to collect the award personally.
Peter said: "It was totally unexpected. It never crossed my mind we could win it a second time, so I'm absolutely delighted"
Congratulations, Peter!
If we couldn't win the newsletter award,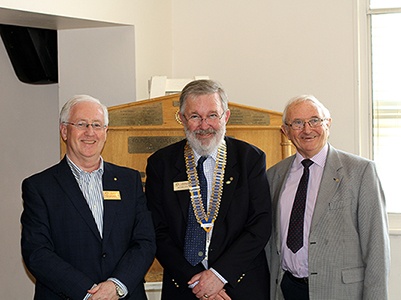 then who better to do so than our daughter club, the Rotary Club of Billericay Mayflower. Its newsletter is edited by a journalist of many year's great standing, Peter Owen.
Peter retires as editor this year so it was great news that he won the award this year, and for the third time too! Congratulations from the Rotary Club of Billericay!
Peter Owen joined us for our lunch meeting on May 11th. 2015, and both Peters received the praise of all club members present.