Wadebridge Rotary Club members at a local brewery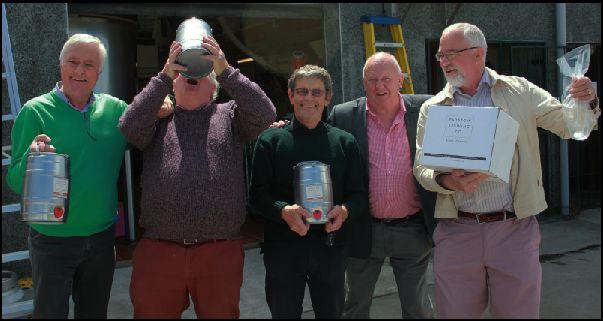 Show related pages
Visit by Wadebridge Rotary Club to Padstow Brewery
On Thursday 21st May a few members of the Club (some accompanied by their better halves) visited Padstow Brewery. Not to be confused with Sharps (a giant by comparison in beer brewing terms), the Brewery is a 'micro' brewery (not sure how big a brewery has to be before it ceases to be 'micro') sited on the Padstow Industrial estate adjacent to TJ International's printing works.
Started about two years ago by husband and wife team Caron (the only female head brewer in Cornwall) and Des Archer, brewing commenced in a converted surf shower - 'barely enough space to get one person in". After experimenting with various recipes, they moved to the present site in Autumn 2013 where they now undertake three brews per week producing some 9000 bottles. Padstow Brewery's products have won several awards, and they now supply several local Pubs, as well as maintaining a sales outlet in the brewery itself.
To a real ale lover like yours truly this was like being a pig in the smelly stuff. Des welcomed us by positioning us around a 9 gallon barrel of their latest product 'Vale Ale", the contents of which we were invited to help ourselves to. Having accepted the gracious offer of a lift from the President elect, this was something not to be missed. (Who kept refilling my glass I wonder?). But on a more serious (or should I say sober?) note the visit was very instructive insomuch as I realised how little I knew about the beer production process. We were led by Des through the malting of the barley, the adding to water, the addition of yeast and the hops, the fermentation, the maturing and the bottling (the latter currently being the most tedious and labour intensive process). We also got to taste various types of malted barley used for different beers, and sniff the delightful aromas of a couple of varieties of dried hop flowers. Be it noted that the malted barley and the hops are bought in from outside sources. We got to taste various beers, and learned how the degree of barley malting and the amount of hopes added affects the flavour.
We each showed our appreciation at the end of the visit by purchasing some beer, not a difficult task under the circumstances, in summary an enjoyable and instructive visit. I'm sure we would all agree that Caron and Des deserve much credit for the way their business has developed, and would wish them every future success. Many thanks to them for giving of their time, and thanks also to Nick for organising it.
Roy Vannoey (Photo by Trevor Wiltshire)