2015 Lostwithiel Carnival Week
Sun 12th July 2015 at 1.00 pm - Sat 18th July 2015 - 11.00 pm
A week of merriment and sport for the whole town to enjoy, with Charity Fete, Cricket, Rounders, Pram Race, Concert, Raft Race, Street Party, Duck Race, Senior Football, Spot the Stranger, Carnival Parade, Live Music and Fireworks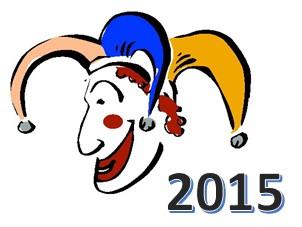 Lostwithiel Carnival 2015
Sunday 12th July 2015 to Saturday 18th July 2015
Come and join us at one of Cornwall's best little carnivals
Click here for details of this year's carnival
Events throughout the week are generally free, but entry fees are charged for some competitions
A number of road closures will be in force during the week, in particular on Wednesday 15th for the Pram Race, on Thursday 16th for Street Party and on Saturday 18th for the Carnival Procession. We apologise for any inconvenience this will cause for residents, but the closures are necessary in order for the events to go ahead.
Cornwall Council Road Closure Approval Documents: All 15th 16th 18th
Sunday 12th July 2015
1:00pm - 4:30pm

King George V Playing Field

To find out more about hiring a stall, please ring Rotarian Paul Bassett on 01208 871485

For more information about the day's activities, please ring Rotarian Carol Lay on 01726 70055.

Charity Fete Day

Lostwithiel Carnival Week begins with the Flora Dance, which will be led by Mayor Pam Jarrett and Rotary President Geoffrey Phipps. Wear your decorated hat to the Flora Dance and you might win a prize!

Following this, the Charity Fete afternoon will begin. With grateful thanks to our sponsor for the day, Webbers Estate Agents, there will be attractions to please everybody, including bouncy castles, charity stalls, competitions, children's sports (with prizes) and Mount Charles Band, who will play throughout the afternoon.

Members of the Cornish Wrestling Association will be there, along with Spider Woman who will bring her unusual animals for you to meet.

AZOOK Cornwall will also attend with a local history photographic exhibition for you to enjoy.

An afternoon tea served by LCA volunteers will be available, or you may wish to choose a burger and a beer served by the Young Farmers Club.

Whatever your interest, we are sure you will find something to entertain you at Charity Fete Day. Please come along and join in the fun.

And don't forget to come along to the Flora Dance rehearsal led by Councillor Gill Parsons at the Lostwithiel Community Centre on Thursday 9th July from 6:30pm to 7:30pm

Sponsored by Webbers Estate Agents

Monday 13th July 2015
5:30pm - Dusk

King George V Playing Field

For more information, please contact Rotarian John Hurst on 01208 871375

Six-a-Side Cricket Competition

Entrance by invitation from the Boconnoc Cricket Club, who are organising the event. A barbecue and beer tent will be available, and the competition will finish with prize giving at the Royal Oak Inn.

Boconnoc Cricket Club has an active coaching & playing policy and welcomes new players & spectators of all ages (contact either Rob Trump on 01726 65476 or Jon Niblett on 01579 228149 for more information).

Sponsored by the Royal Oak Inn, NFU Mutual Insurance and Hot Dog Decals

Tuesday14th July 2015
6:00pm - Dusk

King George V Playing Field

To find out more about the competition, please ring Rotarian Vic May on 01208 872028.

Rounders

Organised by our local Fire Service, the evening will start with a juniors competition at 6:00pm, which will be followed by an open event at around 7:00pm. There will be a barbecue and ice cream all evening, but no alcohol is permitted on the field.

Entry forms should be returned to Penhaligon's by Saturday 11th July, although late entries may be accepted on the night entirely at the discretion of the organisers.

Sponsored by the Carpet Gallery

Wednesday 15th July 2015
6:00pm - 7:00pm

Starting from Parade Square

For more information about the pram race, please ring Rotarian Nick Warrick on 01208 871499.

Pram Race

This year's race has been shortened to make it safer and more fun. The junior race starts at 6:15pm and the senior race at 6:30pm, but all competitors are asked to be at the start at least 30 minutes beforehand.

Entry forms may be downloaded here and must be returned to either Penhaligons or Fran´s Pantry by 3pm on Tuesday 14th July.

Sponsored by the Country Fryer

Wednesday 15th July 2015
8:00pm - 10:00pm

St Bartholomew's Church

To find out more about the concert, please contact Rotarian Andrew Jeffery on 01208 871114.

Band & Choir Concert

Carnival Wednesday is music night and, thanks to our sponsors at AP Bassett Solicitors and the Kings Arms, tickets are free, but we recommend that you come early to claim your seat. The concert will start at 8:00pm.

We are delighted to once again have the support of the St Pinnock Band, one of Cornwall's finest bands. Also, a first for carnival, we also have the internationally renowned Loveney Male Voice Choir, supported by their very own John Ead who will be our compere for the evening.

Once again, Kathy and Mick Townsend of the Kings Arms have offered to host the apres concert soiree, where you will be assured a warm welcome and the opportunity to join in with informal singing with members of the choir.

Sponsored by AP Bassett Solicitors and the Kings Arms

Thursday 16th July 2015
5:00pm - 11:00pm

The Parade

For more information about the Street Party, please call Rotarian Paul Harrold on 01208 77277.

Street Party and Raft & Duck Races

5:00pm to 9:00pm - Family Fun with:

Bouncy Castles

Face Painting

Punch & Judy

Magic Show

Surf Simulator

Family Assault Course

Screech Bird Display

Fairground Rides

Balloon Models

Hog Roast and Ice Cream

6:00pm - Raft Race

6:30pm - Almost Blues on stage

7:00pm - Duck Race

8:00pm - Trigg Morris Men in Parade Square

9:00pm to 11:00pm - Motown Pirates on stage


A licenced bar provided by the Globe and a barbecue run by the Community Centre will be open all evening

Sponsored by the Globe Inn

Friday 17th July 2015
6:30pm - Dusk

King George V Playing Field

For more details about the competition, please contact Rotarian Alan Dorling on 01208 872518.

Senior Five-a-Side Football

The male competition is for 16 year olds and over, but there are no age restrictions for the female competition. Female teams will only compete against other female teams.

Entry fee: £5 per team (Trainers Only To Be Worn). Entry forms must be returned to Penhaligons by 5:00pm Thursday 16th July.

A barbecue and soft drinks will be available during the evening and the presentation of trophies will take place at the Kings Arms Hotel.

Sponsored by the King's Arms Hotel


Saturday 18th July 2015
5:30pm - 11:00pm

King George V Playing Field, Around Town & Earl of Chatham

For more information about the the carnival parade, please ring Rotarian James Kittow on 07771 573450.

Carnival Parade, Band and Fireworks

| | |
| --- | --- |
| Why not start the day with the Spot the Stranger competition, which runs from 9:30am untill 2:00pm. | |

However, after 6 days of carnival, we hope that you will still have enough energy to support our showcase parade of talent, costumes and floats, which is open to all ages. All entrants should assemble in the King George V Playing Field by 5:45pm for judging to start promptly at 6:00pm.

The parade will move off at 6:30 pm, led by the Mayor, Rotary President and the Town Band. The parade will follow the main A390 to Fore Street, down around the Parade and up North Street, then down Fore Street again, over the medieval bridge and up the hill to the Earl of Chatham, pausing if necessary at the rail crossing.

Prizes for the winners will be presented in the Earl of Chatham car park, along with the Spot The Stranger competition winner.

The music will then commence with the live band Beachfield who will perform in the car park until 11:00pm.

Drinks and refreshments, including a hog roast, will be available throughout the evening.

The spectacular grand Firework display by Trelawney Fireworks will take place when it becomes dark at around 10:00pm.

Sponsored by the Earl of Chatham


The Rotary Club of Lostwithiel is extremely grateful to all our sponsors because Carnival could not go ahead without their generous support, thank you.