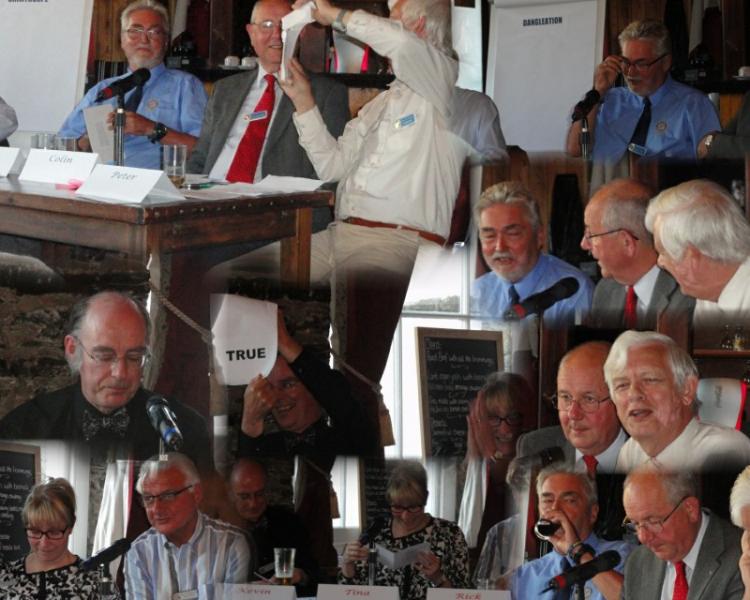 Show related pages
An Evening of Erudition
Wadebridge Rotarians recently hosted 15 members of Bodmin Rotary Club to a fellowship evening. After a splendid meal, Bodmin were challenged to a game of "Call My Bluff". This is a game where one member of a team of three gives the true meaning of an obscure word from the dictionary, whilst each of the other two give a false, but plausible, meaning. The opposing team then has to guess which the correct meaning is.
Wadebridge member, Graham Renwick (who must have an expensive dictionary) selected six never-heard-of words and acted as chairman. 1. Rhabdomancy; 2. Dangleation; 3. Podiacide; 4.Grimthorpe; 5. Dasypygal; and 6. Ergasy. (ed. note: at this point my Spellchecker and Thesaurus seized up!!). For the less well erudite, (i.e. most of us), I have given the meanings below so don't cheat.
Wadebridge team members were Tina Yardley, Kevin Smith and Rick Johnson. Bodmin club were represented by Peter Ripley, Colin Marshall and Bruce Tyzzer. After some hilarious definitions, amusing not only the teams but all others present, Bodmin triumphed and trounced Wadebridge with five correct (lucky??) guesses to one.
Graham and both teams were congratulated on their performances, especially those who gave false meanings and kept a straight face doing so. A very entertaining evening which helped to cement the friendship between the two Rotary clubs.
Mick Goward. Collage by Graham Renwick

Answers below - keep scrolling!
1. Rhabdomancy - Diving or dowsing with a stick
2. Dangleation - Dallying with girls, flirtation
3. Podiacide - The act of shooting oneself in the foot
4. Grimthorpe - Restore an old building with more money than taste
5. Dasypygal - Hairy buttocks
6. Ergasy - Any piece of prose or poetry whether written with a quill or pen