A Weekend Away with the Rotary Club of Pirmasens
5 to 8 May 2016
Location: the Dukes Head Hotel, Kings Lynn in the quaintly na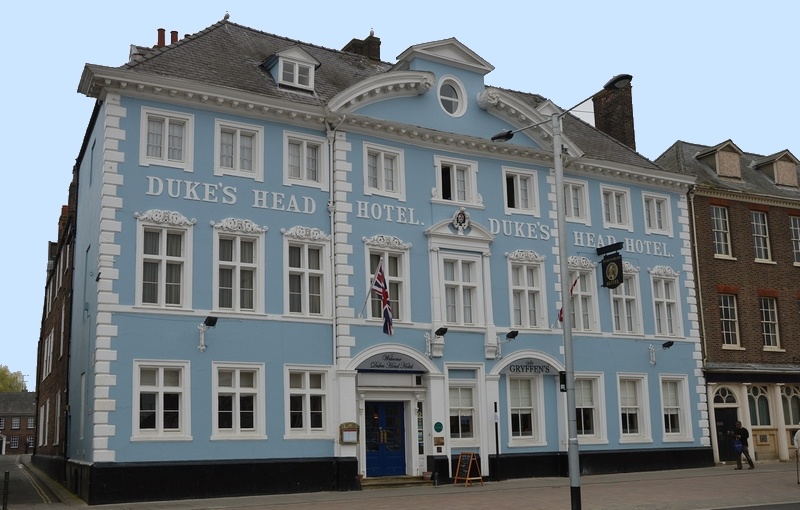 med Tuesday Market Square. Yes, you're right, they used to, and still do, have a market there every week.
Dorothy and I set off the day before with satnav primed to get us to the town centre. We duly arrived after a pleasant drive of 75 miles. I then spent a further 30 minutes arguing with my satnav which seemed incapable of finding the Dukes Head! Still, we enjoyed an impromptu tour of the town!
The next day I took President John, Kevin Greatorex and David George to Stansted Airport, armed with a hamper of Prosecco and sandwiches for our guests, to meet the Pirmasens party off the plane. They had the best job, as I had to drive back alone to KL – but they did give me a sandwich to take with me! Ha, but this time I found the hotel first time, without any argument from 'her'!
The Northampton members then welcomed the 22 Germans at a drinks reception at the hotel where I at last got to sample a glass or two of prosecco to quench my 150 mile thirst!.
This was followed by a Welcome Dinner where we were able to get to know/re-acquaint ourselves with our Rotary friends from Pirmasens. Our President John had prepared a speech in German, which he had practised for days beforehand. I didn't understand a word of the first paragraph or two, but he then relented and used English.
President Bernd Knörzer of Pirmasens Rotary Club responded in both languages and a very pleasant evening was spent enjoying ourselves with our visitors.
Friday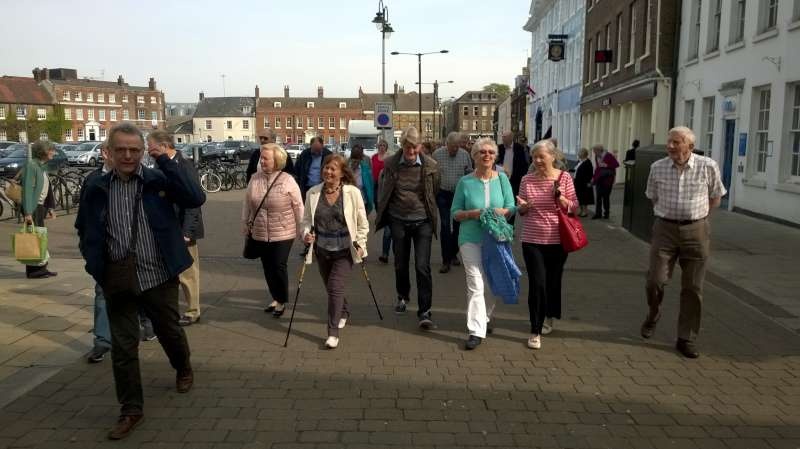 Next day, Friday, we met our guide at the Town Hall for a walking tour of the town centre. This included Kings Lynn Minster where we were made uneasy by having the latest flood levels pointed out to us in the doorway; the Guildhall and the site of the old port on the Great Ouse. We were treated to a comprehensive and interesting talk on the town's history.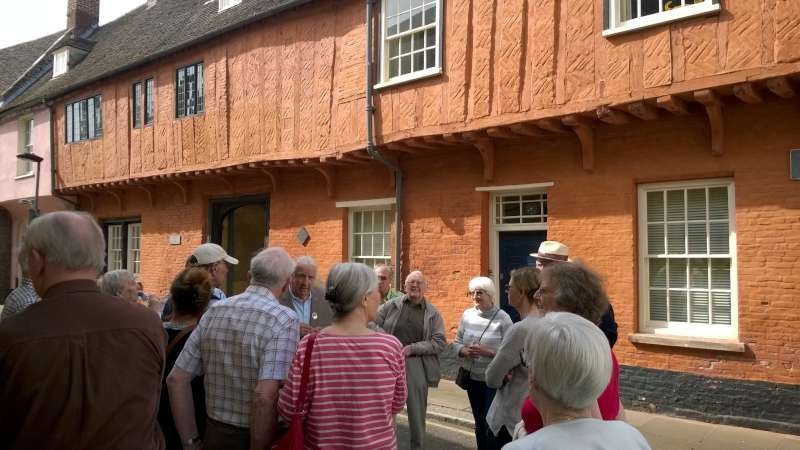 At 11.30 am we were then free to spend the rest of the day as we chose. This involved splitting up into smaller mixed parties to enjoy the places of interest in the area, and later to have dinner where we chose. With my new German friends, Eugen & Susanne Heim and Rotarian Karin Fröhlich-Hensel we took off to nearby Sandringham to visit the Queen. She wasn't in but we had a fascinating tour of the extensive gardens and a look round the House. Our guests were very impressed and thoroughly enjoyed the afternoon out.
Back in Kings Lynn some of us dined out at Marriott's Warehouse on the quay-side, which we had heard was great for Friday fish & chips (we were not disappointed). This time we were joined by Kevin & Sue G and their friends Hans-Joachim & Gisela Schuttpelz with Liz Middleton joining us, too. Others enjoyed modern British Cuisine at the Market Bistro. In fact Kings Lynn has a wide range of eating places and it was hard to choose which to select.

Saturday
What a busy day this turned out to be! We left at 8.15am by coach to go to Aylesham to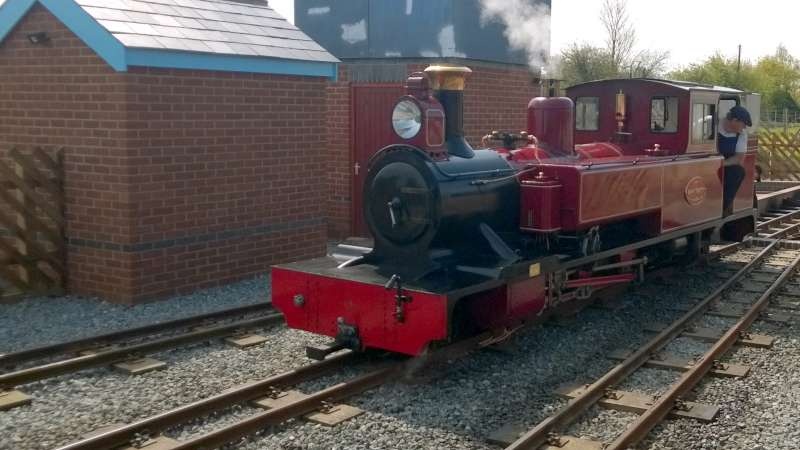 ride on the Bure Valley Railway. This involved a 9 mile trip on a narrow-gauge steam train to Wroxham. The train was 'No Smoking' but nobody had told the engine driver – very quaint and nostalgic! Then followed a river cruise on the Norfolk Broads where we ate a packed lunch and listened to our cruise guide explaining some of the history and all about the local wildlife, particularly the bird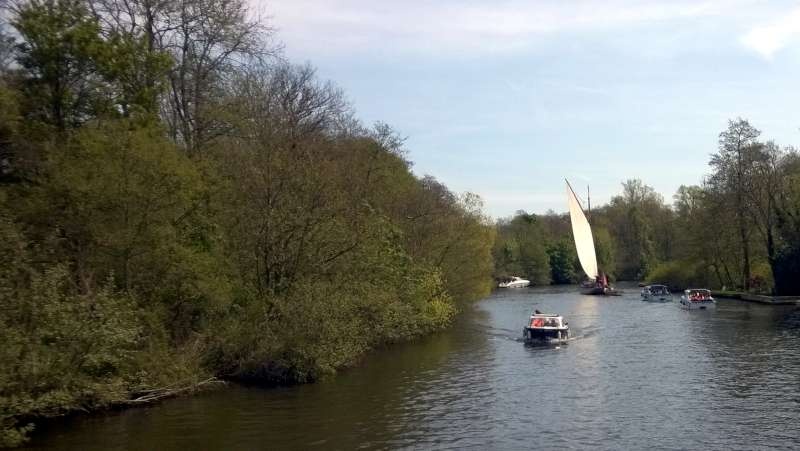 s, some of which we could see nesting or swimming around us. It was the first time I'd ever seen an Egyptian goose nesting in a thatched roof, while its mate stood guard on the ground. How the chicks were to get down to water level after hatching was a puzzle that I hope they solved.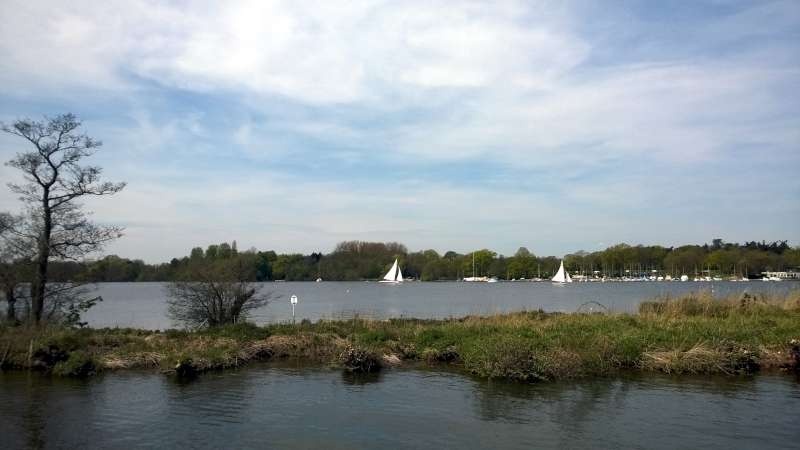 Then, back on the coach to go to Blickling Estate, a National Trust property near Aylsham and steeped in history as far back as the 1000's. This was the site of King Harold's manor house and later became more famous for its connection with Anne Boleyn in Elizabethan times. We roamed around the Gardens and House at will until time to go back on the coach to KL for the Farewell Dinner.
All good things hav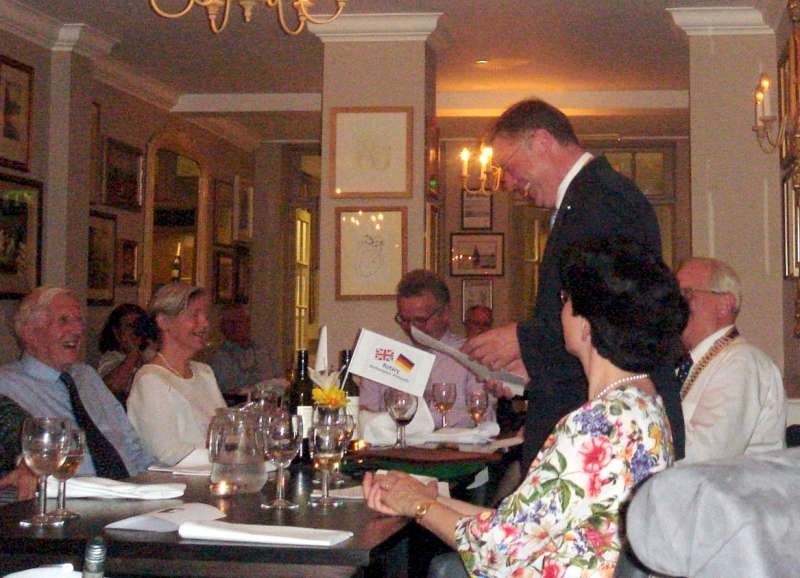 e to come to an end. Our farewell dinner was preceded by a couple of Young Musicians from KL's Academy, invited by David George to entertain us. The usual acknowledgements were made by the two Presidents with thanks all round to the various Rotarians from both clubs who had helped to make this a most enjoyable and memorable occasion, and so to bed, after a long but enjoyable day.
Sunday
After breakfast we said goodbye to our German friends who left by coach at 10.30am. Old friends re-united and new friends made; one of the best and most rewarding of experiences as a Rotarian and one of the reasons I joined Rotary. Our thanks go to President John for combining his President's weekend with the visit from Pirmasens and for making it so entertaining. Not only that but the weather throughout was fine, warm and sunny – how does he do it!?
David Harrop