Beauvoir Arms Bank Holiday
An evening of fun and fellowship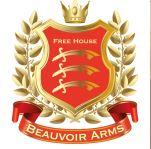 An Evening of Fun and Fellowship

To prove that our Rotary lives are not just about raising money to support worthwhile causes, and mounting projects, we do sometimes let our hair down. Such an occasion was August Bank Holiday Monday when a party of 22, members, wives and friends enjoyed an evening meal and conversation.
With no lunch that day (as the fifth Monday in the month) we met at the Beauvoir Arms at Downham for a splendid three-course dinner, wine and drinks. It also served to acquaint ourselves with the venue to which we shall be returning on Sunday, November 1 for the annual Charter Lunch.

We were twenty two in the private room. A little tight and some concern was expressed that it would not easily accommodate the larger number of forty or so for the Charter Lunch. But organiser Norman Bishop has since been to meet the managerial staff and has assurances that the room can be "opened up" to allow enough space.
Norman says: "The main restaurant would not be ideal on a Sunday when they are celebrated for their traditional Sunday roasts and already have parties booked. Also, we plan to have a speaker and that would prove difficult in the restaurant."

Our Thanks to Trevor Bond for organizing the event and dealing with all the bureaucracy.