AMBULANCES ON THEIR WAY TO KOSOVO
"It's 5.45 a.m. on Thursday 24 September and the 'sleepy' Ambulance Drivers gather, ready for their great adventure. It's 2000 miles or so to Kosovo, but first they must make the dangerous crossing over the sea to Calais - that outpost in Northernmost France - home to a few French citizens and many Africans and Syrians; it's a wild and unpredictable place. Will our brave 'lads' get to Dover - their first milestone - and then will they survive the heaving seas and make the treacherous crossing into foreign lands. Time will tell and in the meantime here are a few photos to give their loved ones some hope and expectation that they will indeed be reunited once again on 1 October."
Report by Graham Renwck. Photos by Martin Broadfoot
---
DAILY BULLETINS
As at 0945 this morning (27th Sept). the convoy was heading towards Munich with a view to crossing Austria via Saltzburg and the E61 to Klagenfurt. Hopefully, they will miss the current immigrant difficulties by crossing Slovenia via Ljubljana and entering Croatia at Karlovac south of Zagreb. At the moment the dry and cloudy conditions and light traffic are ideal for driving.
Yesterday the team were plagued with busy traffic and major roadworks just about everywhere. This did not help their progress and the situation was exacerbated by a slight navigation error - I will not shame the guilty - taking them into Phorzheim, a town that they could not find their way out of!! I am told that a one eyed non-English speaking gentleman on a motor scooter led them for miles through the town and after 30 mins or so took them to a new but closed section of motorway!! A great help.
The team found overnight accomodation at Ulm but our intrepid travelers could not find a place to eat. They were finally directed to an area of the town where they found a first-class pizza parlour and they happily worked their way through the menu - apparently a memorable evening. By chance they happened to have strayed into the Red Light district of Ulm and this was confirmed when a small group left the restaurant and were immediately approached by young three travelling sales "ladies" in a car who were keen to sell their wares. I understand that all the ladies failed the Four Way Test !!
Vehicles under 3.5 tons crossing Austria require a Vignette and heavier vehicles what is known as a "G0-Box" authorisation. The team will have to confront this issue, hopefully, without difficulty as the Austrian police can be quite severe.
---
At 0930 this morning the team were at Nova Mesto, Slovenia heading for Karlovac, Croatia having had overnight accommodation at Grosuplje.
Major roadworks have again slowed progress and arrival in Kosova is now judged to be around lunchtime on Tuesday 29th September. Today the team will find overnight accommodation between Split and Dubrovnik - the possibility of crossing Bosnia Herzegovina will depend on many factors today.
The journey is progressing well.
---
The team are progressing well. Yesterday they cleared the Bosnia Herzegovina Customs at lightening speed and without having to pay the usual charges. The authorities treated the convoy as "Humanitarian Aid" - rightly so - and let it clear BH without hindrance. All went well on the Montenegro border with only a 2 hour or so delay which is particularly good for this Customs point.
The team overnighted on the outskirts of Podgorica.
At 1000 this morning I could not make any contact with the team via mobile phones but finally got through at 1040 although on a very poor line. In short, the team are doing well and are confident of reaching the Montenegro/Kosova border (near Peja) at 1200 where they will be met by Kosovar Rotarians.
The plan for today is: the ambulance for Prizren will go to Prizren for Customs clearance and the team driving it will be hosted by local Rotarians. Podujevo's ambulance will be taken to Prishtina Customs and the Viti vehicle to Ferizaj. Both crews of these ambulances will be accommodated at the Prishtina hotel used by Prishtina Dardania Rotarians. I am sure that our guys will have a great time once their respective vehicles have been cleared by Customs.
The plan for tomorrow: all ambulances and crews will meet in Prishtina at 1000 for a reception with Kosovar Rotarians before heading to their respective Municipalities for formal hand-over of their vehicles. Once again these occasions should be really enjoyable and the "icing on the cake" as far as the project is concerned. TV and Press will be in evidence during the day.
---
I am attached a map of Kosova which I hope will be helpful. Unfortunately, it is in Serbian: Pec in the west is Peja, Podujevo is north of Prishtina, the capitol and Ferizaj to the south under the Serb name of Urosevac. Prizren is in the southwest of the country near Dragash.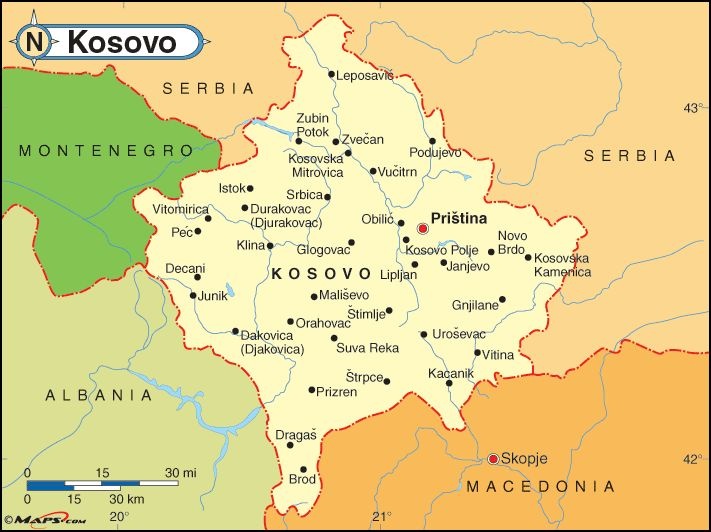 As far as Thursday is concerned arrangements are in hand to get out team to Skopje, Macedonia for their return flight leaving at 1600.I do not want to speak prematurely but it does seem that both the ambulances and team members have dealt with this lengthy journey very well indeed. Well done lads!! Shortly the social side of the project will kick in and I am sure that this will be enjoyed.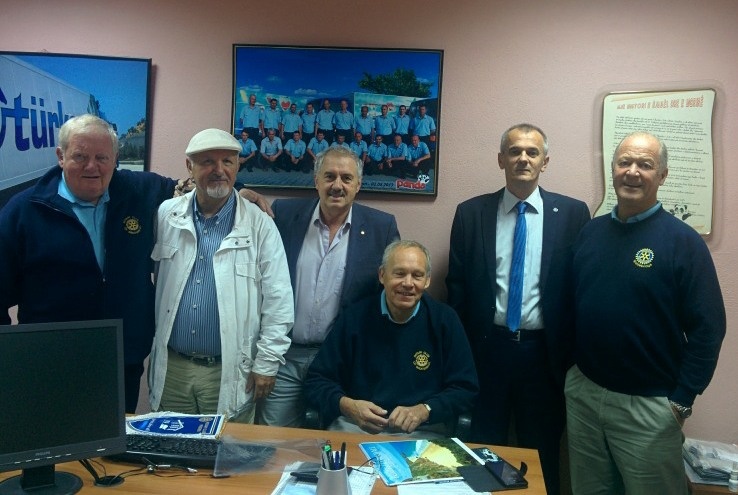 Just short report regarding today's activities.
Most important, paperwork in custom offices was finally done this evening in all three custom offices and we were altogether in the media presentation of the project in main square of Prishtina.
Teams from Prizren and Podujeva stayed in Prishtina for the lunch hosted by the Prishtina Dardania Rotary Club, and team with the Vitia vehicle traveled to Vitia municipality (accompanied by the President of Vitia Rotary Club) to handover vehicle to the mayor of the Vitia municipality. Tonight there is Rotary charity evening in Prishtina Swiss Diamond Hotel and maybe they will be part of this event.
---