A WELCOME BACK FROM KOSOVO
Wadebridge Rotarians who drove the ambulances to Kosovo are awarded with a momento from the Club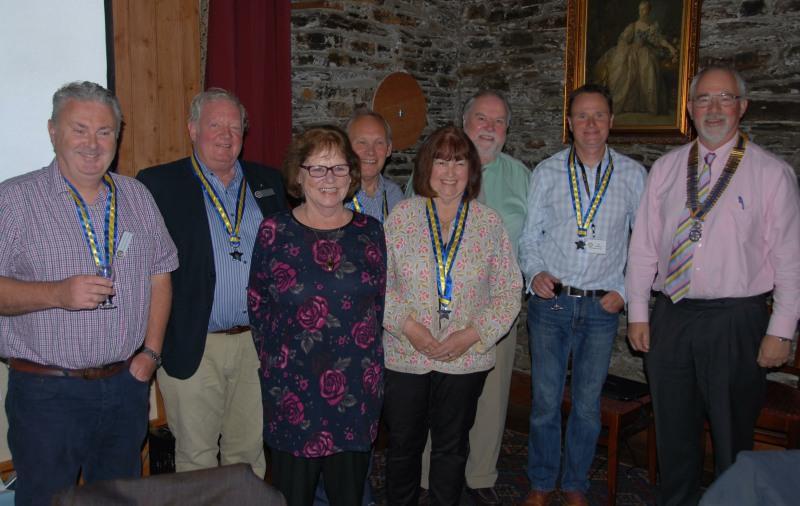 Show related pages
From L to R: Stuart Hutchison, Roy Vannoey, Bridie Kressinger, Clive Robinson, Ann Mitchell (in lieu of husband Wayne), Barry Kressinger, Ian Thurtle & Nick Pickles.
A GRAND TOUR!
In the 'good old days' (1890 – 1910) the idle rich would spend up to four months doing the 'Grand Tour' of Europe. These gentle souls would leave England (often accompanied by a full supporting cast of 'staff') making their way across the English Channel to France spending time in 'gay' Paris and elsewhere, then onward to Amsterdam (possibly to buy a few diamonds or look for that 'Girl with the Pearl Earring'). And from there they would venture into Germany making sure they spent at least a few days in the city of Berlin (no doubt ensuring a night or two out at the KitKat Club of its day). From the Teutonic state the next stop was surely Switzerland and the city of Zurich, which probably seemed very similar but without the KitKat Club; but a visit to the Bank was no doubt a necessity (Shhhhhhh).
As time was not so much of an issue for these lucky few, days would probably pass as they sojourned by lakes and attended concerts and soirees before decency dictated a fond farewell and an onward journey to Italy, at which point it may well be advisable to draw a diplomatic veil, except to say that a stay of at least 20 days in Rome was essential before following in E.M. Forster's footsteps down the leg of Italy (footsteps, leg – it's good isn't it!) to the Amalfi coast – what memories this must bring back!
And especially to our modern-day Grand Tourers - Clive, Clive, David, Ian, Nick, Roy, Stuart and Wayne; poor Wayne, as most of you will know decided to keep on Touring and is now to be found on a Course somewhere on the Iberian peninsula – who are now returned safely to their long suffering families, albeit they were only away for a modest 8 days.
We heard these brave 'eight lads' from Wadebridge and Lostwithiel Clubs began their Grand Tour from the unlikely setting of the Fire Station in front of Piggy Lane car park – they were waved off by Mater and Pater (Nick P and Martin, although it remains unclear which one assumed which role) - making their way out of Cornwall into southern England and a Channel ferry. From here they 'flew' through France, 'blasted' across Belgium and 'limped' through Luxembourg.
Then it was onward into a 'dash' through Deutschland, an 'amble' across Austria before they 'slipped' into Slovenia and 'crashed' through Croatia. It all calmed down as the convoy 'blew' into Bosnia Herzegovina from where the lads 'mounted' Montenegro 'cantered' into Kosovo before they marched into Macedonia for a flight back to blighty.
My 'alliteration' dictionary has now been forcefully removed from my grip you'll be pleased to hear. However, before I end, I do want to say what a wonderful thought it was of Nick P (mater or pater?) to invite Barry & Bridie Kressinger to join the party to celebrate the 'lads' return and, perhaps most impressively, to provide (with Jane P's craft work) all with their Stars of Achievement as seen in the photo accompanying this piece.
Congratulations to everyone involved – both Clubs salute you all!
Report by Graham Renwick and photo by Geoff Nute