Purple for Polio - Purple Pinkies!

Rotary "End Polio Now" campaign
What is a Purple Pinkie?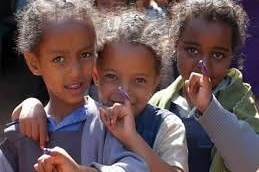 When immunising literally millions of children against polio in a single day across an entire country such as India the only way you can possibly identify which children have received their vaccine is by painting the end of their little finger on their left hand with PURPLE dye
What is Polio?
A highly infectious, crippling and life threatening virus that mainly affects children under 5 years of age and can. There is NO Cure but it can be prevented by a simple vaccine costing just 20 pence
Polio was eradicated many years ago wasn't it?
No
The last case in Guernsey was in 1959 but there are still 2 countries in the world where polio is still endemic (Afghanistan & Pakistan). Nigeria, a country that had the highest polio cases in the world, hasn't seen a wild polio case since July 2014 and was, on 25th Sept 2015, declared to no longer be polio endemic (virus in the environment). It cannot be declared polio free until Autumn 2017 and there cannot be a single case of polio between now and then
Why does it matter to us here in Guernsey?
As long as there is one single child anywhere in the world with the polio virus there is the danger of countries being re-infected. If we stop the End Polio Now programme now before polio has literally been wiped off the planet then within 10 years there would be an estimated 200,000 new cases of paralysis every single year including countries that have long been free of the disease
Why is Rotary involved?
Rotary made a promise in 1985 that it would free the world of this terrible disease. When we started the campaign there were more than 1,000 cases DAILY across 125 countries. In the first half of 2015 there have been just 33 cases in only 2 countries
Why is Rotary still involved?
Rotarians, working with their partners at the World Health Organisation, UNICEF and the US Centres for Disease Control & Prevention are fully committed to finishing the job we started 30 years ago. That work can only be done with funding and support from the world's national & local governments, the huge encouragement and support from the Bill & Melinda Gates Foundation and many many other supporters large and small across the globe
What does this all cost?
At present just 20 pence provides a single dose of polio vaccine so literally every single £1 really counts.
Altogether more than $11 billion has been invested since 1985 with over 2.5 billion children vaccinated.
The net benefit of the entire polio eradication programme, including supplemental vitamins often included with the oral vaccine, is estimated to have SAVED £90 billion and prevented an additional 5.4 million child deaths
How can I help?
Ensure you and your children have had their polio vaccines
Help us with fund raising – just 20 pence can provide life saving vaccine
Spread the word about what we are doing here in Guernsey. Talk to your family, friends & work colleagues further afield and ask them to support the Rotary End Polio Now campaign and to speak to their politicians to encourage their governments to continue to support the campaign
Who do I contact with more questions?
Rotarian Jannine Birtwistle of the Rotary Club of Guernsey (see below).