Roger Rickard's Blog from Tanzania
January and February 2017
Thursday 9 and Friday 10 February 2017
Moshi Technical College, Msandaka and Nijapanda Schools
This will be our last blog, because by the early hours of Saturday morning we should have begun our long journey home. This is how the last two days have gone.
The ChildReach NGO had been pressing us to visit a sign language project at Moshi Technical College, so we spent Thursday morning there. What a revelation! This is a state-run secondary boarding school for 1389 students from 11 – 18. Of these 65 are deaf. Although the layout of the school is rather military, they seem to have a really good system of combining academic subjects with vocational lessons. Their workshops for metalwork and carpentry were particularly impressive.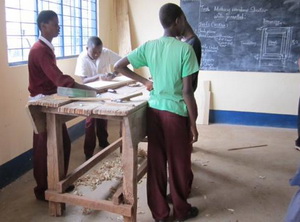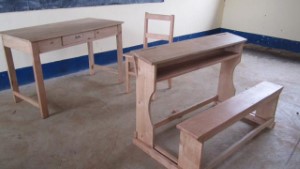 They take the equivalent of GCSEs after four years, and many students progress to take combinations of three subjects from Physics, Chemistry, Biology, Maths and Geography in the senior two years. Most then progress to university.
The ChildReach project is to spread the use of sign language by the teaching staff of the first four years to ensure that the deaf students can progress as well as the non-deaf. The vocational lessons tend to be mixed, but the deaf students have their own lessons for the more academic subjects. There was also a little business run by deaf ex-students making and selling chalk sticks for schools.
In the afternoon, we once again attended the Moshe Rotary meeting in town. Although Moshi Rotary is packed full of very impressive individuals and has extensive experience of running grant-funded projects, I am increasingly of the opinion that Haddenham and District Rotary (HADROC) should be focusing its attention on partnering with newer members in the future. Still that's a decision to be taken after we report back on our trip.
On this last day Friday we returned to HADROC's "flagship" project at the Msandaka Lions school for the deaf. When we were there earlier in the trip, the emphasis was on the arrival of the chickens. We didn't get a chance to look around the rest of the school and the projects which our members have done over the last ten years.
Those who have been out will know the head teacher as Helen, but now after 12 years she has been replaced by a new head teacher with a name straight out of Harry Potter, Revocatus Mushi. He has been brought in from a school for the blind and ironically Helen starts next week as a teacher in a school which has a unit for blind children. These moves have been very sudden, and no-one seems happy about it, but c'est la vie.
All looks pretty OK at Msandaka, the library has been restored and a new kitchen is being commissioned after a fire destroyed the old one. The Lions Club are hoping to have a vocational college for the deaf attached to the school in the future, but no decision has yet been taken.
In the afternoon, we returned for yet another visit to Njiapanda to see what progress has been made in the last week.
The tank for the vegetable garden has been repositioned on its tower and the new tank and pump that we have funded have been installed.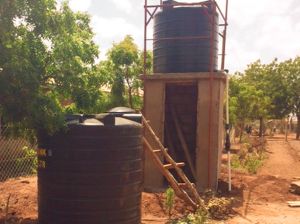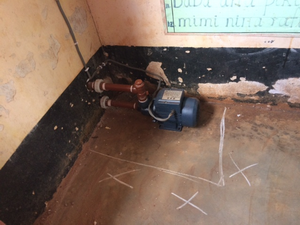 The construction of the chicken house is also progressing and since we left, the floor has been laid and solid walls erected to deter foxes.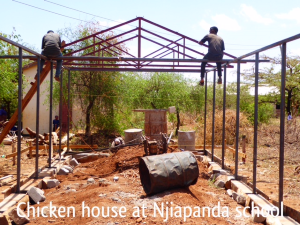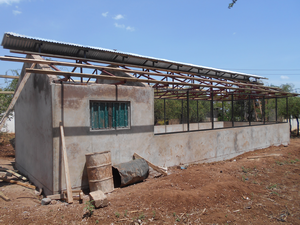 The District Director of Education, was holding a big meeting of all the local head-teachers at the school so we were obliged to renew our acquaintance before we left.
The day ended first with farewell drinks with members of the Mwanga Rotary and then a final dinner back at the Sikh Club with Nitu from the Lions Kino club.
We are now signing off from Tanzania. Our first flight is at 4.40am from Kilimanjaro to Nairobi. I am planning to take the transition from Tanzanian temperatures (30-35 degrees) in stages – a few days in Dubai (20-24 degrees) then home (0-5 degrees we hear). See you soon.
Roger Rickard
Tuesday 7 and Wednesday 8 February 2017
Nanga Primary and Nkwasangare Schools
We are beginning to lose count of how many meetings we have had and school visits we have made. Julian had warned me that the pace increases towards the end of these trips and it certainly feels like that this time.
Many of the trips that remain on our agenda up to and including Friday are return visits, where we are going back to schools to see progress over these three weeks or requests from Rotarians to meet us again for one reason or another.
However, Tuesday was mainly given over to "she who must be obeyed" aka Mama Lucy. Its difficult to exaggerate how influential she is out here and especially on HADROC's work.
A late start in the morning with a visit with Mama Lucy to Nanga primary school in Lower Moshi. Although not too far along the main road from the Honey Badger, the school was a considerable distance off to the south along the inevitable hard mud tracks. It has 336 children many of whom walk 1.5km to get there, but it is another school where the number of teachers (16) seems very generous.
Apparently, the government has latched on to this, because only the previous day they had received notification that at least 6 teachers were to be moved to other schools. They were particularly pleased to see us – I don't think they get many visitors especially not from Europe – and the whole school turned out to sing welcoming songs. After the obligatory examination of the toilets, we then had to shake 336 little hands.
On our return to Honey Badger, we were then invited to join Mama Lucy and friends for lunch. The friends turned out to be a group of about 20 older people who were receiving a lecture about the government Health Insurance scheme from a local doctor.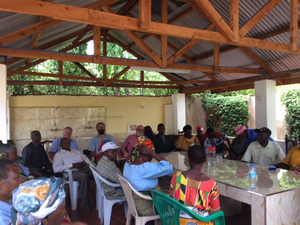 As far as we could make out it is a two-tier scheme in which the cheaper tier doesn't give many benefits which are of use to the elderly and the upper tier is too expensive for the retired.
We, as experts on the Tanzanian insurance system, were called on to suggest methods by which this dilemma could be resolved. We mumbled something about pensioners' cooperatives and headed for the rather nice lunch.
In the evening, we were due to go to a Moshi Lions Club meeting, but they blew us out. Nevertheless, we went off to their home stomping ground, the Sikh Club, for a superb Indian meal.
Today, Wednesday, we returned to Nkwasangare school in the foothills of Machame. This is the school where HADROC has had a big impact in past years, but where our chicken scheme had come to nought when two generations of chicks died.
We met again with headmaster Mr Mbowe and our Paul Harris Fellow Mr Meena. As mentioned in our Blog for 26-27 January, we had been discussing with them the conversion of the chicken hut into something more useful.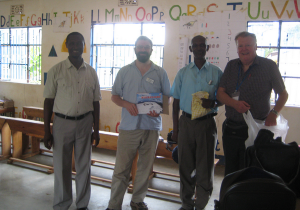 We have all settled on an office for the headmaster and a library, with a small store room that can double as a school shop for stationery items.
On the opposite side of the school site is a large two-storey building which has been built over time by the local community for extra classrooms. Although the lower floor is already in use, the upper floor does not yet have windows or doors. We handed over some funds to enable three 8 pane windows to be installed and a smaller contribution to the provision of books for the new library.
We ended the day with a little shopping for souvenirs in Moshi town, because our final two days are due to be pretty full.
Roger Rickard
Friday 3 and Saturday 4 February 2017

Moshi Primary and Secondary Schools and Kilimanjaro National Park
One of my abiding memories of Tanzania will be the car journeys. Quite apart from the massive potholes and boulders of the minor roads, the country is the leading advocate of speed bumps.
They occur every few hundred yards and are huge, often interspersed with sets of four vicious rumble bumps. They do their job magnificently as we are frequently brought to a complete halt to negotiate them. Then there are the traffic cops who pull us over at least once a day in their role as local tax collectors.
We had been asked by Mama Lucy of Moshi Rotary to visit two schools in Lower Moshi on Friday which we had not seen before. Our guide was Mr Maringo also of Moshi Rotary, who has a family home in the area.
Two schools became three when he added in the secondary school of which he is Chairman of Governors. Each visit began with an inspection of the children's toilets, all of which are of a similar poor standard in need of maintenance or replacement.
The secondary school is also lacking a canteen as 500 pupils eat their meals outside under a few nearby trees. The pupil: teacher ratio is 20-25:1 – not too bad.
Mr Maringo is a retired diocesan architect, so he showed us two of his Lutheran churches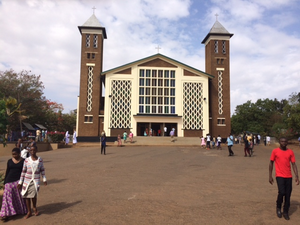 They seem very big and tall for such small villages, but their congregations of several hundred each fill them both. At the end of one church a room was set aside for a 1000 litre milk cooling machine for the cooperative use of the local farmers
After popping in to see Mr Maringo's aged mother, his cows and goats, we eventually retreated to the Honey Badger, where we met a pair of young female trainee teachers from Ghent who have volunteered to spend three months working in the small school just behind the lodge. They seem to be completely unprepared and unbriefed about what to expect when they arrived yesterday.
Their role is to teach English to primary kids who only know Swahili and create a vegetable garden to feed the kids. They are the only people here who may not be looking forward to torrential rains starting soon. I suspect they are going to be looking in at the Lodge quite a bit for advice and reassurance in the next few days.
We were due at the Mamba Rotary on Saturday afternoon at 3pm and decided to set off early to visit the nearby Marangu gate into the Kilimanjaro National Park beforehand.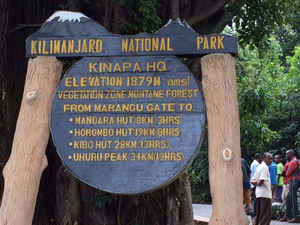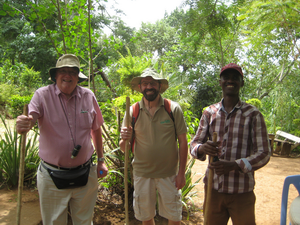 This is one of the main entrances for the many tourists who have come to climb the highest mountain in Africa (and one of the highest in the world not part of a continuous range).
Kilimanjaro is Tanzania's premier attraction and they seem to have it organised very efficiently. Every party or individual climber has to be accompanied by a guide and porters to carry the heavy luggage. None must have a load exceeding 20Kg so you see them queueing to be weighed.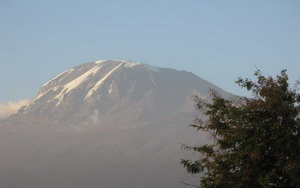 There were quite a few setting off while we were there, and it was encouraging to see groups of local schoolchildren being taken to the gate to learn about their country's great asset.
Rotary at Mamba was a revelation and very encouraging. It is the first group we have visited where the focus is on the local community rather than on schools.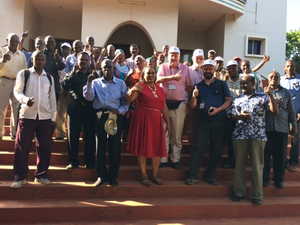 Like HADROC, their 18 members are drawn from nine villages rather than towns, and they have some impressive projects and plans designed to improve the lot of the whole communities.
They have implemented an idea called Rotary Community Corps in which leaders from each of the nine villages join their meetings and are encouraged to participate in their local projects.
Mamba's sustainable project is based on 103 beehives producing honey for sale, with another project to plant avocado trees that the bees will pollinate. They have also had feasibility studies completed by consultant engineers for Global Grant-sized projects to pipe water from springs up on the mountain to the villages. Very impressive.
Roger Rickard
Monday 30 January to Thursday 2 February 2017
In the Market for Water Pumps and Machame Rotary
After a hectic first week of dashing hither and thither we were in need of R & R.
So our planned three night stay at the Masai Lodge north of Arusha couldn't come soon enough.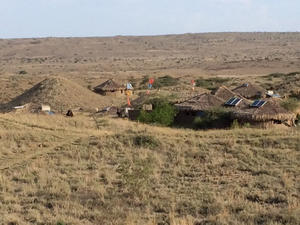 Arusha is two hour's drive to the west of Moshi and the largest town in northern Tanzania. After shopping in the town for stores and to price up water pumps, we had a stroll through the central market, full of every fruit and vegetable you could think of, plus impressive freshwater fish from Lake Victoria.
Then a cross country drive for another hour across the foothills, with Godwin our driver claiming to be following roads that were barely distinguishable from the general scrubland. The constant impact of holes and rocks on one's backside is unimaginable! Godwin had managed to exchange our normal minibus for a safari-style jeep which was supposed to have better suspension, but it didn't feel like it.
I will need to wait until our return to do justice to the Masai Lodge. It truly is unbelievable.
The rooms are a collection of circular huts each perched atop its own hillock looking out towards Kilimanjaro and expertly constructed from mud, cow dung and the walls of termite heaps. Inside comfortable beds (Masai length) and all mod cons – showers, flush toilets, electrics and WiFi.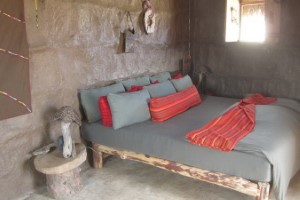 The central building contains reception, restaurants, bar and gift shop. And on a neighbouring hillock is the swimming pool, with accompanying sauna and hot tub (in typical daily temperatures of 30+).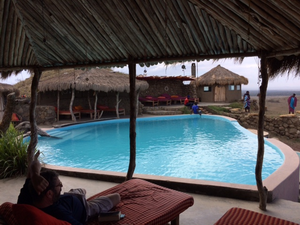 Masai Lodge was built by an Austrian lady donor who wanted a self-sustaining project that would generate income for the local people and enable at least some of the Masai children to go to school.
Please remember that this is at least 30 miles in any direction from the nearest tarmac road, with only occasional groups of Masai tending their cows and goats in between.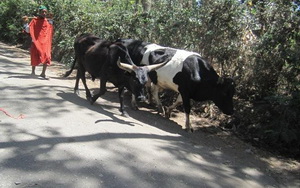 Herds of zebra pass by the Lodge looking for the occasional tufts of grass to graze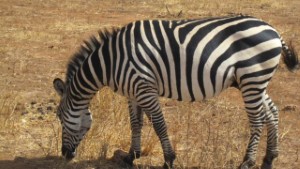 The ground is bare and dusty at present, especially as last November's rains were very disappointing. The nomadic Masai are desperate for a good rainy season in a few weeks' time which should help turn the bare ground green.
While others spent the three days relaxing, reading and writing up notes, Julian and I explored the wild-life of the Arusha National Park, and took on Masai-guided walks on the heat of the day, including a fascinating visit to a bomma in one of the local villages. But no more of this now, or else you will think that this trip is one long jolly!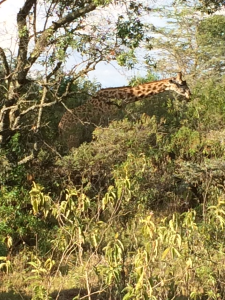 Reality returned on Thursday when we got back to the Honey Badger and set off to visit Rotarians at Machame. This had been the scene of a not very successful visit on the last trip 15 months ago.
This time we were well received and spent the meeting advising them on how to undertake small inexpensive local community service projects, rather than larger projects for which they are not qualified to receive grants.
Roger Rickard
Saturday 28 and Sunday 29 January 2017




Ndoro Waterfalls and Mwika Rotary
At long last we were treated to some time off on Saturday for the morning at least. So after a leisurely breakfast we set off from the Honey Badger for the waterfalls at Ndoro near Marango. This is a relatively long drive towards the border with Kenya and up in the mountain's foothills.
The area is lush green with five varieties of bananas grown (for making wine, beer, bread as well as serving as a vegetable or a fruit) with avocados growing over 20 feet high. The 170 steps were OK going down to the waterfall, but I felt the climb back up – plenty of stops were required!
Still it was worth it, a nice waterfall with a cold pool at the bottom and a river which takes the water to the Indian Ocean. The water comes from the Kilimanjaro glacier which, like most glaciers the world over is gradually reducing in size. During the rainy season the pool is 10 feet deeper.
The guide at the falls then took us to a fascinating Chagga cave system. The Chaggas are the dominant people of this region, traditionally the farmers of the uplands. Historically their rivals were the Masai the nomadic herders of the lowlands. Two hundred years ago there was a great drought and the Masai attacked the Chaggas to steal their cattle and wives (the Masai are polygamous). The Chaggas built a huge 4km underground cave network to hide and defend 65 families very successfully, from the Masai.
By the time we had had our picnic lunch we were on the road again to visit the recently formed Mwika Rotary. It took an age to find their meeting venue. But eventually we were greeted by the five members who were present.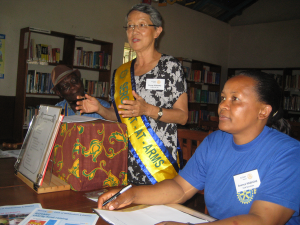 The meeting contained quite a lot of community singing in Swahili in which we are amazingly proficient!
For the second time this trip we had a President who was moved to read from an American philosopher with a quotation clearly targeted at Trump. The main agenda item was a job talk from a Korean member who had retired from a career at the World Bank. After detailing the glass ceilings, she had to break to get a decent role, we heard about her thirty years as World Bank country director in a variety of African countries including Tanzania and Madagascar.
Then we launched into our spiel to see if they were a possible candidate as a future partner for HADROC. The discussions were very encouraging, and we look forward to receiving a formal response in due course.
The highlight of our journey back was nearly being mowed down by a high-speed long-distance bus on the main highway, just after seeing a lorry lose its wheel.
Roger Rickard
Thursday 26 and Friday 27 January 2017
Msandaka School for Deaf Children, Moshi Rotary
Ghona Vocational Technical College for the Deaf
and Nkwasangare School
Thursday morning saw us visiting Msandaka School for Deaf Children which is the first of the schools we worked with ten years ago. Certainly, the profuse greetings we received from the staff there attest to this.
Occasionally Julian needs to remind people that he was out here fourteen months ago but that is down to the extensive beard he has grown in the intervening period.
The full name of the school is the Lions School of Msandaka which reflects the fact that, although we have run quite a few projects here, their major donor is the Lions Club of Moshi Kibo.
Our main purpose for being there on this particular Thursday was that it was the day that the chickens "flew in". Actually, they arrived in a pickup with their breeder and Lion's member Julian Jones. But each one was so energetically thrown from the pickup into the hut, so "flew" is a valid description.
They had survived the journey very well and, after some water and grain, were soon running around their spacious accommodation doing what 10 week old chickens do best. They are expecting to start laying in April, and Julian has assured us that they are 88 hens without a cockerel in sight.
Naturally the schoolchildren were fascinated by the whole event and "flocked" to watch. A few were even allowed in the hut, for the inevitable photo-shoot.
The chickens took up quite a lot of our time at Msandaka. Although we had a look around many of the school buildings where HADROC teams had worked in the past, we decided that this school merited a further visit later in the trip, so we will be back.
The Lions Club members who had been with us, invited us to the Moshi Sikh Club for lunch and convivial conversation including comparisons between Rotary and Lions at local and international level.
The Moshi Sikh club is built around a large hockey pitch and Moshi are very proud to be one of the leading teams in East Africa.
Our next appointment, after some shopping, was at the weekly meeting of the Moshi Rotary who meet in the same part of town. The President this year is a Dutch lady who rules with a firmness that our Martin Andrew would envy. Moshi Rotary manage several Global Grants for this area and there was some discussion about the most appropriate banking arrangements for them.
Naturally we were asked to "perform" so we gave a summary of the objectives of our trip, diplomatically explaining that, while we hoped to apply for a new Global Grant, we preferred not to add to the burden of Moshi Rotary but to choose a partner from among new Rotarians in the Moshi area.
Julian followed this with an expose of our fundraising events, some of which (horse riding, metal detecting) meant little to them. But they did understand Santa's Grotto, especially when they were introduced to Santa No.1!
The main event of the meeting was to induct a lady named Jasmine who had just retired from a lifetime of criss-crossing Western Europe and Africa on development, peacekeeping and conservation roles for the United Nations. Some African Rotarians are remarkable people.
An early start today, Friday, to travel 25 Km to the Ghona Vocational Technical College for the Deaf in the Njiapanda district. This may not seem too far away, but such is the poor state of some of the roads we use that my backside feels every metre!
The college has 8 male and 7 female students, although another four are due to start soon. They are aged 15-27 years but remember that some have had no formal education before this college. Combined with all lessons in sign language (Tanzania has its own version) means they may be at the college for many years.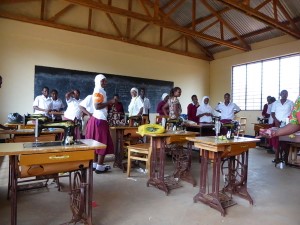 In addition to the standard national curriculum they are taught carpentry (boys) and sewing skills (girls) to prepare them for employment after school. HADROC was responsible for building and equipping the workshops for these vocational skills and very impressive they were too.
We had good discussions with Mr Mwanga the headmaster about the possibility of providing each year's graduates with workboxes to further enhance their chances of getting employment. We also debated whether knitting machines could be used to create a self-sustaining project for the college.
After a light lunch back at Honey Badger we set off again in the opposite direction to the Nkwasangare School. This is closer to the foothills of "the mountain" and it certainly was cooler and greener (many banana plantations) than we have experienced to date.
On arrival we were invited to have our second lunch of the day (ironically it was chicken!). This is where the famous Mr Meena (a Paul Harris awardee) still teaches to pre-school children.
It was my first introduction to a school of "normal" size - 290 pupils and 7 teachers. It is also where we funded the building of a chicken hut but unfortunately, they lost two generations of the birds before they could lay.
So, everyone agrees that the poultry project should be abandoned, the chicken hut be converted into something else which will be of more benefit to the school. We had good discussions of various options and we will be meeting with Mr Meena and the headmaster at least twice more before we leave. Our ultimate recommendations will be reported back to HADROC members
Roger Rickard
Monday 23 to Wednesday 25 January 2017
Arrival with Sidney the Kidney, Our Hotel
Moshi and Mwanda Rotary, Childreach Tanzania
and Nijapanda School for the Deaf
I keep being introduced as "our Tanzania virgin", so I guess that's why I have been delegated the task of producing a daily blog. This will be aimed primarily at those Rotarians who have not been on one of these missions to our friends in Africa, rather than the old lags who have previously served their time.
It all started quite straightforwardly with an uneventful night flight with Kenya Airways to Nairobi (thank you David for delivering us to Heathrow). My hopes that the flight would provide me with a chance to see some of the latest Hollywood film soon crumbled with the list of old third-rate movies served up.
At Nairobi we waited for our flight to Kilimanjaro International airport where it took forever to negotiate visa purchase and passport control. However, the naturally surly faces of the immigration officers briefly cracked at the sight of Sidney the Kidney and they were only too delighted to stamp his passport.
Once we had been delivered to the Honey Badger Lodge by our driver Godwin, we were ready to drop onto our beds, but no such luck. Our esteemed leader had work for us, to set up meetings, go into Moshi to change pounds and dollars for Tanzanian Shillings from an aged dealer of doubtful provenance and buy local SIM cards for some cheap mobiles we had taken.
We then met with Mama Lucy and the Foundation Chair of Moshi Rotary. Mama Lucy is the owner of the Honey Badger as well as a past president of Moshi Rotary. She had also invited two young and enthusiastic Rotarians from the newer Mwanda Rotary.
On that first bleary-eyed encounter with the Honey Badger I was too tired to appreciate its finer points, but now, after 11 hours of sleep I can readily understand that this must be one of the more pleasant places to stay in Moshi, with comfortable beds, good food (so far), attentive staff, security from the Masai and a swimming pool which seems to be guarded by a troop of monkeys.
Today, Wednesday, has been our first working day. It started with our recruitment as an "associate member to HADROC of a good-looking Aussie policewoman Darryl who had arrived at the Honey Badger to begin her six-day trek up Mount Kilimanjaro. But she had a free day before it started so we took her along with us to our visit to the ChildReach charity and the Njiapanda School for Deaf children.
This was a great way for both Darryl and I to have a real practical introduction to our work in the Moshi area and the schools.
ChildReach is an NGO which has worked in this country for a number of years on a range of projects in schools, including all the schools that we have supported over the last ten years. They are led by a real "mover and shaker" Sheila Makindara who has assembled an impressive team of project managers and officers around her.
Their projects include water harvesting, vegetable gardens, toilets, chicken projects and special services for deaf and disabled children. These are the people who have provided the local project management for some of the projects we have funded.
We had an excellent and informative meeting with them covering many areas of current and possible future work which we will outline in our report back to HADROC members on our return. After a delicious lunch they accompanied us to one of the schools where we have worked together, the Nijiapanda School for the Deaf.
Here we saw the micro-irrigation system installed in our garden project and the early stages of building our chicken hut.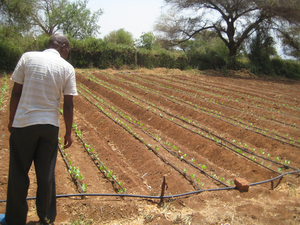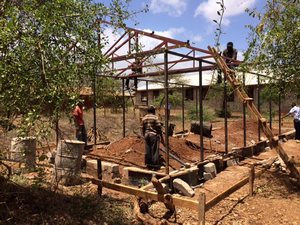 Photos: Childreach Tanzania and local and visiting Rotarians
These two visits highlighted what is likely to be a recurring theme of this visit, the need to tackle issues of access to water.
Tanzania and the Moshi area had experienced two poor rainy seasons recently which has made water resources very scarce. Clearly this impacts directly on projects such as toilets and gardens. Water harvesting can only partially address the problem, especially if there is a poor rainy season this March. We will see what the impact is in other projects that we will be visiting
Roger Rickard
photos: Haddenham Rotary and Childreach Tanzania
Find out more about Haddenham Rotary

If you enjoy having fun while helping others less fortunate than yourself,
we invite you to contact us to find out more
Use your business and social skills, and professional resources, to benefit people less fortunate than yourself.
Forge new friendships, exchange ideas and help us deliver humanitarian aid
with lasting benefit to local, national and international communities.
Your business life can benefit too.
Ask about helping with our events or to join one of our meetings