Wadebridge Rotary Club enables more equipment to be purchased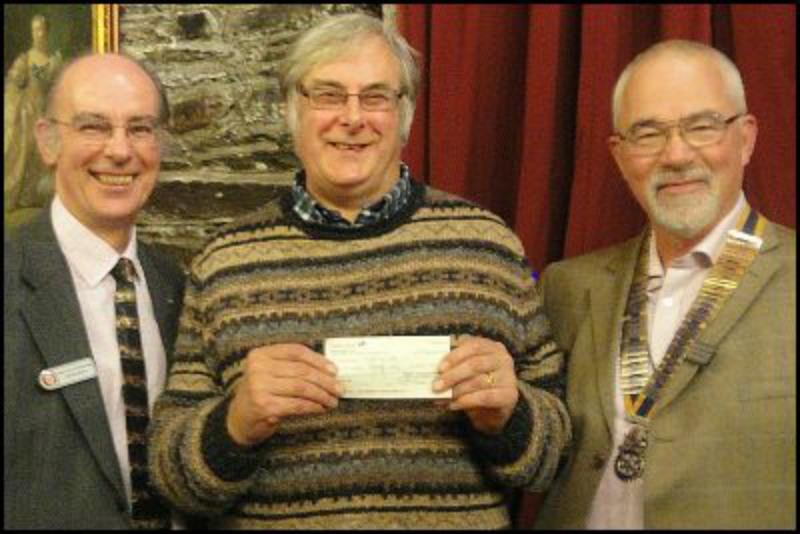 Show related pages
Presentation to 'Loaves & Fishes'
The Loaves & Fishes Community Cafe was set up earlier this year in Wadebridge to provide free, wholesome hot meals for people who might need a helping hand – those on a limited income or needing friendship and support.
Using mainly surplus foods donated by local producers, supermarkets and shops, the Cafe works in association with the Wadebridge Foodbank and the Devon & Cornwall Food Association.
The Cafe is run by volunteers and is open twice a month, providing three-course meals on a Friday at The Exchange on Molesworth Street, opposite the police station. When it started, perhaps five or six people came. Now there are up to forty.
In November, the Club awarded £600 to Loaves & Fishes and on 26th November Richard Hamm came as a guest to receive the money on its behalf.
Richard thanked the Club for donating the money and explained that it will provide vital extra equipment for the Cafe, including an induction hob and additional china. As he said, "It's quite difficult to provide 40 soups when you only have 36 bowls, and then you still have to serve puddings."
Photo, (by Graham Renwick) from left to right: Rtn Kevin Smith, Richard Hamm and Club President Nick Pickles. Report by Kevin Smith.