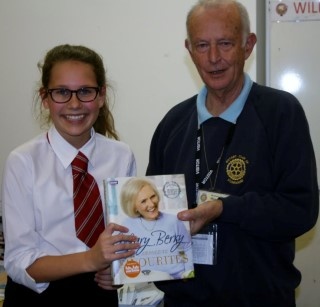 Freja Telford won our heat of the competition.
She is shown here receiving her prize from President John.
She then had the opportunity to compete in the next round of the competition.
There were six other competitors at the semifinal, from schools around this and the Bristol area.
The main picture abov shows Freja with her final presentation for the judging. Great entry again Freja!
The judging this time was now based upon a full 3-course meal, and with so many other heat winners,the competition was fierce. Unfortunately, Freja did not make it thogh to the District Final. But nevertheless, a very creditable effort.
See also the other final presentations from the other competitors.